Are you fed up with tossing and turning all night just to wake up feeling achy and tired? Finding the right mattress with the perfect balance of comfort and support is essential for getting great sleep. Simplify your search by getting an in-depth look at the benefits and features of the popular Purple Hybrid Mattress. The supportive coils, cooling and contouring comfort gel grid, and cushioning foam layers are an unbeatable combination. Together, they provide an intensely cozy and enjoyable sleep experience.
Overview of the Purple Hybrid Mattress
The Purple Company is famous for its Purple Grid layer of elastic polymer material for exceptional comfort. The unique grid construction allows for the walls to respond to pressure changes as your weight shifts. This proprietary gel grid collapses and springs back fully without losing shape or support. The Purple Hybrid Mattress differs from the flagship model which is all foam. The Hybrid combines the Purple Grid with a coil core.
The Purple Hybrid is one of the best cooling mattresses for bargain shoppers. Its comfort layer is two inches thick, providing plenty of cushioning to keep you comfortable and allow you to relax into a deep sleep. For those who want even more luxury, the Purple Hybrid Premier 3 has a three-inch thick grid, while the Purple Hybrid Premier 4 boasts an impressive four inches of hyper-elastic polymer grid.
Some basic characteristics of the Hybrid model are as follows:
Price range of up to $2,998
11 inches thick
Medium firm with a rating from 6 to 10
Isolates motion
Excellent temperature control, perfect for hot sleepers
Relieves pressure points
Best for individuals weighing 230 pounds or less
Good edge support
Hypoallergenic and non-toxic
It's important to note that the unique design and materials of the Purple Hybrid make sleepers feel weightless. It does not hug the body like memory foam. The Hybrid is available in twin XL, full, queen, king, California King, and split king. It does not come in a standard twin.
Sleeping Style Compatibility
The Purple Hybrid delivers a different experience depending on your body weight and preferred sleep style.
Side Sleepers
People that sleep on their sides experience pressure points around their shoulders and hips. The comfort grid allows the body to sink into this layer for support that keeps the spine in alignment.
Side sleepers weighing between 130 and 230 pounds typically find this mattress more comfortable than individuals weighing more or less. Anyone weighing over 230 pounds may find the 2-inch comfort layer too thin to provide adequate support.
Back Sleepers
Back sleeps typically need a firm mattress that provides even support. Any level of sag can misalign the spine and cause strain and discomfort. The ideal weight range for back sleepers to choose the Purple Hybrid is 130 to 230 pounds. Comfort levels tend to decline if your weight falls outside this range.
Two inches of the Purple Grid is enough to accommodate the needs of most sleepers. It cradles the body while the underlying coils provide the necessary support. The Purple Hybrid is durable and long-lasting, so back sleepers don't need to worry about sagging.
Stomach Sleepers
Some stomach sleepers that weigh more than 230 pounds may find that they sink too deeply into the mattress. This may cause discomfort from improper spinal alignment.
Weight can influence how a mattress feels and dictate averages in opinion. However, your own preferences are the only way to choose a mattress that feels comfortable.
Beneficial Features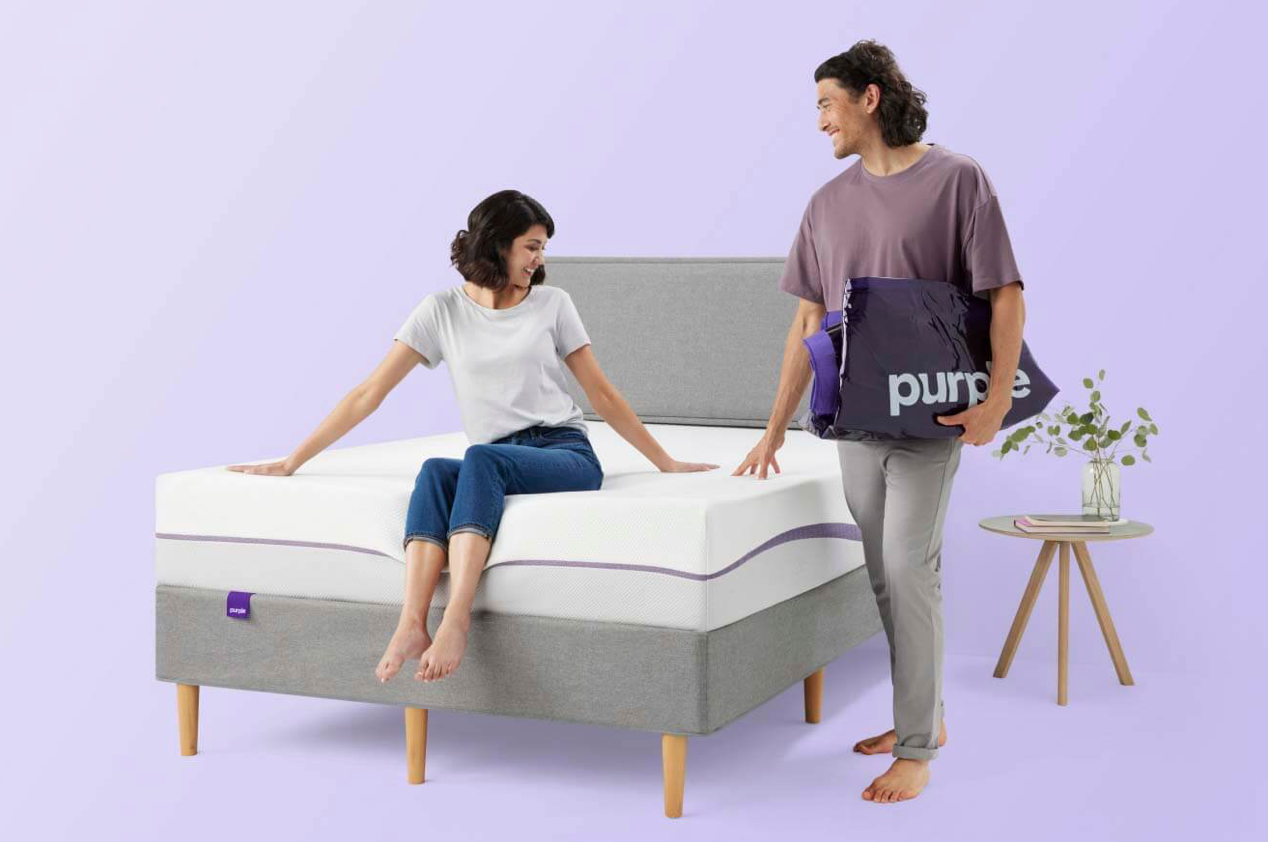 The Purple Hybrid mattress provides a host of benefits making it one of the best mattresses in quality and affordability.
Cooling Temperature
One of the most popular benefits of this mattress is its temperature control feature. The Purple Hybrid is an especially cool mattress model, even compared to other hybrids. Foam mattresses tend to trap heat, making sleep uncomfortable. If you are a hot sleeper who wakes up overheated or covered in sweat, this is the mattress for you.
Stay cool and comfortable all night long with the help of improved airflow. The breathable cover and open grid of the comfort layer pull heat away from your body. The temperature-neutral materials used in construction also lead to a cooler sleeping experience.
Motion Transfer
Couples can sleep peacefully on the Purple Hybrid. It drastically reduces motion transfer, allowing one individual to move without disturbing the other. The gel grid and transition foam layers work together to stop motion from spreading. Even though mattress coils traditionally lead to greater motion transfer, this mattress is unique. The pocketed coils are individually wrapped to move independently and further limit motion transfer across the mattress.
Pressure Relief
Another excellent feature of this mattress is the contouring ability of the Purple Grid. The material distributes weight evenly to avoid undue pressure at the hips and other high-pressure points. The firm feel of the Purple Hybrid provides support to keep the spine aligned. Plus, the buckling of the grid material cradles the sleeper's hips and shoulders. This combination is perfect to provide pressure relief.
Edge-to-Edge Support
The layer of coils in the Purple Hybrid mattress gives it even support right to the edge. This means that you can sit on the edge of the bed, or sleep near the edge without experiencing sinking. Edge support offers greater comfort and makes getting into and out of your bed easier.
Sex
Discreet sex is a concern for many customers. All-foam mattresses are usually silent, but innerspring models have more bounce. This hybrid model construction strikes a good balance between the two. It is very quiet, the comfort layer provides contouring and traction, and the coil layer gives it bounce. The edge-to-edge support is another benefit that allows couples to use the entire surface.
Ease of Movement
The responsiveness of the Purple Grid material makes it easy to move on this mattress. The comfort layer springs back to its natural shape immediately after your body moves. This makes it easier to change sleeping positions while enjoying consistent support and comfort.
Off-Gassing
Certain materials tend to give off a "new" smell referred to as off-gassing odors. Mattresses with synthetic foams are more susceptible to off-gassing. These smells are harmless, but some sleepers find them irritating enough to interrupt their sleep. As a hybrid mattress, the Purple Hybrid may have some off-gassing when it is brand new. The breathability of the mattress helps the odors to dissipate quickly, usually within a few hours or days. If the smell troubles you, leave the mattress in a highly ventilated area until the smell subsides.
Sleep Trial
You can try out the Purple Hybrid mattress for yourself with the 100-night sleep trial. You must try the mattress for a minimum of 21 nights. After this, you have the option to return it for a full refund anytime before you reach night 100.
Warranty
All Purple mattresses include a 10-year limited warranty. Terms and conditions apply for warranty availability. It typically covers issues that occur during normal use while the mattress was properly supported.
Layers of High-Quality and Innovative Materials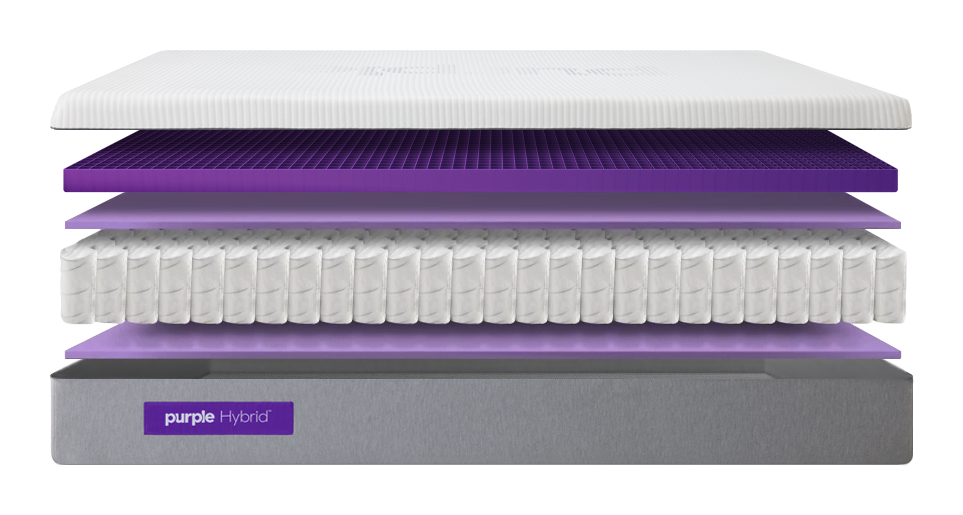 The Purple Hybrid Mattress construction consists of multiple layers that combine to create a luxurious sleeping experience. Find out how each layer plays a critical role in delivering comfort.
Premium StretchMax Cover
A combination of 29% viscose, 4% lycra, and 67% polyester makes up this stretchy and breathable cover. It is super soft and flexes along with the Purple Grid layer. The cover is lightweight, giving you the full experience of the gel grid beneath. It fits snugly around all corners, providing maximum comfort and support for all sleep styles.
Purple Smart Comfort Grid™
The Purple Hybrid has a two-inch thick layer of hyper-elastic polymer gel called the Purple Grid. It is this layer that contours around your body to support your shape without causing you to overheat. The open-air channels in the grid allow for greater airflow and prevent heat from becoming trapped.
Surrounding the comfort layer is a border of high-density polyurethane foam. This reinforces the mattress edge the entire way around to prevent sinking and increase the usable surface.
Transitional Foam
The extra cushioning introduced by two one-inch thick layers of transitional poly foam acts as a barrier against the pocketed coils. One layer rests on top of the coils under the gel grid, while another lies underneath the coils as support.
Responsive Support Coils
Underneath the gel grid is a layer of pocketed coils 7.5 inches thick. They reduce pressure and provide bounce and support right up to the edge. Each stainless steel coil is individually wrapped in noise-reducing fabric. This makes your mattress quieter and more breathable. The coils move independently of one another to provide maximum support while contouring your body. They help to keep your back, neck, and shoulders supported and aligned to reduce aches and pains.
Get Your Purple Hybrid Mattress Today
Best Mattress is a community-focused business with more than 25 years of experience. We offer high-quality mattresses and exceptional customer service to help you improve your lifestyle through better sleep. You can't beat our 7-day home delivery and free in-home setup! Our professional delivery experts even remove your old mattress to make room for the new one.
Best Mattress goes above and beyond the manufacturer's trial by giving you 120-days to test out your new mattress. Contact us today or visit a store near you to purchase your Purple Hybrid mattress. You'll soon discover what truly restful sleep can do for your mood and overall wellness!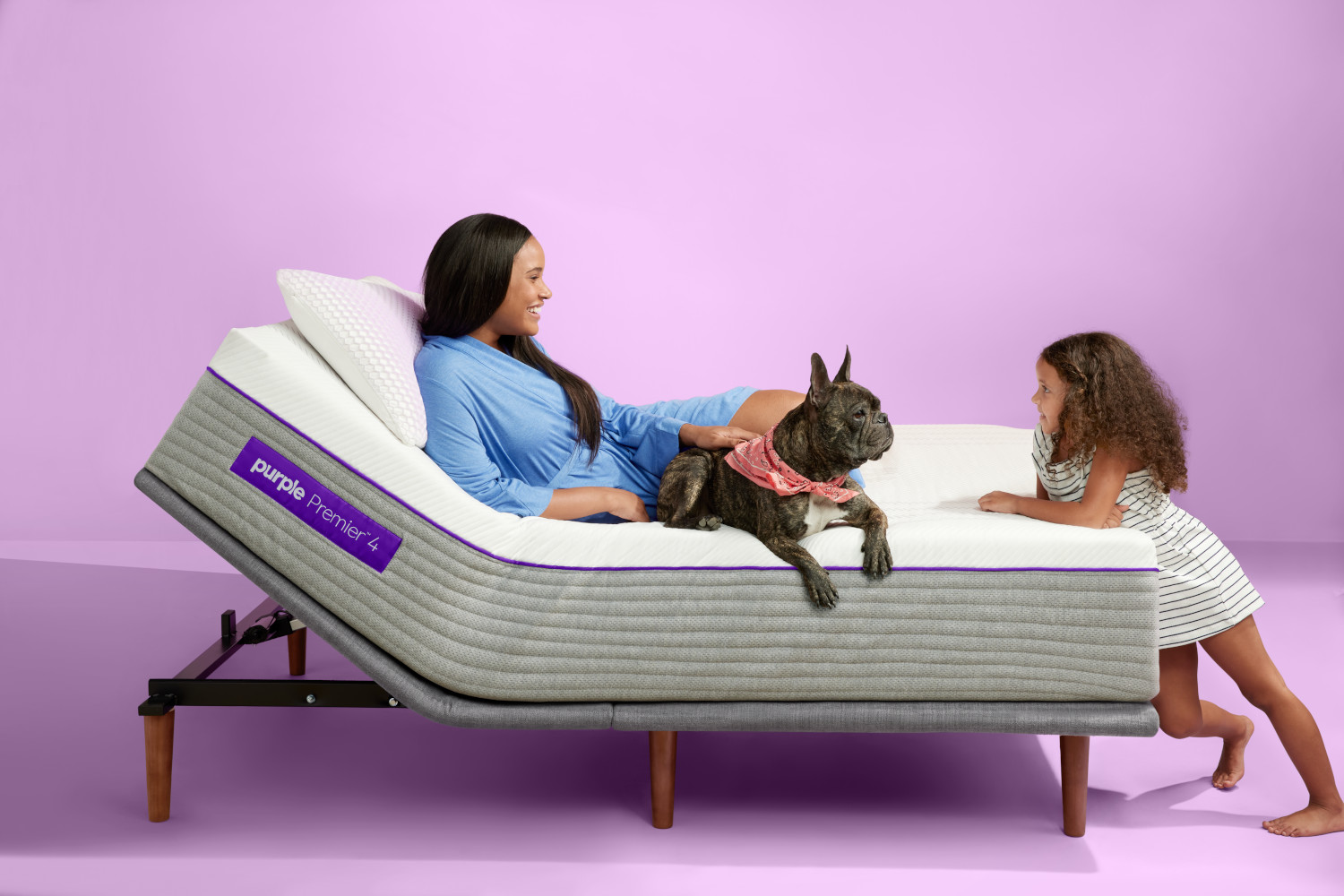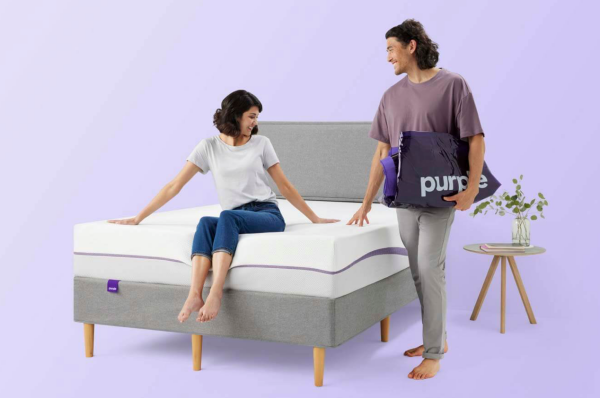 When it comes to superior mattresses, no one does it best like Purple Mattress. From their patented Purple FlexGrid Technology to the attention to detail they place in every mattress that leaves the manufacturer line, this is one mattress brand you don't want to overlook. Not only do they have some of the best mattresses […]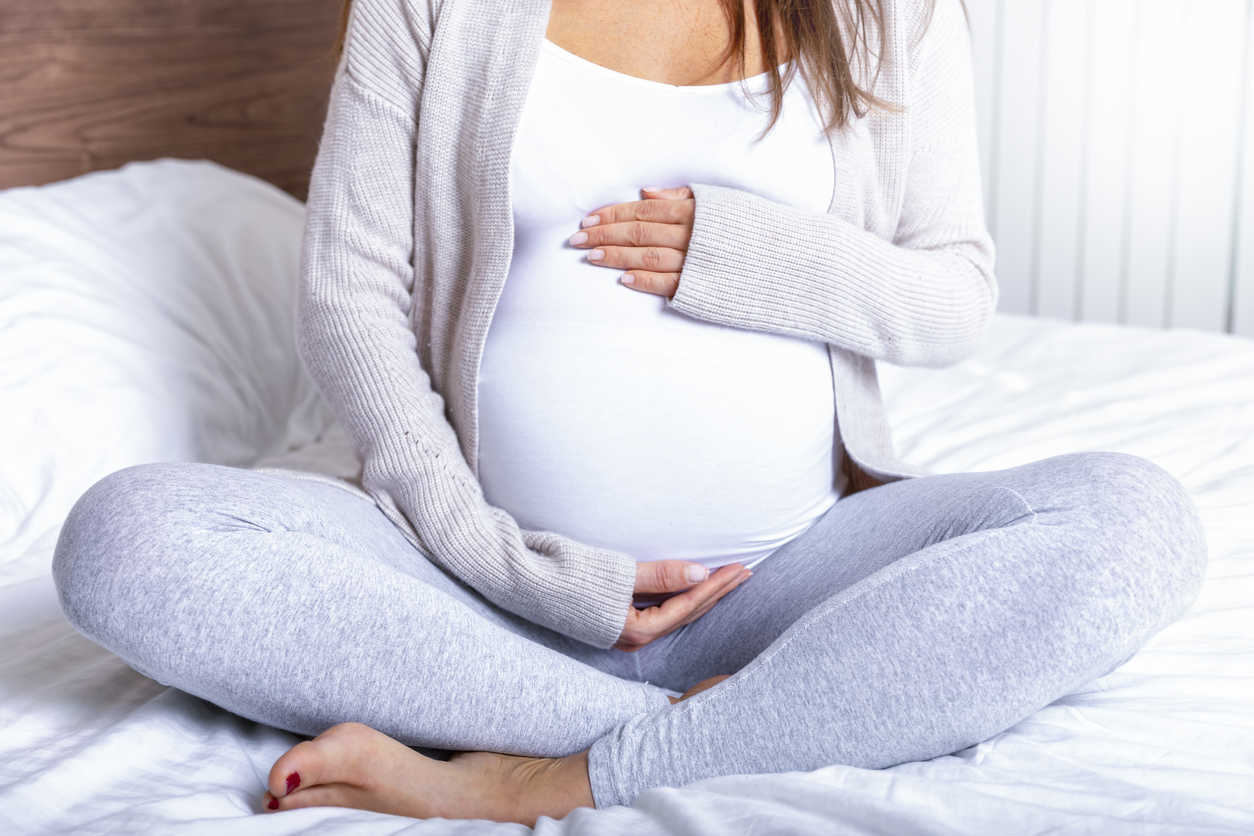 Are you having a hard time sleeping while pregnant? A comfortable mattress may be just the answer to your sleeping problems. You can stay comfortable in bed and enjoy a sound sleep even when pregnant by changing your sleeping position and getting a comfortable mattress. During the second and third trimesters, this is especially important. […]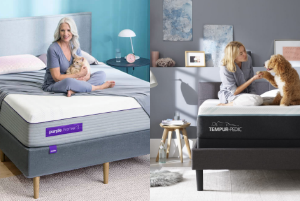 At Best Mattress, we're proud to carry all manner of mattresses and accessories from companies like Purple and Tempur-Pedic. Mattresses and accessories alike, these companies are two of the top manufacturers in the industry. Their quality is so uniformly high that it's often difficult for our customers to choose between one or the other. We've […]