The mattress we choose is dependent on our own personal preferences such as its softness or firmness, degree of movement, and stability. Generally, comfort is the deciding factor, but any number of factors determine how comfortable a mattress feels to an individual. Mattress manufacturers employ various techniques and materials to optimize a particular mattress for people of all shapes and sizes.
This article focuses on the many different mattress technologies that make the best-in-class mattresses so comfortable. We compare side-by-side the top six mattress technologies including:
TEMPUR® Material
TEMPUR® material has a glamorous past. It was a foam developed in the 1970s by NASA to help minimize the effect of gravity on the astronauts as they launched into space. The same technology that NASA used was refined and enhanced to increase durability, adaptability, and heat dissipation. The resulting foam was patented, and this patented technology became TEMPUR® material used to make mattresses.
Different from Memory Foam
The TEMPUR® material is different from the typical memory foam. TEMPUR® material is designed to react to the sleeper's size, shape, and temperature and mold itself to provide individualized comfort and support to that sleeper. If you've ever slept on it, TEMPUR® material has a different feel and response than typical memory foam.
Different patented materials and technologies minimize what is known as the motion effect, which occurs when the sleeper changes position. It also minimizes gravitational effect, which are the pressure points created at the points where the sleeper's body touches the mattress.
Layer Technology
TEMPUR® mattresses also employ layer technology to enhance the properties of the foam. The layers are always in the same order meaning the mattress always has the same side up and cannot be flipped.
Base Layer: Provides support for TEMPUR® materials and assists in removing heat from the mattress.
Support Layer: Made from proprietary foam to evenly distribute weight across the mattress.
Comfort Layer: Personalized to soft, medium, firm for individual comfort.
Patented Technology
TEMPUR® is a patented technology. There are no other products on the market made out of this material. The product is often compared to other memory phone products to determine the best-in-class, but the reality is TEMPUR® products are considered superior to any other memory foam product on the market.
Tempur-Pedic Means Comfort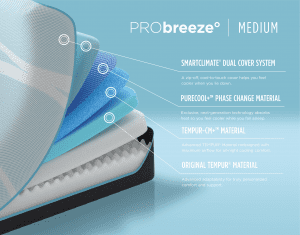 Tempur-Pedic incorporates other technologies in the mattresses they create to meet every comfort level and need, with each mattress targeting a particular consumer group. For example, the TEMPUR-Adapt® collection for ultimate comfort and the TEMPUR-breeze° collection for ultimate cooling are the most popular mattress collections. Even the TEMPUR-Ergo®, which is not a mattress but a smart base, adds to the comfort of each mattress by automatically responding to snoring. Products by Tempur-Pedic enhance comfort and help you to sleep better.
Luxury Latex
Luxury latex is a modern mattress technology with its popularity largely due to its extreme comfort and durability.
Latex mattresses are usually made up of different layers of latex foam in different configurations and combinations. There are three types of latex foam employed in mattresses: synthetic, blended, and natural. The type of latex is determinative of the cost of the mattress and the features it offers.
Synthetic Latex
These are the most affordable latex mattresses, but affordability has come at the expense of durability, with the product's lifespan limited. Most synthetic latex mattresses are made of styrene-butadiene rubber (SBR), which despite being a rubber mimics many of the qualities of plastic. While synthetic latex mattresses serve a purpose, one of the main issues is the chemicals used to make them off-putting to many consumers.
Blended Latex
Blended latex mattresses are a little less affordable and a little more durable than their SBR counterparts, but they still fall short of natural latex mattresses. They are made up of synthetic and natural material, with the price a good indicator of the blend.
Natural Latex
Natural latex is made from the sap of the Hevea Brasiliensis, a type of rubber tree. The sap is harvested in an eco-friendly way so the tree can live for up to thirty years. Once harvested, the sap is used to manufacture either one of two supportive, soft, and durable foams: Dunlop or Talalay.
Talalay Latex
Talalay foam is used to half fill a sealed mold, and a vacuum is used to expand the latex to full size. The mold is then placed in the freezer with carbon dioxide injected into it, which causes it to evolve into a gel-like foam that is hardened by heat to become Talalay Latex. Considerable time and effort go into making Talalay latex which is why it is priced higher than Dunlop Latex. However, it should be noted it uses a small amount of synthetic to create a softer feel.
Dunlop Latex
This product is not as expensive as Talalay Latex but is still considered a luxury latex product. The manufacturing process is simple; foam is poured into a mold, hardened, and then cleaned to create Dunlop Latex.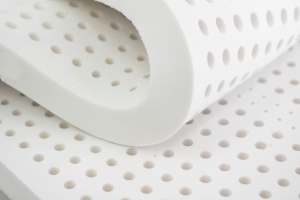 There is a slight anomaly around natural latex mattresses in that most are not actually organic, as they also make use of other materials. The luxury latex mattresses carrying the OEKO TEX Standard 100 Certification are generally considered to fall within the natural latex category.
OEKO TEX Standard 100 Certification
The OEKO TEX Standard 100 Certification means that the mattress has been tested for and found clear of materials that are likely to be harmful. There is a long list of materials the product is tested for, which include chemicals, pesticides, heavy metals, and allergenic dyes, among other things.
Posh+Lavish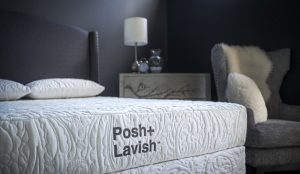 The Posh+Lavish is generally considered the best-in-class luxury latex mattress. It is made from ethically sourced luxury wool, cotton, and latex. The cotton keeps moisture away from the skin, the wool insulates, while the latex provides the necessary support for comfort.
Hybrid Technology
Hybrid technology represents a blend of memory foam and innerspring technology utilizing the best features of both of these products in one mattress. By combing the two products the mattress creates a balance between cushioned comfort and adaptive support.
The inner coils are distributed throughout the mattress, with around 20% more in the center third of the mattress to facilitate better weight distribution, target pressure points, and improve posture. The memory foam is used to reduce motion transfer and provide stability and support.
Sealy Hybrid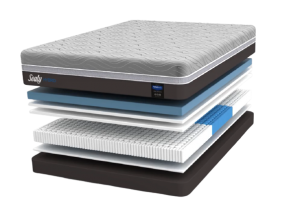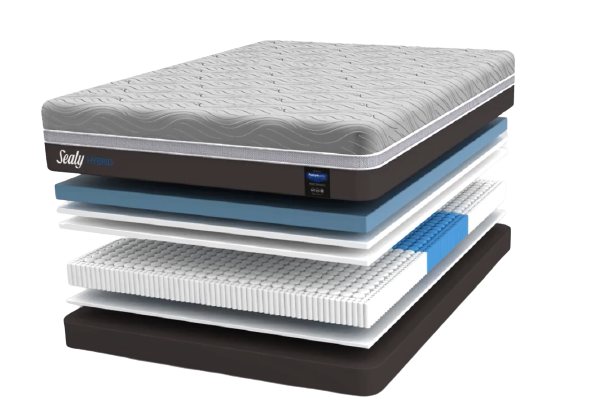 Sealy is generally considered the best-in-class mattress with its Posturepedic design, offering several variations of their Sealy Hybrid, so there is something that suits everyone.
Traditional Innerspring
An innerspring mattress uses metal coils to give the mattress support. The type of coils and their configuration generally determine the level of support, which is the defining quality of this type of mattress.
Most innerspring mattresses have one of four configurations:
Bonnell or open coils are the most common type of coil. They usually take the shape of an hourglass and are typically wired together to create one continuous unit, making this type of mattress very durable. However, there is little to limit motion transfer.
Offset coils conform to the body's shape better. Like Bonnell coils, they are continuous hourglasses, but the bottom is offset, giving a hinging effect when compressed.
Continuous coils have several rows of wire molded into circle shapes. This type of coil offers less support than other coil types.
Pocket coils are individual coils encased in fabric, meaning they have the ability to move independently. This reduces motion transfer seen in some other coils. They are also able to contour to the shape of the body better for more comfort.
Coil Count
The coil count contributes to comfort, but with the range of other materials in use today, the count is less influential. Typically the coil count should be at least 400, but anything more than 700 is unlikely to make a lot of difference comfort-wise as other technologies tend to kick in.
Wire Gauge
The gauge of the coil is the thickness of the wire to make the coil.  When the gauge is high, the wire is thinner, giving the mattress more spring. Thicker coil gauges will provide more support. For comfort and support, the coil gauge should be between 12 and 15.
Additional wire or foam should be added through the central region of the mattress for additional support in the lumbar region. If this is not provided, the mattress is likely to sink in these areas.
Beautyrest Black

The Beautyrest Black is one of the best-in-class for this mattress type. It uses patented T3 Pocketed Coil® Technology to provide comfort and support. With this technology, three steel strands wind into one coil to absorb energy and provide better support. The gel foam creates even more comfort to create a well-balanced mattress.
Stearns and Foster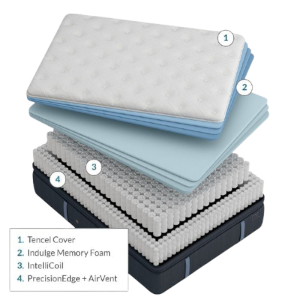 Stearns and Foster is the other company that makes one of the best mattresses in this class. They have their own patented IntelliCoil®, IntelliCoil® Micro, and IntelliCoil® Micro HD components. IntelliCoil® is a coil within a coil. The outer coil provides more general support while the inner coil adapts to provide individual support for all sleep styles.
Stearns and Foster also utilize memory foam with a luxury plush layer to create extra comfort.
Conclusion
Each person is unique and there are so many variables to consider and master to provide comfortable sleep from a mattress. It must be adaptive for so many different needs. For this reason, mattress technology has advanced so much in recent years. The technologies explored in this article are best-in-class and the brands mentioned are those that best represent each mattress technology.
For a simplified side-by-side comparison of each of the mattress technologies, we have created this chart. It serves to help see how unique each technology is and the different approaches each takes to solve the issue of improved comfort and better sleep.
Open cellular structure adapts immediately and precisely to weight, shape, and temperature

Natural latex rubber rather than polyurethane foam

Posturepedic Technology™ with 20% more coils for better support

Premium

upholstery-grade fabrics

602 gram weight moisture absorbant tencel-faced fabric

Sealy Comfortsense™ Gel Memory Foam

GelTouch® Foam for fantastic pressure relief, airflow and breathability

Indulge HD Memory Foam (high-density memory foam designed exclusive by Tempur-Pedic)







TEMPUR-APR™ Support Layer

Natural latex rubber for longer lasting buoyancy and support

Sealy Immersion™ Advanced Foam with Chill™ for pressure relief and cooling technology

T3 Pocketed Coil® Technology and BeautyEdge®

IntelliCoil® HD and IntelliCoil® Micro dual coil system

SmartClimate® Dual Cover System

Oeko-Tex® Certified cotton to regulate tempurature

DuoChill™ Technology on the sleep surface for twice the cool-to-touch feel

AirVent System (external air vents to prevent heat buildup)

Ethically-sourced wool for great insulation

Response Pro™ HD Zoned Encased Coil System for personalized support

DuraFlex™ Coil Edge System for better edge support and more usable sleeping space

HeiQ V-Block™ (microsilver and vesicle technologies to attract, break down, and eliminate harmful bacteria)

Available in Firm to Ultra Plush Pillow Top

Adjustable Base Compatible

Posh+Lavish mattresses are OEKO-TEX® certified

The foams by both brands have been certified by the CertiPUR-US® program

Beautyrest Black

--&--

Stearns and Foster