Personal Comfort
Showing all 3 results
Personal Comfort R13 Mattress

From

$

4,199.99 Choose

Personal Comfort® R11 Mattress

From

$

2,749.99 Choose

Personal Comfort® R15 Mattress

From

$

5,399.99 Choose
Welcome to the last mattress you'll ever need. No more compromising on mattress firmness or comfort, no more buyer's remorse, and no more worries over one of the most important purchasing choices you'll ever make – your bed. The patented technology in Personal Comfort™ Bed allows you to completely personalize your sleep experience at the touch of a button. This is innovation you won't find anywhere else.
The Personal Comfort® mattress is designed in the U.S.A. and manufactured by the producers of the Original Number Bed®, American National Manufacturing (Est. 1972). As a leader in the mattress industry, we combine the highest quality materials with state-of-the-art technology. We proudly stand behind our entire product line.
There are so many reasons why customers prefer the Personal Comfort bed over the Sleep Number® bed. As the perfect mattress for all ages, shapes, and sizes of people, we spare no expense in our materials or our workmanship. In fact, no other leading brand manufacturer boasts higher standards than those set forth by Personal Comfort. We continue to develop and test our products, redefining the perfect sleep system with beds that are built to exceed their warranty terms – and your expectations.
Wireless Technology
Our new wireless controls offer a very easy-to-use number bed experience. The new wireless remotes make it easier to select your number bed setting and visualize the adjustment as it's happening. Two wireless controllers are included on every number bed. There are also two memory selections per wireless remote so you can save your two favorite number settings.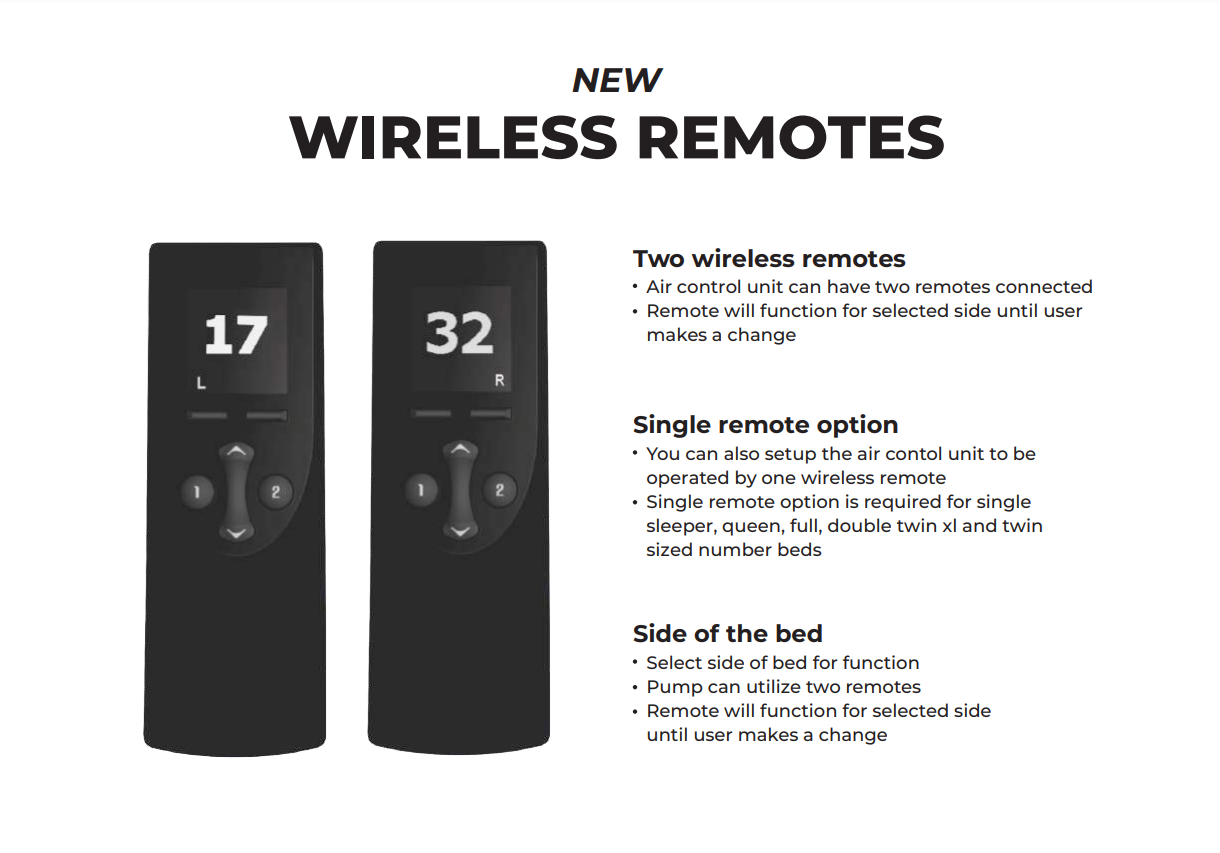 2-Zone Completely Personalized
When you order a Queen, King or California King-sized Personal Comfort each person will have the ability to individually personalize their side of the mattress to their desired level of support. The 2-Zone technology consists of a left and right zone within the mattress.
Interchangeable Components
Our premium mattress products allow you to upgrade or downgrade the mattress comfort layers, mattress top cover, mattress center panel, or air control unit at any time for the life of the mattress.
Replaceable Components
Most components of the Personal Comfort Bed are replaceable. This feature gives you the ability to replace a component to make the bed "like new" again. There is no need to purchase another bed ever again.
Upgradable Mattress Design
Most parts and comfort layers of the bed can be replaced or upgraded. (Ex: A8 can be upgraded to an R13). You can also add one of our custom build mattress toppers to change the level of comfort to any Personal Comfort mattress at any time.
Advanced upgrades include the addition of an adjustable bed base. Achieve the best form of sleep and comfort by upgrading to an adjustable bed base with massage. An adjustable bed base allows you to adjust and elevate your head and feet at any time.
Patented Reversible "Top Panel" Mattress Cover
Available on select models – You will find the reversible mattress cover top panel available only at Personal Comfort. The versatility of the patented design provides a sleeping surface with a two-sided option. One side is temperature neutralizing while the other side is a bamboo material. Having the ability to utilize both sides of your reversible top panel helps increase the lifespan of the sleeping surface. We recommend flipping your top panel every six months. You can also easily sanitize your mattress cover top panel as needed by having it professionally dry cleaned.
Reversible Comfort Layers
Reversible comfort layers are a feature only available only at Personal Comfort Bed. For mattresses that have two or more comfort layers, you have the ability to easily change the level of mattress comfort firmness by simply unzipping the cover and reversing the comfort layers. The A10 mattress model comes with even more customizability, allowing you to change the comfort layers for each side of the mattress. No other competitor, including Sleep Number Bed, gives you this level of customizability.
Comfort Layers
The comfort and support that our comfort layers deliver are second to none. All Personal Comfort models include a variation of comfort layers. Our comfort layers provide additional contouring support while maintaining the desired level of comfort for a restful night's sleep.
Chamber System
Our premium products come with ultra-flex air chambers for additional contouring and added durability. The ultra-flex chamber is made of a polyurethane blend
Our baffled 24-gauge vulcanized rubber air chambers help create uniform support throughout your mattress. Built for long-lasting support, they are puncture resistant and extremely durable from leaks. Watch as we drive over one of our air chambers with a 4×4 just to test the durability of the chambers under extreme conditions.
Personal Comfort™ Air Control Unit and Wireless Remotes
Personal Comfort sets the standard with our new air control unit and wireless remotes. This is the only mattress in the industry that combines medical-grade accuracy with a nearly unlimited number of possible comfort settings. There are 45 unique settings per remote and range from five to fifty in increments of one.
Our wireless remotes use a medical-grade pressure scale to ensure the most precise adjustments and dynamically measure the pressure in real time. Improve the quality of your sleep by simply adjusting your mattress to obtain optimal blood flow and circulation.
Connect your phone to your mattress, only when you buy a Personal Comfort Bed. Bluetooth connectivity is available on all Personal Comfort mattress models. You can download the Personal Comfort™ app for iOS and Android operating systems. Easily sync your phone or tablet to the air control unit and control your new mattress wirelessly through your own device!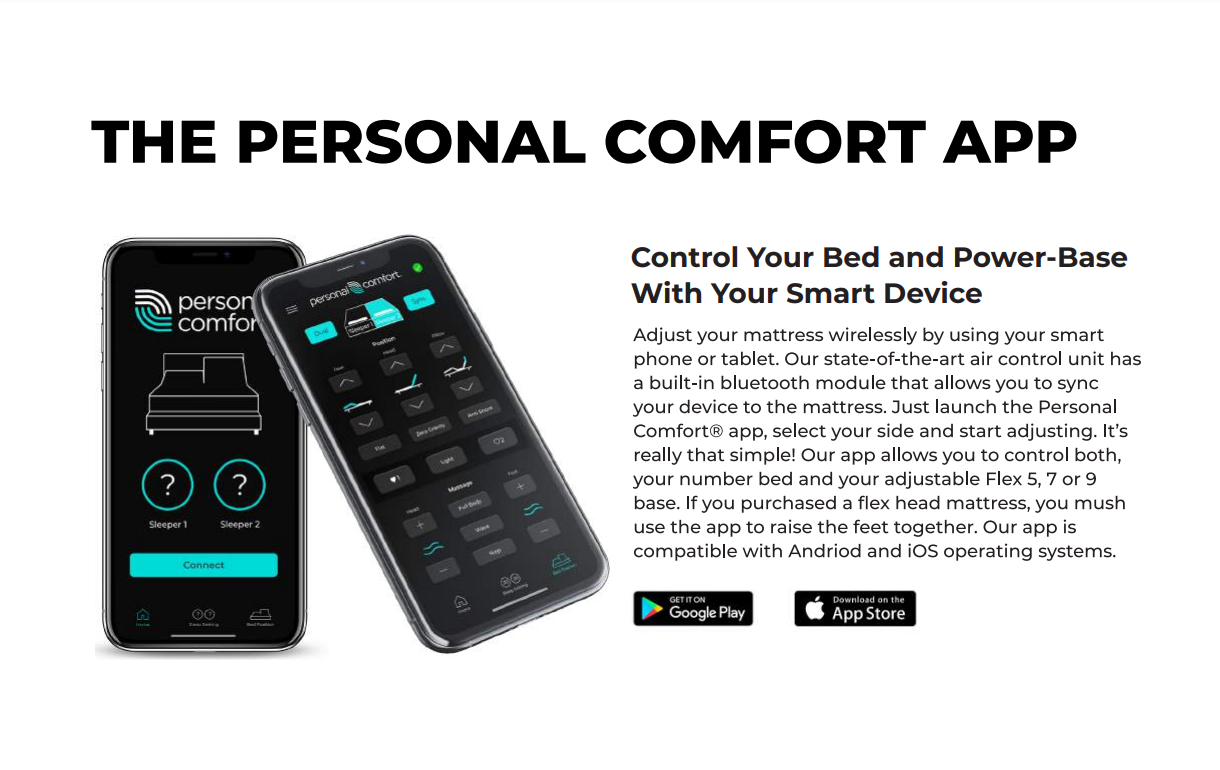 Automated Smart Bed Demo
Retail shoppers can test out the Personal Comfort bed's features by using the automated demo. Personal Comfort owners can ALSO use the automated demo in the comfort of their own home to familiarize themselves with the Personal Comfort bed features. Once you have downloaded the Personal Comfort app, simply set up your bed. Just locate the "Get to know your bed" feature in the hamburger menu on the app. It will automatically guide you through all the Personal Comfort features your new bed has to offer.
Copper Infused Energex™ comfort layer
Energex™ material has been specifically designed to energize and slightly soften in response to body heat, which is the key to providing highly adaptive comfort, ease of movement, and excellent pressure relief.
Copper provides superior thermal conductivity. When copper particles are compressed in the comfort layer, the evenly dispersed particles form super-conductive pathways that allow excess body heat to dissipate faster.
This new comfort layer is exclusive to all of our Rejuvenation Series models and is truly a game changer when it comes to personalized comfort.
Copper Infused Energex™ is made in the U.S.A. and is CertiPUR-US®, meeting standards for content, emissions, and durability, and has been analyzed by independent, accredited testing laboratories.
ThermaPhase Gel™ comfort layer
The unique qualities of the ThermaPhase Gel™ technology create a temperature-neutralizing sleeping surface that provides contouring support for your body. The open cell structure of the gel-infused comfort layer allows heat to be easily absorbed and distributed away to help maintain more restful sleep.
The ThermaPhase Gel™ comfort layer comforts and supports while reducing pressure points to help increase blood circulation during rest. You can find ThermaPhase Gel™ inside the Elegance series models. Another common name for this type of comfort layer is Gel Infused.
ThermaPhase Gel™ is made in the U.S.A. and is CertiPUR-US®, meeting standards for content, emissions, and durability, and has been analyzed by independent, accredited testing laboratories.
Zippered Center Panel
Our premium mattresses come with a patented zippered center panel mattress cover. This easy-to-access zippered center panel allows you to add and remove, upgrade, downgrade, and replace comfort layers, giving you the ultimate control over customizing your Personal Comfort Bed to your specific needs.
Kink-resistant Hose Design
The air hoses that connect our air chambers to our air control unit are reinforced to make them resistant to kinks. This helps maintain airflow between your mattress and the air control unit. You can rest assured that airflow will never be compromised due to any kinking behind your headboard. Kink-resistant hoses also help maintain airflow when you have an adjustable bed base that raises the head portion of the mattress.
Instant-Connect Hose Adaptors
The Personal Comfort Bed air control unit and air chambers are connected using kink-resistant hoses. These hoses have proprietary adaptors that connect them so there is no air loss. Our proprietary connections are called Insta-Connect hose adaptors and they allow you to easily remove the chamber hose from the air control unit hose with the press of a button. Our Insta-Connect hose adaptors are also built with a one-way valve to prevent any air loss when disconnected from the air control unit. This is ideal for when you have to move your mattress or need to use the mattress without the air control unit or power.
Lock-Tight Rail System
The lock-tight rail system is featured on every Personal Comfort mattress. Having the side and head/foot rails, locked together, helps prevent the internal mattress components from shifting. The lock-tight rail system provides maximum edge and corner support around the perimeter of the mattress, allowing you to sit on the edge of the bed without feeling like you're going to slide off.
120-Day Comfort Guarantee & Shipping

SAME DAY DELIVERY
In-stock merchandise purchased by 1 pm will be delivered the same day upon request, excluding holidays and limited to a geographic area with a minimum purchase of a $599 mattress set. Excludes floor models. See store for details.
DELIVERY
The room must be ready for delivery when the drivers arrive.
As a service, we will remove your old mattress and box spring before delivering the new set (subject to inspection, unsanitary bedding will not be removed, limited to equal amount delivered).
As a service, we will remove your old mattress and box spring before delivering the new set (subject to inspection, unsanitary bedding will not be removed, limited to an equal amount delivered).
Delivery cannot be made to a minor and finance orders will require a signature from someone with a valid state-issued ID.
The driver will call the phone number provided on your order on the morning of delivery to give you a three-hour time frame. If you are not home for a delivery, there will be a $69.99 re-delivery fee.
If the driver determines that the delivery attempt could cause damage to your home, you will be required to sign a release of liability to complete the delivery.
Our C.O.D. Policy:
All orders must be paid in full before the delivery date. We do not accept payment at the time of delivery.
10-Year Limited Warranty
Beautyrest stands by its products and materials with limited warranties so you rest easy.
Our-120 Day Sleep Guarantee
If you have owned your mattress for longer than 30 days and you aren't happy with your set, Best Mattress is glad to exchange your mattress for 120 days from the date of purchase. Please see our full terms & conditions here.
Best Mattress also offers FREE REMOVAL* of your old mattress. Our delivery driver will pick up your old mattress and seal it in plastic before loading it onto our truck.
Need financing? We have you covered! Best Mattress offers a variety of options available, including No Credit Check Financing! Please contact us for additional details on all offers.
We appreciate your patience, understanding, and support at this time. Thank you for continuing to be a loyal Best Mattress customer. Sleep Easy, Friends!