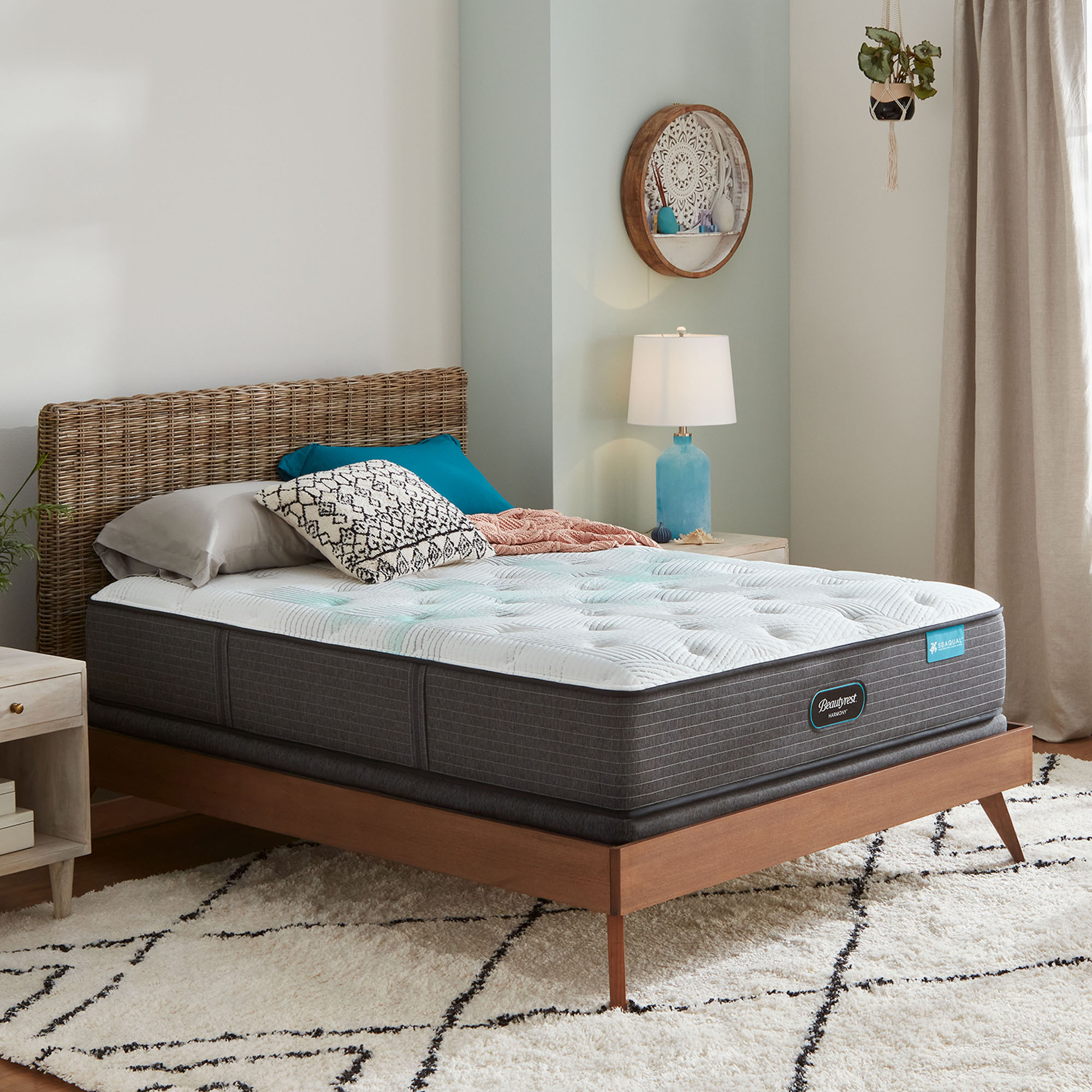 Beautyrest is one of the top brands that we sell at Best Mattress. Their mattresses are soft, comfortable, and long-lasting, making it easy to get a good night's sleep. It's good to have questions about any product before you buy. Here are some of the most frequently asked questions that our customers have about the Beautyrest mattress line.
Is Beautyrest Made By Serta?
Serta does not own Beautyrest. Instead, Serta and Beautyrest are part of Simmons Bedding Company, which also manufactures Simmons and Tuft and Needle. While they're owned by the same flagship company, each brand still has its own products, features, and technological advancements. In addition to mattresses for personal use, Simmons Bedding Company sells Serta and Beautyrest mattresses directly to buyers in the hospitality industry.
How Long Does a Beautyrest Mattress Last?
Generally, Beautyrest mattresses will last anywhere from seven to ten years. However, you'll need to follow the care instructions to ensure that your mattress lasts as long as possible. We recommend buying a mattress protector that shields your mattress from spills, crumbs, dirt, allergens, and other contaminants that could ruin your mattress.
If you spill something on the mattress, pour baking soda on the area and let it sit for about 15 minutes. Afterward, vacuum the mattress and air it out as much as possible. Beautyrest does not recommend using cleaning liquids because they might stain or penetrate the mattress, causing even more damage.
Which Beautyrest Mattress is Best for Side Sleepers?
Side sleepers need a mattress that prevents back pain and supports their spines but keeps them comfortable throughout the night. Soft to medium Beautyrest mattresses are the best option for side sleepers. They're soft but firm at the same time so you'll be able to relax without feeling like you're sinking into the mattress.
The Beautyrest Harmony line comes with features like pressure relief and the Targeted Support System. When you sleep on your side, Beautyrest Harmony mattresses support and align your joints. Similarly, Beautyrest Black mattresses offer steel coils, advanced support systems, and other features along with technological advancements like the BlackICE cooling system.
Can You Flip a Beautyrest Mattress?
You cannot flip a Beautyrest mattress. Due to their advanced design, you'll have less support if you try to sleep on the wrong side. The top of the mattress also has fabric and comfort layers that you won't find underneath. Fortunately, you won't need to flip your mattress if you keep it clean for the duration of its lifespan.
If you've had your mattress for a while, you can turn it 180 degrees and sleep on the opposite side. You can rotate the mattress as many times as you want—just keep in mind that ten years is the expected lifespan. At a certain point, it might be time to start over with a new Beautyrest mattress.
Which Beautyrest Mattress is Best for Back Pain?
Mattresses that support your body while contouring to its shape are best for back pain. Beautyrest mattresses offer advanced support technology like the Targeted Support System and T1 Pocket Coil Technology. These features cradle your body while you sleep to take pressure off your muscles and joints.
To relieve back pain, you'll also want to invest in an adjustable base. Our adjustable bases support your body in any position that works for you. Some sleepers need to raise their feet while others require a slight incline. With the combination of a Beautyrest mattress and adjustable base, you'll feel refreshed in the morning instead of uncomfortable and stiff.
Is Beautyrest Black Worth the Money?
Beautyrest Black mattresses are worth the investment. Here's a look at the features that you'll get with select Beautyrest Black mattresses:
BlackICE 4.0. If you find yourself overheating during the night, BlackICE 4.0 uses four cooling functions to keep the air circulating.
BeautyEdge. This feature gives you maximum support around the edges of the mattress so you don't accidentally slide off.
T3 Pocketed Coil Technology. These coils are made from three steel strands woven together into one coil, offering unparalleled support and comfort.
RightTemp Memory Foam. This memory foam doesn't just adjust to the shape of your body–it pulls heat away to keep you cool while you sleep.
Which Beautyrest Products Do We Sell?
We sell an extensive range of Beautyrest mattresses, including the Black, Daydream, and Harmony lines. Choose from soft, medium, and firm mattresses that offer the perfect amount of support during the night. If you're looking for a soft texture, check out our Beautyrest Plush Pillow Top mattresses that cradle your body with fabric and foam. We also sell flat and adjustable Beautyrest bases to complete your bedroom setup.
Why Should You Buy Mattresses from Best Mattress?
120-Day Sleep Guarantee
A Beautyrest mattress is an investment that might last a decade or more. For this reason, we want to make sure that you're happy with your mattress before you keep it for the long haul. Best Mattresses offers a 120-Day Sleep Guarantee on virtually every mattress. If you've tried the mattress for a few months and you're not happy, you can exchange it within 120 days without paying a restocking fee. You can also return your mattress for a refund within 120 days with a small 20% restocking fee and delivery fee.
Fast and Friendly Delivery
If you live in the Las Vegas area, you're eligible for same-day delivery. Place your order before 1 P.M., and we'll deliver your mattress and set it up on the same day. This is great for people who already tossed their old mattress and can't wait several days for a new mattress to arrive. We also don't outsource our delivery crew—every member of the team is employed by Best Mattress. This means that you'll enjoy high-quality service every time you place an order.
When we deliver your mattress, we'll remove and haul away your old mattress for free. We'll also set up your mattress and base for no extra charge. This includes adjustable bases and other products that require extra effort. Once we've completed our delivery and setup, we'll take the trash and boxes with us so you won't have to worry about cleaning up afterward.
Expert Customer Service
With so many brands and features, it can be hard to find the right mattress for your bedroom. If you live nearby, stop by our location to talk to our experts in person. You can also call us or chat with a professional online when you have questions. We're happy to help you choose the right mattress, base, and accessories for your bedroom.