Everyone sleeps differently and no one mattress is going to work for everybody. That can make it very difficult when it comes to buying a new mattress. You need to take into consideration various things — are you a side sleeper, back sleeper, or stomach sleeper? Do you get hot at night? Maybe you are on the heavier side, or taller than the average person. All of these things can make a difference. We take a closer look at each of these things to help you choose the right mattress for you.
In addition to the best mattress for sleep type, this chart will help you understand the different mattress sizes.
The Best Mattress for Side Sleepers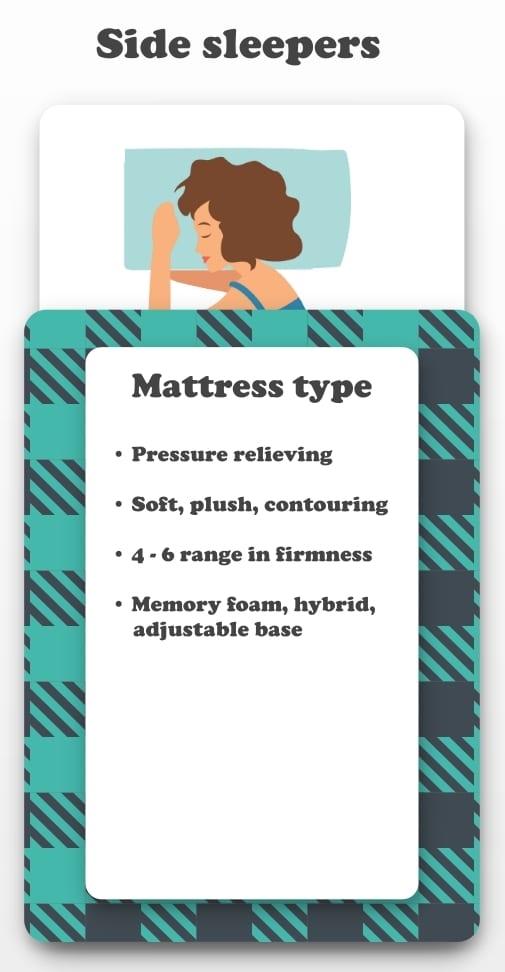 Side sleepers are generally more prone to aches and pains while sleeping. This is because there are more pressure points and curves sleeping in the side position. There must be support and cushion at every curve at the areas of your head, neck, shoulders, hips, knees, and ankles. Finding the right mattresses can be difficult.
Side sleepers need a mattress that is on the softer side. When it comes to the firmness rating of a mattress, 6.5 is generally considered medium-firm, or average. Those who sleep on their side may want to think about mattresses with a firmness rating of between 4.5 and 6. This will ensure cushion and comfort while giving enough support to keep the spine in alignment.
Gel memory foam and memory foam mattresses are ideal for side sleepers as they have just the right amount of 'give.' Memory foam and gel memory foam contour to your body shape providing support where you need it. The result is an amazing sleep experience every night.
A good mattress choice for side sleepers is memory foam, gel memory foam, and hybrid (memory foam + innerspring). Hybrid mattresses provide the contouring ability with extra support from the inner coils.
Many side sleepers like to start out on their back and then move to their side. An adjustable base would be a great way to relax before returning to a flat mattress and moving to your side.
Memory Foam
Hybrid
The Best Mattress for Back Sleepers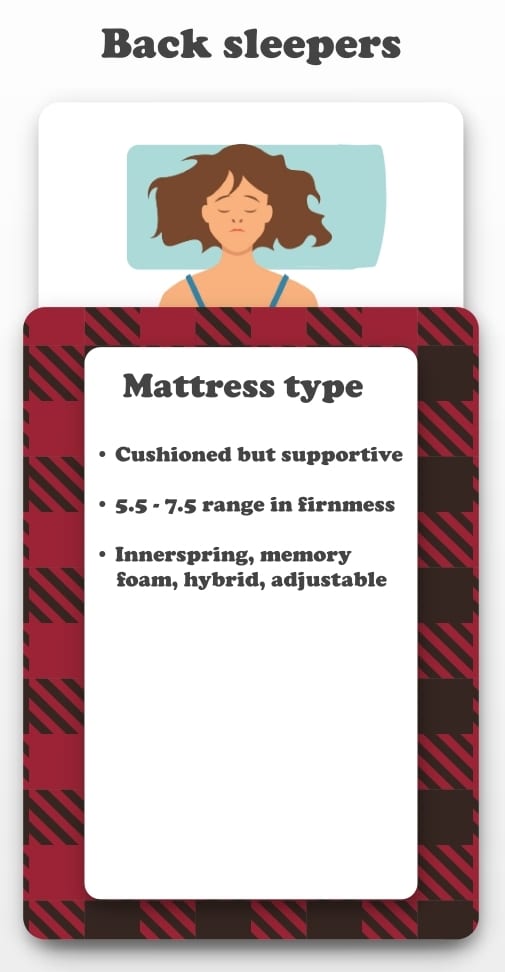 Correct alignment of the spine is absolutely crucial for people who sleep on their back. A medium to firm mattress is the best choice for back sleepers. A medium to firm mattress is comfortable while keeping your back and shoulders in alignment.
The type of mattress most suitable for back sleepers is many including innerspring, memory foam, and hybrid mattresses. Adjustable beds enhance the comfort of any of these mattresses when they are compatible.
Innerspring mattresses provide support and are fairly inexpensive. Memory foam, on the other hand, is much better at conforming to body shape and providing support. However, memory foam is much more expensive than innerspring mattresses. For those that are back sleepers and tend to sleep hot at night, hybrid mattresses are ideal. Hybrids give the best comfort and support while allowing airflow that helps keep you cool.
The choice comes down to a combination of comfort, price, and whether or not you are a hot sleeper. A medium-firm memory foam mattress is excellent for back sleepers, especially for those with back pain issues. Hybrids are best for hot sleepers that also want the benefit of memory foam. Innerspring mattresses are a cost-effective option for those who are watching their dollars.
An adjustable bed adds additional comfort and is ideal for back sleepers as it provides customized sleeping positions. Those with back pain, hip pain, headaches, arthritis, swelling of feet, heartburn, or who snore can benefit from an adjustable bed.
Memory Foam
Hybrid
Innerspring
The Best Mattress for Stomach Sleepers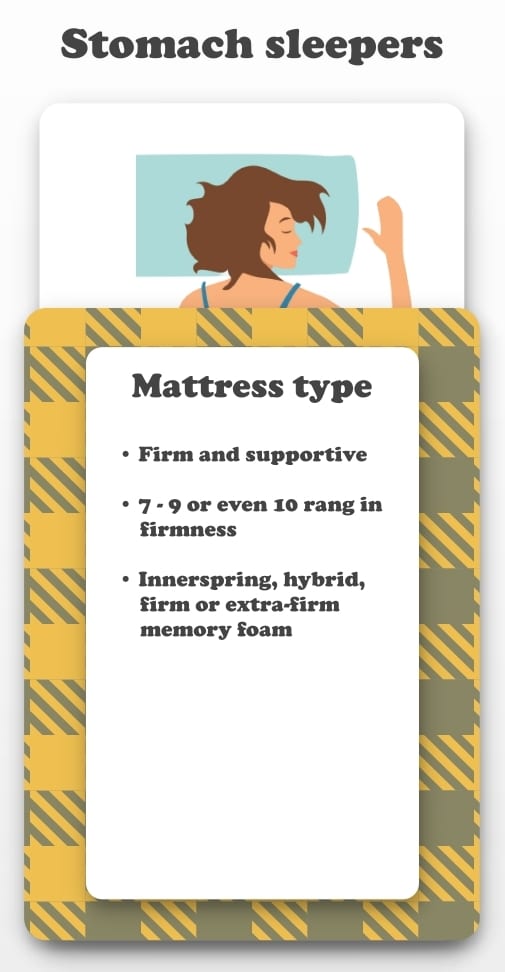 To provide adequate support to preserve the natural alignment of the spine, we recommend a firm or extra-firm mattress for stomach sleepers. The ideal mattress firmness is between 7 and 9, even 10 on the rating scale. This allows maximum comfort while preventing your spine from sinking in and arching.
Stomach sleepers should not get a soft mattress due to the lack of support for the spine in that position. Your torso will sink into the mattress if your mattress is too soft, and your back will arch as you sleep. The results in the morning would likely be aches and pains.
Memory foam or hybrid mattresses are excellent choices because they both have the right amount of comfort and support.
Innerspring mattresses are a good option for those on a budget. Coiled mattresses can provide the necessary support for stomach sleepers, but may not be as comfortable or last as long.
Innerspring
Hybrid
Firm Mattress
The Best Mattress for Hot Sleepers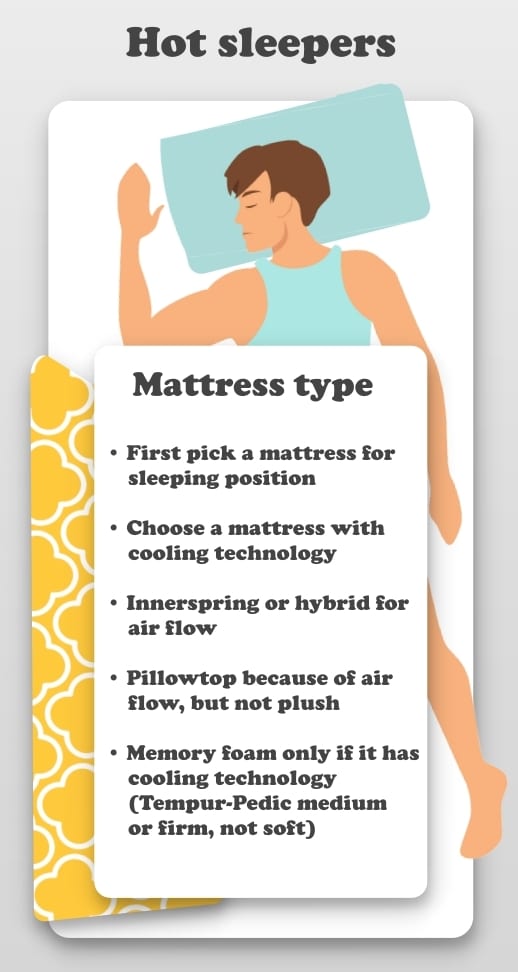 If you tend to overheat while sleeping you want a mattress that was built for hot sleepers. A lot of cooling technology goes into high-end mattresses because many people overheat at night. Overheating can ruin your sleep which affects your overall health over time.
The best mattress for hot sleepers is innerspring, hybrid, and pillow top (not plush). mattresses. Innerspring and hybrid mattresses have good airflow that helps keep you cool. Pillow top mattresses also contain springs, but if the mattress is too plush, it may trap more heat.
In the past, hot sleepers were advised to stay away from memory foam. That's because memory foam retained body heat more than other mattresses. These days, high-end memory foam mattresses have built-in cooling technology to combat the issue of overheating. But with the technology comes the cost. Tempur-Pedic has cooling technology in its medium and firm mattresses.
Innerspring
Hybrid
Pillow Top
Cooling Mattress
The Best Mattress for Heavy People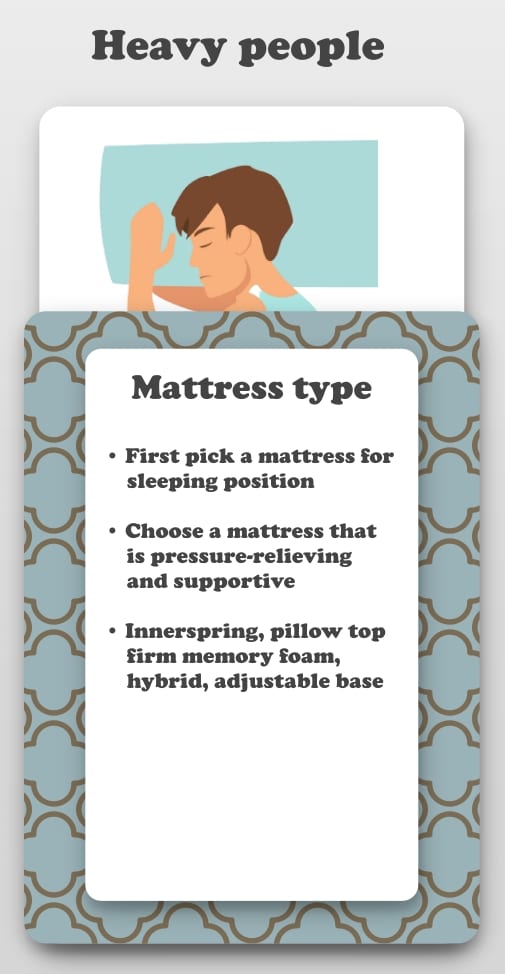 Heavier people need a mattress with supportive, pressure-relieving comfort. A medium to firm level would be the best mattress for heavy people.
Memory foam is a great mattress for heavy people because it provides support where you need it most. Memory foam is also very durable and returns to its original shape after use for years on end.
Hybrid mattresses are also great for heavy people because of the reasons just mentions with additional support from individually encased coils. Hybrids are also better for heavy people that are also hot sleepers.
Innerspring mattresses provide the support but a pillow top mattress adds more comfort. Both innerspring and pillow top mattresses are great, but may not last as long as memory foam or hybrids.
Adjustable beds are excellent for heavier people because they allow for personalized comfort. Adjustable bases also help address snoring and heartburn.
Memory Foam
Hybrid
Pillow Top
Innerspring
The Best Mattress for Tall People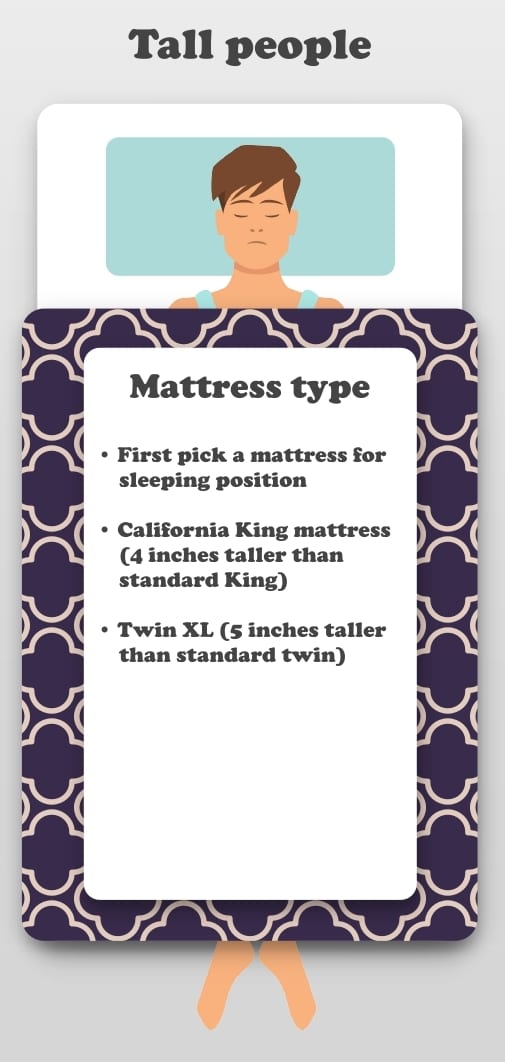 Do you end up with your feet hanging over the edge of the bed most nights? If you are tall, a standard mattress probably isn't long enough. Dangling feet are cold, annoying, and can give you pins and needles.
The best mattress for tall people is a Californian King-sized bed or a twin XL to give you the extra length that you need for a good night's sleep. A California King mattress is 4 inches longer than the traditional King mattress. The twin XL mattress is 5 inches longer than the standard twin.
The best mattress for tall people in addition to the length of the bed is the comfort and support. The best supportive mattresses are memory foam, hybrids, and innerspring.
An adjustable base adds an additional level of comfort to any mattress for tall people. Tall people often have back pains and an adjustable base offers relief to back pain.
This is just a guide. Ultimately, your own comfort labels and preferences should dictate the type of mattress that you buy. However, if you start waking up achy and sore, it might be time to try out a new one!
California King
Twin XL