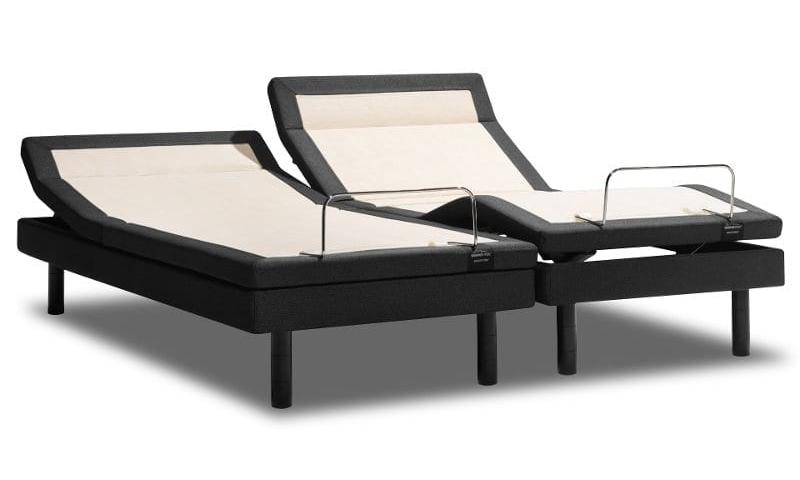 Do you find yourself waking in the morning feeling tired, achy, and sluggish, not ready to face the day? A solid bed base that supports your body size and sleeping position is as important as choosing the correct mattress. A good combination of the two will guarantee your mattress's long lifespan and provide you with the sleep you need to perform your best.
There are primarily four types of bed bases, all of which come in different sizes: adjustable bases, bunky boards, box springs, and low-profile bases. It's important to note that the size of your mattress should match the bed base to ensure optimal support. Continue reading our base guide and choose a bed base type and size that is just right for you!
Adjustable base. Moveable and excellent for relief from health issues such as back pain, snoring, sleep apnea, or acid reflux, to name but a few. Good for memory foam, hybrid, and individually wrapped coil mattresses.
Bunky board. Solid pieces of wood, cut according to the same size as your mattress. Good for memory foam mattresses.
Box spring base. An eight-inch high wooden frame that contains metal coils that give a little when you sit or lie on it. Good for all styles of mattresses.
Low-profile base. Similar to a traditional box spring base but only 4-inches high to provide a more contemporary look. Good for all styles of mattresses.
Here are the different types of bed bases for different sizes of mattresses. You should take into consideration before buying a bed base the room size, the type of mattress you have, your sleep position, your partner's sleep position, and if you would like an adjustable base that allows independent movement.
Twin Bed Base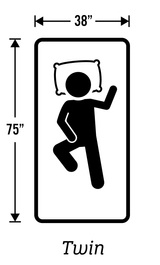 A twin bed base is 38 inches wide and 75 inches long and is ideal for children moving up from toddler beds but still small enough not to feel too big. It's also easy to transport and generally fits into a room with limited space.
Dimensions: 38″ x 75″
Twin XL Bed Base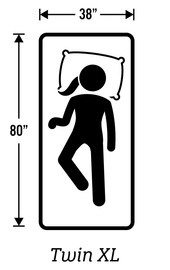 Twin XL bed bases provide 5 inches of additional legroom, making them suitable for taller children or single adults. A twin XL base works best with the same size mattress. A standard king mattress will fit two twin XL beds placed next to each other.
Dimensions: 38″ x 80″
Full Bed Base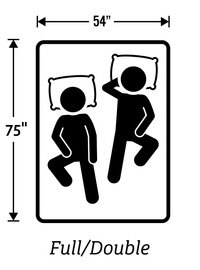 A full bed base size allows for 16 additional inches in width compared to a twin or twin XL size, making it a popular choice for teenagers, single adults, and combination sleepers who tend to change positions during the night. A full bed will also fit comfortably in a one-bedroom or studio apartment.
Dimensions: 54″ x 75″
Queen Bed Base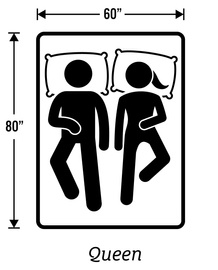 A queen bed base is 6 inches wider and 5 inches longer than a full-size bed base and is suitable for single adults and couples. The base also takes less room than a king or California king-size bed base.
Dimensions: 60″ x 80″
Split Queen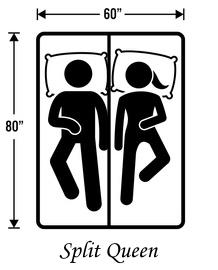 A split queen bed base is two 30-inch by 80-inch bases that sit side-by-side. The advantage is that it caters to individuals with different sleep needs. It can come as a standard or adjustable set and is easy to get into or move around your home.
Dimensions: Combined 60″ x 80″
King/Eastern King Bed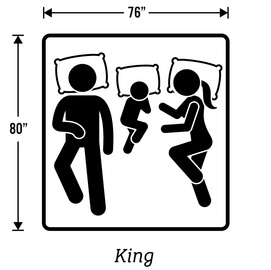 King-sized bed bases are 16 inches wider than queen-sized bases and are among the largest of foundations, making them the first choice for couples who require plenty of personal space or single people that like to spread themselves throughout the night.
Dimensions: 76″ x 80″
California King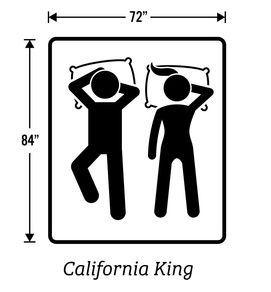 A California king-size bed base is not as wide as a king-size base but is 4 inches longer. This bed is ideal for taller people and works very well with an adjustable base.
Dimensions: 72″ x 84″
Split Cal King and Split King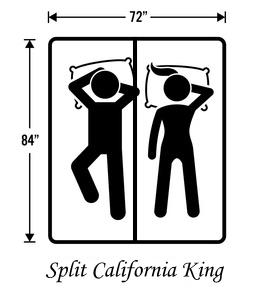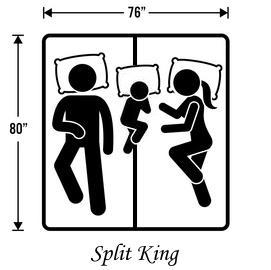 The Split Cal King base is ideal for adjustable bases and couples who prefer separate sleeping spaces. A split king follows the same concept as the split queen; two 38 by 80″ inches bed bases side-by-side. The Split Cal King is not as wide but makes up for it with 4 additional inches lengthwise. Split king bases can be adjusted independently with both sides to move up and down together.
Dimensions: Split Cal King 72″ x 84″ / Split King 76″ x 80″
Divided King
The Divided King works differently than the Split King as both sides of the bed can be adjusted in tandem. The base is still made up of two parts. However, it goes under the head and foot of the bed and not side-by-side as the Split King.
Dimensions: 76″ x 80″
Reclaim Your Sleep Today!
With several bed base types and sizes, selecting a base takes just a little forethought. When you buy a mattress from Best Mattress, select the bed base you want to go with it. You can also purchase a bed base separately from a mattress.
For fast, friendly, and tailored advice, contact us today and ask to speak to one of our team. You can also visit our stores in Las Vegas and St. George, Utah, to view our extensive in-stock inventory. Choose Best Mattress for the best delivery service and a 120-day sleep guarantee.