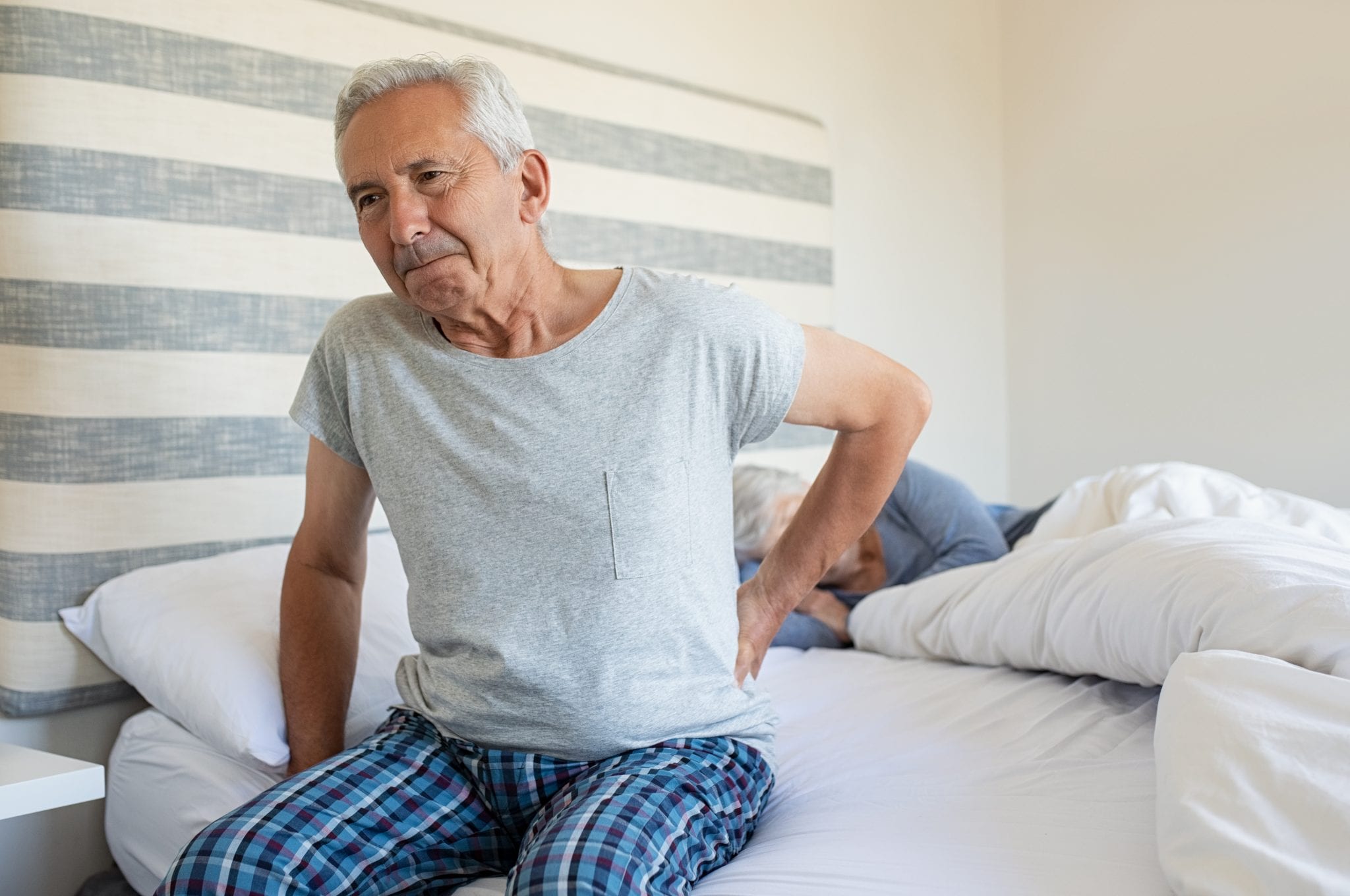 If you wake up with back pain in the mornings then there's a good chance that you're probably not getting a good night of sleep. The pain you get in the morning usually comes from stiffness or decreased blood flow from sleeping. If you move around and the pain goes away, then it's usually a good sign that your mattress and bed need an upgrade.
While morning back pain can come and go, it's never a bad idea to perform a complete upgrade of your bed to help you alleviate those problems and get a better night of sleep.
Mattress choice is important when it comes to relieving back pain. To help you out, we've put together this detailed guide that will explain what to look for in a mattress for back pain and also give you some suggestions from Best Mattress.
Choosing a Mattress for Back Pain
There are many different types of mattresses available on Best Mattress. This can make it a little overwhelming to choose a mattress, especially if you're looking for one that can help specifically with back pain. To help you narrow down your options, here are some of the things to look out for:
Choose a Medium or Firm Mattress
A medium or firm mattress is a good option when it comes to relieving back pain at night. Almost all mattress brands offer a medium or firm option so it's easy to find, so you should generally consider other kinds of qualities such as adjustable bed frames and size.
Relieving back pain relies on supporting your lower back and the natural curves of your spine. As such, a medium mattress tends to be a good option for most people. However, if you need a little more support, then a firm mattress can be a better option. Factors such as your weight, sleeping position, and any physical conditions can affect this choice.
Tempur-Pedic is a great brand to pick if you're looking for a mattress to relieve back pain. This is because they offer a medium-hybrid option that is somewhere between a medium and a firm mattress. This can be a good option if a medium mattress is a bit too soft and a firm mattress is a little too hard.
Be Careful About Using Memory Foam
On paper, memory foam sounds like an excellent mattress choice for back pain because it fits the contours of your body. However, a memory foam mattress can cause back pain if it sags too much. This means it doesn't provide adequate support for your back, but there are some memory foam options that are great for alleviating back pain.
Instant Comfort is a good option when it comes to utilizing memory foam correctly. Instead of being made entirely of memory foam, Instant Comfort mattresses are made from several layers of different materials with memory foam being one of them. This means it offers a comfortable sleeping experience while also supporting your back at night.
Similarly, Beautyrest Black offers the Black series which offers fantastic support for your back while utilizing a layer of gel foam, memory foam, and RightTemp foam to offer incredible comfort and support. This supports your body, fits the contours of your body, yet provides enough support to ensure your body doesn't sink into the mattress.
Personal Preference Is Important
Unfortunately, there's no one-size-fits-all solution when it comes to picking the best mattress for back pain. It's important to try out different mattresses if possible to see which one gives you a good night's sleep and helps you wake up without any back pain. It's also important to consider other qualities such as durability, size, and also adjustable options.
Adjustable Bed Frames and Mattresses
Trying out many different mattresses can be tiring and time-consuming. For some people, sleeping on an adjustable bed is a much more convenient option since the mattress material isn't such a huge factor. While it's certainly important to choose a level of firmness that suits you, an adjustable bed frame allows you to adjust the position and shape of the mattress to provide a more comfortable sleeping position that isn't so reliant on the material of the mattress itself.
Adjustable bed frames and bases are usually recommended for people that suffer from chronic back pain or have experienced a physical injury. By adjusting different parts of the mattress, you can alleviate back pain and relieve pressure in specific areas. Since personal preference is important when it comes to choosing a mattress, an adjustable bed gives you a lot more personalization and results in a bespoke solution that targets the areas that are problematic for you. This makes adjustable mattresses some of the best options for relieving back pain.
Choosing an Adjustable Mattress
With an adjustable bed frame, it's important to choose a brand that offers a mattress that is compatible with an adjustable bed frame. Some of the top brands include Tempur-Pedic, Beautyrest, Stearns and Foster, Serta's iComfort and Sealy range, Instant Comfort, and King Koil. While most adjustable bed frames offer a raised head position, some can also raise the area around the legs. As such, you'll need to pick a mattress that is compatible with your chosen adjustable bed frame.
Summary
If an adjustable bed is an option then it's highly recommended as the go-to choice for relieving back pain. The mattress material choice isn't as big of a factor because an adjustable bed frame allows you to alleviate pressure more effectively. This makes it a little less overwhelming to pick a mattress and ensures you get the back pain relief that you're looking for. It also means less trial and error when finding the perfect mattress.
However, if it's not an option to replace your bed frame with an adjustable one, then we recommend choosing a mattress with a medium to firm rating. This means it'll provide adequate back support for your back pain but also enough comfort to ensure you get a good night's sleep.