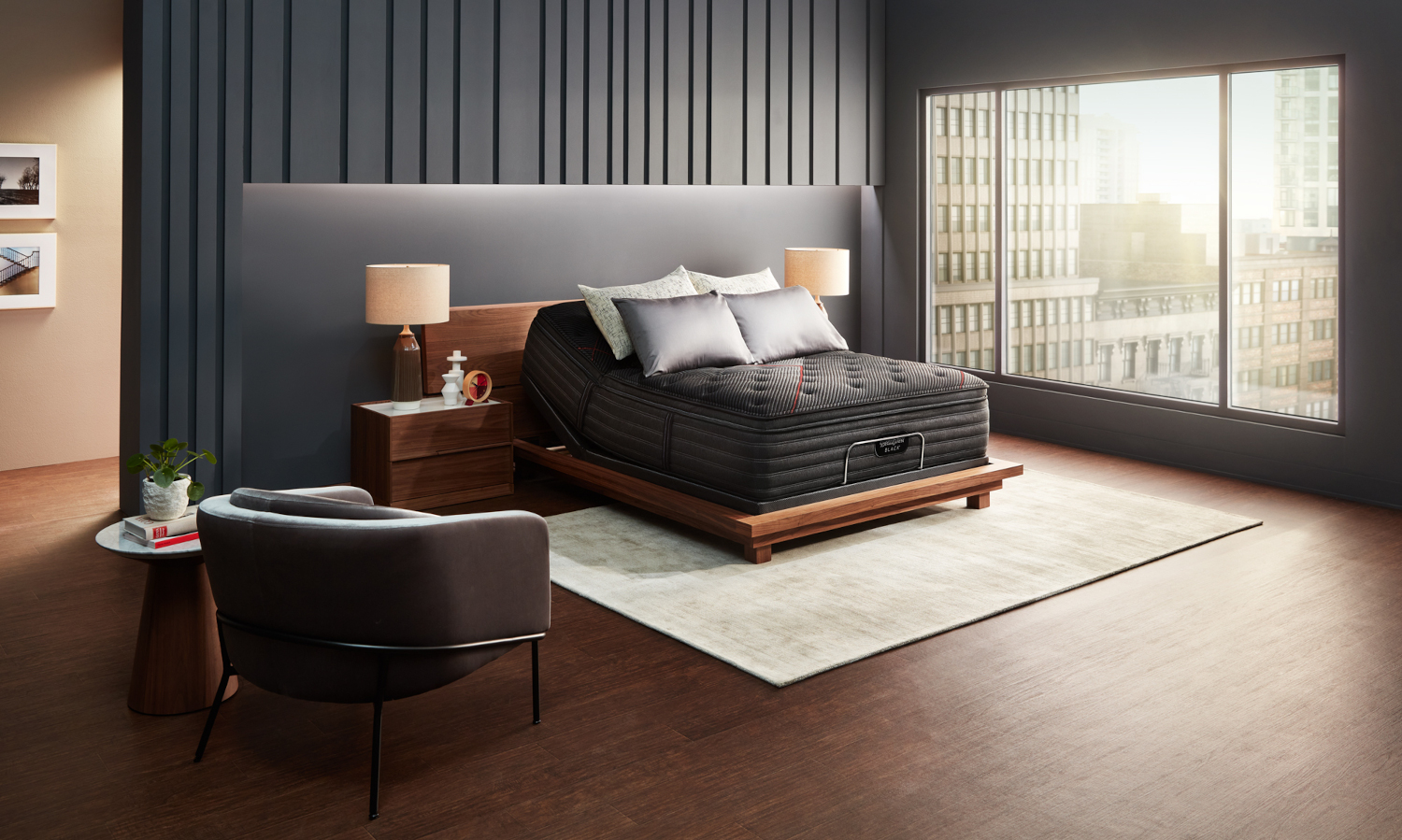 Improve sleep quality with Beautyrest Black mattresses by Simmons. Made with the latest technology, these mattresses come in a variety of sizes, support levels, and designs to suit most every sleep style. Cooling and pressure relief help reduce tossing and turning by keeping your body comfortable throughout the night. The resilient interior layers bounce back when you rise. This ensures long-lasting quality. Beautyrest Black mattresses fit easily on most bed frames for fuss-free installation.
In this post, we talk all about the Beautyrest Black mattress and what makes it so great.
Supportive Design
Enjoy consistent rest and relaxation with Beautyrest Black mattresses thanks to their supportive design. These mattresses utilize T3 Pocketed Coil technology comprising three strands of steel wound into a single coil for a resilient support system. Additionally, these coils reduce motion transfer so movement doesn't disturb your partner. T3 Pocketed Coil technology is only found in Beautyrest Black mattresses, ensuring an exclusive, high-quality product.
Cooling Features
Stay cool the whole night by sleeping on a Beautyrest Black mattress. These mattresses feature BlackICE 4.0 technology with four cooling stages. We start with the covers made with a phase-change material that cools you as you sleep. The open-weave quilting layer takes over from there with construction from Silk Air fibers infused with silver flecks. The silver flecks promote airflow and regulate temperature. All Beautyrest Black mattresses have BlackICE 4.0 technology that keeps them up to 2 degrees F cooler than standard mattresses. Upgrades to L and K-class styles for added cooling options, including Right Temp memory foam that cools by up to 20% over C-class base models.
Pressure Relief
Rely on the state-of-the-art layers of Beautyrest Black mattresses to provide superior pressure relief. Whether you choose plush or extra-firm, each mattress cradles you in comfort. Layers of foam and memory foam both conform to and stabilize your frame to reduce stress as you sleep. These multiple layers aid in evenly distributing body weight and help promote proper blood circulation. Options with Gel Touch foam upgrades extend pressure relief even further, making it a great choice for those who enjoy sleeping late into the day on lazy weekends.
Breathable Build
Depend on Beautyrest Black mattresses to provide optimal airflow while you sleep. While all models have breathable quilted covers, some upgraded models include Gel Touch memory foam that maximizes airflow. Additionally, the BeautyEdge foam encasement includes ventilation to let air flow through the various layers. The BeautyEdge feature also aids in comfort by keeping the edges of the mattress usable and supportive, making your bed feel bigger and cozier.
Premium Styles
Choose from a variety of classes and styles of Beautyrest Black mattresses to create the ideal sleep oasis. This premium mattress line starts with high-quality C-class options featuring cooling and comfort technology considered top of the line for other brands. Then moves to L and K-class options for a luxury design that satisfies even the pickiest sleep aficionado. Some differences between the lines are extra foam layers in the L and K-class models. Also, the K-class mattresses utilize nano coils sandwiched between foam layers for added support and pressure relief.
Custom Comfort
Select Beautyrest Black mattresses that suit your sleeping style to a tee. Many models include plush pillow tops to boost their softness levels, and these options work well for combo sleepers who move from back to side to stomach as the night progresses. Back sleepers benefit from medium-firm to extra-firm mattresses that provide excellent support yet still conform to the body for comfort, while stomach sleepers typically rest best on medium-firm options.
Versatile Use
Set up and use Beautyrest Black mattresses with a variety of bed types. Thicker options with pillow tops fit well on platform-style beds with no box springs, while thinner designs typically pair well with traditional box springs for a sturdy, stable sleeping space. Many Beautyrest Black mattresses also work with adjustable bed bases for versatile use by older sleepers and those with medical conditions that keep them bed-bound.
Sized Right
Get Beautyrest Black mattresses for every bedroom in your home. Twin and full-size designs work great in kids' rooms and guest spaces, while queen-size mattresses fill the bill for teens and singles. Beautyrest Black mattresses also come in king and California-king sizes, making it simple to outfit your master suite in the epitome of luxury and comfort.
Get the Beautyrest Black Mattress
Now that you know all about the Beautyrest Black mattress it time to get one for yourself. You could shop online, but nothing beats experiencing it for yourself at one of our many Best Mattress stores. Come to one of our Las Vegas, Mesquite, or St George locations and see what a difference this mattress can make.