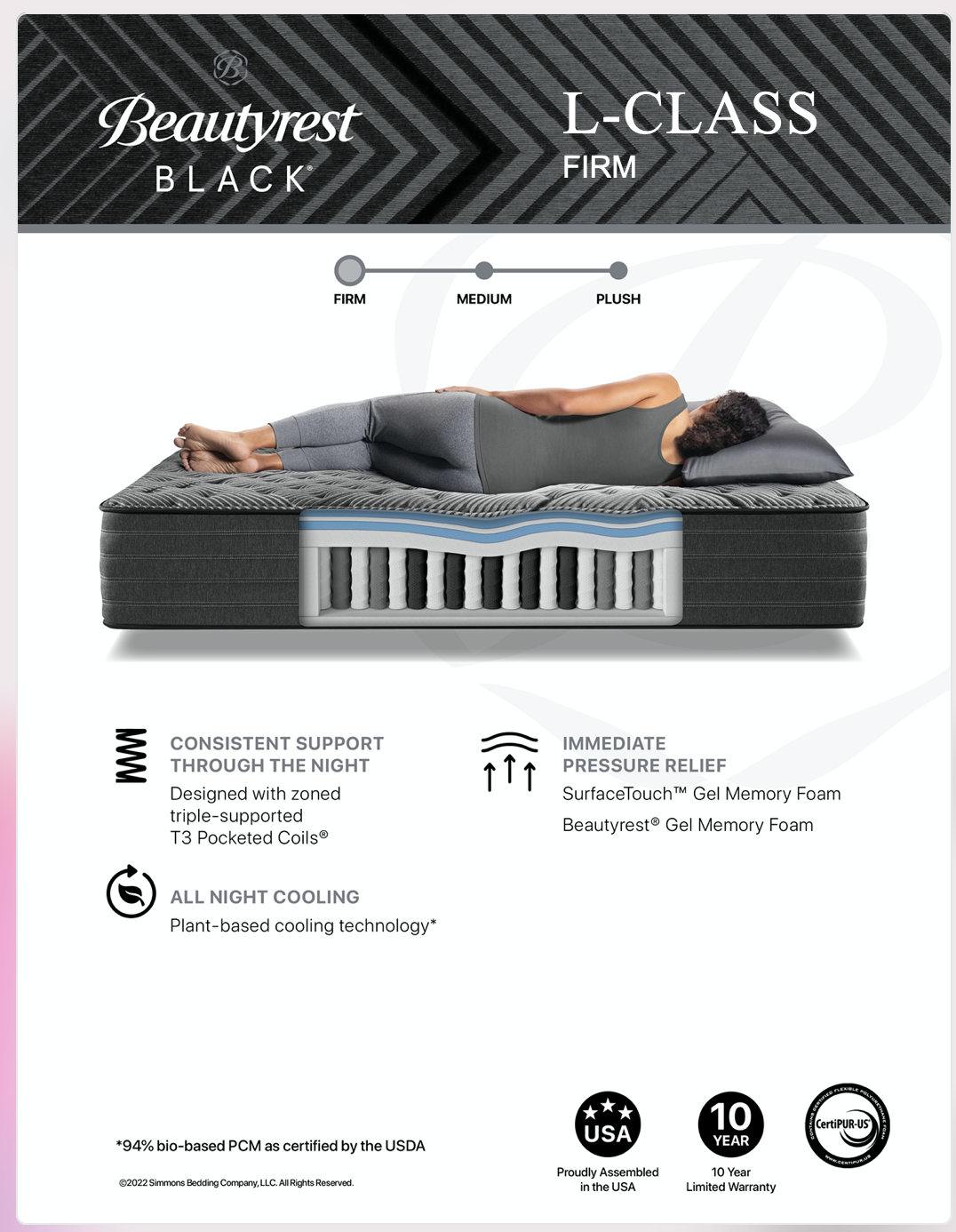 Elevate your sleep to a luxurious reward night after night. Our most advanced collection yet, Beautyrest Black® now offers up to 21% more support where your body needs it the most.* With help from our new plant-based cooling technology, the collection provides up to 18% more cooling power to keep you comfortable as you fall asleep and throughout your night.** Together these premium features and modern design create a first-class sleep experience that will leave you feeling invigorated to take on your day.
*in the center-third of mattress, exact percentage varies by model
**vs. Beautyrest® Harmony Lux™ Collection for the first 20 minutes
PERFECT SLEEP TEMPERATURE
BlackICE™ with Plant-Based Cooling Technology
¾" SurfaceTouch™ Gel Memory Foam
½" Firm Comfort Foam
PRESSURE-RELIEVING FOAMS
1" Beautyrest® Gel Memory Foam
2" Firm Comfort Foam
PREMIER SUPPORT SYSTEM
Zoned T3 Pocketed Coil® Technology
OTHER INFORMATION
Mattress feel: Firm
Protection: Antimicrobial Mattress Protection*
Edge System: BeautyEdge®
Height: 13.75"
Handles: Yes
Adjustable Base Compatible: Yes
Assembled in the USA
*This product does not protect users against bacteria, viruses, germs, or other disease organisms
Layers In Order
Anti-Microbial Protection*
BlackICE™ with Plant-Based Cooling Technology
SurfaceTouch™ Gel Memory Foam
Firm Comfort Foam
Beautyrest® Gel Memory Foam
Firm Comfort Foam
Zoned T3 Pocketed Coil® Technology
Energy Foam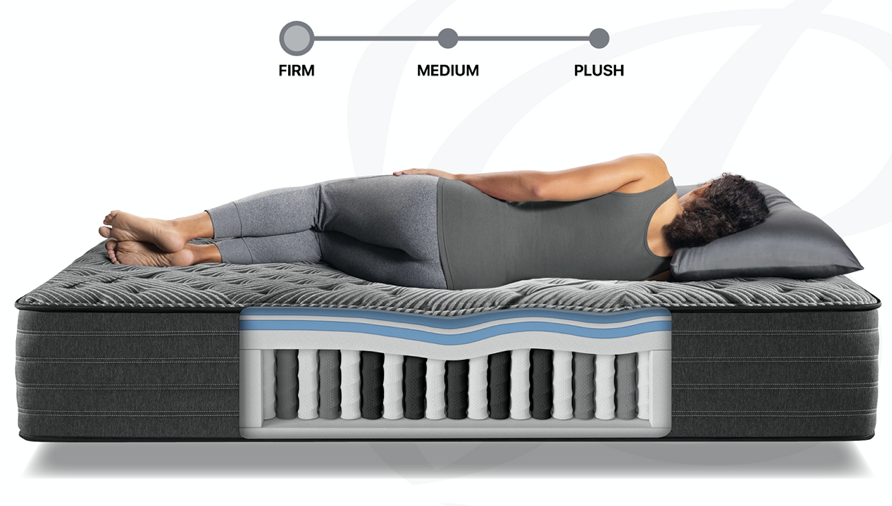 Pick the Most Comfortable Mattress
Pick the mattress that is most comfortable for your sleep style and body type. This mattress is best suited for:
Back sleepers
Stomach sleepers
Hot sleepers
Larger bodied people
SAME DAY DELIVERY
In stock merchandise purchased by 1pm will be delivered the same day upon request, excluding holidays and limited to a geographic area with a minimum purchase of $599 mattress set. Excludes floor models. See store for details.
DELIVERY
The room must be ready for delivery when the drivers arrive.
As a service, we will remove your old mattress and box spring before delivering the new set (subject to inspection, unsanitary bedding will not be removed, limited to equal amount delivered).
As a service, we will remove your old mattress and box spring before delivering the new set (subject to inspection, unsanitary bedding will not be removed, limited to equal amount delivered).
Delivery cannot be made to a minor and finance orders will require a signature from someone with a valid state-issued ID.
The driver will call the phone number provided on your order the morning of delivery to give you a three-hour time frame. If you are not home for delivery, there will be a $69.99 re-delivery fee.
If the driver determines that the delivery attempt could cause damage to your home, you will be required to sign a release of liability to complete the delivery.
Our C.O.D. Policy:
All orders must be paid in full before the delivery date. We do not accept payment at the time of delivery.
10 Year Limited Warranty
Beautyrest stands by its products and materials with limited warranties so you rest easy.
Our 120 Day Sleep Guarantee
If you have owned your mattress for longer than 30 days and you aren't happy with your set, Best Mattress is glad to exchange your mattress for 120 days from the date of purchase. Please see our full terms & conditions here.
Best Mattress also offers FREE REMOVAL* of your old mattress. Our delivery driver will pick up your old mattress and seal it in plastic before loading it onto our truck.
Need financing? We have you covered! Best Mattress offers a variety of options available, including No Credit Check Financing! Please contact us for additional details on all offers.
We appreciate your patience, understanding, and support at this time. Thank you for continuing to be a loyal Best Mattress customer. Sleep Easy, Friends!
Available Bed Sizes
See our mattress sizes and dimensions page.
Twin XL
38″ X 80″
Full
54″ X 75″
Queen
60″ X 80″
King
76″ X 80″
Cal King
72″ X 84″
The Beautyrest Black L-Class Firm mattress is a popular luxury model. It is made to offer high-quality sleep and is one of the most sought-after mattresses. The mattress is a product from Simmons Mattress Company, a leading mattress manufacturer for more than 100 years. Thanks to its excellent quality, this luxury3 brand has ruled the markets for years.
Features of the Beautyrest Black L-Class Mattress
T3 Pocketed Coil Technology
The Beautyrest Black comes with an elevated design, guaranteeing legendary performance. The T3 Pocketed Coil Technology is unique in that three strands of steel are wound to make one coil. The support from the coil system offers you a perfect place to rest at night or any time you want to sleep. The mattress reduces motion while providing solid support and peaceful sleep and lasts for years. The coil is firm enough to hold weight comfortably, and its curated Technoluxe foam eliminates pressure points around the shoulders and hips.
BlackICE 4.0 Technology
This technology is only in Beautyrest Black mattresses. It uses four cooling actions based on an advanced system to manage temperatures. The mattress's top layer has a cooling material, which removes excess body heat. The material will actually cool you down to a comfortable temperature as you lay on it. This means you sleep peacefully without feeling too hot or sweating, even on a hot night. Your nights are more relaxed, and they translate to better sleep.
Energy Foam
The energy foam gives comfortable support. It is springy and provides body support while conforming under the curves of this unique mattress. You wake to feel relaxed and refreshed without any pains.
Benefits of the Beautyrest Black L-Class Mattress
Firmness
The Beautyrest Black L-Class Extra Firm mattress enhances your sleep. It is firm and offers an additional 21% around body areas that need the most support. The mattress is made with plant-based technology that gives you 18% more cooling ability at night. You remain comfortable throughout the night, even during the hottest summer nights.
Comfort
The L-Class extra firm mattress offers a firm feel suitable for all sleepers. You can combine your mattress with the Beautyrest Black line pillows to suit you better. Whether you are a side, stomach, back, or side sleeper, you'll love the firmness of this luxury mattress.
Relives Back Pain
This mattress offers back pain relief due to the firm yet comfortable feel. Here you will find a lasting solution, and every night will be an exciting experience because you wake up with a more relaxed back. The Beautyrest Black mattress comes with a combined innerspring and memory firm that guarantees you a comfortable night for anyone with neck or back pain.
Versatile
The Beautyrest Black mattress is a luxury mattress with many benefits. You are guaranteed pressure relief and firmness for all types of sleepers.
Motion Isolation
The Beautyrest Black L-Class Extra Firm mattress comes with motion isolation. The layers of memory foam prevent the transfer of motion from one part of the mattress to the other. Each of the pocketed coils responds to motion individually. If your partner gets out of bed in the middle of the night, your sleep will not be interrupted.
High-Quality Construction
The Beautyrest Black L-Class mattress is made of high-quality construction and materials. The coil base is durable and assures the user comfort through the night. The mattress also offers plenty of edge support. The supportive foam increases its lifespan.
Pressure Relief
The Beautyrest Black L-Class mattress offers pressure relief because it allows even weight distribution. The multiple later of foam create a comfort system to cushion the hips and shoulder areas. The layers also lower pressure on your spine as the coils keep it properly aligned while you sleep. The extra firmness is perfect for back, side, or stomach sleepers.
Edge Support
The Beautyrest Black mattress has a BeautyEdge system made of high-density foam. This ensures the mattress does not sink or sag along the edges. Getting out and in bed becomes more accessible as the mattress doesn't buckle when under pressure.
Edge support makes it easy for couples to share a bed as it increases the usability of a bed's surface area. You will feel supported when sitting or lying on the bed's edge.
Easy Movement
The Beautyrest Black mattress provides ease of movement around the bed. The upper layers are made of polyfoam, different from memory foam. This means you can shift from one sleeping position to another.
Give the Beautyrest Black L-Class Extra Firm mattress a try at one of our many mattress stores in Las Vegas and St. George or shop online.