At Best Mattress, we're proud to carry all manner of mattresses and accessories from companies like Purple and Tempur-Pedic. Mattresses and accessories alike, these companies are two of the top manufacturers in the industry. Their quality is so uniformly high that it's often difficult for our customers to choose between one or the other.
We've decided to put a popular mattress from each company up against one from its competitor in a head-to-head comparison. Our choices are the TEMPUR-ProAdapt® Medium Hybrid and the Purple Hybrid Premier 3, both of which are queen-sized beds that focus on providing comfortable sleep for side and back sleepers. Even the prices are similar, although the Purple mattress has a slightly lower cost.
While the two mattresses have a great deal in common, this makes for a fair comparison that puts their competing sleep technologies on display. Let's get started!
TEMPUR-ProAdapt® Medium Hybrid
First up is the TEMPUR-ProAdapt® Medium Hybrid, which consists of a novel five-layered design. The two top layers together form the SmartClimate® Dual Cover System, which combines a machine-washable, heat-dispersing surface and a super-stretching inner layer. When you first touch this mattress, you'll appreciate its cool sensation and the smooth, tight fit across the mattress. Both of these contribute to the comfort of this mattress, while the fact that it's washer-friendly makes this the easiest top-quality mattress to keep clean.
The next two layers consist of a soft layer of memory foam that adjusts dynamically with your movement as you drift off to sleep. The underlying support layer takes the pressure off of your body and accentuates the comfort layer perfectly. However, the secret to the balance of comfort and support lies in the hybrid spring technology that forms the bottom layer. More than 1,000 custom Tempur-Pedic springs bring a strong, supportive base to the comfort of the memory foam layers and help it achieve an ideal balance.
In short, the key benefits of the TEMPUR-ProAdapt® Medium Hybrid are:
✅ Cool-touch technology pushes heat away from your body and helps prevent excessive heat and sweating as you sleep
✅ Motion transfer that prevents partners from disrupting each other by moving as they sleep
✅ Layered memory foam provides a mix of responsive and deep support Hybrid sleep technology that produces soothing adjustment to your movement, deep accommodation of the contours of your body, and an ideal amount of firmness
✅ Remarkably convenient for cleaning to make your bed even more hygienic and extend the lifespan of your mattress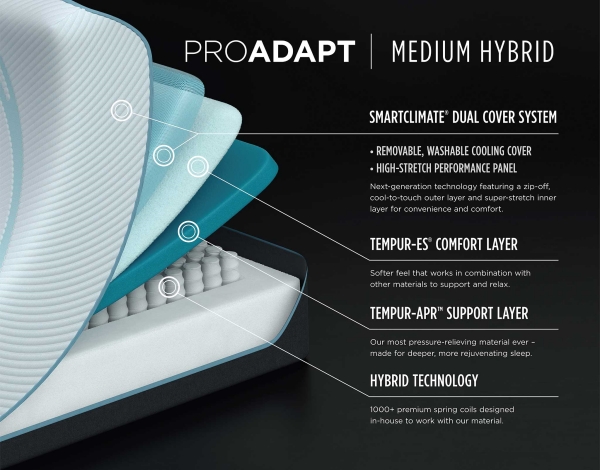 Purple Hybrid Premier 3
The Purple Hybrid Premier 3 consists of the landmark innovations that have made Purple mattresses some of the best industry. For one, the iconic GelFlex™ Grid provides dynamic comfort that suits to shape your body without sagging or receiving indents. Furthermore, you can sleep comfortably on more of the surface thanks to the high-density polyurethane foam border, which keeps the edges strong and extends the life of the mattress.
Purple's mattresses offer comfort that's equal to or even better than what memory foam can offer with their unique grid layer. However, this is only the beginning of what the Purple Hybrid Premier 3 brings to the table. There are many touches that show the attention to detail Purple brings to their craft, such as the fact the interior coils are wrapped in noise-canceling fabric. This stifles the squeaking noises that coils typically cause, ensuring you can sleep quietly and comfortably.
Another key quality of life benefit that stems from the Purple GelFlex™ Grid is the incredible level of breathability on display. The interior of Purple mattresses like the Hybrid Premier 3 functions as ventilation that maximizes airflow and helps the moisture-wicking, cool mattress cover work even more efficiently. In short, the key benefits that the Purple Hybrid Premier 3 brings are:
✅ This mattress cover doesn't just repel heat, it wicks away moisture and enhances airflow helping keep you cooler, longer
✅ The ventilated internal design pushes breathability and airflow even further, providing a sleep experience with minimum sweating and discomfort
✅ Noise-canceling fabric means you enjoy the support and stability of coils without the squeaking noises
✅ The GelFlex™ Grid provides comfort, support, and minimizes motion transfer to an extent that rivals memory foam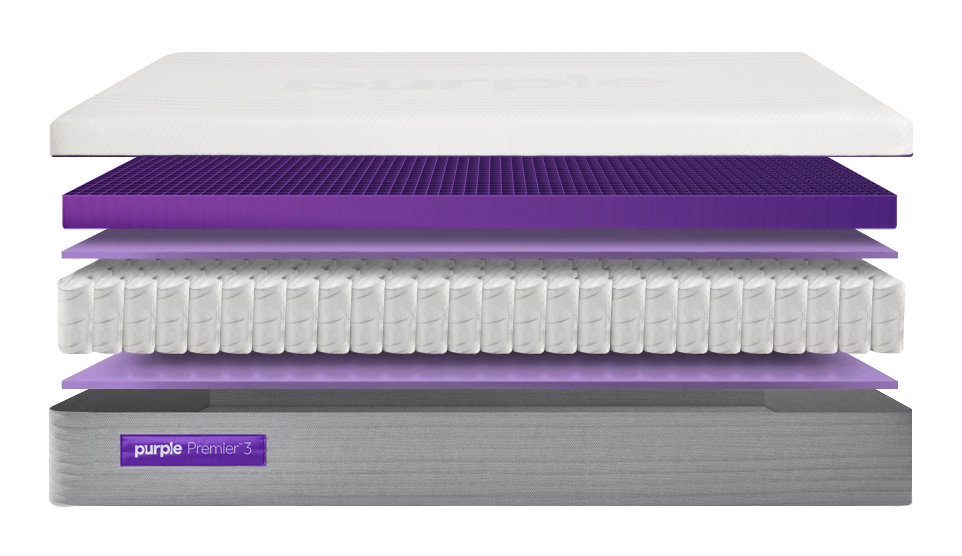 Final Verdict
Overall, the Purple Hybrid Premier 3 and the TEMPUR-ProAdapt® Medium Hybrid use different technologies and approaches to achieve similar goals at a highly competitive level of quality. Both mattresses are the product of modern-day craftsmen who believe in their work, and this shows in the strong guarantees that both companies offer. There's a ten-year full replacement limited warranty covering both, and while the Purple Hybrid has a slightly longer trial period (100 days to Tempur-Pedic's 90-day trial), both mattresses boast satisfaction rates close to one hundred percent. On top of this, Best Mattress sells both of these products with a 120-day sleep guarantee on all of their mattresses, which evens the playing field.
At the bottom line, both Purple and Temper-Pedic have crafted a mattress that anyone looking for balanced support in their mattress can enjoy. It's impossible to declare one flatly better than the other; they're approximately equal, but still different enough that some people will decidedly prefer one.
Purple Hybrid Premier 3 Advantages
However, there are some subtle differences between the two that make the difference. For instance, the breathability and moisture-wicking of Purple mattresses are unbeatable, and the Hybrid Premier 3 is no exception. Hot sleepers will adore this about the Purple Hybrid Premier 3. Additionally, Las Vegas sleepers will appreciate it when summer rolls around. The innovative GelFlex™ Grid and responsive spring coil combination design also provides perfect support for those who need it, with just the right levels of firmness to support your joints and keep your body in alignment.
The GelFlex™ Grid of the Purple Hybrid Premier 3 has a quicker contouring response than the TEMPUR-ProAdapt®. This is because the memory foam of the TEMPUR-ProAdapt® responds to heat and pressure and slowly contours to your body. The GelFlex™ Grid on the other hand collapses and reshapes instantly giving it a quicker response.
To top it off, the Purple Premium is modestly more affordable than the TEMPUR-ProAdapt® Medium Hybrid. The savings are enough to mix and match a few of Purple and Tempur's best accessories on the side.
TEMPUR-ProAdapt® Medium Hybrid Advantages
That doesn't mean that the comparison is cut and dry, though. The TEMPUR-ProAdapt® Medium Hybrid offers premium sleep quality in its own right and wins handily in the convenience department. The zip-off SmartClimate Dual Cover System is comfy and secure. Cleaning is as easy as tossing the cover layer in the washing machine. This is a real boon for any sleeper, but especially for busy parents with young children who tend to make a mess.
The customers who will really love the TEMPUR-ProAdapt® Medium Hybrid, are those who feel they can never get comfortable in bed. It's just a hair less firm than the Purple Hybrid Premier 3 and more adaptive. This means it will adapt to any body type and is perfectly suited for back and side sleepers.
Sleep Better with Best Mattress
At the end of the day, both of these mattresses check every box that an elite queen bed should fill. Both have heavenly motion cancel technology that makes sleeping with a partner a delight. Additionally, each mattress has an immaculate balance of softness and support. Even as the Purple mattress is admittedly better at keeping you cool, Tempur-Pedic's cool-to-touch sleep technology provides a cooler rest than most other competitors.
TEMPUR-ProAdapt® Medium Hybrid
✅ Motion canceling technology
✅ Soft and supportive
✅ Cool-to-touch SmartClimate® Dual Cover System
✅ Responsive
❌ Moisture-wicking cover
✅ Zip-off washable cover
✅ 120-day sleep guarantee from Best Mattress
Purple Hybrid Premier 3
✅ Motion canceling technology
✅ Soft and supportive
✅ Temperature-neutral materials
✅ Responsive
✅ Moisture-wicking cover
❌ Zip-off washable cover
✅ 120-day sleep guarantee from Best Mattress
If you're still undecided, take a trip to Best Mattress in Las Vegas or St. George and we'll take our time helping you make the right choice.