Tempur-Pedic is one of the most well-known mattress brands in the world. Their TEMPUR® foam was originally developed by NASA to support astronauts as they shot up into space. The cellular structure of TEMPUR® material adapts immediately to your body shape, pressure, and heat to conform perfectly for ultimate comfort and support.
Mattress Information
Mattress feel: Medium Hybrid
Height: 12 inches
Adjustable Base Compatible: Yes
Assembled in the USA
Mattress Sizes
Twin XL – 38″ x 80″
Full – 53″ x 74″
Queen – 60″ x 80″
King (Eastern King) – 76″ x 80″
Split King – 38″ x 80″ (each piece)
CA King – 72″ x 84″
Split CA King – 36″ x 84″ (each piece)
SmartClimate® Dual Cover System
Next-generation technology cover with antimicrobial treatment, enhanced zip-off, cool-to-touch outer layer, and machine washable.
TEMPUR-ES® Comfort Layer
Softer feel that works in combination that works in combination with other materials to support and relax.
TEMPUR-APR™ Support Layer
Our most pressure-relieving material ever — made for deeper, more rejuvenating sleep.
Hybrid Technology
1000+ premium spring coils designed in-house to work with the other materials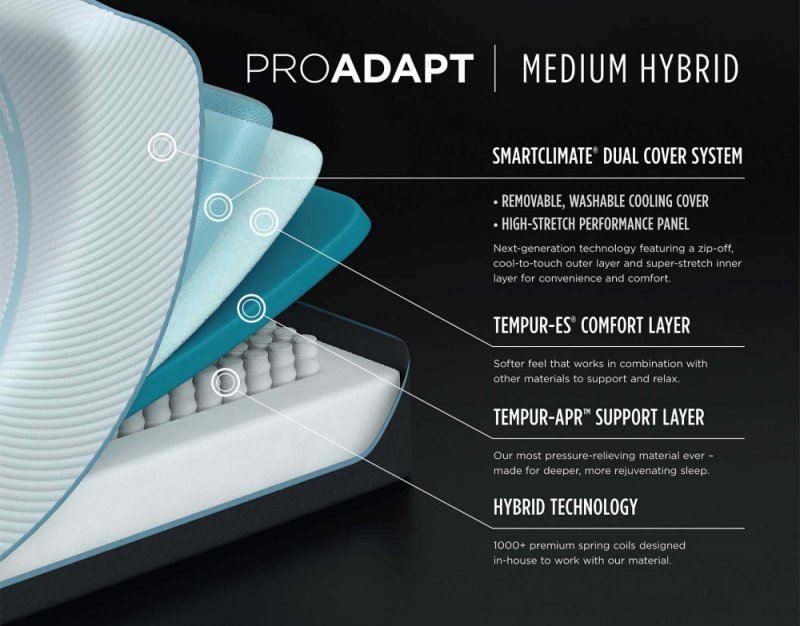 Pick the Most Comfortable Mattress
Pick the mattress that is most comfortable for your sleep style and body type. This mattress is best suited for:
Back sleepers
Side sleepers
Hot sleepers
People with aches and pains
Need help finding the right mattress? Take our Mattress Quiz to see what mattress is right for you.
START QUIZ
SAME DAY DELIVERY
In-stock merchandise purchased by 1 pm will be delivered the same day upon request, excluding holidays and limited to a geographic area with a minimum purchase of a $599 mattress set. Excludes floor models. See store for details.
DELIVERY
The room must be ready for delivery when the drivers arrive.
As a service, we will remove your old mattress and box spring before delivering the new set (subject to inspection, unsanitary bedding will not be removed, limited to equal amount delivered).
As a service, we will remove your old mattress and box spring before delivering the new set (subject to inspection, unsanitary bedding will not be removed, limited to an equal amount delivered).
Delivery cannot be made to a minor and finance orders will require a signature from someone with a valid state-issued ID.
The driver will call the phone number provided on your order on the morning of delivery to give you a three-hour time frame. If you are not home for a delivery, there will be a $69.99 re-delivery fee.
If the driver determines that the delivery attempt could cause damage to your home, you will be required to sign a release of liability to complete the delivery.
Our C.O.D. Policy:
All orders must be paid in full before the delivery date. We do not accept payment at the time of delivery.
10-Year Limited Warranty
Beautyrest stands by its products and materials with limited warranties so you rest easy.
Our-120 Day Sleep Guarantee
If you have owned your mattress for longer than 30 days and you aren't happy with your set, Best Mattress is glad to exchange your mattress for 120 days from the date of purchase. Please see our full terms & conditions here.
Best Mattress also offers FREE REMOVAL* of your old mattress. Our delivery driver will pick up your old mattress and seal it in plastic before loading it onto our truck.
Need financing? We have you covered! Best Mattress offers a variety of options available, including No Credit Check Financing! Please contact us for additional details on all offers.
We appreciate your patience, understanding, and support at this time. Thank you for continuing to be a loyal Best Mattress customer. Sleep Easy, Friends!
Available Bed Sizes
See our mattress sizes and dimensions page.
Twin XL
38″ X 80″
Full
54″ X 75″
Queen
60″ X 80″
King
76″ X 80″
Split Cal King
72″ X 84″
Cal King
72″ X 84″
The best sleep of your life is just a trip to Best Mattress away! With 22 locations scattered across Las Vegas, Mesquite, and St. George, you are sure to find an affordable mattress that will change the way you sleep. If you are ready for the best sleep of your life, visit one of our locations for a brand-new mattress. We carry a variety of mattresses for every kind of sleep preference, and we are extremely proud to carry the brand-new Tempur-ProAdapt® Medium Hybrid. This is the perfect mattress for you if you like things not too hard, and not too soft.
Why Choose Tempur-Pedic?
Tempur-Pedic is an ever-changing, ever-evolving company that is committed to adapting with you. The Tempur-Pedic technology is designed by real-life people with real-life sleep issues and challenges. They understand that everybody is different, and work hard to provide mattress options that work with your comfort levels to provide you with a quality sleep for nights to come.
Tempur-Pedic promises continuous and innovative technology, and the Tempur-ProAdapt® Medium Hybrid is a perfect example of that. If you are looking for a Tempur-Pedic in Las Vegas, St. George, or Mesquite, visit Best Mattress today!
What's Different About the TEMPUR-ProAdapt® Medium Hybrid?
Here at Best Mattress, we know that there are a lot of different memory foam mattresses available on the market. That's why we are committed to making sure that your decision is a good one! This is what sets the TEMPUR-ProAdapt® Medium Hybrid apart from other memory foam mattresses on the market.
Easier: Do you feel like you can never get comfortable on your current mattress? The Tempur-Pedic will help you get comfortable, easier. The memory foam technology absorbs your body weight and evenly distributes it away from your pressure points. With pressure point relief like this, it's easy to get comfortable in no time at all!
Deeper: Falling and staying asleep with a partner can be tough, but not with a Tempur-Pedic in Las Vegas! The Tempur-Pedic technology absorbs motion transfer so you (and your partner) aren't disturbed by one another's natural sleep movements. You'll fall into a deep sleep fast, and you'll wake up completely refreshed and rejuvenated.
Faster: Most mattresses don't form to your body as you move throughout the night, but the TEMPUR-ProAdapt® Medium Hybrid does! With every movement your body makes during the night, your Tempur-Pedic mattress will move with you. Every curve, every contour, and every sleeping position will be adequately supported with the revolutionary Tempur-Pedic technology. With a Tempur-Pedic, most sleepers report that they stop tossing and turning, and they fall asleep faster than you would on their old mattress!
Cooler: Don't let the unfortunate rumor that memory foam mattresses are hot, stop you from testing out a Tempur-Pedic in St. George today! The TEMPUR-ProAdapt® Medium Hybrid is made with a revolutionary Cool-To-Touch mattress cover that keeps the heat flowing away from the body, so you stay cool all night long.
What's Different About Tempur-Pedic Technology?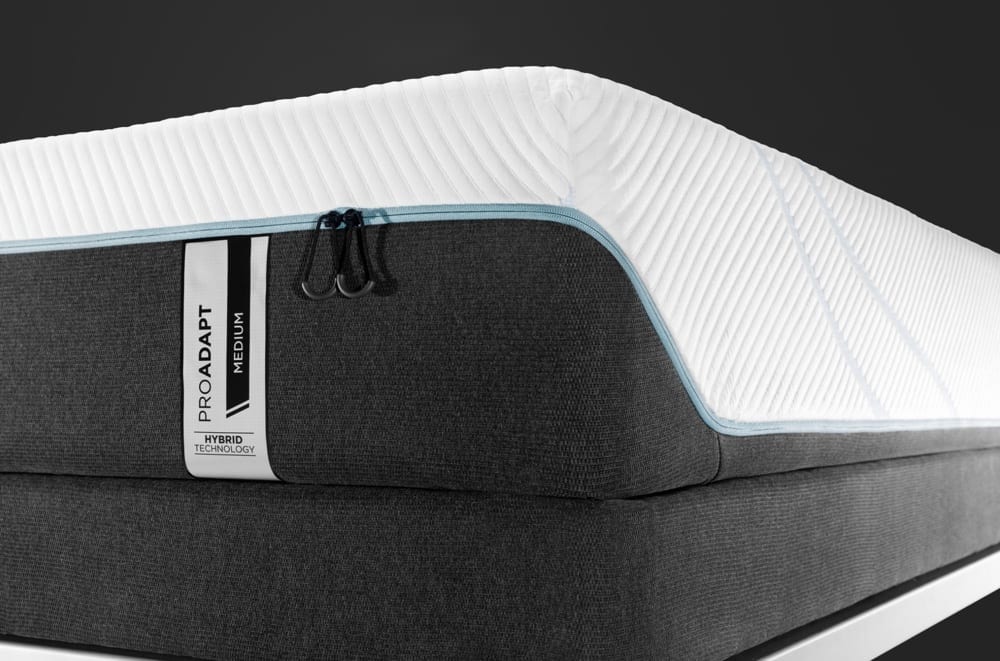 Buying a new mattress can be a serious financial commitment, so it's important to know what exactly you are paying for. The difference of a Tempur-Pedic mattress lies within its technology. If you are investing in a mattress, you should know what kind of quality technology you are investing in! Here are a few reasons why the Tempur-Pedic technology is completely innovative and completely worth the investment:
Smart-Climate Dual Cool-To-Touch Cover: Starting at the top layer, the Smart-Climate Dual Cool-To-Touch Cover is what keeps sleepers cool and completely comfortable. Made with mesh, the fabric moves your body heat away from you and prevents you from overheating during the night. The Cool-To-Touch cover is removable and machine washable, so you can clean it easily whenever it's needed!
TEMPUR-ES® Comfort Layer: The TEMPUR-ES Comfort Layer is what provides sleepers with adequate comfort to stay asleep longer. Made by real people at Tempur-Pedic, everything is made with your firmness preferences in mind so you'll stay comfortable all night long.
Tempur-APR+™ Support Layer: A good mattress isn't quality without a layer of Tempur-Pedic support. The Tempur-APR+™ Support Layer is one of the most pressure-relieving, comfortable technologies on the market. The support layer is what helps you fall into a deep and rejuvenating sleep.
Hybrid Technology: If you like a mattress that is a little firm, and a little soft the TEMPUR-ProAdapt® Medium Hybrid could be the perfect mattress for you. This mattress is made with a hybrid technology that combines the best of a soft mattress with the best of a firm mattress. Perfectly placed Tempur-Pedic spring coils were designed in-house, so the technology is both innovative and original.
Are There Different Comfort Levels?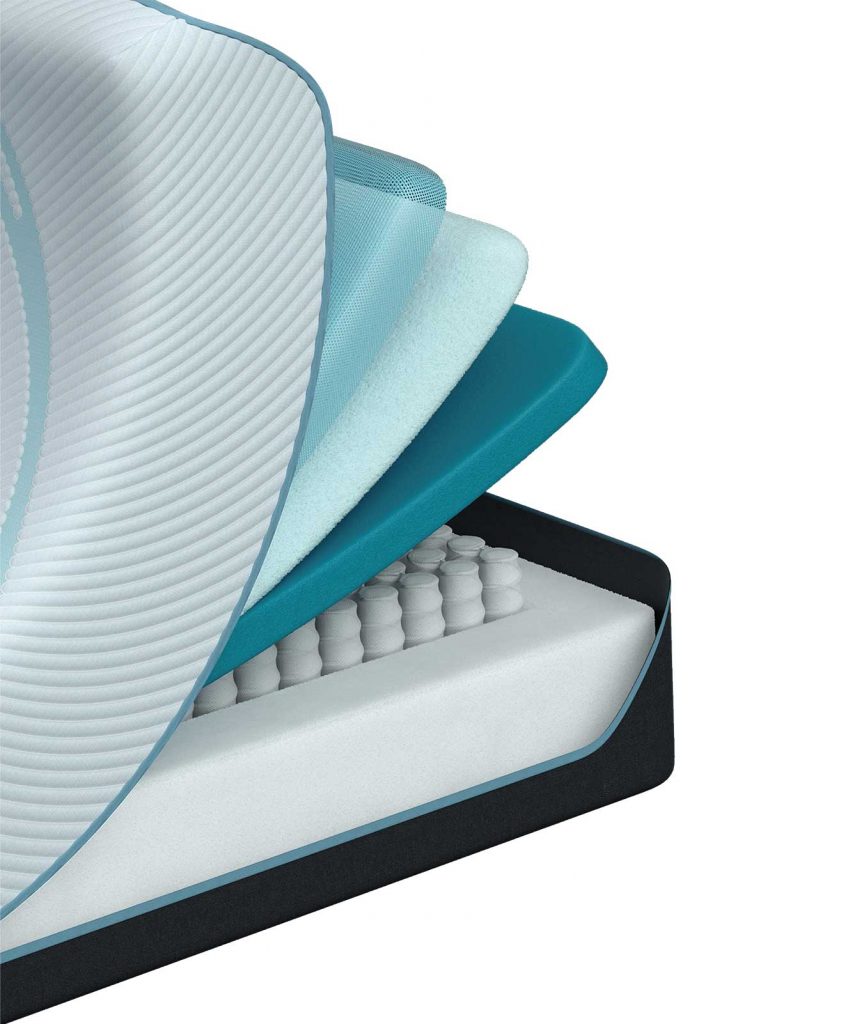 It can be hard to find a memory foam mattress that comes in your desired firmness. At Best Mattress, we understand that everyone has different sleep preferences so we carry the TEMPUR-ProAdapt® line in all firmnesses!
Ask a member of our sales team for more information on the TEMPUR-ProAdapt® Soft, TEMPUR-ProAdapt® Medium, and TEMPUR-ProAdapt® Firm. We always recommend that you test the mattress out prior to purchasing, so come down to one of our 22 store locations to see which TEMPUR-ProAdapt® is the right one for you!
What Else Do I Need for a Good Night's Sleep?
A good night's sleep isn't complete without a nice set of fitted sheets, and a memory foam Tempur-Pedic pillow. With four different Tempur-Pedic pillows that are designed for four different sleeping styles and preferences. Test one out in-store, today!
Before you head home to try out your new mattress, it's important that you consider adding a Tempur-Pedic mattress or pillow protector. The mattress protectors are machine washable and help rid your home of harmful allergens. We understand how important it is to keep your investment protected for years to come, and it's easy to do that with a custom-fitted Tempur-Pedic mattress protector from Best Mattress.
Why Choose Best Mattress?
Since 1994 Best Mattress has quickly spread to 22 locations in St. George, Las Vegas, and Mesquite, making us one of the best in the area for quality and inexpensive mattresses. We believe that everyone deserves the best sleep of their lives, and we are committed to making the process easier for you. Ask one of our team members about our same-day delivery service, our free removal of your old mattress, and free in-home installation. With services like these, it makes the mattress buying process a little more stress-free.
If you are ready for a new mattress, and a well-deserved night of rest, visit a Best Mattress location in St. George, Las Vegas, or Mesquite for a brand-new TEMPUR-ProAdapt® Medium Hybrid.
Product Videos
SmartClimate® Dual Cover System