When it comes to superior mattresses, no one does it best like Purple Mattress.
From their patented Purple FlexGrid Technology to the attention to detail they place in every mattress that leaves the manufacturer line, this is one mattress brand you don't want to overlook. Not only do they have some of the best mattresses on the market, but they also offer pillows, frames, and other sleep products to give you the sleep you deserve with a quality mattress brand you trust.
In this article, find out what makes Purple Mattress stand apart—and why you need to join in on the Purple Mattress movement today!
---
KEY TAKEAWAYS
The unmatched Purple FlexGrid Technology relieves pressure points, doesn't trap heat, and is adaptive.
Designed with a focus on healthy and natural sleep with materials that are hypoallergenic, Certified Clean Air GOLD, and non-toxic.
10-year warranty and 100-day trial period.
Purple Mattress Layers include: SoftFlex Cover, Purple GelFlex Grid, and Comfort Foam Layers.
---
Why Purple Mattress?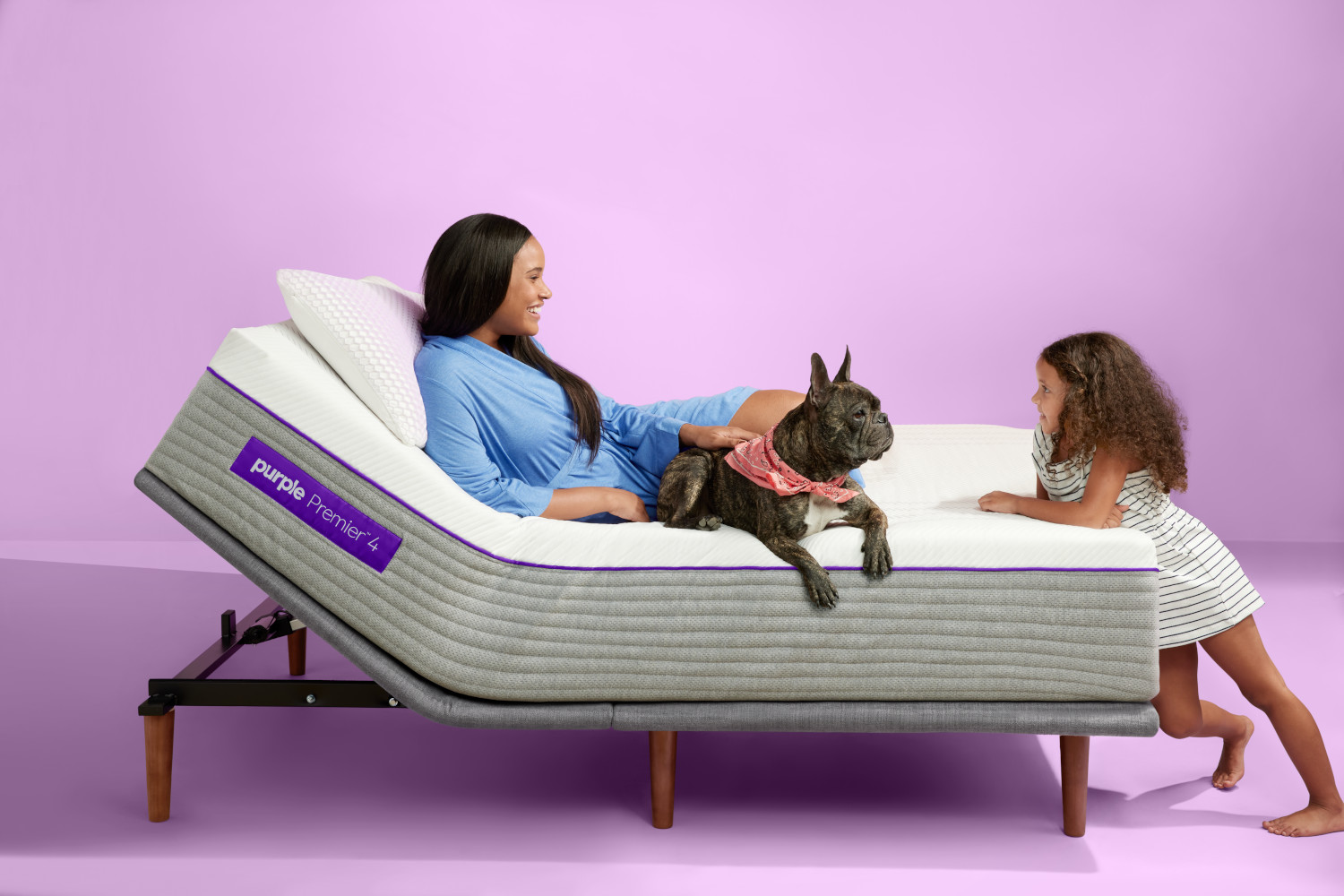 If you don't know if you want a firm mattress or a soft mattress, with Purple Mattress you don't have to choose. Their mattress is the perfect in-between! This means that it's ideal for side sleepers, back sleepers, and stomach sleepers.
Known for its injection-molded GelFlex Grid, Purple Mattress has shaken up the mattress industry. They've created a new mattress that brings "next-level comfort" to sleepers of all ages. Purple's unique design makes it perfect for those who want softness and more support all in one. This means that you don't have to choose between the two!
Some of the other reasons that make Purple Mattress stand apart include:
Unmatched Purple FlexGrid Technology
When the company didn't see a mattress material meet their standards, they made their own! (Which is a pretty incredible feat in our opinion.)
Purple Mattress has flipped the industry upside down with the Purple FlexGrid Technology—and it's no secret why. Here are some of the key benefits of what makes the Purple FlexGrid Technology phenomenal for all types of sleepers:
Relieves Pressure Points: With the Purple FlexGrid Technology, the adaptive sleeping technology allows sleepers to feel softly cradled where they need it most (like their shoulders and hips) while also giving extra support to areas like the back.
It Doesn't Trap Heat: Additionally, the Purple FlexGrid Technology doesn't trap heat like regular memory foam. This allows sleepers to sleep sweat-free from the moment they shut their eyes to the moment their alarm goes off in the morning.
It Adapts: Do you find yourself shifting positions quite frequently in the middle of the night? As you shift throughout the night, the FlexGrid adapts to your body instantly, unlike memory foam which adapts slowly. You will feel your very best and ready to take on the day in the morning! This also means that your bed partner won't feel you moving throughout the night every time you get up or rollover.
GIVE PURPLE MATTRESS A TRY!
Want to test out the Purple FlexGrid Technology for yourself? Use the Best Mattress
store locator
 to find a storefront nearest to you!
Expert Craftsmanship
Purple mattresses are made with expert craftsmanship with each and every mattress.
The Purple mattress was designed with a focus on healthy, natural sleep, and the company is constantly innovating to provide products that meet this goal!
The Purple team of experts has years of experience in making high-quality products. This has helped them come up with a mattress that is not only comfortable but also Hypoallergenic, Certified Clean Air GOLD, and non-toxic.
Quality Guarantee
Purple Mattress has been in the industry for 30+ years, and with that comes quality.
From their 10-year warranty to their 100-day trial period, Purple Mattress ensures that their customers get the best sleep possible with all of their sleep products.
About the Purple Mattress Layers
Still not sure if Purple Mattress is the right mattress for you? We get it. It's hard to make a decision based on words alone. That's why we wanted to show you the layers that go into each Purple Mattress to bring sleepers optimal comfort throughout the night.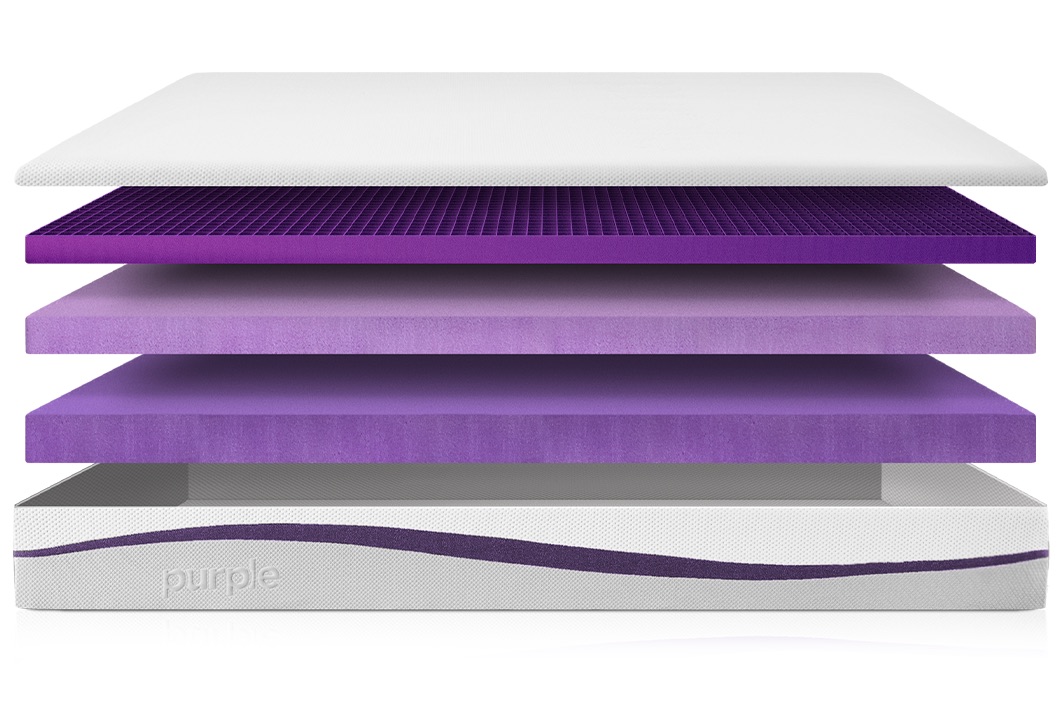 The Purple Mattress is made of multiple layers. The top is made of a soft and breathable fabric cover, and the bottom layer is a high-density foam that provides support to your body. Need extra cushioning or support? Ask us about how you can upgrade your mattress to fit your unique sleep needs.
Now, let's go over what each Purple layer consists of:
SoftFlex Cover
The topmost layer features a super-soft knit that's flexible enough to adjust to how your body and the grid move. The fabric is also breathable and helps with temperature regulation.
Purple GelFlex Grid
Designed to adjust according to major body pressure points, the GelFlex Grid conforms to your body's shape with every movement, providing great comfort through pressure relief and uniform support. It also helps eliminate motion transfer within your bed so that you can get better sleep without being disturbed.
* The base model comes with 2 inches of the Purple GelFlex Grid, but if you need more, you can upgrade your mattress to be more tailored to you!
Comfort Foam Layers
This layer combines two high-density layers, with one being soft and cushioning while the other is firm and supportive. These layers provide pressure relief and support for your body weight. It also helps prevent motion transfer so you can sleep peacefully without waking up your partner when you roll over in bed.
Bonus: Purple Mattresses are always hypoallergenic! This means that the material in the mattress won't irritate sensitive skin or cause allergies.
Reclaim Your Sleep Patterns with Purple Mattress
Are you tired of waking up and still feeling exhausted? It may be time to switch things up in the mattress department.
At Best Mattress in Las Vegas, NV, and St. George, UT, we offer a range of Purple Mattresses to get you back and feeling energized after a night's sleep. From bed frames, pillows, mattresses, and more, our full line of Purple Mattress products is created with YOU in mind.
Ready to make the switch? Maximize your comfort today by using the Best Mattress store locator to find a storefront near you!
FIND A STORE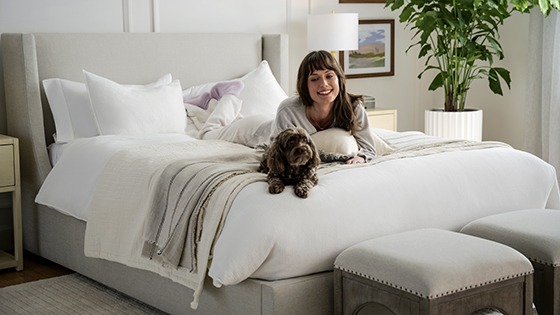 The sleep specialists at Best Mattress know that having the right mattress makes a world of difference. With this in mind, they've added one-of-a-kind products from Purple to their stores across Southern Utah and Nevada. Promotional image courtesy of Best Mattress, St. George News While there are many names in the sleep business, Purple stands […]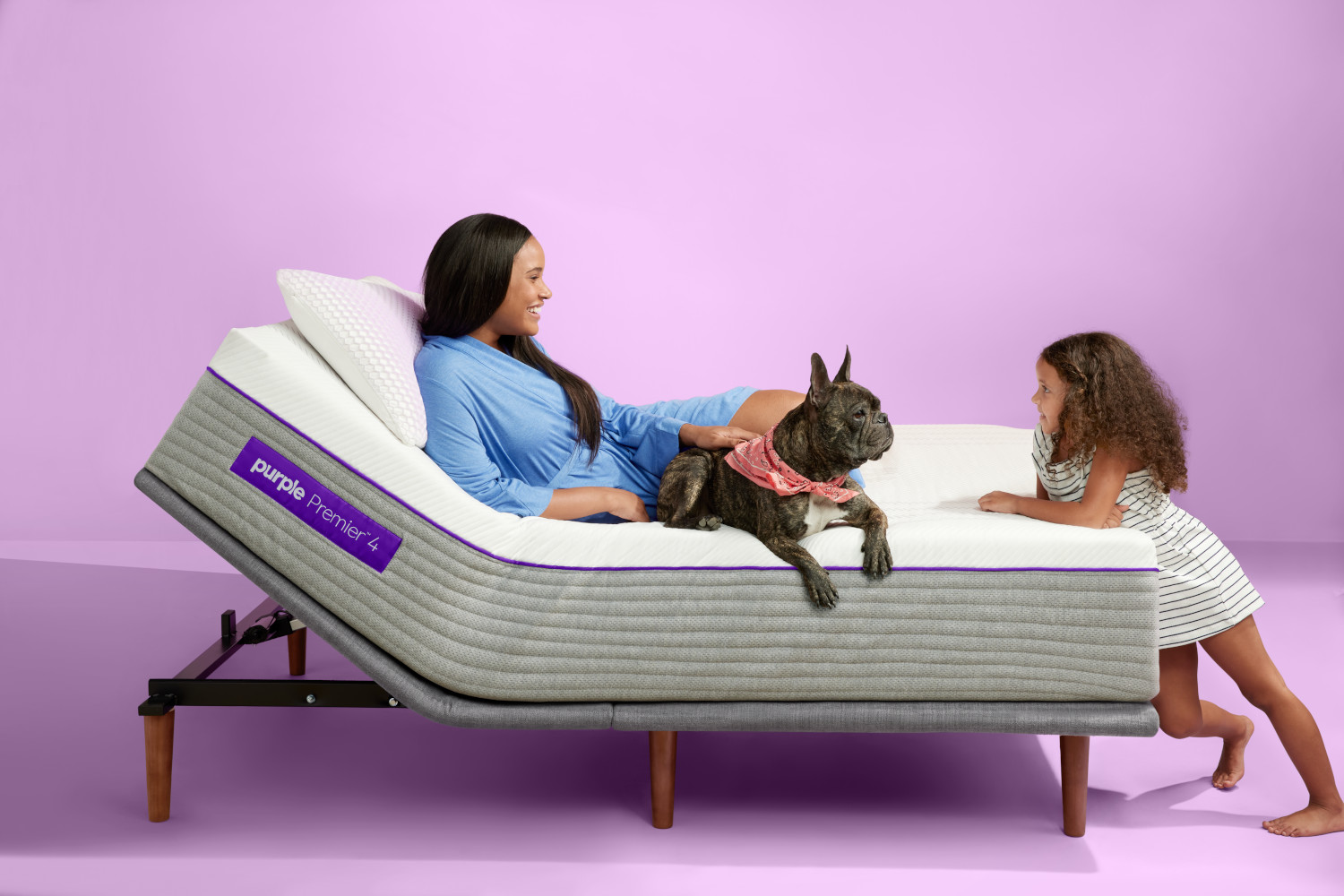 Are you fed up with tossing and turning all night just to wake up feeling achy and tired? Finding the right mattress with the perfect balance of comfort and support is essential for getting great sleep. Simplify your search by getting an in-depth look at the benefits and features of the popular Purple Hybrid Mattress. […]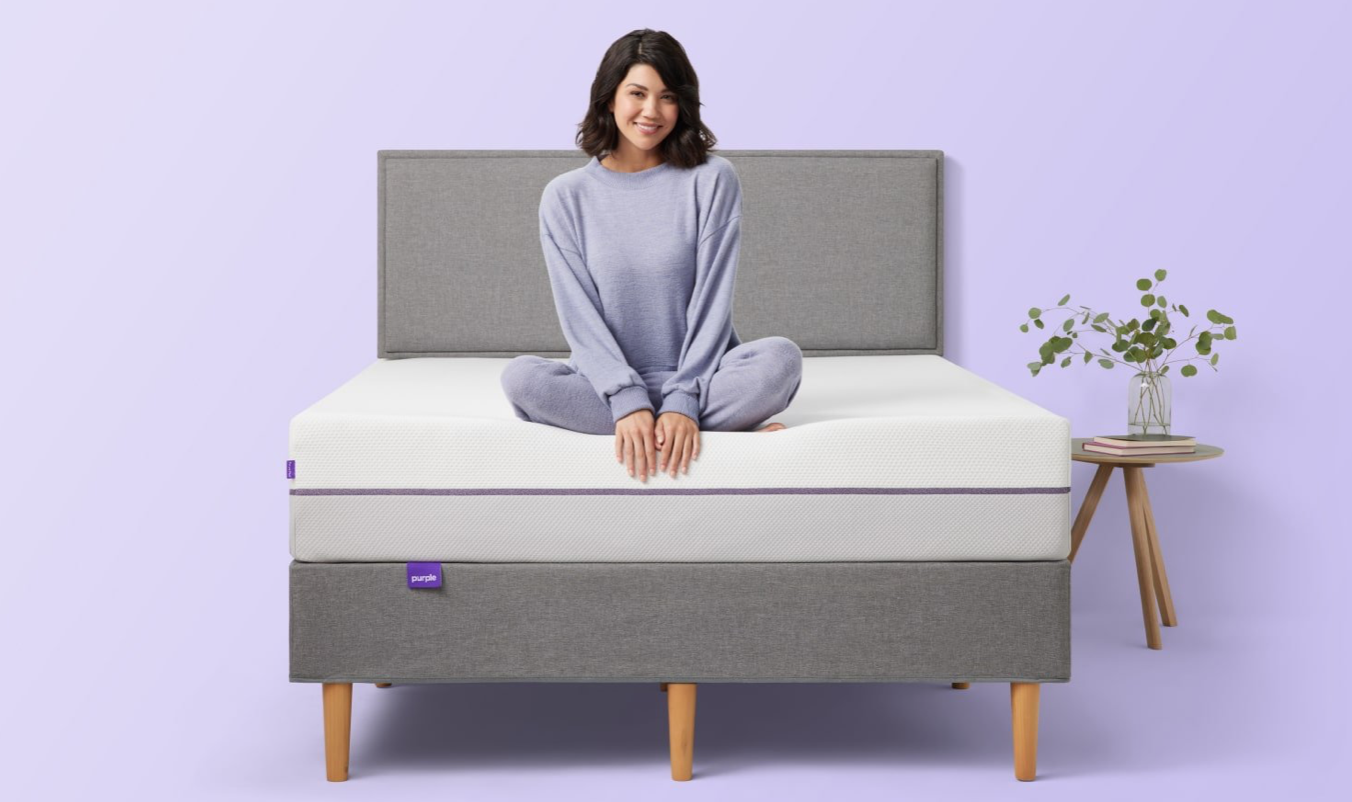 At Best Mattress, we know that the right mattress makes a world of difference. That's why we're so thrilled to carry Purple mattresses. These unique beds use exclusive materials and a unique design to deliver a comfortable, pressure-free night of sleep. Choose from a variety of Purple models to match your comfort and support needs. […]