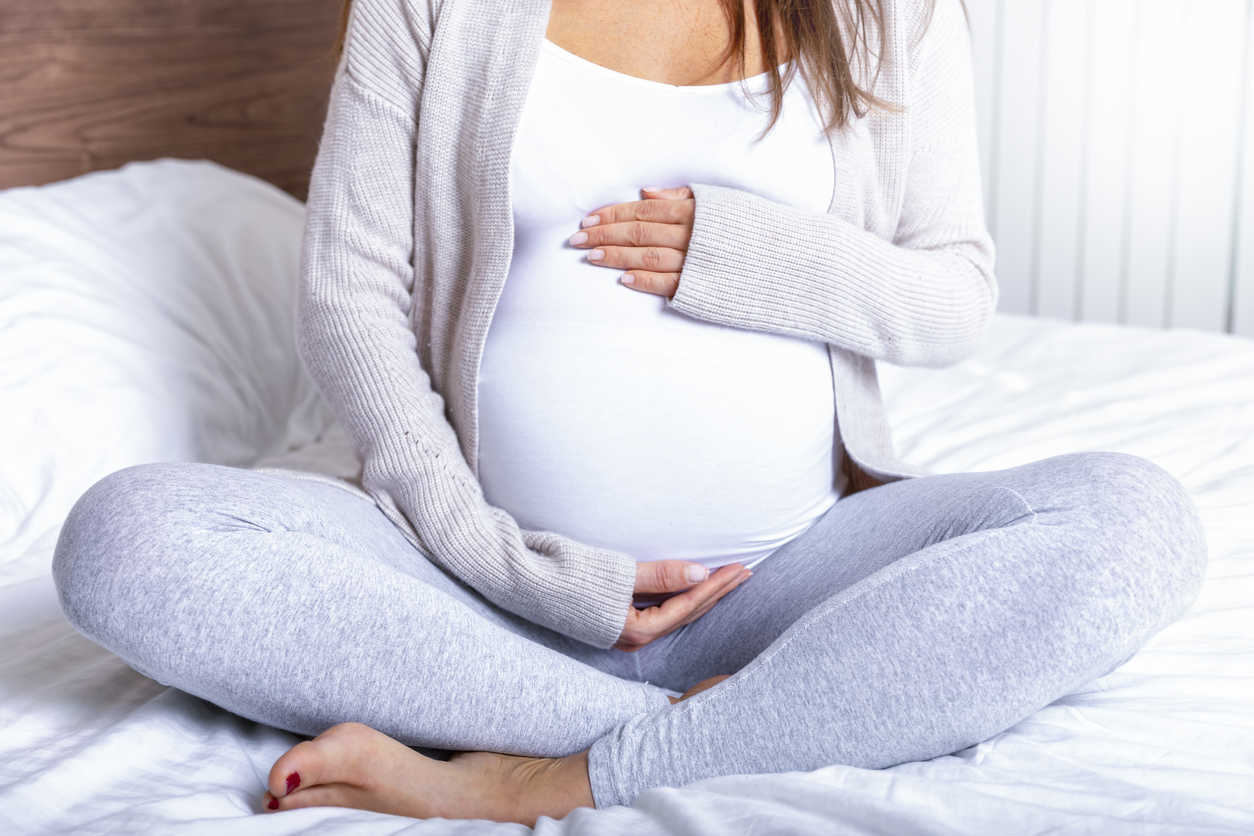 Are you having a hard time sleeping while pregnant? A comfortable mattress may be just the answer to your sleeping problems. You can stay comfortable in bed and enjoy a sound sleep even when pregnant by changing your sleeping position and getting a comfortable mattress. During the second and third trimesters, this is especially important. Falling to sleep quickly after the baby is born is just as important as getting proper sleep while pregnant and the comfort of your mattress plays a huge role.
Follow these tips to help you stay comfortable in bed while pregnant.
1. Sleeping Positions
Pregnant women should sleep on their left side. During the first trimester, you can lie on your stomach or back. But as the pregnancy grows, you will find sleeping on your stomach is almost impossible due to the growing belly. After the first trimester, you should avoid sleeping on your back as it compresses the vena cava, decreasing oxygen in the placenta.
2. Raising the Torso and Head
Many pregnant women experience heartburn which can become worse at night. Due to pregnancy hormones, stomach acid moves up into the esophagus. You can help prevent this by raising your torso slightly, about 6 inches. Also, avoid sleeping on your right side, pregnant or not, as this position is more prone to cause heartburn. This is because, due to gravity and the shape of your stomach, in this position, your stomach is actually above your lower esophagus leaking acid onto the lining of the esophagus creating that burning feeling.
3. Get a Good Mattress
A good, comfortable mattress is essential during pregnancy. Your body is changing and a pregnancy-friendly mattress should adapt to those changes.
Best Mattresses for Pregnancy
Getting the best mattress for pregnancy is crucial. You should invest in an excellent bed to provide you with the comfort and support you need during and after pregnancy. There are two types of mattresses that are especially ideal to keep you comfortable while pregnant—memory foam and hybrid mattresses.
Memory foam is made of viscoelastic polyurethane that supports and comforts the contours of your body no mattress what position you sleep. Memory foam also absorbs movement which is great when you have a restless partner. When choosing a memory foam mattress, it's important, especially when pregnant, to choose one with high-quality memory foam. This is because cheap memory foams produce off-gassing and toxic odors that can cause respiratory problems. High-quality memory foam mattresses like Tempur-Pedic don't have this problem.
Hybrid mattresses combine memory foam and other comfort layers with the inner springs of a traditional mattress. The memory foam provides you with contouring comfort and the innerspring, usually pockets coils, provides support. The added benefit of a hybrid mattress is that the innerspring allows for airflow which helps with mattress breathability. Airflow helps to reduce heat buildup in mattresses.
The Benefits of Having a Good Mattress
A good adaptive mattress is essential for pregnant women because:
It provides you with the support and comfort needed throughout all three trimesters and after
It reduces excess heat for a comfortable temperature during the night
It reduces tossing and turning while you sleep
It allows you to get the quality sleep your body needs
Best Mattress Brands and Models for Pregnant Women
---
TEMPUR-LUXEbreeze® Soft Mattress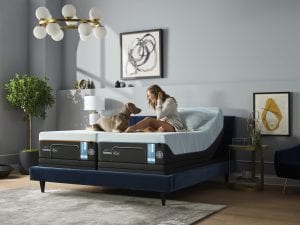 ★★★★★
5/5 stars
The TEMPUR-LUXEbreeze® Soft mattress is the best mattress for pregnant women as it is designed to regulate your body's temperature while you sleep. Don't wake up exhausted, achy, and sweaty while pregnant. Get a TEMPUR-LUXEbreeze® soft mattress.
The mattress regulates the heat through these cooling techniques;
SmartClimate Dual cover system. This is hypothermal and produces less thermal energy. The sheets are cool to touch when you sleep, giving you instant body cooldown.
PureCool+ Phase Change Material. This material is a thermal gradient that traps heat away from your body while you sleep
TEMPUR-CM+. This technology cycles heat and humidity out of your mattress for maximum airflow while you sleep.
The TEMPUR-LUXEbreeze® is compatible with all adjustable bases for additional customized comfort.
Best Adjustable Bed Frames For Pregnant Women
Advantages of Adjustable Bed When Pregnant
Every pregnant woman should have an adjustable bed for reasons including:
Customize your comfort
Relieve backpressure
Reduce foot swelling
Reduce heartburn
Stop snoring
These are just a few of the benefits of an adjustable bed when pregnant. Test one out to find out for yourself at one of our Best Mattress locations in Las Vegas and St. George.
Get the Best Mattress for Pregnancy
Mothers are amazing and being pregnant is tough enough as it is. Don't lose sleep on top of it all. Do yourself a favor (or get your partner to do it) and get the best mattress for pregnant women. Add an adjustable base to complete a uniquely comfortable sleep experience you deserve.
Visit one of our many locations in Las Vegas, Mesquite, and St. George, UT, to find the best mattress for you during your pregnancy and the many wonderful years of motherhood. If you need assistance, our sleep experts are happy to help you. You can also order online with prompt home delivery.