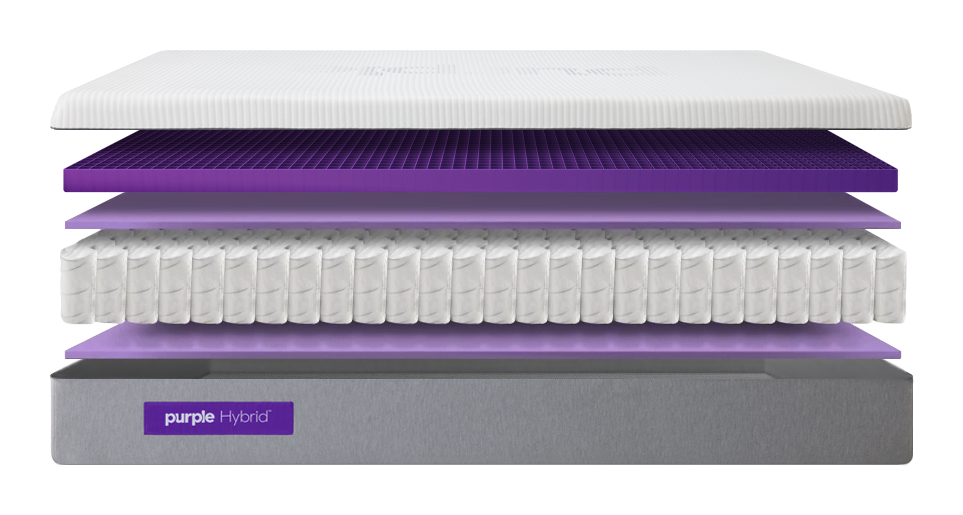 Introducing our Purple Hybrid Mattress: a unique mix of our innovative gel Grid, responsive support coils, and cushioning transition foam. The wrapped coils allow greater airflow, provide a more dynamic response than all-foam beds, and increase the durability of your mattress.
Features:
Purple Smart Comfort Grid™ provides the perfect balance of firmness and softness without compromise
The Purple Smart Comfort Grid™ is bordered with high-density polyurethane foam to provide proper edge support
Soft flex, stretchy, and breathable mattress cover allows you to sink comfortably into bed
Open-air channels and temperature-neutral materials for cooler sleep
Motion isolating technology
Responsive support coils base for superior comfort
Perfect for back and stomach sleepers
---
Are you tossing and turning throughout the night? Do you wake up with neck or backaches? If so, you might need a new mattress. The Purple Hybrid Mattress uses high-quality materials and technology to create a luxurious sleep experience. It features everything from cushioning foam and allergen protection to support coils and soft gel. Learn more about how this mattress elevates sleep.
Luxurious Layers
The Purple Hybrid Mattress uses multiple layers to deliver quality comfort. Each part plays a special role in optimizing sleep and well-being. Let's examine them in deeper detail.
Soft and Stretchy
At the top of the Purple Hybrid Mattress lies the Premium StretchMax Cover. It offers support in every corner, which is ideal for stomach and back sleepers. Here are its top benefits:
Flexibility: As the name suggests, the StretchMax Cover is highly flexible. It fits seamlessly over the mattress and provides a tight grip.
Comfort: The cover is soft and lightweight, which lets you enjoy the cushioning comfort grid underneath.
Breathable: On the side, you'll find breathable woven panels that keep air flowing and reduce heat.
A soft exterior, strong airflow, and easy-to-use model make this cover stand out. Of course, it's just the first part of a premium sleep experience.
Gentle Gel Grid
This mattress uses the one-of-a-kind Purple Smart Comfort Grid to help ease you into a restful sleep. The 2″ grid, which is just below the StretchMax Cover, offers the following features:
Air circulation: The gel grid has open-air channels to encourage airflow and prevent heat retention. In turn, this leads to a cooler, breathable, and more comfortable sleep.
Hyper-elastic gel: The flexible gel material adjusts to support pressure points as you shift positions. It also reduces pressure on sensitive areas while maintaining support.
High-density foam: The grid is lined with high-density polyurethane foam, a soft material that gently sinks in and encourages sleep. It also provides support at every edge of the mattress.
Thanks to the Purple Smart Comfort Grid, you don't have to choose between a soft or firm mattress. Instead, the features combine to create a hybrid feel — enjoy firm, durable support with plush, soft cushioning.
Strong Support Coils
Supporting the gel grid is a layer of responsive 7.5″ coils. They reduce pressure, elevate sleep and offer the following advantages:
Noise-reducing fabric: Each individual coil is wrapped in noise-reducing fabric. This lets users shift around without disrupting sleep. As an added perk, wrapped coils promote breathability.
Durability: The coils, which are made of stainless steel, actively boost the mattress' strength and lifespan.
Support: The main purpose of the coils is to provide back, neck, and shoulder support. Ultimately, they lower pressure and help eliminate aches.
As soon as you lay on the mattress, the responsive coils get to work. They'll adjust to your unique weight and sleep position, creating a contoured night of sleep.
Additional Amenities
Here are a few more elements that make this mattress special:
Transition foam: The bottom of the mattress features cushioning transition foam. This supports the upper layers while integrating with the bed.
Motion isolation technology: If you share a bed with a partner, motion isolation technology is a must. This will help ensure your partner's movements don't wake you.
Allergen-free: This mattress is certified Clean Air GOLD, which means it's hypoallergenic and non-toxic. Say goodbye to coughing and sneezing throughout the night from your mattress.
Ultimately, the Purple Hybrid Mattress provides comfort while promoting positive health.
Dynamic Dimensions
The Purple Hybrid Mattress is available in the following sizes:
Full: 54″ x 76″ x 11″
Queen: 60″ x 80″ x 11″
King: 76″ x 80″ x 11″
Cal King: 72″ x 84″ x 11″
Split King: 76″ x 80″ x 11″
Each size features a 2″ Purple Grid, 2 lbs density polyurethane foam, and 7.5″ steel coils.
A Thoughtful Team
Finding the right mattress isn't easy. We strive to give customers simple, positive experiences by offering these amenities:
120-day trial: We want every user to be 100% happy with their mattress. That's why we offer a 120-day trial. If you decide it's not for you, we'll do everything we can to make sure you get the mattress that's best for you.
10-year warranty: Enjoy peace of mind thanks to our 10-year warranty.
Once you get your Purple Hybrid Mattress, we recommend giving yourself 21 days to adjust. This is because it can take time to get used to the mattress' unique structure and feel. If you have any questions or concerns, our team is always here for you. Feel free to message, call or visit us in person.
Contact Us Today!
The Purple Hybrid Mattress has one goal: to encourage restful sleep. From the breathable gel grid to the responsive coils, every element was designed with your comfort in mind. Contact us today to improve sleep and obtain a happier, healthier lifestyle!