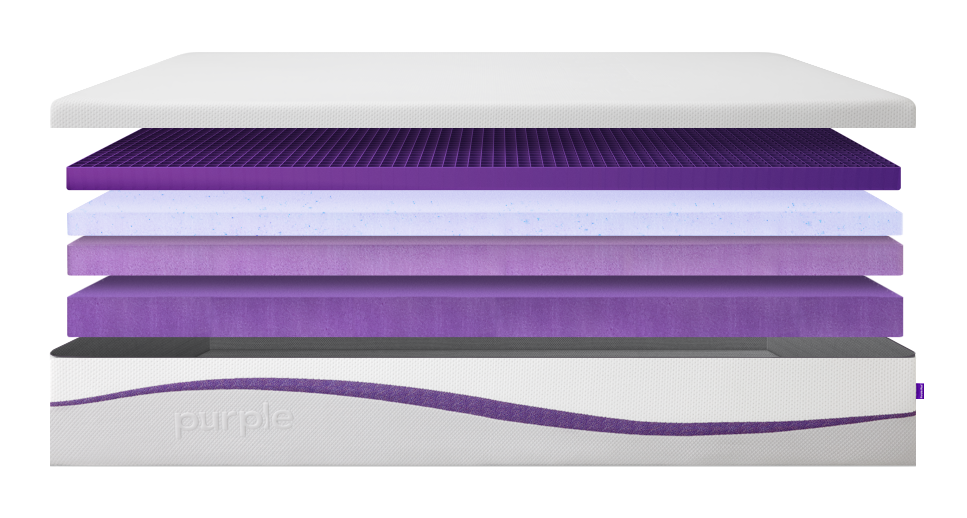 The Purple Plus Mattress offers a comfort upgrade to our Purple Mattress, thanks to an extra layer of premium foam that provides better cushioning, responsiveness, and breathability. This improved foam base is topped with two inches of breathable ​GelFlex Grid to cradle pressure points like hips and shoulders while keeping the rest of your body fully aligned for amazing sleep.
Features:
Purple Smart Comfort Grid™ provides the perfect balance of firm and soft without compromise
The Purple Smart Comfort Grid™ is bordered with high-density polyurethane foam to provide proper edge support
Soft flex, stretchy, and breathable mattress cover allows you to sink comfortably into bed
Open-air channels and temperature-neutral materials for cooler sleep
Motion isolating technology
Additional 2″ layer of premium comfort foam
Available Bed Sizes
See our mattress sizes and dimensions page.
Twin XL
38″ X 80″
Full
54″ X 75″
Queen
60″ X 80″
King
76″ X 80″
Cal King
72″ X 84″
---
The silent public health problem of today is poor sleep. Hundreds of millions of Americans aren't getting enough sleep every night, and this prevents people from feeling their best day to day. If you're not sleeping as well as you'd like to, it may be time to invest in a new mattress. While it can seem like a hefty investment at first, a quality mattress can increase your quality of life for a decade or more. Many people have sworn by the comfort and support that Purple mattresses provide, but the Purple Plus has gone even further.
The Purple Mattress
The key to the wonderful sleep experience that the purple mattress offers is its double-layered foam design that offers a balance of firm support and adaptive comfort. By using advanced memory foam technology, it can adapt to the contours of your body and help you drift off to fulfilling restful sleep.
Layered Foam Design
Different foam layers have different characteristics that can make them more or less suitable for certain sleepers. For instance, a deep memory foam layer that remembers the shape of your body will be pure bliss for someone who sleeps in a stable position but won't do as much good for someone who shifts position at night. Combining multiple layers with unique characteristics provides for more balanced, effective support regardless of your sleep style.
New Features of the Purple Plus
Compared to the traditional Purple mattress, the Purple Plus incorporates one major sleep innovation that makes all the difference. Rather than relying on two foam layers for support and comfort, it introduces a third. The Purple GelFlex Grid that tops the Purple Plus is a sleep revolution that enhances several elements of the sleep experience.
Purple GelFlex Grid
The Purple GelFlex Grid is the new top layer of the Purple Plus mattress. Compared to past foam layers, it wicks moisture much more effectively to improve temperature and airflow around your body. Furthermore, it places more emphasis on dynamic support which combines with the deep, underlying layers to provide no-pressure comfort across your entire body. In short, the improvements of the Purple Plus are:
No-Pressure Support
Comfort Upgrade
Dynamic Support
Breathability
Keep Cool Even on Summer Nights
It's natural to sweat as you sleep, and poor breathability can make the air feel stuffy and uncomfortable. With the improved breathability of the Purple Plus, moisture can evaporate more easily which helps keep you cool and comfortable.
Targeted Support for Joints and Pressure Points
The new Purple GelFlex Grid pairs with the classic Purple foam layers to provide the amount of support that each part of your body needs. It shifts around points like your hips, shoulders, and knees to keep pressure points comfortable and retain the healthy alignment of the rest of the body.
Enjoy Premium Comfort As You Toss and Turn
One of the key benefits of the Purple Plus is the way that the new layer reacts more quickly to changing posture. As you move in bed, you can feel the top layer shift to support your new position. This provides time and room for the underlying layers to adjust, which all adds up to seamless comfort as you drift off to sleep.
Purple Plus Mattress Satisfaction Guaranteed
The Purple Plus is a high-quality mattress that many people trust to provide them with great sleep. Best Mattress offers a 120-day trial period and Purple has faith in their work which they demonstrate through a 10-year warranty.
120-Day Trial Period
Each time someone purchases a Purple Plus mattress through Best Mattress, they enjoy the security of our 120-day trial period. During this time, you can see how your sleep improves day-by-day, week-by-week, and discover why you made the right choice. If you aren't satisfied, though, with the comfort of your mattress within 120 days of your purchase, we will do whatever we can to make sure you are sleeping well. Best Mattress is committed to helping you find the right mattress and to your healthy night's sleep. It's exceedingly rare for someone to find any short-term dissatisfaction with this premier mattress, but we also provide a long-term guarantee.
10-Year Warranty
The advanced foam technology of our mattresses and their high-quality construction ensures that each mattress should have an exceedingly long lifespan. If for some reason your mattress is defective and doesn't provide the great sleep experience it should, then you can activate its 10-year warranty. With care and normal usage, though, we're sure your Purple Plus mattress will last well into its second decade.
Try the Purple Plus Mattress Today
We believe in the quality of the Purple Plus Mattress and the capacity of the Purple Plus to help you reach deep, rejuvenating sleep. After a decade or more of quality rest, you'll see that you made the right choice. However, we also appreciate that it can be difficult at times to find the money for a big, up-front purchase. As such, we offer robust financing options that can help anyone enjoy great sleep. Reach out to us today to find the sleep you need at a payment plan you can afford.
Purple Plus Mattress Frequently Asked Questions