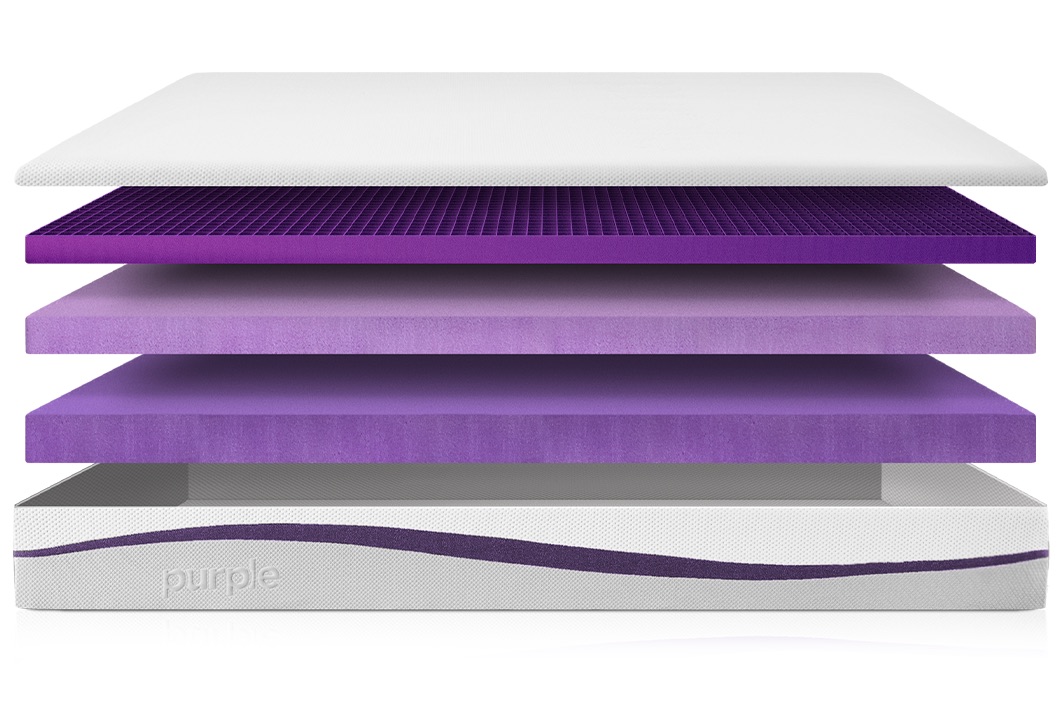 The Purple® Mattress: The bed that started it all, the Purple Mattress features two inches of breathable ​GelFlex™ Grid to cradle pressure points like hips and shoulders while keeping the rest of your body fully aligned. When paired with a dual-layer comfort foam base, the result is a perfectly supported sleep.
Features:
Purple Smart Comfort Grid™ provides the perfect balance of firm and soft without compromise
The Purple Smart Comfort Grid™ is bordered with high-density polyurethane foam to provide proper edge support
Soft flex, stretchy, and breathable mattress cover allows you to sink comfortably into bed
Open-air channels and temperature-neutral materials for cooler sleep
Motion isolating technology
Available Bed Sizes
See our mattress sizes and dimensions page.
Twin XL
38″ X 80″
Full
54″ X 75″
Queen
60″ X 80″
King
76″ X 80″
Cal King
72″ X 84″
---
It's often said that a change is as good as a rest. To some extent, yes. But, if you're being honest, nothing compares to good quality sleep. When you sleep comfortably and for recommended durations, you wake up feeling rejuvenated and rearing to go.
At Best Mattress, we don't just understand this; we live by it. That's why we stock mattresses from the best manufacturers. One such mattress that can guarantee you a good night's sleep is the Purple Mattress.
What Is the Purple Mattress?
The Purple Mattress is the maker of the Purple Smart Comfort Grid™ and GelFlex™ Grid. They have been developing sleep solutions for over two decades. For the brand, it's not just about selling products but delivering comfort. And one of its maiden products, the Purple Mattress, speaks best of this.
It almost always feels like a trade-off between softness and firmness when purchasing traditional mattresses. Yet, both are key features in a mattress that adds to its quality. Purple Mattresses are made using GelFlex™ Grid made of hyper-elastic material.
This allows Purple Mattresses to offer both softness for localized pressure relief and the firmness to support your back.
Purple Mattress Features
Purple Mattress has some unique features that you'd love to have in your bed. These include:
1. Pressure Reduction
Every Purple Mattress has a grid-like layer made of GelFlex. Due to the enhanced stretchiness of the material, the grid can adapt easily to your body. Moreover, it has a rebounding effect, making the mattress very comfortable as it reduces pressure.
2. Instant Response
With some mattresses, they're quite comfortable once you get into bed. But wait till you want to change positions at night. Then, it feels like you're going against its natural flow, making it difficult to move. Not with Purple Mattresses.
Another key property that the hyper-elastic grid offers is instant response. This means that Purple Mattresses immediately adjust according to your body and position to support you adequately. Moreover, it springs back into position as you move throughout the night. With this, you won't experience any midnight discomfort.
3. Optimal Temperature
For you to get a good night's rest, the temperature has to be ideal. If it's too hot or too cold, you'll likely be restless and frustrated the whole night. Along with the beddings and sleeping attire, your mattress also plays a role.
To help with this, Purple Mattresses have breathable foams and a temperature-neutral grid at the base to ensure optimal temperature. Moreover, the grid contains 1,400+ air channels that'll ensure you remain comfortable throughout the night.
4. Multiple Layers of Comfort
When Purple says it wants to deliver comfort, it means it. With the Purple Mattresses, there are three layers purposely designed for comfort. So, to say you'll get a good night's rest is an understatement.
The layers include:
SoftFlex Cover – The topmost layer that features a super-soft knit that's flexible enough to adjust to how your body and the grid move
Purple GelFlex Grid – Designed to adjust according to major body pressure points such as shoulders and hips while providing support to the rest of the body
Comfort Foam Layers – This combines two high-density layers, with one being soft and cushioning while the other is firm and supportive
5. Edge Support
Over the years, Purple Mattresses have improved such as the addition of edge support. The mattresses are now lined with a dense foam around the bedside to ensure you get maximum support if either you or your partner loves to sleep on the far edge of the bed.
6. Motion Isolation
The hyper-elastic material to create Purple Mattresses is very bouncy. However, this property also makes it a great shock absorber. As a result, you can sleep peacefully without feeling each motion your partner makes.
Varieties
While Purple Mattresses are designed for superior comfort, the company understands that you might have unique preferences. With this in mind, there are different varieties of Purple Mattresses to choose from. These are:
Purple Mattress – Offers instant adaptive support, great stability, and medium firmness
Why Choose Purple Mattress?
Purple Mattress is big on comfort to ensure that your nights are spent sleeping and not tossing and turning. In addition to the comfort, they're also non-toxic, hypoallergenic, highly durable, and made in the USA.
Everyone deserves to have a nice and comfortable place to retreat each night. If you're thinking of upgrading to a better mattress, Best Mattress has you covered. We stock high-quality mattresses, including Purple Mattresses. So, find a store near you to improve your quality of sleep.

SAME DAY DELIVERY
In-stock merchandise purchased by 1 pm will be delivered the same day upon request, excluding holidays and limited to a geographic area with a minimum purchase of a $599 mattress set. Excludes floor models. See store for details.
DELIVERY
The room must be ready for delivery when the drivers arrive.
As a service, we will remove your old mattress and box spring before delivering the new set (subject to inspection, unsanitary bedding will not be removed, limited to equal amount delivered).
As a service, we will remove your old mattress and box spring before delivering the new set (subject to inspection, unsanitary bedding will not be removed, limited to an equal amount delivered).
Delivery cannot be made to a minor and finance orders will require a signature from someone with a valid state-issued ID.
The driver will call the phone number provided on your order on the morning of delivery to give you a three-hour time frame. If you are not home for a delivery, there will be a $69.99 re-delivery fee.
If the driver determines that the delivery attempt could cause damage to your home, you will be required to sign a release of liability to complete the delivery.
Our C.O.D. Policy:
All orders must be paid in full before the delivery date. We do not accept payment at the time of delivery.
10-Year Limited Warranty
Beautyrest stands by its products and materials with limited warranties so you rest easy.
Our-120 Day Sleep Guarantee
If you have owned your mattress for longer than 30 days and you aren't happy with your set, Best Mattress is glad to exchange your mattress for 120 days from the date of purchase. Please see our full terms & conditions here.
Best Mattress also offers FREE REMOVAL* of your old mattress. Our delivery driver will pick up your old mattress and seal it in plastic before loading it onto our truck.
Need financing? We have you covered! Best Mattress offers a variety of options available, including No Credit Check Financing! Please contact us for additional details on all offers.
We appreciate your patience, understanding, and support at this time. Thank you for continuing to be a loyal Best Mattress customer. Sleep Easy, Friends!