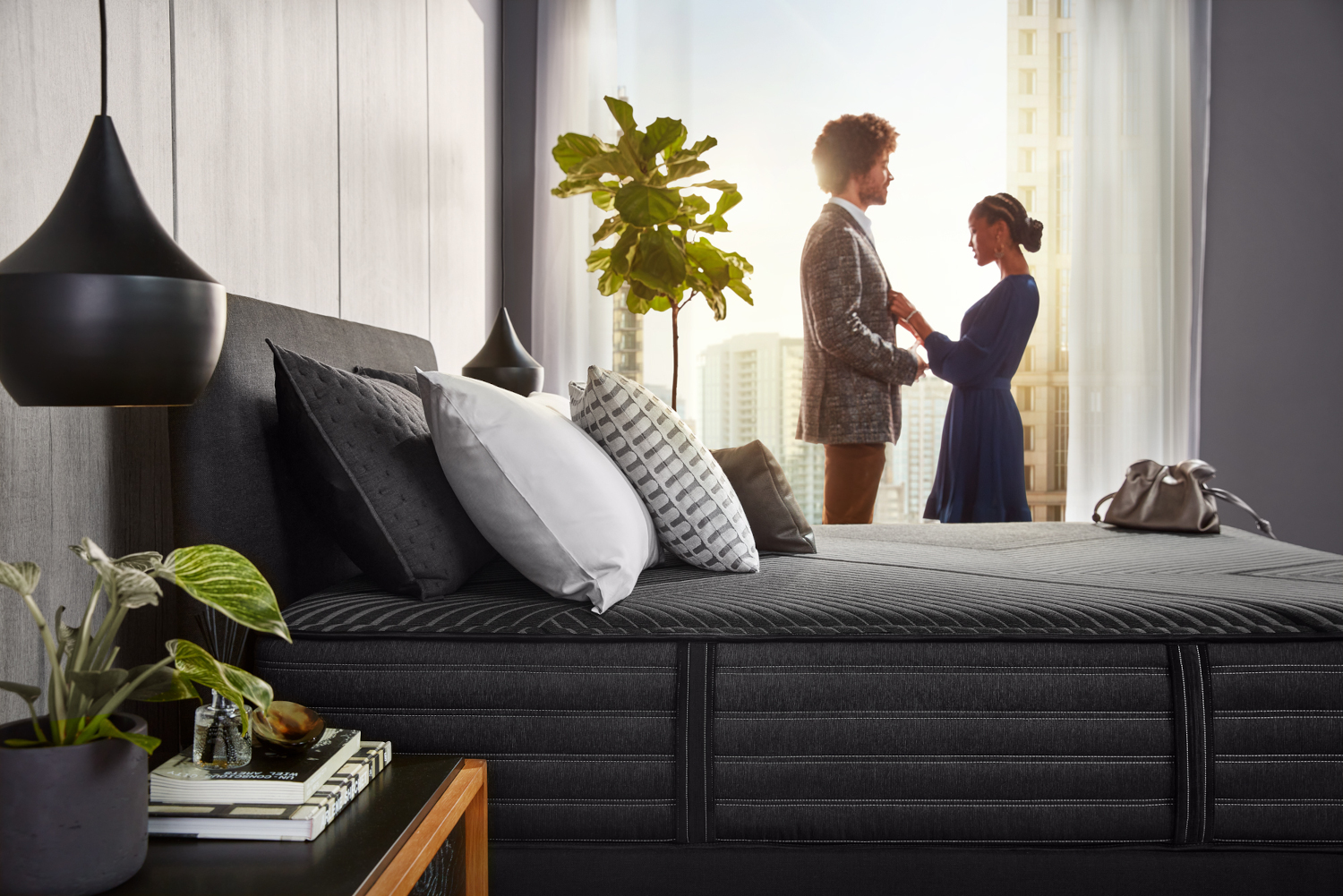 Pressure-relieving upgrades. T3 pocketed coils. BlackICE 4.0 Technology. These are just a few of the features consumers can expect when they shop for a mattress from Beautyrest's Black line.
You already know and trust Beautyrest to deliver the highest quality mattresses in terms of comfort, beauty, durability, and performance. But has this brand taken its mattress game a bit further? Many folks are calling Beautyrest's Black mattress line the best of 2023, and it's hard not to agree. And after all, when you've been in the business of making mattresses for more than 150 years, you're obviously doing a whole lot of things right. The Black line from Beautyrest is proof positive of that.
Beautyrest says that its Black mattress line is its most advanced lineup yet, and one peek at these luxurious mattresses underscores the truth in the brand's statement. If you're looking for high-quality sleep—the kind that leaves you feeling rested, restored, re-energized, and ready for the day—then a selection from Beautyrest's new Black collection may be just what you need. A look at the three basic Black mattress models—L-Class, C-Class, and K-Class along with a hybrid offering can help you decide which of these modern mattress products is right for your needs.
Beautyrest Black L-Class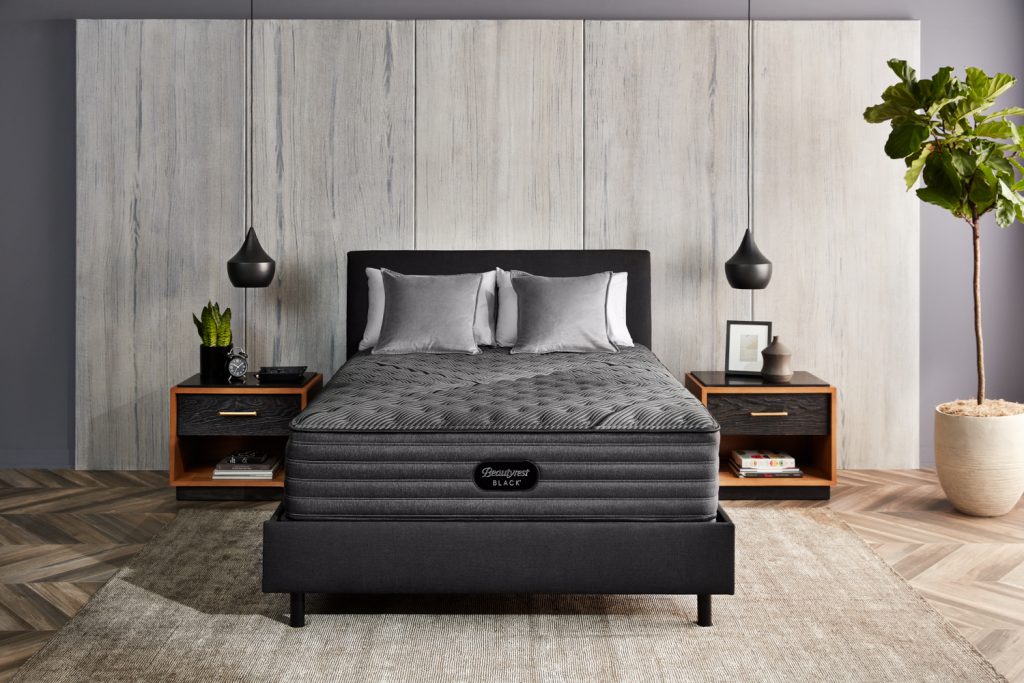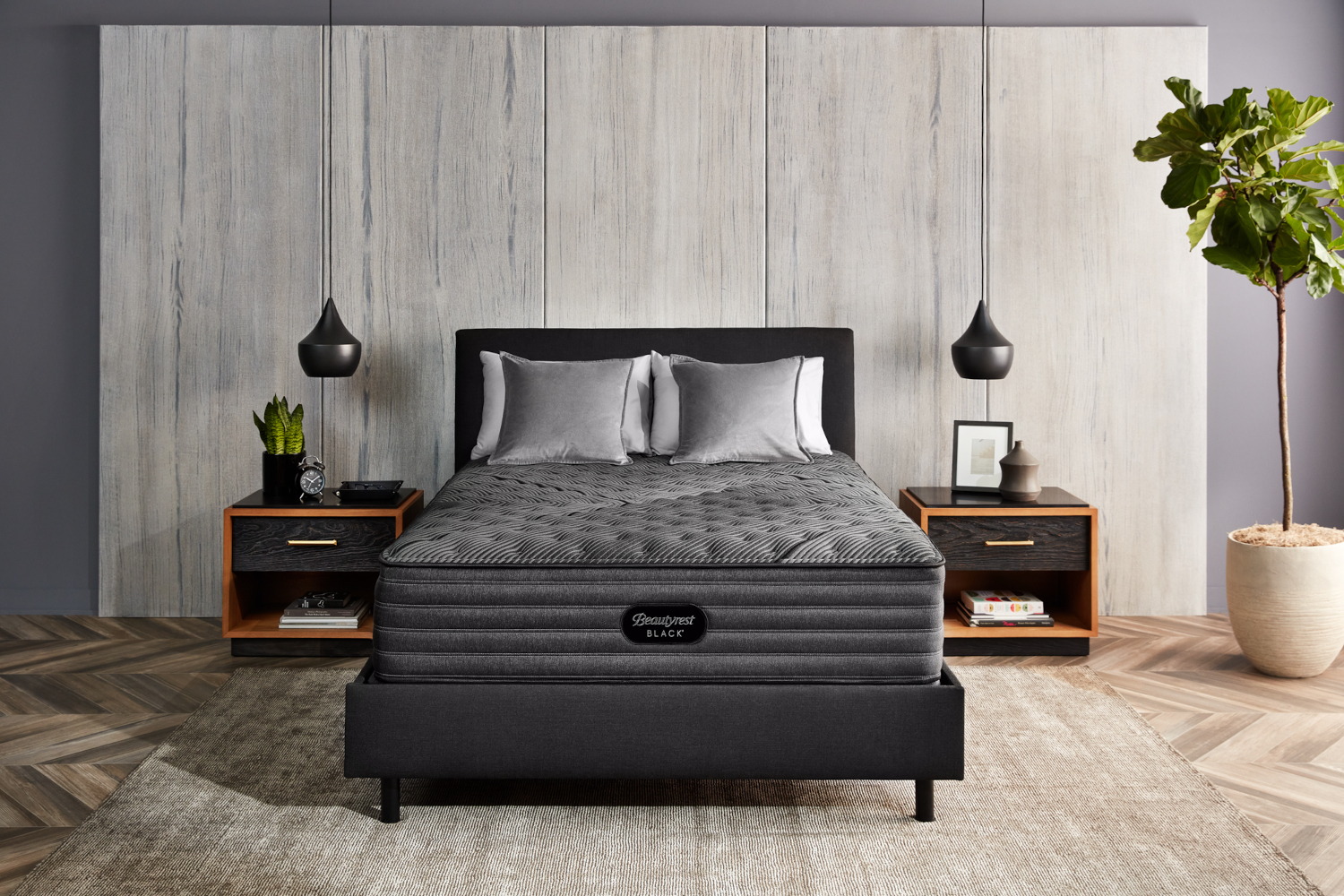 The Beautyrest Black L-Class is the entry-level offering in the Black line and offers a pampering mix of superior pressure relief, essential cooling, and impeccable support. When it comes to Beautyrest's Black L-Class mattresses, the buzzword to know is T3 pocketed coil technology. An ingenious design, T3 pocketed coils are made with three braided steel strands, so they provide an unparalleled support system while isolating motion so you don't feel every movement your partner makes. T3 pocketed coils also provide up to 21 percent added support, right where you need it, by contouring to the curves of your body. This can help you achieve a deeper, more restorative sleep, so you wake rested and revitalized.
If you get hot at night, then you can appreciate the BlackICE 4.0 cooling fabric that is a hallmark of Black L-Class products. This fabric lies just below the surface of the mattress and helps to keep you feeling cool and comfortable by dissipating heat. This feature helps to provide relief to a common problem seen with mattresses made from home—heat buildup. L-Class mattresses are made from high-quality gel—SurfaceTouch memory gel—and Beautyrest's memory foam, providing a great deal of pressure relief while you snooze the night away.
The Beautyrest Black L-Class mattress is available in firm, medium, medium pillow top, and plush pillowtop versions. Some takeaways to consider when weighing the L-Class against its peers include built-in antimicrobial protection and a series of layers that include:
¾-inch SurfaceTouch gel memory foam layer
½-inch Beautyrest firm comfort foam
1-inch gel memory foam
2-inch firm comfort foam
1.5-inch energy foam
Beautyrest Black C-Class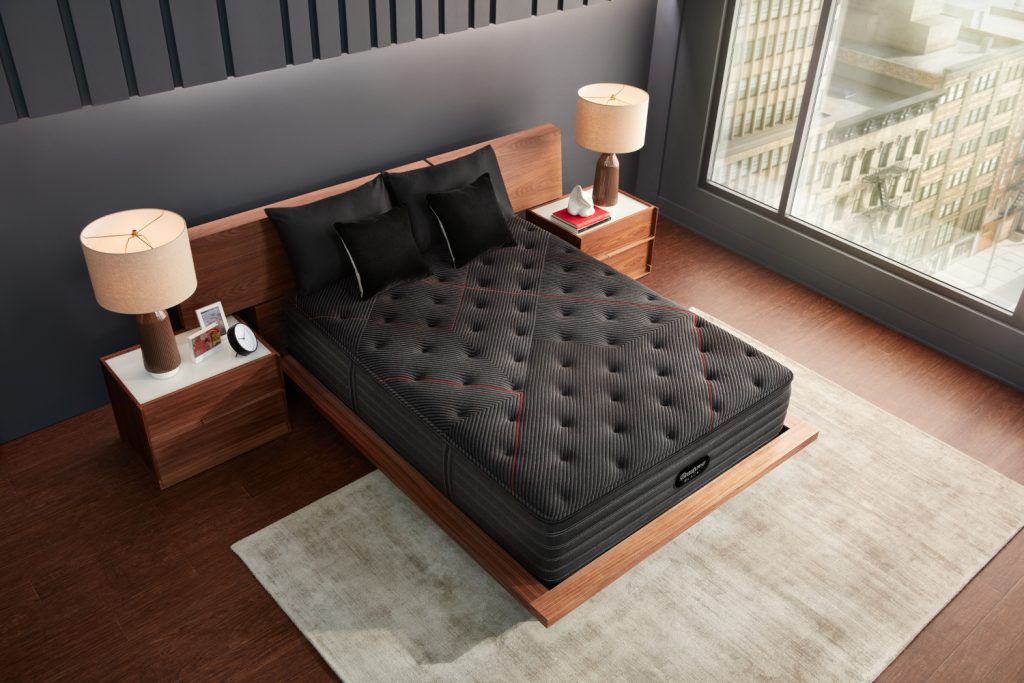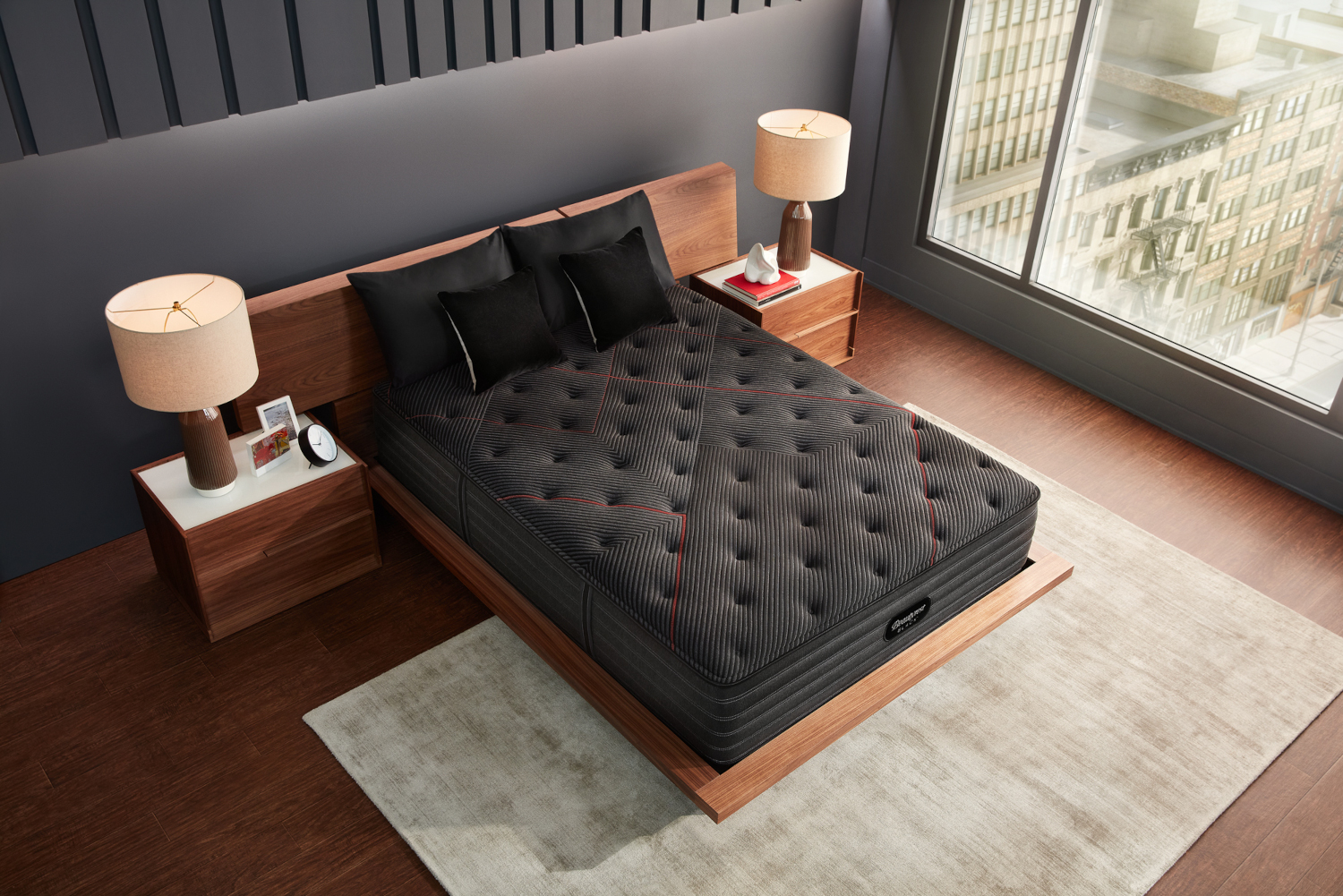 A big step up from the L-Class Black mattress from Beautyrest is the C-Class, engineered to help you get consistently restorative sleep. With the Beautyrest Black C-Class, you get the same innovative T3 pocketed coil technology found in the L-Class mattress. The Beautyrest Black C-Class mattress is the epitome of luxury with a 1-inch comfort layer that's made from an amazing mix of fibers, including alpaca, silk, and cashmere. And if pressure relief is your main goal, there's a reason to upgrade to the C-Class instead of the L-Class version. It offers 18 percent more pressure relief overall when compared to its L-Class sibling.
Beautyrest Black C-Class mattresses also feature plant-based cooling technology built into the mattress, thanks to its BlackICE plant-based cooling technology. In addition, its construction uses RightTemp memory foam, a revolutionary material that keeps you cooler all night long, and helps you to sleep deeply, undisturbed by the heat experienced when using traditional memory foam products.
The innerspring design and the inclusion of Self-Response Latex with the Beautyrest Black C-Class mattress lend it naturally to more personalized body support. The C-Class mattress is specially designed to provide conforming support to your shoulders, hips, and back, facilitating proper spinal alignment.
An antimicrobial cover adds to the consumer-friendly yet luxurious design of the L-Class mattress. Options include firm, medium, plush, medium pillow top, and plush pillow top models. You can appreciate its seven comfort layers, including:
¾-inch SurfaceTouch gel memory foam
½-inch plush comfort foam
½-inch Self-Response Latex
1-inch comfort layer derived from silk, alpaca, and cashmere fibers
2-inch firm comfort foam
1-inch energy foam
Beautyrest Black K-Class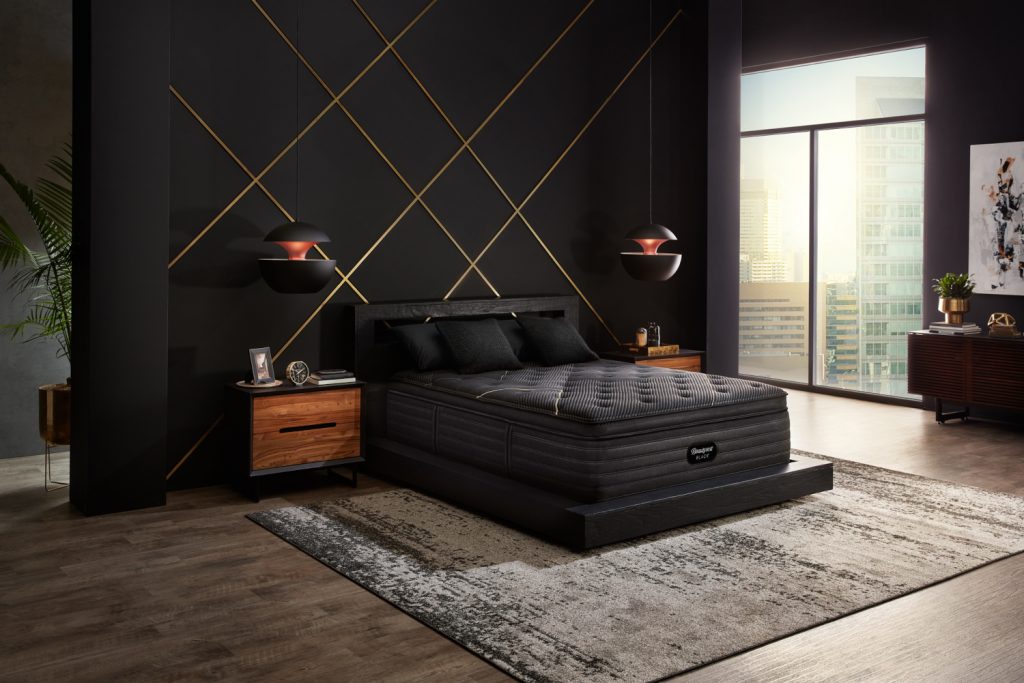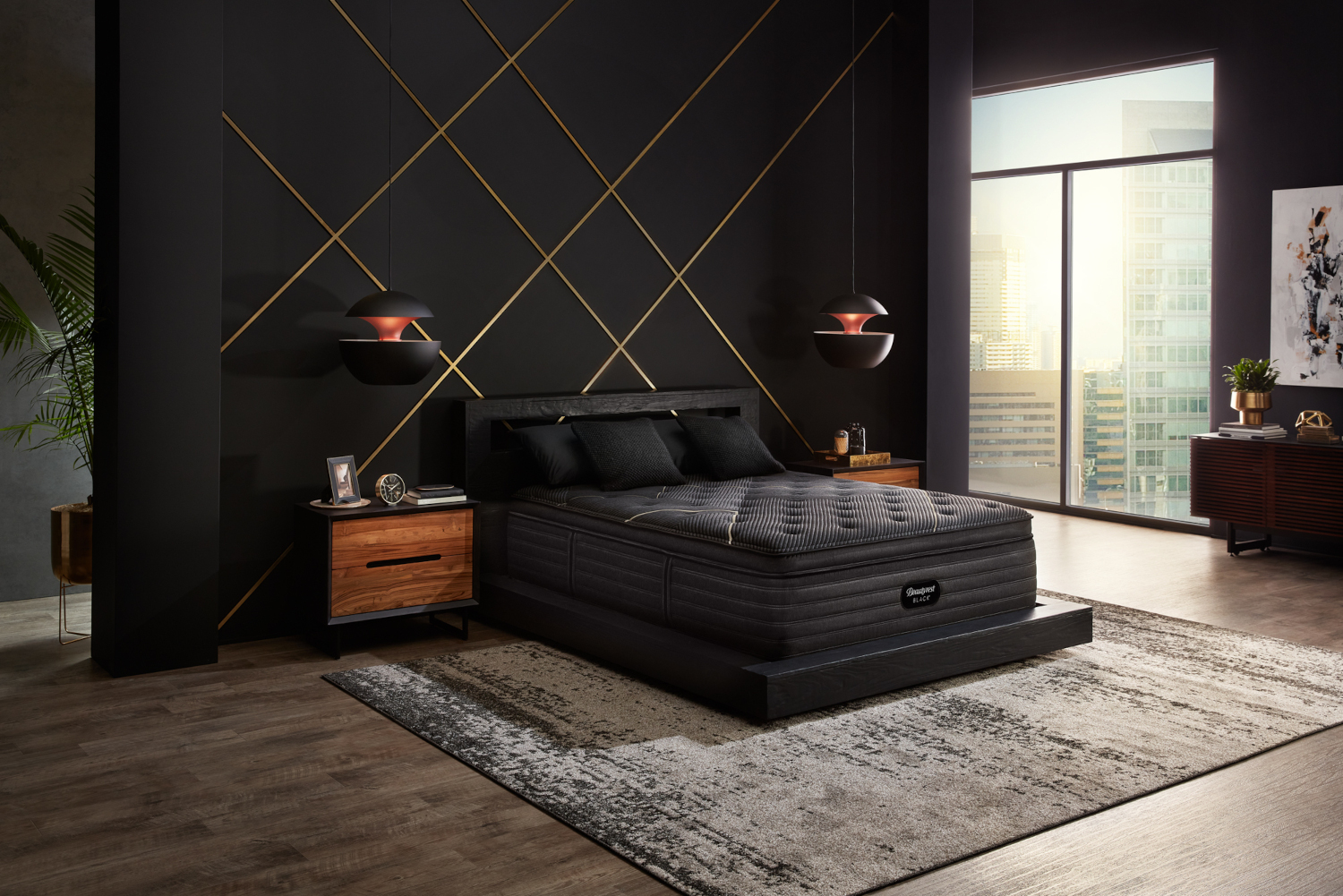 The right support is vital to a good night's sleep, and the Beautyrest Black K-Class offers support in spades. In fact, it boasts the most advanced ever support system for the brand, not to mention that the K-Class is the most luxurious of all mattresses in the Black lineup. As an example of its superiority, it has as much as 10 times the amount of memory foam as mattresses in the L-Class and C-Class categories.
Enjoy all of the benefits of Beautyrest's Black L- and C-Class models along with other comfort enhancement features with the next level in the Black collection—the K-Class. This top-shelf mattress from Beautyrest features an added layer of 2,000 1-inch Nano coils positioned between layers of Beautyrest memory foam for generous support and responsive comfort. Along with T3 pocketed coil technology, these coils make the K-Class mattress one of the most conformable options the brand offers.
The K-Class offers six luxury comfort layers along with BlackICE plant-based cooling technology. Those layers include:
1.25-inch Airfeel foam
¾-inch Surface Touch gel memory foam
3-inch Aircool memory foam
1-inch comfort layer derived from silk, alpaca, and cashmere fibers
½-inch Self-Response Latex
1.5-inch energy foam
Beautyrest Black Hybrid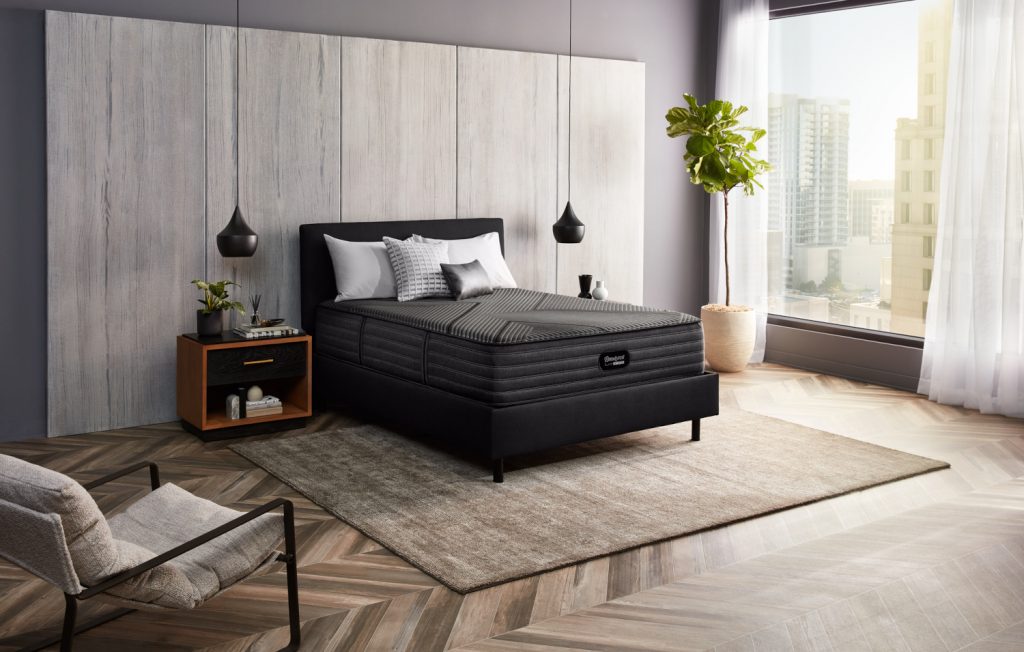 Beautyrest's Black Hybrid collection comes in LX-Class, CX-Class, and KX-Class versions and in the firm, medium, and plush models. The Black Hybrid offers a combination of pressure-relieving memory foam and supportive coils positioned in all the right places for the best sleep experience possible.
Some highlights from each tier of the Black Hybrid lineup:
LX-Class. Great pressure relief, essential cooling, and abundant support are hallmarks of the LX-Class from the Black Hybrid lineup. It comes with many of the same features seen in the L-Class Black mattress, including Zoned T3 Pocketed Coil Technology to absorb energy and reduce the amount of motion transfer you experience in bed. It also features the same plant-based cooling technology and utilizes the AirCool memory foam for amazing pressure point relief.
CX-Class. A bit more supportive than the LX-Class mattress, the CX-Class is made with even more luxurious materials and offers a higher level of pressure support, partly due to its use of Self-Response Latex.
KX-Class. The most luxurious in the Black Hybrid lineup, the KX-Class mattress offers even more pressure relief, luxury materials, and twice the memory foam of the other two mattress classes in the Black Hybrid line. Like its K-Class equivalent, the KX-Class mattress has 2,000 Nano coils to provide individualized conformity that enhances pressure relief.
Buying Your Beautyrest Black Mattress
It's hard not to be tempted by the Beautyrest Black mattress collection, even if your mattress has a few more good years left in it. When weighing everything that the Beautyrest Black mattress line has to offer, some key considerations that make this mattress stand out include:
Advanced pocketed coils. Triple-braided coils provide the core support for each of the Black mattresses. The coils are among the longest-lasting coils in the mattress industry, offering isolation of motion and supreme conformity.
SurfaceCool fibers. Just below the surface of the Black mattresses in all classes is a layer of SurfaceCool Plus fibers. These fibers help to enhance the mattress' airflow and dissipate any heat for optimal temperature regulation.
BlackICE memory foam. Beautyrest goes a step further to keep you cool at night with BlackICE, a breathable gel memory foam.
10-year limited warranty. All Black mattresses by Beautyrest come with the brand's standard 10-year limited warranty.
While nearly anyone who enjoys sleeping—and who doesn't—can appreciate the Black mattress lineup, hot sleepers in particular love the many cooling layers the mattress offers. Because of the motion isolation that each class of mattress delivers across the whole line, couples are also well-suited to the Black lineup from Beautyrest. And due to its resilient construction, this series is also a great choice not just for users of average weight, but also for heavyweight users. Both back sleepers and stomach sleepers can benefit from the supportive design of the mattresses in this collection since both of these sleeping types need lots of lift to ensure appropriate spinal alignment.
As you can see, the Beautyrest Black and Beautyrest Black Hybrid lines are more than just high-end luxury mattress options to consider. These mattresses are made for discerning consumers who are not willing to compromise when it comes to the quality of their sleep. Offering a combination of rigorous support, lavish comfort, resilience, and lasting reliability, it's hard to beat what the Black lineup from Beautyrest has to offer.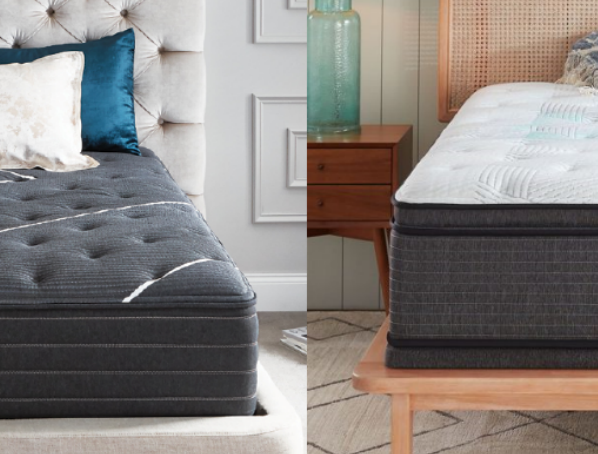 The name Beautyrest® has always meant quality and innovation in mattresses performance throughout the company's history. Every mattress they manufacture today benefits from the advances of the past to improve support, pressure relief, and cooling. We compare two Beautyrest mattress collections to help you decide which mattress is right for you. The collections we're comparing […]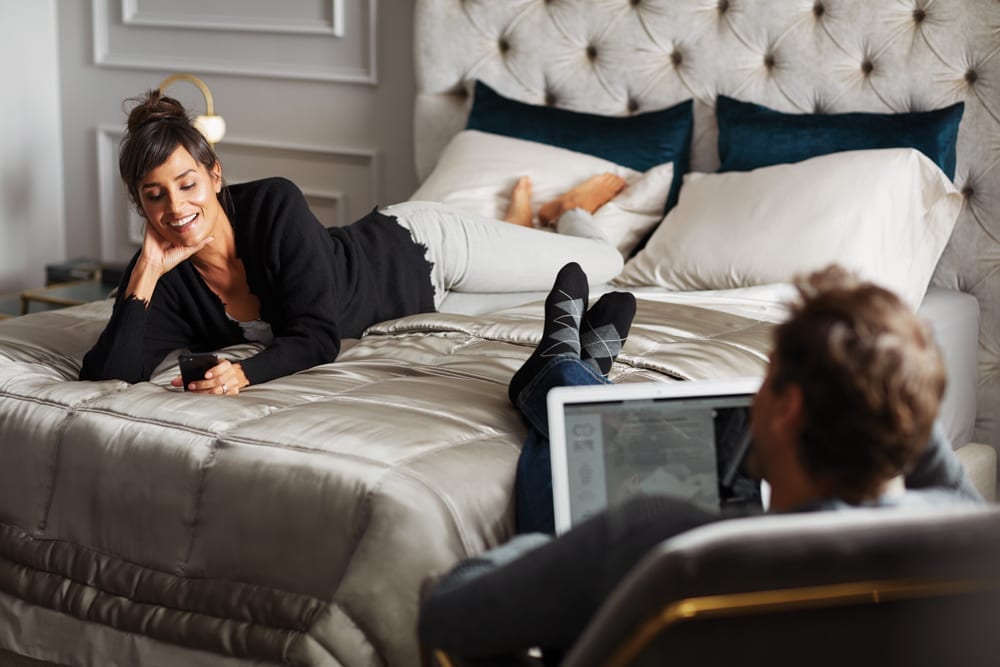 Designed to be in a class all its own, the Beautyrest Black line from Simmons was made to impress even the most discerning sleepers. Along with hybrid technology that provides the support of an innerspring system with the supple cushioning of a memory foam mattress, this innovative mattress line goes a step further and […]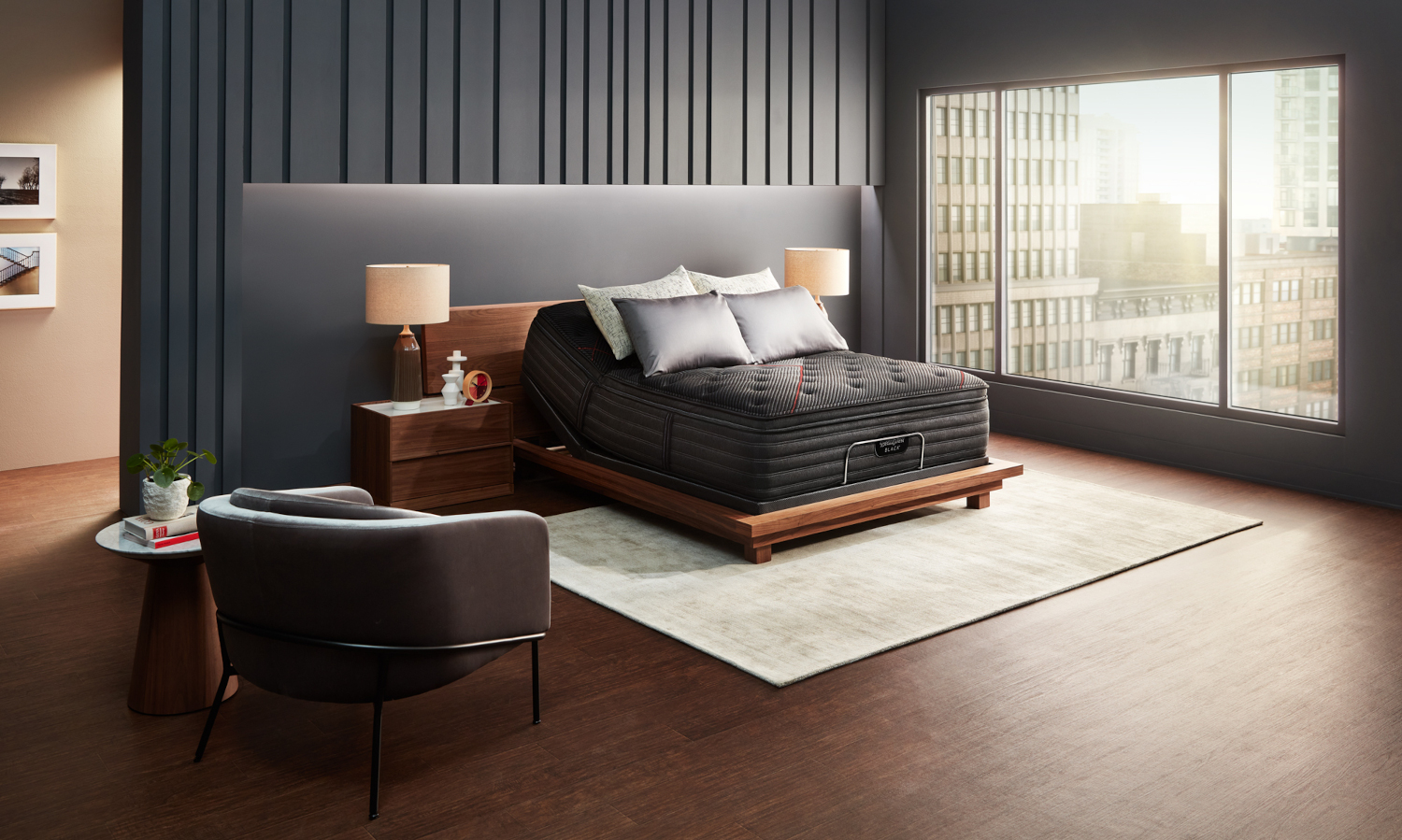 Improve sleep quality with Beautyrest Black mattresses by Simmons. Made with the latest technology, these mattresses come in a variety of sizes, support levels, and designs to suit most every sleep style. Cooling and pressure relief help reduce tossing and turning by keeping your body comfortable throughout the night. The resilient interior layers bounce back […]