Designed to be in a class all its own, the Beautyrest Black line from Simmons was made to impress even the most discerning sleepers. Along with hybrid technology that provides the support of an innerspring system with the supple cushioning of a memory foam mattress, this innovative mattress line goes a step further and integrates state-of-the-art fabric technology to regulate surface temperatures and adjust to each sleeper perfectly.
Each Beautyrest Black® mattress contains a durable innerspring system with 1,935 spring coils, all covered with four layers of surface foam and a layer of micro-coils to cushion the body. Each layer is designed to do something different, responding to each sleeper's body weight, temperature, and spinal contours. Here is more information about each layer of the Beautyrest Black®, and why you should consider upgrading to one of these revolutionary mattresses today.
Beautyrest® Advanced Pocket Coil Technology

One of the biggest problems with older mattresses was the fact that the coil innerspring system was wired together, allowing motion and sound to transfer across the bed. To provide an exceptional level of support, the Beautyrest Black contains individually wrapped coils that operate independently, giving people who share a bed the opportunity to sleep soundly even if their partner tosses and turns.
The Advanced Pocket Coil Technology offered by the Beautyrest Black also contains half an inch of foam that absorbs additional motion, creating a bed that stays still even when you don't. To ensure that each sleeper receives the support they expect, the Beautyrest Black contains alternating rows of Advanced Beautyrest Pocketed Coils and traditional Beautyrest Pocketed coils. Extra firm mattresses contain thicker, triple-coiled wires that are designed to offer more support, while plush varieties contain thinner triple-coiled varieties designed to last a lifetime.
SurfaceCool™ Plus Fiber
Heat buildup is one of the biggest complaints that most sleepers have, which is why Simmons used phase change materials to make the SurfaceCool™ Plus Fibers that are in the Beautyrest Black mattress series. These materials are designed to absorb heat up until a designated temperature, providing a cooling effect, and then to release heat as soon as the fibers reach a designated low temperature, producing a warming effect. These special fibers are oriented vertically, allowing the mattress to "breathe," and absorb excess heat as you sleep. The result is a bed that is always the perfect temperature—not too warm and not too cool.
Comfort Response™ Latex
To cushion the contours of your body, the Beautyrest Black contains a layer of Comfort Response™ Latex. This domestically sourced, Dunlop latex layer is designed to provide a layer of ventilation, allowing heat to move downwards away from your body as you sleep.
Micro Diamond™ Memory Foam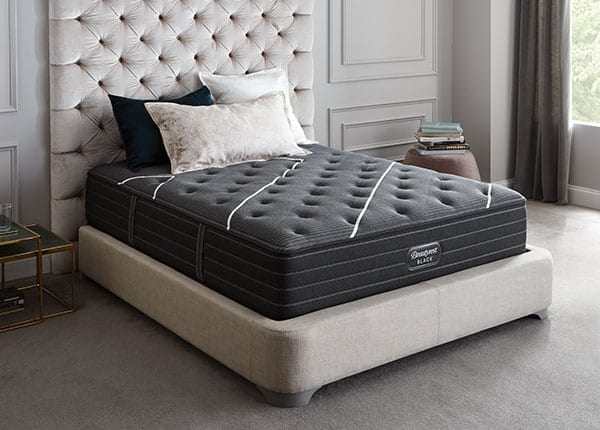 Rows upon rows of silent, completely supportive innersprings aren't the only thing that sets Beautyrest Black apart from the rest. One of the most advanced features of this truly luxurious mattress series is the layer of Micro Diamond Memory Foam™. Each Beautyrest Black contains over 250 carats of diamond particles infused through a layer of memory foam that works to distribute body heat and to make the sleeping surface more comfortable.
Diamonds are one of the best natural temperature conductors, conducting heat four times better than copper. Commonly used in high-end electronics like lasers and radar systems, the diamond particles found within the Beautyrest Black allow the mattress to heat and cool with your body. This gel is also designed to wick heat downwards away from your body, preventing uncomfortable heat buildup.
BlackICE™ Memory Foam
Some people need more than heat regulation—they need heat elimination. For this reason, some varieties of the Beautyrest Black series contain BlackICE™ Memory Foam, a material made to feel cool to the touch. Located at the top surface of the mattress, this special fabric makes each square inch of your bed feel brand new and crisp each and every time you roll over. If a mattress that feels cold to the touch doesn't keep you cool enough, there are even matching BlackICE™ Memory Foam pillows designed to keep you at the perfect temperature.
Luxurious Cover
Quilted from a soft rayon modal fabric, the cover of the Beautyrest Black boasts the same superior construction as the rest of the mattress. Plant-based, highly washable fibers offer a soft, cushioned, matte finish that won't slip and slide underneath your sheets.
Visit Best Mattress Today to Feel the Beautyrest Black® Difference
You can't find the mattress of your dreams unless you test out a few in person. To see the difference that top-of-the-line products can make, visit a Best Mattress store in your area. Best Mattress professionals can talk with you about what makes each mattress the best in their respective categories, and what you should look for to solve your individual sleeping challenges. Whether you need a king bed in Las Vegas or a twin mattress in St. George, Best Mattress can help you to find the perfect mattress set.