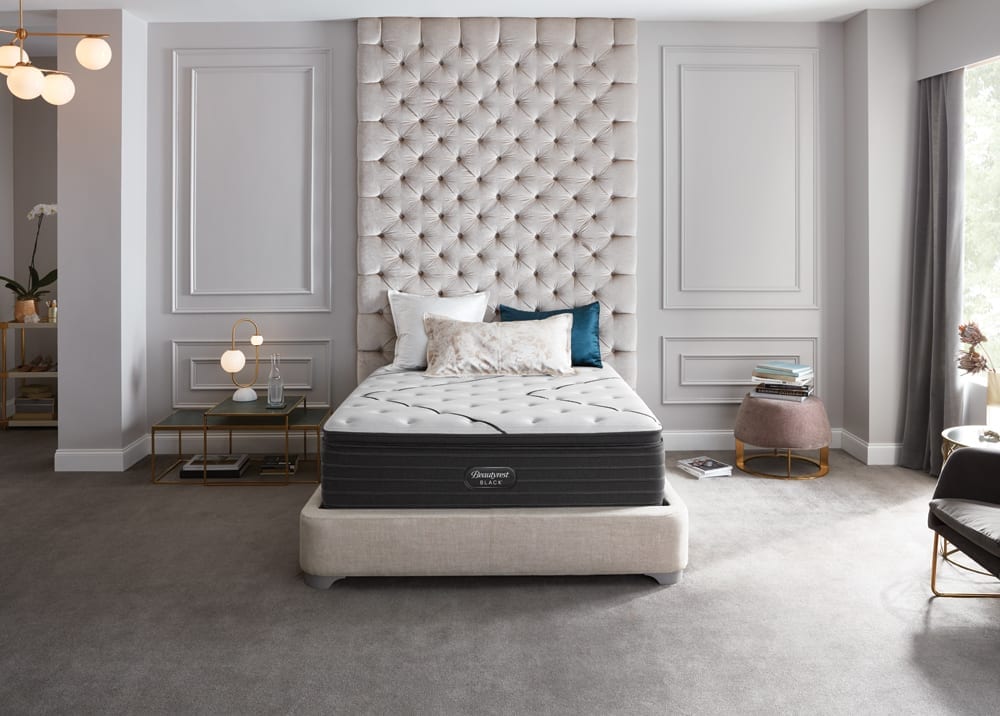 With so much of our life spent relying on the comfort of a bed, shouldn't that mean that you have the best mattress possible?
Not every mattress is going to feel like the best and the comfiest place to spend your nights. Some might even look pretty but feel not-so-pretty.
A Beautyrest mattress is a smart investment for yourself and your sleep. Beautyrest has a big reputation in the mattress world and has the highest quality products to prove it.
Getting a bad night's sleep or sleeping uncomfortably can affect your whole day and mood.  It can put you in an irritated mood, create a short temper, and cause lethargic or anxious feelings.
You may find it hard to complete tasks at work or stay focused or concentrate while trying to work.
There's no need to trudge through your days anymore due to an uncomfortable mattress! Beautyrest has a mattress for every need and will bring all the comfort you need right to your bedroom.
Discover the rest and relaxation you deserve with a Beautyrest mattress.
Save Money With the Beautyrest Daydream Mattress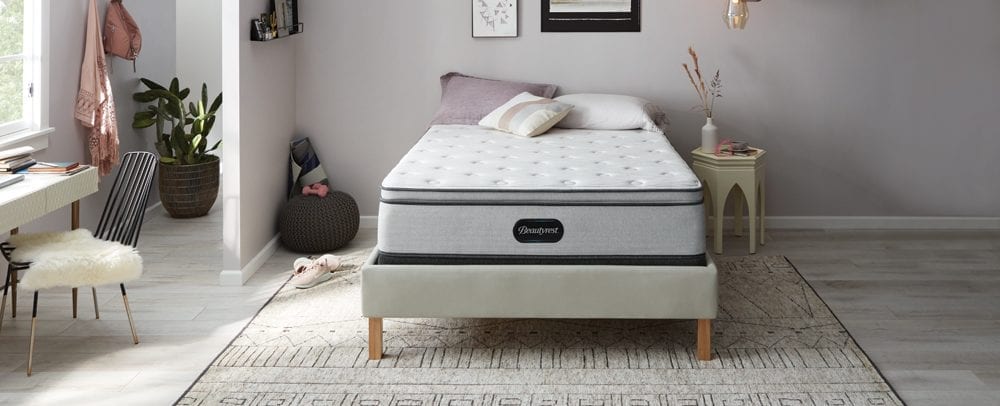 Don't let the astonishingly low price tag on this model fool you, the Beautyrest Daydream Medium mattress is the real deal when it comes to comfort.
This mattress features top-of-the-line details so you'll still get the best of the best while going easy on your wallet.
It features a SurfaceCool Fiber just below the fabric to help keep your mattress free of moisture on its surface. It also helps keep you cool at night by reducing heat buildup. You'll sleep comfortably and cool all through the night.
It also features GelTouch Foam to contour the mattress to your body, leaving you perfectly at ease as you drift to sleep.
The AirCool Gel Memory Foam relieves pressure and ensures you remain comfortable as you sleep through the night.
This mattress also makes the best use of its 800 + Pocketed Coil Technology. The coils in this mattress are designed to both adjust to your weight and contour your body.
Finally, the Foam Encased Edge Support System will give your mattress a sturdy edge. This means that it will be harder for you to slip off in the middle of the night!
All you will need to make this mattress yours is the perfect-sized bed frame! You can even put it on an adjustable bed frame to give yourself the ultimate comfort and your best night's sleep.
Don't just take our word for it, though. If you look up any Beautyrest mattress reviews, you will see how beloved they are, for so many good reasons. The raving reviews are there for a reason!
Beautyrest Positano Ultra Plush Pillow Top Mattress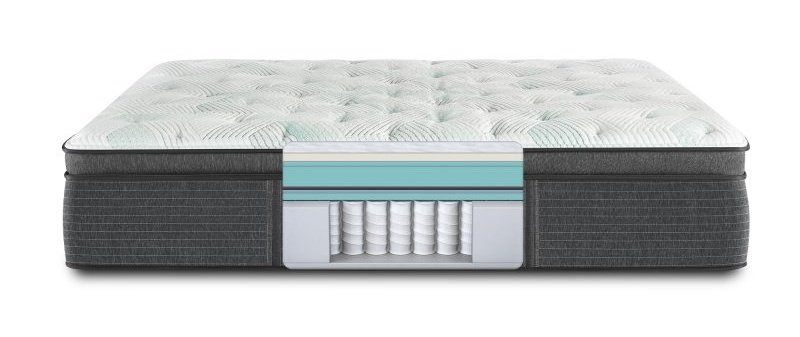 If it's the luxury you want with your mattress, the Positano Ultra Plush Pillow Top mattress may just be the model for you.
This model features three inches of a comfort layer so you know you'll be getting the best sleep possible with this mattress. Its dynamic design was put together with the coziest comfort in mind.
This mattress features a plush pillow-top that will make you believe you are falling asleep on a cloud. When asked to rate this model on a firmness scale between one and ten, one being the most firm, users rated this model at a nine.
Its plushness is made up of several different types of foam, all of which work together in harmony to create that ultimate sense of comfort.
Cooling Technology
One of the foam layers is the Beautyrest Charcoal Memory Foam, which provides a natural cooling effect. The charcoal's heat-reducing property makes it so that you're less likely to sweat or sleep in discomfort throughout the night.
This model is also made with eco-friendly, breathable fabrics that naturally make the mattress cooler, and in turn, will keep you cool.
Health Benefits
Aside from keeping you cool, this model is designed to break down unwanted bacteria that may gather on your mattress. Over time, bacteria can create odors or begin to decrease your mattress longevity.
Reduced Motion Transfer
Best of all, this model keeps you comfortable all through the night if you sleep next to someone who moves a lot in their sleep. It reduces motion transfer so you won't feel it if your partner moves during the night.
Eco-Friendly
This model is also made using Seaqual sustainable fabric. Seaqual is committed to its plastic removal methods to help clean up our oceans.
Beautyrest Black L-Class Extra Firm Mattress

Maybe the plusher, softer mattress is not for you. After all, everyone has different needs and Beautyrest is committed to creating quality products for everyone.
The Beautyrest Black L-Class Extra Firm mattress will give you firm support and have you feeling reenergized every morning. It uses T3 pocketed coil technology to create a feel that is both comfortable and firm.
Each coil is comprised of three steel strands that reduce motion and absorb energy. This model is particularly helpful in getting a good night's rest if you regularly wake up with aches and pains.
So how does the Beautyrest Black L-Class manage to be both luxurious and firm at the same time? Its unique feel is attributed to the combination of layers like Energy Foam, Firm Comfort Foam, Plush Comfort Foam, Gel Memory Foam, and GelTouch Foam.
All these layers of high-density memory foam are what give this model its overall firm feel that provides you with extra support.
It is especially helpful if you sleep on your back or stomach. This mattress uses technology that relieves the pressure points and supports the proper alignment of your spine.
Best of all, when you purchase this mattress you will have 120 days to decide if it's the right one for you. You will have plenty of time to test the mattress in the comfort of your own home. if it doesn't feel just right you can exchange it for a mattress that does.
Beautyrest Ocala Plush Pillow Top Mattress

This pillow top model offers the softest of feels so you can relax into it for a restful night of sleep. The Beautyrest Ocala Plush Pillow Top mattress also offers an extra 2 inches of comfortable Beautyrest foam.
This model is soft to the touch and offers support while still prioritizing comfort.
It relies on the use of T1 pocketed coil technology in the middle of the mattress to support your body. It supports you by relieving pressure and reducing strain on your shoulders, neck, and back.
The layer of charcoal memory foam will cradle your body and help reduce tossing and turning in the middle of the night. The charcoal is a natural deodorizer that absorbs extra moisture and keeps the mattress fresh and clean.
If you are someone who tends to overheat at night or find yourself needing a fan every night, this model's use of NaturalCool cooling technology can help.
NaturalCool technology will stop you from continuously pulling blankets on and off all night by helping to maintain a steady, cool temperature.
This model is also sustainable if being eco-friendly is important to you. Each model recovers the equivalent of 25 water bottles from the ocean with each queen mattress.
Beautyrest cares about the satisfaction of their customers, which is why this model comes with a ten-year manufacturer's warranty, in case of any factory defects. This is to make sure every customer is satisfied with their mattress for ten years or longer.
Beautyrest's sustainability partner, Seaqual, is committed to helping remove trash and pollution from our ocean with every purchase. Investing in a comfortable mattress while helping save the planet is a win for you, our oceans, and the ocean inhabitants.
Buy Your Beautyrest Mattress Today
If you live in the Las Vegas, Nevada, or St. George, Utah, area and are unsatisfied with your current mattress, it's time to treat yourself to a new one.
Let one of the Beautyrest mattress models usher you into a new existence of sleeping soundly and comfortably every night.
Whether it's one of the models described above, a Beautyrest silver mattress, or any other model that suits you, you'll be happy you invested in a Beautyrest.
Browse our Beautyrest mattress models today and find your new favorite mattress.