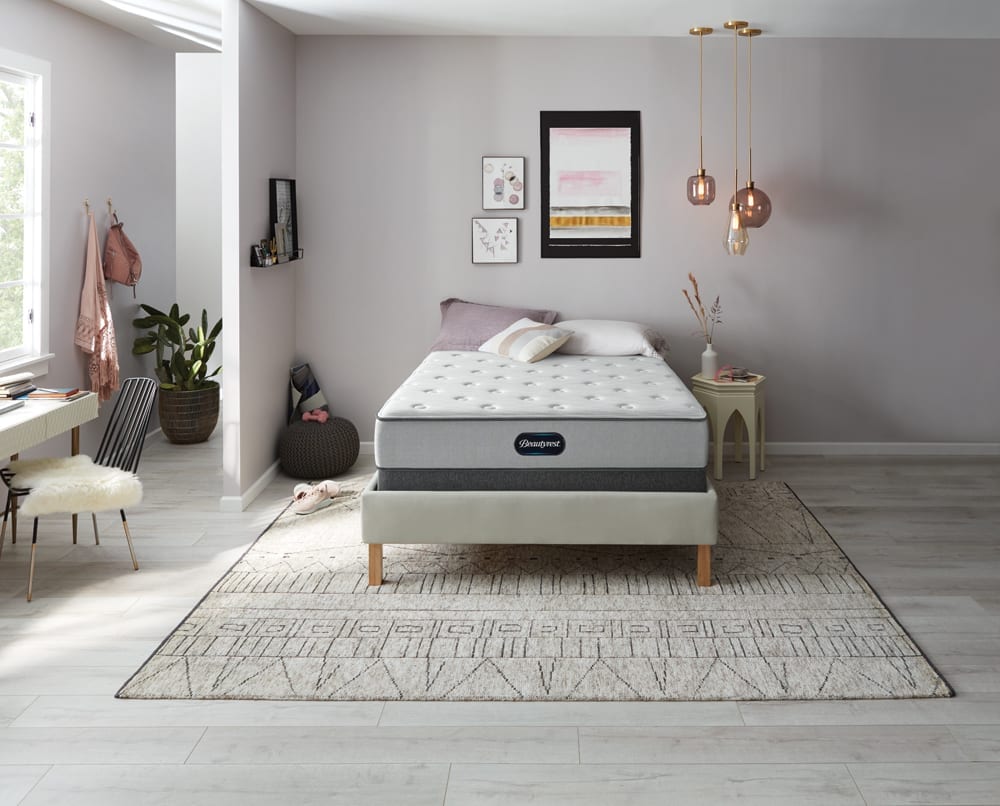 If you are looking for the best night's sleep you have ever had, then you need to look no further than the Beautyrest Pillow Top mattress. Like all Beautyrest mattresses, the Pillow Top is at the height of sleeping technology and is designed to provide you with the sleep experience that you deserve.
The Beautyrest Pillow Top mattress features DualCool sleep technology, a one of a kind pressure relief system, and plush comfort foam. The engineering that has gone into this mattress makes it one of the most comfortable mattresses available.
If you are looking for a mattress that has the capability of completely transforming the way you sleep, then you should look no further than the Beautyrest Pillow Top mattress. This mattress is available for purchase in all sizes including:
Eastern King
California King
Queen
Full
Twin
Twin XL
Features Of The Beautyrest Pillow Top Mattress
The first thing you will notice about the Beautyrest Pillow Top mattress is the DualCool technology. This technology is one of the most innovative in sleep science, and it keeps the mattress fresh and cool.
How does it work? Well, the DualCool tech works via an antimicrobial performance layer; this layer moves heat and moisture and keeps your nights cool and comfortable.
The most noticeable thing you will find should you purchase the Beautyrest Pillow Top mattress is the science that exists in the foam technology.
When it comes to your mattress, you may not realize, but the type and amount of material it has been essential in making sure you get the best and most relaxed night's sleep. Taking this into account, Beautyrest has put years of research and feedback into their patented foam technology, and now they are proud to give you the best mattress possible.
What's In A Beautyrest Mattress?
AirCool Memory Foam – This foam features an advanced open cell structure that helps the heat dissipate and maintain your ideal sleeping temperature. Not only this, but this memory foam is renowned for its ability to provide pressure point relief.
AirFeel Memory Foam – AirFeel foam is yet again a remarkable technology that enables the mattress to have an open cell structure just like AirCool. In this case, however, the cell structure openings allow the foam to deliver high airflow and keep you comfortable for the whole night as you sleep.
SurfaceCool Fiber – This final and remarkable technology is created to work best when in unison with the previous two technologies. The SurfaceCool fiber works with AirCool and AirFeel to allow you to maintain your body temperature throughout the whole night.
As you can see, Beautyrest has put much effort into ensuring that your temperature is their priority, but worry not, they didn't stop there. Although they found that the majority of sleep disturbance was a result of variable body temperature, they also want to make sure that you had the best in support too. So, as well as the cooling technology, they made sure to incorporate GelTouch foam. GelTouch foam is designed to give you both lumbar support and the ability to relax should you experience aches and pains.
It should be obvious at this point that the Beautyrest Pillow Top mattress is really at the top of innovation when it comes to mattresses, so this quite possibly could be the only mattress you need.
Specifications
The Beautyrest Pillow Top mattress sits brilliantly in the mid-range of soft and firm so it seems to suit the needs of most. The specifications of each of the layers of this mattress are:
Mattress Height: 12″
1-inch AirCool Foam
1-inch AirCool Foam
1-inch Plush Comfort Foam
800 Series Plush Pocketed Coil
Why Choose The Beautyrest Pillow Top Mattress?
To put things simply, the Beautyrest Pillow Top mattress is regarded as one of the best mattresses you can buy, and it could give you the night's sleep you have always wanted to dream about.
The Beautyrest Pillow Top mattress is at the top of the list when it comes to scientific innovation and research, and it is also compatible with a plethora of bed bases too.
Our 120 Day Sleep Guarantee
If you have owned your mattress for longer than 30 days and you aren't happy with your set, Best Mattress is glad to exchange your mattress for 120 days from the date of purchase. Please see our full terms & conditions here.
You should note that most mattresses take around 30 days to adjust to, but then it's nothing but comfort to perfection.