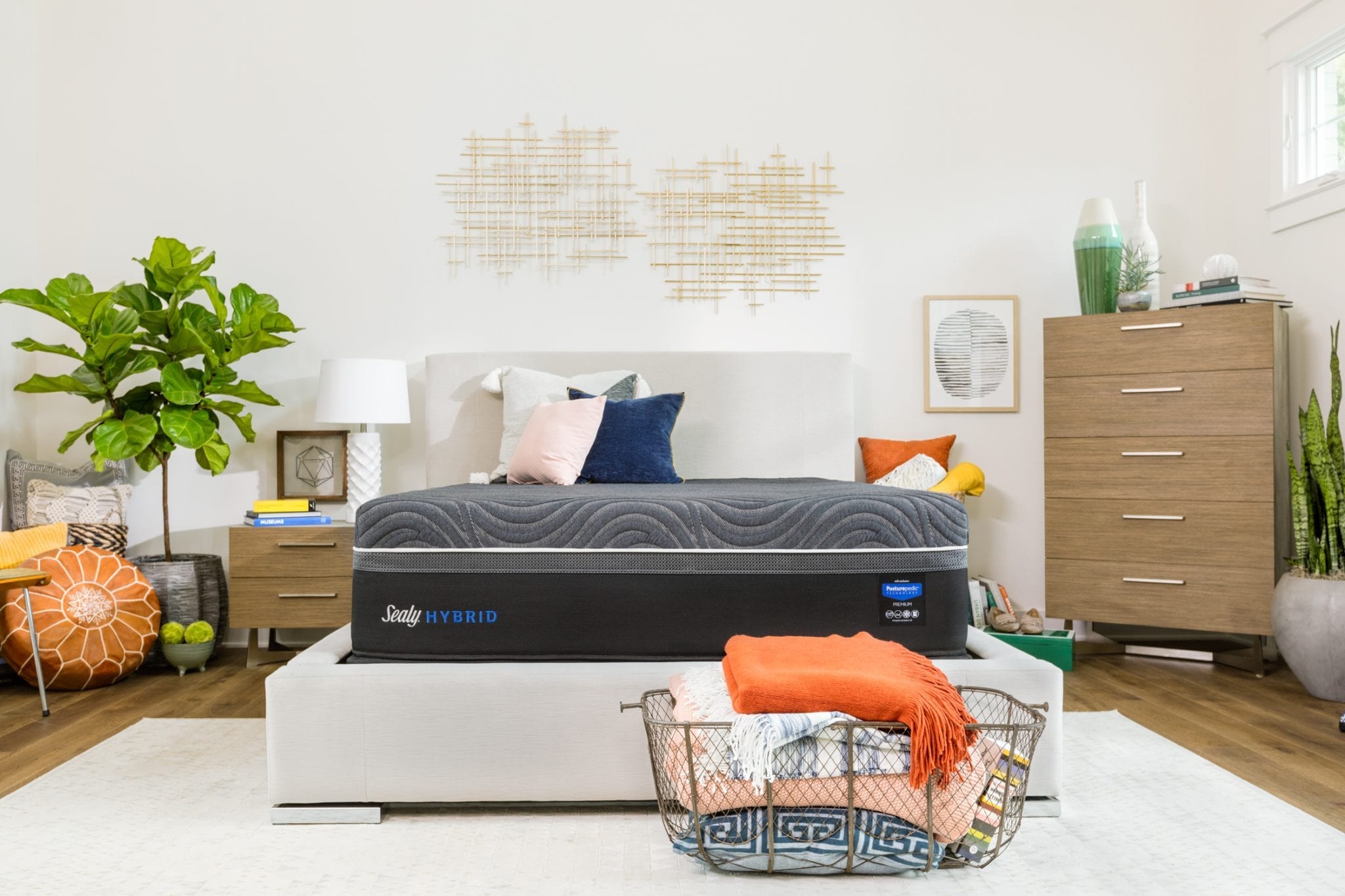 Have you ever been up all night, even though you were exhausted, wondering why you couldn't sleep? Did you ever think that maybe it was the bed you were laying on? Often when we have issues with our health, we think it's our bodies or something wrong with us. We don't always think about changing the things in our environment or the things we use on a daily basis.
Your sleep is definitely important to your health. In fact, the quality and amount of sleep we get each night can affect our bodies throughout the day and over time. Therefore, it should be a priority to get a good night's sleep.
The mattress you sleep on can have a huge impact on the quality of sleep you get each night. Different parts of the mattress play a part in helping you to get a better night's sleep. In this article, we will discuss the various components of the Sealy Hybrid mattress and how they help you sleep. So, let's get started.
What is a Hybrid Mattress?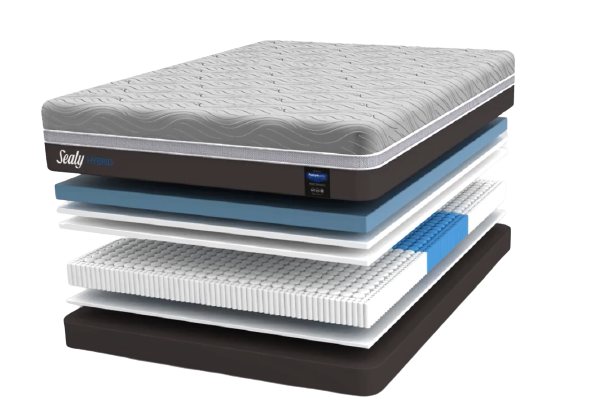 A hybrid mattress is essentially two mattresses in one. It combines layers of memory foam or gel with innerspring to form one mattress. It combines the best of both worlds. The gel or memory foam provides body-contouring comfort and support while the coils provide additional support, breathability, and balance.
Sealy Hybrid Benefits?
Hybrid mattresses are currently one of the most popular mattresses on the market because they can improve your quality of sleep. There are many benefits to the Sealy Hybrid mattress over other mattresses. We'll go over a few of them here.
Cooling Effects
Sealy hybrid mattresses have a cool-to-touch surface that also has allergen protection. Health studies show that people sleep better in a cooler environment. The DuoChill surface material keeps you cool and comfortable for better sleep. The bottom layer contains pocket coils and springs. These two layers combined allow for more breathability to help regulate body temperature and keep you cool while you sleep.
Breathability
Sealy® Immersion™ Advanced Memory Foam is a slower-responsive open-celled memory foam that allows for more breathability. Allowing air to flow through the mattress helps your sleep experience to be more comfortable.
Motion Isolation
Due to the 3-4 inch thickness and the ability to absorb energy, your movements don't transfer to your partner. This allows for a more comfortable sleep environment with the Sealy Hybrid. You will have more hours of sleep time because you are not disturbed by your partner's movements.
Posturepedic System
The supportive, individually encased coil system features Posturepedic technology. There are 20% more coils in the middle section of the mattress for better support. The coils are dual supportive with two coils in one and can move independently. The coils are hourglass-shaped with an outer coil to provide adjustable support and an inner coil for additional support.
Edge Support
The edges of the Sealy Hybrid are densely packed with responsive coils for better edge support that allows for more sleep surface. For people that like to sleep on the edge of the mattress, this is a great benefit.
Adjustable Base Compatible
The Sealy Hybrid mattress is compatible with an adjustable base for a custom sleep experience. This only adds to the already superior comfort of the mattress.
Low Maintenance
Most innerspring mattresses need to be flipped now and again to avoid sagging. However, the Sealy Hybrid mattresses don't require this since they have additional support from the gel or memory foam. The gel or memory foam distributes much of the weight and absorbs any impact so the pocketed coils don't wear down.
Longer Lifetime
Since Sealy Hybrid mattresses are made with a very support-based style, they also last a lot longer. Since hybrid mattresses have at least two layers, sometimes three, you don't have to worry about the springs losing support.
As you can see, there are many benefits to having a hybrid mattress compared to a traditional innerspring mattress. It allows you to sleep easier and more comfortably which is why it has gained so much popularity.
Why Is Sealy The Company For Me?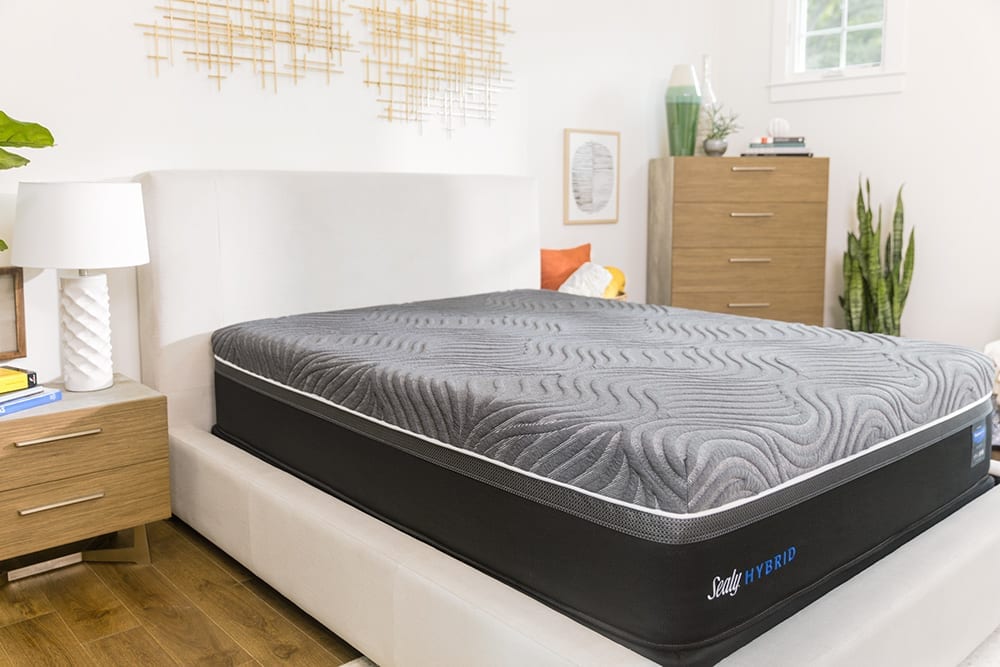 Sealy has been around for over 130 years, making it one of the most well-known mattress manufacturers. They have a reputation for developing new and innovative ideas.
Sealy was one of the first companies to develop the hybrid mattress. Perfecting the design allowed Sealy to provide its customers with the best of both worlds and helped pave the way for invention.
Sealy has invested a lot into discovering ways to improve the quality of sleep simply through the mattress you sleep on. In the 1950s, they developed Posturepedic technology. Posturepedic provides more comfort by focusing on and relieving pressure points and high-stress areas.
Sealy Hybrid Mattress Is #1 On the Market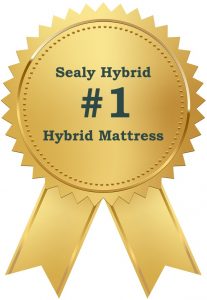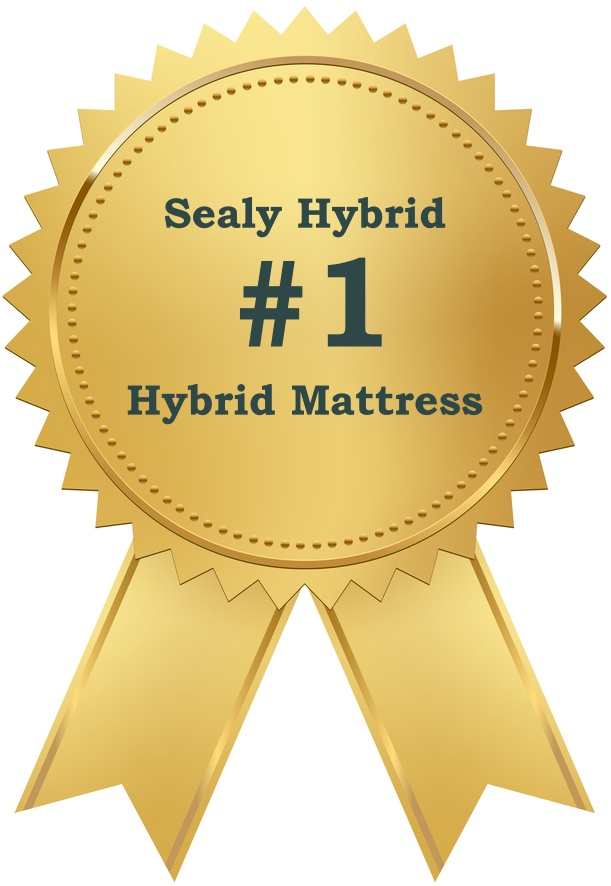 Because Sealy was one of the first companies to adopt the idea and start perfecting the hybrid mattress, they have become the #1 hybrid mattress on the market. After you sleep on it for even one night you will see why.
If you are interested in trying out a Sealy Hybrid mattress, visit one of our many store locations in Las Vegas, NV, and St. George, UT. One of our sleep specials can help you find the mattress that works best for you.