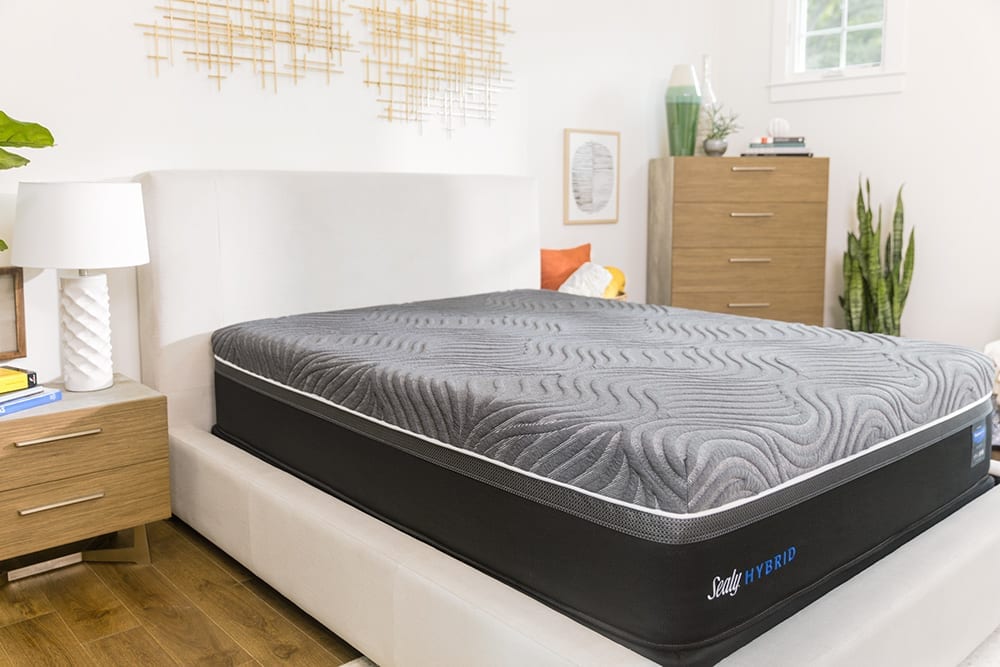 If you want to buy a Sealy Hybrid mattress, this guide will help you to learn about each of the Sealy Hybrid models so you can make the best decision regarding your purchase.
Sealy Mattress with Gel Memory Foam
The Sealy Mattress with Memory Foam Gel is state of the art. The unique memory foam gel spans the entire width of the mattress. It's ideal for those who sleep alone and for couples. The responsive foam is able to adapt to every person's body type. This means you will be given a highly personalized sleeping experience every time.
There are various options available in terms of how firm or soft you would like your mattress. The Sealy mattress with Gel Memory Foam also comes with a reinforced edge to ensure that you have the maximum sleeping area. If you enjoy sitting on the side of the bed, the thick edge will keep you from slipping off. The mattress is available in every size from a twin to a Califonia King.
The Sealy Gel Memory Foam mattress has various softness levels available. The plush mattress has the same support with a nice cushioned feel. This is ideal for those who want to have that cloud-like experience. The cushion-firm is the ideal choice for those who want to have a nice balance between soft and firm. This mattress comes with a mixture of dense and soft gel layers. The firm is the most supportive option, with a unique hybrid memory foam and gel memory foam for additional shock-absorption properties.
Each mattress from this range uses two different kinds of gel foam. You have the ComfortSense gel foam that conforms to your body shape, and the SealySupport Gel that helps to keep your body aligned regardless of your sleeping position.
Sealy Silver Chill Plush Mattress
The Sealy Hybrid Plush Mattress comes with many advantages. It's a hybrid memory foam mattress, but it comes with an innerspring core. This means that you will be able to maintain the perfect posture even while you sleep. The mattress also comes with ChillTech™ and DuoChill™ technology for a cooler more comfortable night's sleep. If you are a hot sleeper, or if you find it hard to settle at night due to overheating, this mattress is for you. The plush option is extra comfortable and designed to give you support on all of your pressure points. At the same time, you'll be able to sink right into your bed and drift off, having the best night's sleep.
There are plenty of advantages to choosing this mattress, including the DuoChill™ system and zoned support. The mattress can also pair with an adjustable base. Other features of this mattress include comfort pattern layers, as well as memory foam. Moisture protection is also included in the design, meaning you can take advantage of allergy protection as well as long-term cleanliness. The Tencel, Adaptive and Purotex technology all work with one another to ensure that you are cool, comfortable, and at ease as soon as you settle down for the night.
Sealy Hybrid Copper II Mattress
The Sealy Copper II Firm Mattress is a very cost-effective choice for those who want a good night's sleep. It has a firm feel that can work wonders for your posture. If you frequently get back pain or body aches from your mattress, this will help to put an end to that. If you have back injuries, or if you want something that will provide you with a high level of support, then this is the mattress for you. With an innerspring core and a memory foam top, you can take full advantage of the Posturepedic technology and experience true comfort.
The Sealy Hybrid Copper II mattress has responsive springs engineered to give you a deep level of support and comfort. With the memory foam layer that responds to your shape and the EdgeGuard® for durability and edge support, this mattress will keep you comfortable and supported all night long. The Purotex and Tencel fibers are embedded deep within the fibers and this helps to reduce moisture as well as allergens. Your mattress will be kept fresh and odor-free, for years to come.
Sealy Hybrid Kelburn II Mattress
The Sealy Hybrid Kelburn II Mattress is able to give you a very low level of motion transfer. If you have a spring mattress and wake easily by your partner's movements, the Sealy Hybrid Kelburn II mattress can help. The memory foam and adaptable coils absorb your partner's movements so you stay asleep. The Kelburn also offers a high level of zoned support and comfort layers to relieve pressure points, offer support, and keep you cool so you can sleep at night. You'll be able to sleep all the way to the edge without having to worry about rolling out of bed.
With a high-quality DuraFlex™ coil edge, you have a large sleeping surface. The 1-inch foam support provides the cushion you need to be comfortable. The moisture-wicking layers stop you from getting too hot, even on the hottest of summer nights. There are over 1000 individually wrapped coils to provide adaptable support and comfort. This mattress comes with 20% more coils and exclusive Posturepedic support. With slow-response immersion and advanced memory foam with ChillTech™, this mattress provides you additional airflow and cushion. All of these layers come together to give you a perfect night's sleep.
Sealy Hybrid Sealy Trust II Mattress
The Sealy Trust II Hybrid mattress is one of a kind. If you want a cost-effective option, this is a great mattress. The Sealy Hybrid Trust II has ComfortSense™ technology, memory foam that is truly something you must experience for yourself. The heat-wicking tech will help you stay cool even on the hottest of summer nights. The moisture protection feature will draw moisture away from your body. If getting a good night's sleep without interruption is a priority for you, then you need the Sealy Hybrid Trust II mattress.
The memory foam and other comfort layers conform to your body. The DuraFlex™ edge support gives you consistent support and it's compatible with an adjustable base. The Sealy Response Pro coils really help this mattress to stand out.
Visit Best Mattress In Las Vegas or St George
Sealy mattresses truly are some of the best mattresses on the market. If you give one of their mattresses a try, you will realize why. Sealy has something for everyone from firm to plush hybrids to memory foam and gel foam hybrid. To experience amazing comfort, visit one of our many stores in Las Vegas and St. George, or shop online.