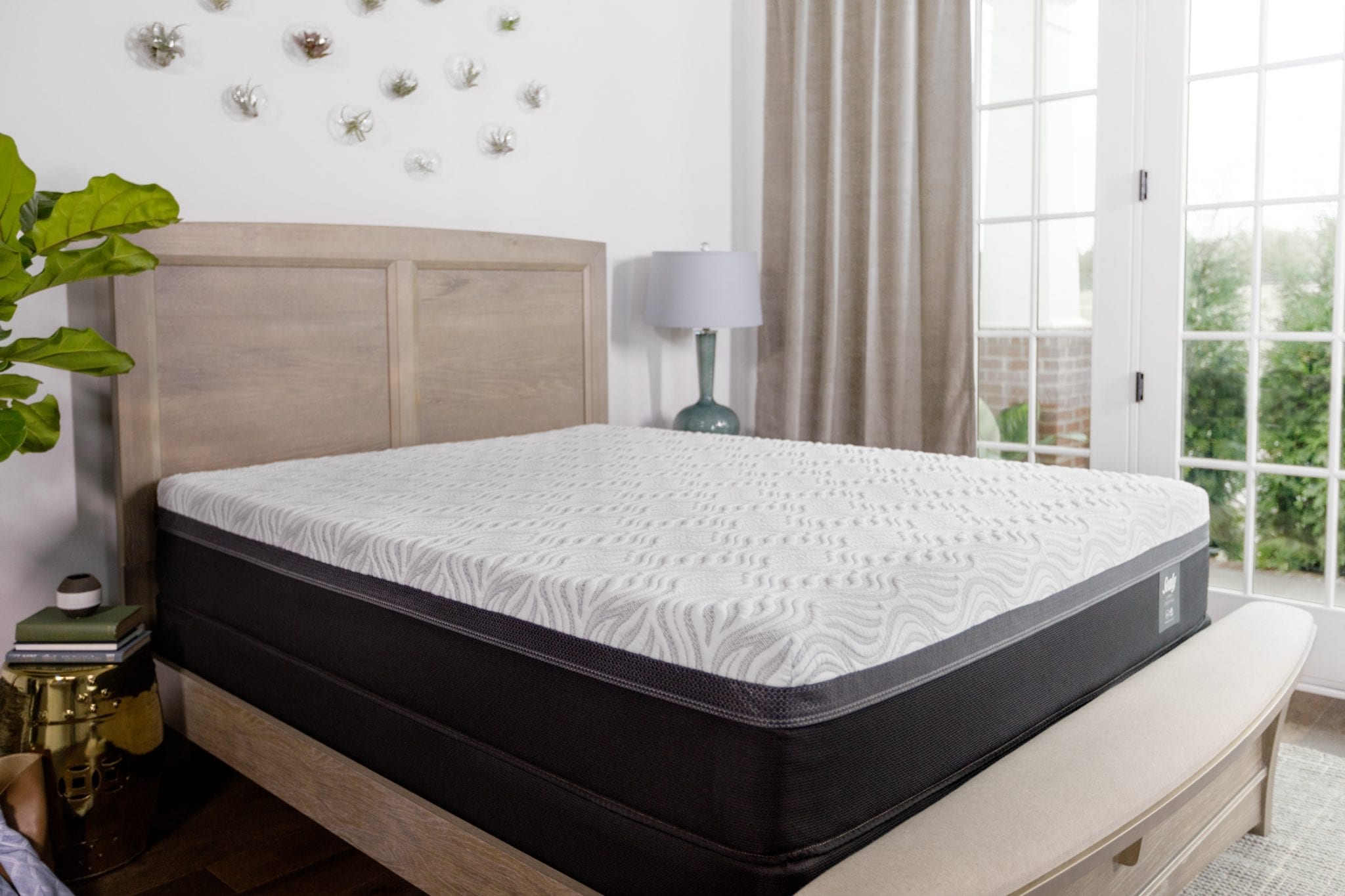 The latest in the line of Sealy's Trust series of mattresses released last year, claiming to offer true Posturepedic comfort for sleepers of all sizes who sleep in just about any mattress. But does this hybrid mattress live up to its promise? Here, we're going to look at what to expect from the Sealy Trust II Hybrid mattress and who it might suit best before you may any decisions on whether or not to purchase it.
About the Sealy Trust II Hybrid
When it comes to soft and firm mattresses, the Trust II is decidedly on the firmer side. It's an unquilted spring core mattress designed to provide the most reinforcement under the heaviest part of the body, where extra coils provide a lot more support, so it's better suited for those who prefer a feeling of firmness from their bed of choice.
This bed is best suited for those of average or large build who sleep on their back and prefer the back support that can help ease their sleep and effectively distribute their weight at night time. However, it's also well suited for side sleepers of a medium or petite build. While it still provides a comfortable night's sleep for people of other builds and sleeping habits, the above-mentioned kinds of sleepers are those who can expect minimal pressure on those key points that can otherwise interrupt your sleep and make it feel much more restless.
Features of the Sealy Trust II Hybrid
The trust is designed to offer a comfortable, cost-effective sleep with plenty of support for the pressure points, helping you get an uninterrupted night's sleep. This is further assisted by some of the following features you can expect if you buy this bed:
ComfortSense is a type of memory foam that's designed to be more comfortable than the average variety and provide heat dissipation properties to help cool the bed
If you have a Sealy Adjustable Base, then this mattress is perfectly compatible with them, helping you find the best possible position to assist with your night's sleep.
The moisture protection feature means that the cover can help to draw moisture from your body, preventing the humid and damp feelings that can keep you up at night.
Duraflex Edge Support means that the firm, supportive feeling is provided across the entire surface, right up to the edge of the bed, so there are no "weak points" to this mattress.
Advantages
The Sealy Trust II Hybrid is a versatile mattress that's able to provide great contouring and support. If you sleep on their back or on your side, this is a particularly recommended mattress. It's also one of the more cost-effective beds in Sealy's line-up, meaning that more people can benefit from an uninterrupted night's sleep with the help that this mattress offers in alleviating the pressure points of the body.
This mattress is easy to recommend for two people, if they don't mind a firmer feeling mattress, too. This is thanks to the minimal motion transfer, meaning that one person's sleep isn't easily interrupted by the tossing and turning of another since the firmness ensures they feel as little of it as possible
Best for Back and Stomach Sleepers
The Sealy Trust II Hybrid is best suited for back and stomach sleepers and those who like firmer beds. It is also suitable for heavier people as it has the support needed for larger builds. Lighter-weight people and side sleepers may not find this mattress as accommodating as softer more plush models. They might find that it doesn't support the contours of their body as well as they might hope for. Furthermore, there is a distinct lack of materials like cooling foam that other Sealy Hybrid models have, as well as the zoned support features. While it does have some heat dissipation features of its own, it's not quite as effective at cooling the body as some of the pricier models.
Recommended Hybrid Mattress
A good, firm mattress that's versatile, working for those with a variety of builds and sleeping habits, as one of the most cost-effective products in the Sealy line-up, the Hybrid Trust II mattress is easy to recommend for those who like firmer beds. With the support of both the firm top and the solid innerspring core, it provides great contours and supports for back and stomach sleepers, as well as heavier people.