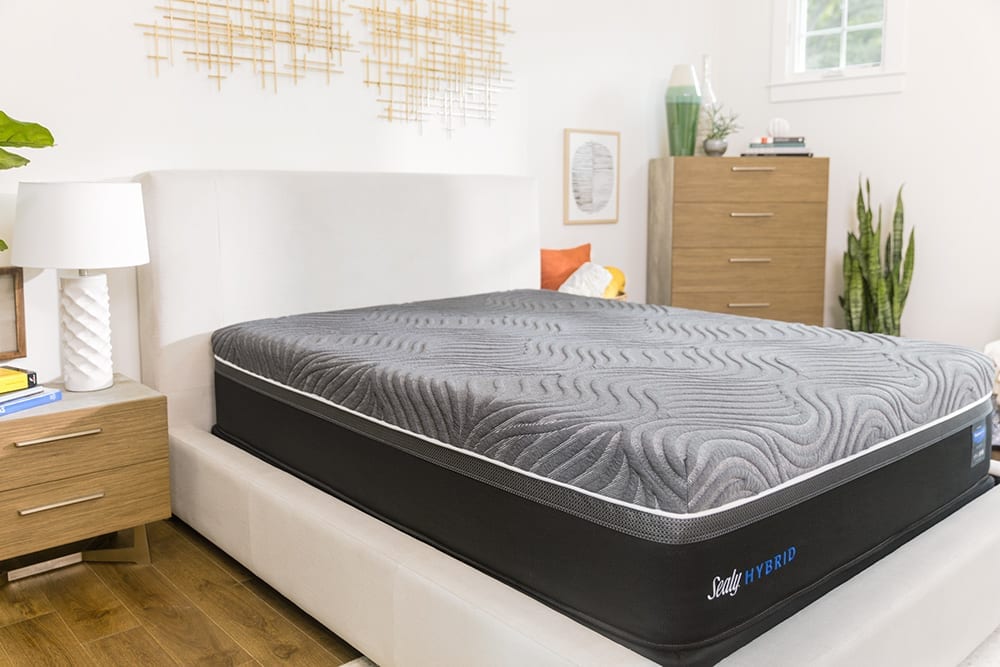 Sealy is one of the most respected mattress brands in the US, and around the world, and has a long history too. Having first been founded in the late 19th century, they now produce top-quality mattresses. The Sealy Posturepedic Hybrid Elite Kelburn mattress is one of the most popular products that they have available. Here at Best Sleep, we can give you the assistance you need to choose a mattress, and to decide if the Sealy Kelburn mattress is right for you. This mattress is available in a range of sizes, from twin to California king, allowing everyone to find the perfect mattress for their needs.
About The Sealy Posturepedic Hybrid Elite Kelburn Mattress
The Sealy Posturepedic Hybrid Elite Kelburn mattress is a relatively new mattress, having first been released in 2018. If you are looking for a medium mattress, this is an excellent option for you, providing a balance between soft and firm. One of the excellent advantages offered by this mattress and its Posturepedic technology is that it minimizes motion transfer. This is perfect for a good night's sleep, helping to reduce sleeplessness, especially if you're sharing your bed. Another advantage on a similar theme is that the mattress is available in "Split California King". This means that you can use two separate mattresses to fit into a California king bed frame.
The moisture protect barrier on this mattress makes you sleep easier, and the comfort layer helps to keep you cool. It can also improve your blood flow and reduce the amount that you move around. An extra layer of soft foam also supports your back as you sleep and improves your posture. The medium level of comfort offered by the Sealy Posturepedic Hybrid Elite Kelburn mattress is ideal for people who sleep on their backs or on their sides. The base can be adjusted too, allowing you to adjust it to your liking.
Why Buy Your Sealy Mattress at Best Sleep?
When you're shopping for a mattress, it's not just the mattress itself that matters. The buying experience is important too, helping you to choose the right mattress by providing you with the guidance that you need. Here at Big Sleep, our sleep experts are here to give you the advice that will help you discover your dream mattress. If you're interested in the Sealy Posturepedic Hybrid Elite Kelburn mattress, one of our friendly sleep experts can help you to try it out. Even if you discover that it's not the right mattress for you, they can guide you through trying out some more options to discover a better option.
When you work with one of our sleep experts, they will create a sleep profile for you, which will make it easier to find your new mattress. They have the knowledge and experience necessary to provide you with assistance, and are dedicated to helping you to get the best sleep possible. Visit us today at your nearest Las Vegas mattress store, and you could soon be leaving with not just a new Sealy mattress, but a better night's sleep!