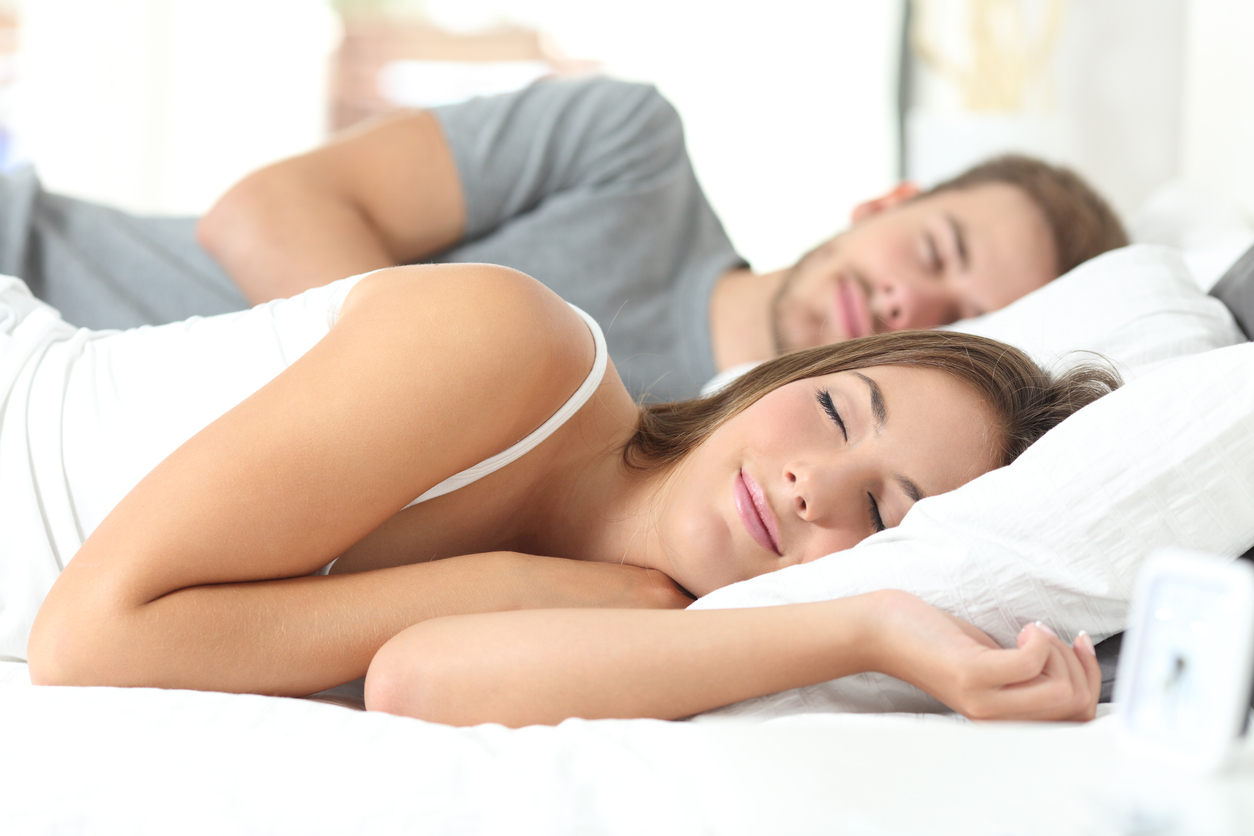 Quality mattresses maintain the balance between comfort, relaxation, and relief. Here are top-performing mattresses—including features and benefits—that provide a good night's sleep for the coming year of 2022. Best Mattress has these mattresses in stock. Enjoy these mattresses all year long climate-controlled technology including during the winter and the hot and dry months in Las Vegas, NV, and St.George, UT. These are Best Mattress' current top picks for the best mattresses for the year 2022.
TEMPUR-LuxeAdapt®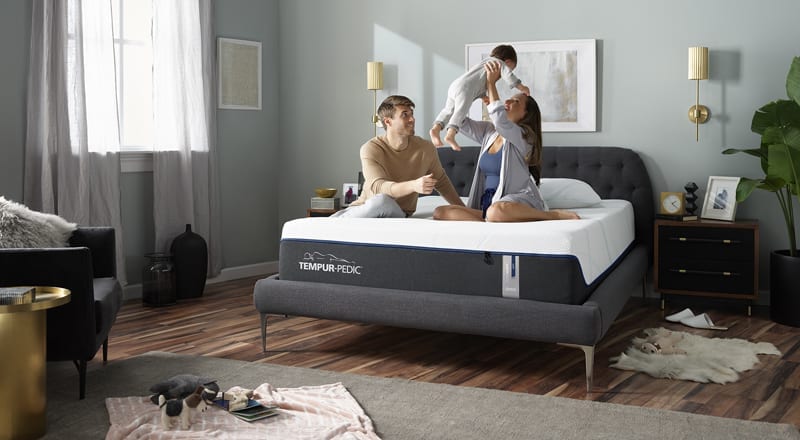 The TEMPUR-LuxeAdapt® is a luxury design of the Adapt line. It proactively adapts to your body's shape, weight, and temperature. LuxeAdapt® offers soft or firm layers of comfort.
TEMPUR-LuxeAdapt® (Soft) Features and Benefits
The soft LuxeAdapt® mattress has three distinct layers. Each layer contributes to making you rest through the night.
SMARTCLIMATE® Dual Cover System
The soft TEMPUR-LuxeAdapt® mattress comes with a double cover top layer. The cover is made with ultra-high molecular weight yarn, which removes heat from your body. The top layer also has a thin sheet working along with the dual cover to maintain coolness through the hot Las Vegas or St. George nights. The first layer has a 360° zipper for easy removal and is machine-washable.
TEMPUR-ES®
The middle section of the soft TEMPUR-LuxeAdapt® is the comfort layer. It has 9cm of the extra soft TEMPUR-ES® form. The foam instantly adapts to your body's shape and weight. It is compact with slightly coarse cells, giving it a smooth feel. The comfort layer also provides support and induces relaxation.
TEMPUR-APR+™
The TEMPUR-LuxeAdapt® has 3cm of TEMPUR-APR+™ material with 40% more TEMPUR® in its support layer. APR+ has a compact cellular structure for ultra-adaptive comfort and enhanced pressure relief. The material sustains sleep and revitalizes the body.
Benefits
The mattress provides a softness that is both satisfying and ultra-conforming
It maintains coolness through the night with the premium dual cover
It also alleviates tension and cancels motion through the APR+ material created by TEMPUR®
TEMPUR-LuxeAdapt® (Firm) Features and Benefits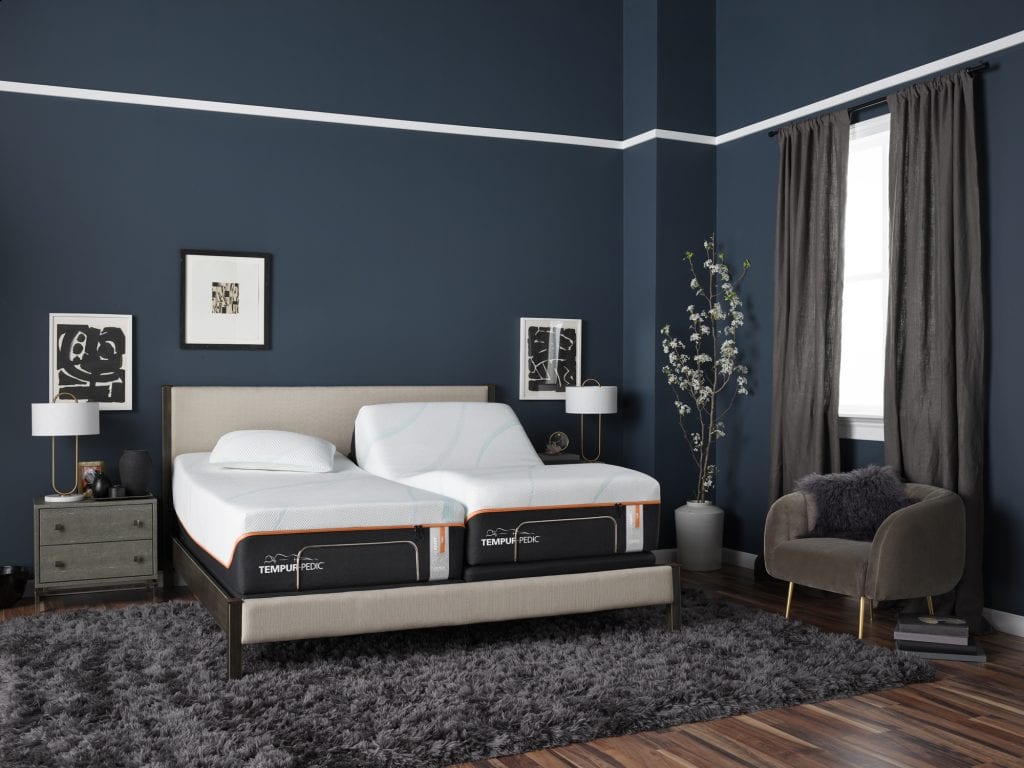 SMARTCLIMATE® Dual Cover System
The top layer of the TEMPUR-LuxeAdapt® firm mattress has a cool-to-touch heavy-duty dual cover. The premium cooling cover is a breakthrough innovation that lowers temperatures and dispels excessive heat from your body as you sleep. It is also lightweight, high stretch, and breathable, enhancing its tension-relieving ability. The cover is also removable and machine-washable.
Original TEMPUR®
The comfort layer in the TEMPUR-LuxeAdapt® firm mattress has the original TEMPUR® foam used by NASA to absorb gravitational force when traveling into space. The section is 7cm thick, giving you all the comfort and support to rest. The layer re-distributes your weight, energy, and pressure – this soothes pressure points by reducing strain.
TEMPUR-APR+™
The support layer has 5cm of APR+ material – this gives you 30% more adaptive comfort.
Benefits
Savor in firmness without losing comfort and support.
Enjoy enhanced tension relief from the thick comfort and support layers.
Enjoy the ultra-absorbing Tempur-Pedic signature foam, which soaks up energy from movements and motions that may keep you awake at night.
TEMPUR-LUXEbreeze®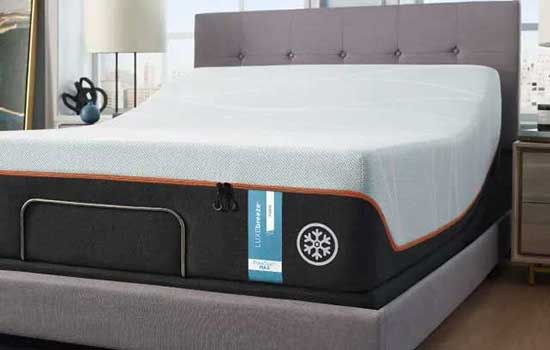 Research shows that sleeping in a cool environment induces sleep faster. The TEMPUR-LUXEbreeze series lowers temperatures through its five layers. Every layer of this mattress is fused with technology that reduces temperatures.
SMARTCLIMATE® Max Dual Cover System
The top dual cover has premium knit technology incorporating cooling fibers that initiate cooling when touched. The layer lowers the temperature of your bedding's micro-climate. The outer layer is also removable and machine-washable, and the inner layer is super-stretching.
PureCool+™
The second layer is a phase-change material that is lightweight and aerated. It has a thinner capsule element that cools your bed per cubic foot. The material absorbs excess heat and enhances airflow.
TEMPUR-CM+™
The TEMPUR-CM+™ has plenty of cellular structures that boost ventilation. Together with the PureCool+™ material, the layer releases the heat and humidity accumulating in your covers as you sleep. It also has the patented TEMPUR® foam to provide comfort.
The TEMPUR-LUXEbreeze® soft mattress has 4cm of the TEMPUR-CM+™ material in its comfort region. The firm mattress has 3 cm of TEMPUR-CM+™. The difference in thickness contributes to the degree of softness and firmness.
Ventilated TEMPUR-APR®
The ventilated APR has the TEMPUR® pressure reliving foam in an ultra-aerated design. The layer reduces temperatures by up to 8° – letting you sleep through the hot and dry summer nights typical in Las Vegas and St. George.
The LUXEbreeze soft mattress has 6cm of the ventilated TEMPUR APR®, while the firm mattress has 9cm of this cooling material.
Benefits
Enhanced sleep from cool temperatures going as low as 8°.
The thick TEMPUR APR® and TEMPUR-CM+™ layers increase the intensity of comfort and support
Reduced risk of dehydration because of cool temperatures – the body losses less water through sweating
You lose less energy from cooling off during hot nights – this enables your body to rest instead of continuously working to dispel heat.
Regulate your sleep-wake cycle – your body associates heat with daytime and coolness with nighttime. Thus, the cooling systems enable you to maintain a healthy circadian rhythm.
Serta Arctic Premier Plush Hybrid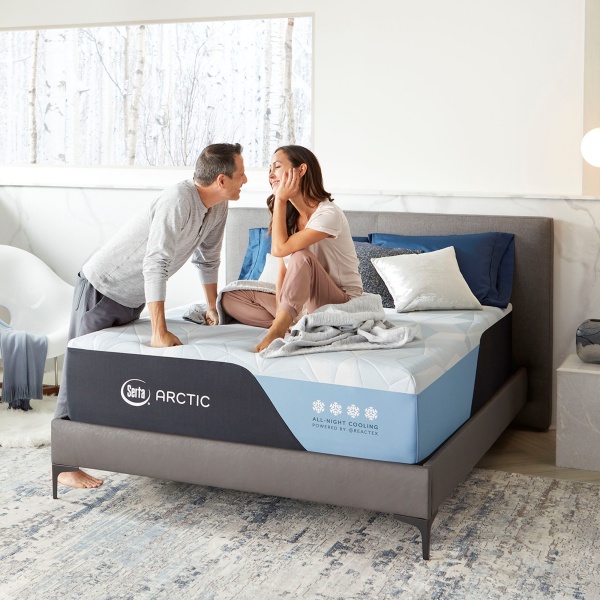 Serta Arctic Premier Plush Hybrid mattress is a perfect blend of customized comfort and enhanced cooling. Here are the features and benefits of the Serta Arctic Premier Plush Hybrid mattress.
Reactex® System
The mattress houses an efficient cooling system, which provides X15 cooling power. The technology pulls excess heat away from your body while you sleep, making it ideal for hot sleepers and those hot Vegas nights.
CustomFit™ HD Memory Foam
The high-density memory foam provides customized support to your body through the night.
EverCool® Fuze Gel Memory Foam
The customized memory foam is blended with a cooling gel, lowering temperatures while cushioning your body against pressure.
Deep Reaction® Max Gel Memory Foam
The mattress provides enhanced support from its high-density memory foam.
Serta Micro-Hybrid Coil™
The mattress has a revolutionary coil system that blends with foam layers. The coils adjust to the weight and pressure subjected to them, customizing tension release according to your body's shape, size, and positioning.
The coils are individually encased to better synch with the memory form with technology is known as 1025 Hybrid Support™.
BestEdge® Foam Encasement
The mattress has edge support, creating a defined sleeping space.
Benefits
Enhance cooling power – keeping you cool through the night.
Cushioning comfort from the layers of memory foam.
Absence of roll-off because of coil encasement.
Stearns and Foster Luxe Estate Cassatt Plush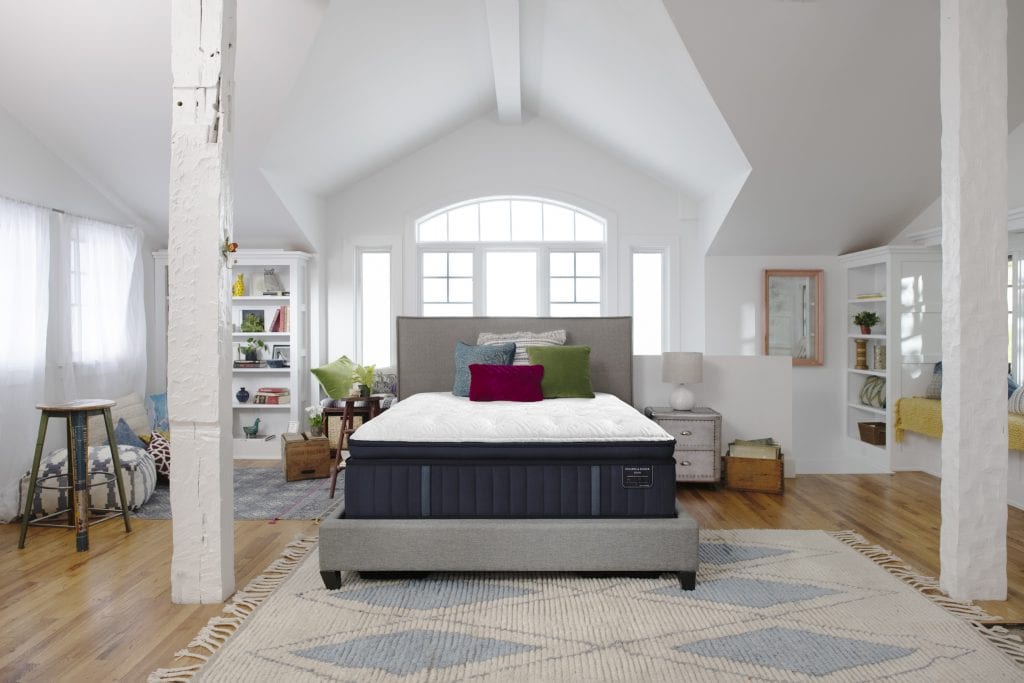 If you are a fan of luxury, this is the mattress for you. It provides a five-star hotel experience from its exquisite cushion pillow top to the rest-inducing layers. The mattress rejuvenates your body by enhancing relaxation and pressure relief. Let's look at the features and benefits of the Stearns and Foster Luxe Estate Cassatt Plush Pillow Top  mattress.
Tencel™ Cover
Tencel™ beautifully crafted moisture-wicking cover is excellent for hot and warm weather. The fabric, made from eucalyptus, is fused with cooling technology to reduce temperatures while you sleep.
Indulge Memory Foam
It uses the high-density TEMPUR® memory foam developed by Tempur-Pedic technology. The foam is ultra-responsive to your body's contours. It absorbs pressure, relieving you of body tension.
The support from the heavy-duty layer is perfectly balanced with the mattress' premium ultra-Soft gel foam, which provides unfathomable comfort.
IntelliCoil® HD
Support is further enhanced with the 540 micro coil density developed using IntelliCoil® HD's innovative dual-stage coil design. The external coil surface is soft blending with other mattress layers, while the inner layer is sturdy to handle weight, pressure, motion, and movement.
PrecisionEdge® and AirVent
With edge support, the sleeping surface remains usable. The PrecisionEdge® also has breathable pocketed sleeves that increase aeration.
Benefits
Feel luxurious while you sleep on a perfectly curated mattress
Enjoy dry and cool nights from the mattress' breathable systems
Enjoy customizable comfort and support from the mattress' memory foam
Beautyrest Black C-Class Plush Pillow Top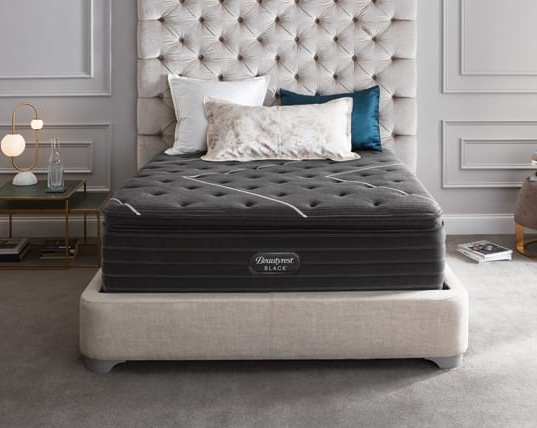 The Beautyrest Black C-Class Plush Pillow Top mattress is known for its softness and comfort. It also lowers temperatures keeping you cool in the harsh nighttime Las Vegas heat. Let take a look at the Beautyrest Black C-Class Plush Pillow Top mattress features and benefits.
Outer Layer
The top charcoal black fabric contains SilkAir™ fiber that enhances cooling. The mattress uses BlackICE® 4.0 technology in its fiber, which boosts cooling by 20% through four cooling actions.
Comfort Layer
There are five comfort layers in this Beautyrest mattress. Each layer intensifies tension release and relaxation. The mattress has
1.00″ RightTemp™ Memory Foam -made of curated technoluxe foam reduces tension on the hip and shoulder regions.
0.75″ GelTouch® foam
1.00″ Plush Comfort Foam
1.00″ Medium Comfort Foam
2.00″ Beautyrest® Gel Memory Foam
Support Layer
The support layer has T3 Pocketed Coil® Technology. It reduces body pressure through its three strands coil system. The coil strands reinforce the coil's strength enabling it to absorb all the tension created by weight, movement, and motion.
Benefits
Enhanced softness
Consistent tension relief
Cooling technology that lowers temperatures through the nigh
Find Out More
Best Mattress has a stock of luxury brand mattresses for residents in Las Vegas and St. George and their environs. Kindly don't hesitate to visit our website to learn more about our products.