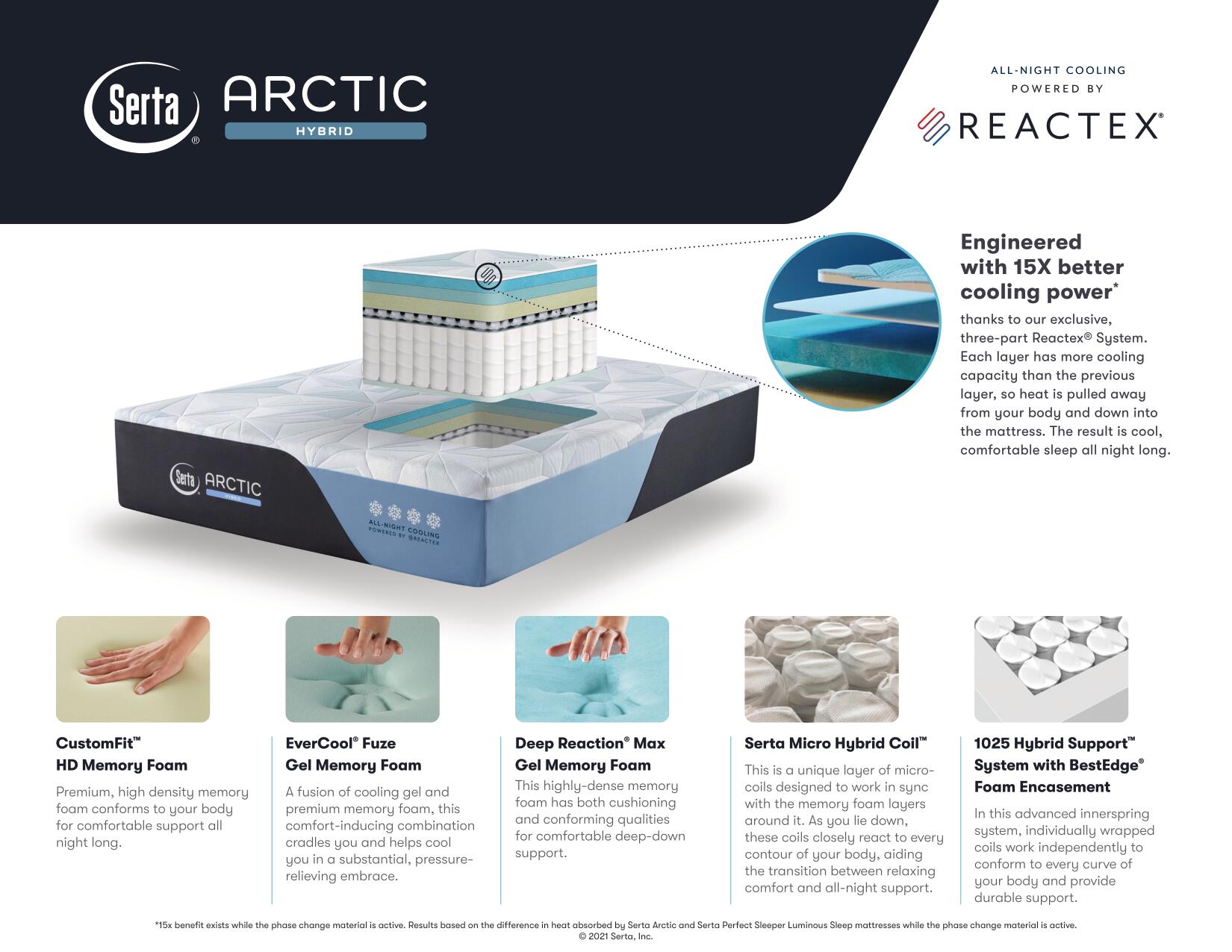 Serta Arctic Premier Hybrid
Say goodbye to nights full of tossing, turning, and restless grogginess from feeling overheated. You deserve more out of your mattress! If you're ready to beat the heat, good news! You can make that happen just by upgrading your bed. The Serta Arctic Premier Hybrid Mattress has the latest in cooling mattress technology. This technology ensures that every night you spend on it is a restful and restorative one.
Features:
Reactex® System – three layers of cooling technology
Deep Reaction® Max Gel Memory Foam – high-density memory foam for deep cushioning and conforming qualities
CustomFit™ HD Memory Foam – high-density memory foam for comfortable support
Serta® Micro-Hybrid Coil™ – a unique layer of micro-coils designed to work in sync with the memory foam layers
1025 Hybrid Support™ System with BestEdge® Foam Encasement – an advanced innerspring system of individually wrapped coils that work independently to conform to every curve of your body and provide durable support.
What Makes the Serta Arctic Premier Hybrid Mattress Different?
Keeps Your Cool
Some cooling mattresses rely on materials that just passively resist getting warmer. Serta's Reactex® technology goes even further. It actively pulls heat down and away from you as you sleep. This three-part system offers cooling that "reacts" to your body heat, offering more relief on those demanding summer nights, or evenings when the thermostat is set just a little too high for comfort. This mattress is a must for individuals or couples that find themselves constantly kicking off sheets or blankets. The cooling mattress helps to control the temperature so you can sleep through the night.
Cushy and Comfortable
For truly high-end performance, a mattress design needs to go beyond a plush outer covering. For this reason, the Serta Arctic Premier Hybrid Mattress has layers of premium body-hugging memory foam to cradle your stress points, joints, and hips. These layers of memory foam let you relax completely no matter what your preferred sleeping position is—back, side, or stomach. You'll love the way this mattress welcomes you into bed from head to toe.
Spring in Your Sleep
In the Arctic Premier Hybrid Mattress, a pocketed coil system and a secondary layer of individual micro coils—2000 across the entire surface—provide consistent, even support that won't sag, gap, or bunch over time. This model uses Serta's famous 1025 Hybrid Support™ System with BestEdge® Foam Encasement. The foam encasement allows more sleeping surface without roll-off.
Restful Relaxation
Sleep experts typically recommend changing your mattress every 6 to 8 years—that's almost 3,000 nights spent curled up on your mattress. The Arctic Premier Hybrid premium cooling mattress ensures that every hour of shut-eye is one that will make you happy you chose it. It's not just soft and supportive. It's made to keep you cool and enjoy quality sleep no matter what the weather or temperature. Accessories like cooling pillows, blankets, and top sheets can only do so much to help cool down. Serta's Reactex® technology is much more effective.
Make the "Cool" Choice for Your Bedroom
If you're still on the fence about finding the right cooling mattress for your needs and want a fan-favorite hybrid mattress, purchase the Serta Arctic Premier Hybrid mattress. It offers active cooling technology, premium materials, durable construction, and the softness that Serta is famous for.
Sitting at a 14.50″ profile, this hybrid cooling mattress is made with the care and quality you expect from the Serta name. With a variety of cooling and cushioning technologies designed for years of comfort. The plush feel and ultra-luxurious layers make climbing into bed each evening a pleasure. Sleeping through the night is both easy and free of unwanted overheating.

SAME DAY DELIVERY
In-stock merchandise purchased by 1 pm will be delivered the same day upon request, excluding holidays and limited to a geographic area with a minimum purchase of a $599 mattress set. Excludes floor models. See store for details.
DELIVERY
The room must be ready for delivery when the drivers arrive.
As a service, we will remove your old mattress and box spring before delivering the new set (subject to inspection, unsanitary bedding will not be removed, limited to equal amount delivered).
As a service, we will remove your old mattress and box spring before delivering the new set (subject to inspection, unsanitary bedding will not be removed, limited to an equal amount delivered).
Delivery cannot be made to a minor and finance orders will require a signature from someone with a valid state-issued ID.
The driver will call the phone number provided on your order on the morning of delivery to give you a three-hour time frame. If you are not home for a delivery, there will be a $69.99 re-delivery fee.
If the driver determines that the delivery attempt could cause damage to your home, you will be required to sign a release of liability to complete the delivery.
Our C.O.D. Policy:
All orders must be paid in full before the delivery date. We do not accept payment at the time of delivery.
10-Year Limited Warranty
Beautyrest stands by its products and materials with limited warranties so you rest easy.
Our-120 Day Sleep Guarantee
If you have owned your mattress for longer than 30 days and you aren't happy with your set, Best Mattress is glad to exchange your mattress for 120 days from the date of purchase. Please see our full terms & conditions here.
Best Mattress also offers FREE REMOVAL* of your old mattress. Our delivery driver will pick up your old mattress and seal it in plastic before loading it onto our truck.
Need financing? We have you covered! Best Mattress offers a variety of options available, including No Credit Check Financing! Please contact us for additional details on all offers.
We appreciate your patience, understanding, and support at this time. Thank you for continuing to be a loyal Best Mattress customer. Sleep Easy, Friends!
Available Bed Sizes
See our mattress sizes and dimensions page.
Twin XL
38″ X 80″
Queen
60″ X 80″
King
76″ X 80″
Cal King
72″ X 84″