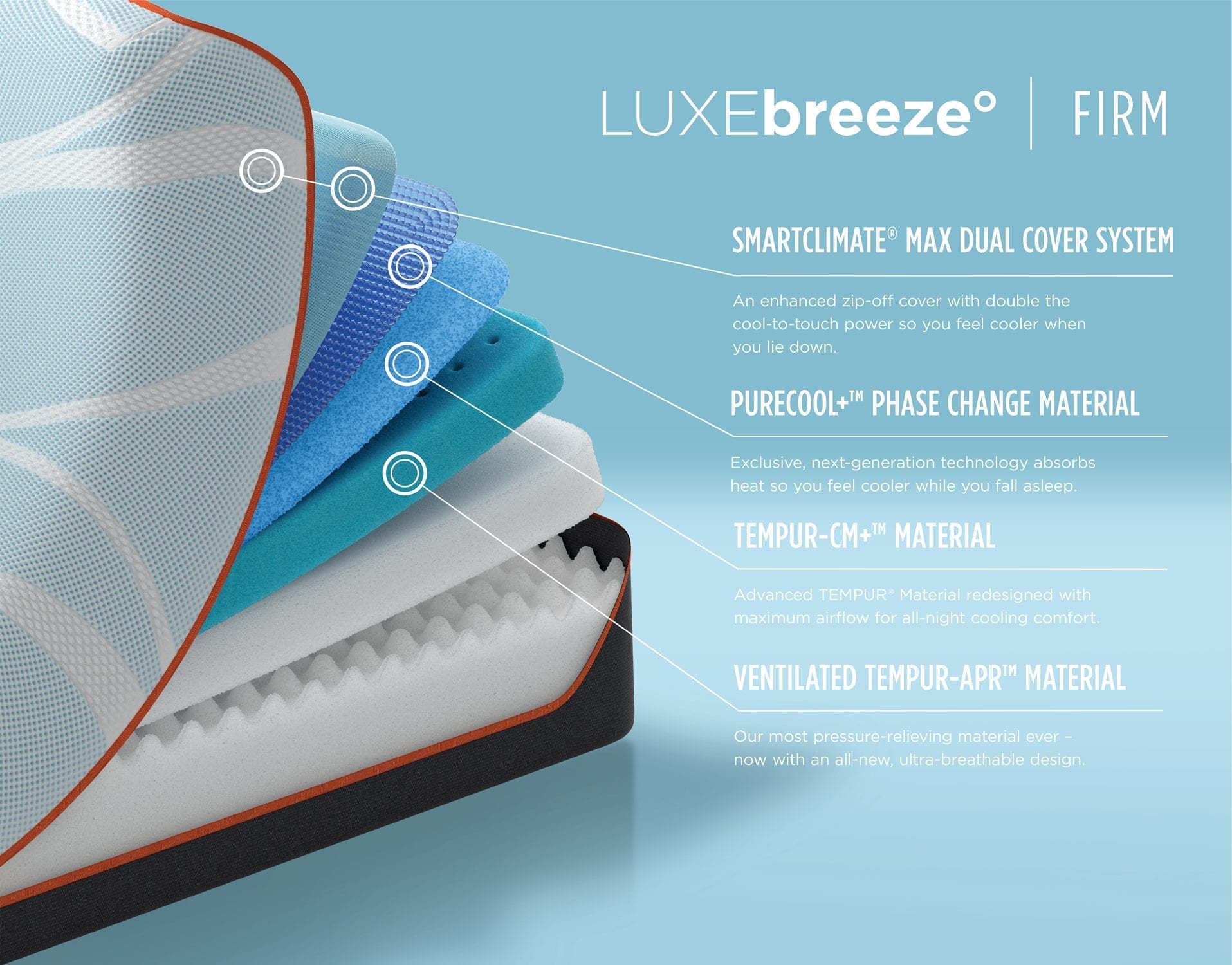 Tempur-Pedic is one of the most well-known mattress brands in the world. Their TEMPUR® foam was originally developed by NASA to support astronauts as they shot up into space. The cellular structure of TEMPUR® material adapts immediately to your body shape, pressure, and heat to conform perfectly for ultimate comfort and support.
Motion Cancellation
Original TEMPUR® Material - the ultimate motion cancellation technology.
Pressure Relief
Exceptional pressure-relieving technology that adapts to every curve of your body.
Cooling Mattress Technology
Cools up to 8° cooler*
Mattress Information
Mattress feel: Firm
Height: 13 inches
Adjustable Base Compatible: Yes
Assembled in the USA
Mattress Sizes
Twin – 38″ x 74″
Twin XL – 38″ x 80″
Full – 53″ x 74″
Queen – 60″ x 80″
King – 76″ x 80″
Split King – 38″ x 80″ (each piece)
CA King – 72″ x 84″
Split CA King – 36″ x 84″ (each piece)
*LUXEbreeze° feels up to 8 degrees cooler based on the average heat indexes of TEMPUR-LUXEbreeze° compared to TEMPUR-ProAdapt® models measured over an 8-hour period.
SmartClimate® Max Dual Cover System
An enhanced zip-off cover with double the cool-to-touch power so you feel cooler as you sleep.
PureCool+™ Phase Change Material
Absorbs heat to keep you cooler as you fall asleep.
TEMPUR-CM+™ Material
Maximum ventilation material for all-night cooling comfort.
Ventilated TEMPUR-APR™ Material
Tempur-Pedic's most pressure-relieving material ever with an ultra-breathable design.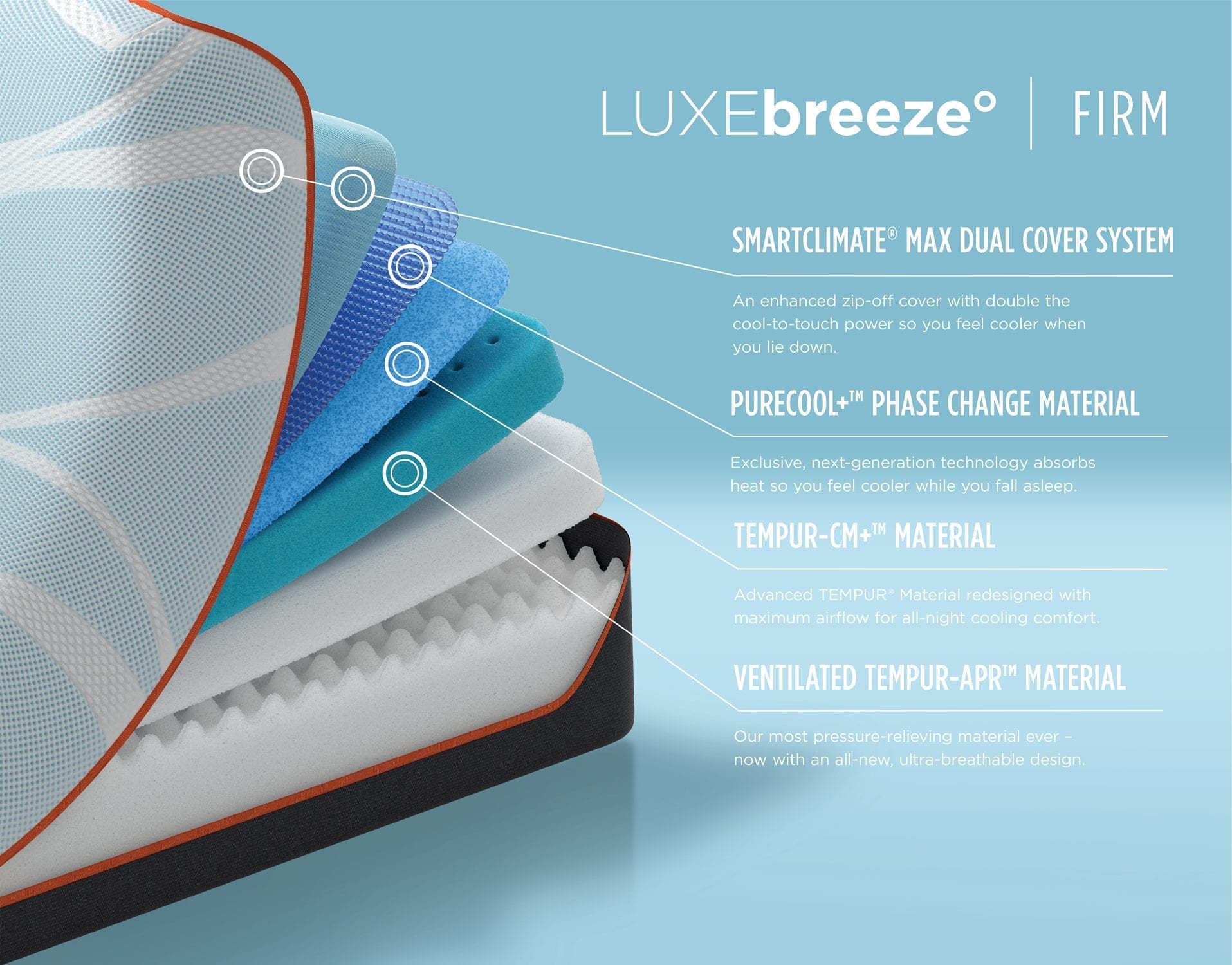 Pick the Most Comfortable Mattress
Pick the mattress that is most comfortable for your sleep style and body type. This mattress is best suited for:
Back sleepers
Stomach sleepers
Hot sleepers
People with back pain
Larger bodied people
Need help finding the right mattress? Take our Mattress Quiz to see what mattress is right for you.
START QUIZ
SAME DAY DELIVERY
In stock merchandise purchased by 1pm will be delivered the same day upon request, excluding holidays and limited to a geographic area with a minimum purchase of $599 mattress set. Excludes floor models. See store for details.
DELIVERY
The room must be ready for delivery when the drivers arrive.
As a service, we will remove your old mattress and box spring before delivering the new set (subject to inspection, unsanitary bedding will not be removed, limited to equal amount delivered).
As a service, we will remove your old mattress and box spring before delivering the new set (subject to inspection, unsanitary bedding will not be removed, limited to equal amount delivered).
Delivery cannot be made to a minor and finance orders will require a signature from someone with a valid state issued ID.
The driver will call the phone number provided on your order the morning of delivery to give you a three-hour time frame. If you are not home for delivery, there will be a $69.99 redelivery fee.
If the driver determines that the delivery attempt could cause damage to your home, you will be required to sign a release of liability to complete the delivery.
Our C.O.D. Policy:
All orders must be paid in full before the delivery date. We do not accept payment at the time of delivery.
10-Year Limited Warranty
Beautyrest stands by its products and materials with limited warranties so you rest easy.
Our 120-Day Sleep Guarantee
If you have owned your mattress for longer than 30 days and you aren't happy with your set, Best Mattress is glad to exchange your mattress for 120 days from the date of purchase. Please see our full terms & conditions here.
Best Mattress also offers FREE REMOVAL* of your old mattress. Our delivery driver will pick up your old mattress and seal it in plastic before loading it onto our truck.
Need financing? We have you covered! Best Mattress offers a variety of options available, including No Credit Check Financing! Please contact us for additional details on all offers.
We appreciate your patience, understanding, and support at this time. Thank you for continuing to be a loyal Best Mattress customer. Sleep Easy, Friends!
Available Bed Sizes
See our mattress sizes and dimensions page.
Twin XL
38″ X 80″
Full
54″ X 75″
Queen
60″ X 80″
King
76″ X 80″
Split Cal King
72″ X 84″
Cal King
72″ X 84″
Introducing the TEMPUR-LUXEbreeze® Firm mattress: designed to regulate your body's natural temperatures so that you don't overheat while you sleep.
For the perfect sleep/wake cycle, you need light during the day and an adequate reduction of light and heat at night. While heat and light are very beneficial during the daytime, heat causes disasters at night. If you have ever woken up sweaty, thirsty, anxious, or overly drowsy, you should really consider upgrading your mattress to something that will regulate your body heat while you sleep.
Best Mattress in Las Vegas offers the perfect sleep environment. Read here to learn about this new product's incredible features and how they can help you get a good night's sleep, then come try your own TEMPUR-LUXEbreeze® in Las Vegas.
Why Is It Important to Manage My Temperature?
Heat makes it difficult for your body to get rest. Often, heat is to blame for the mornings when you roll out of bed feeling exhausted. There are several reasons that heat inhibits restful sleep:
Dehydration. Heat makes you lose water. Have you ever woken up with a parched mouth? Was it in the middle of the night? Early in the morning? Either way, it's quick evidence that heat has done its toll on you. Even if you just sweat a little bit, your body loses water and sodium. This leads to dehydration and a loss of efficiency in the brain and body. When you wake up, you will be drowsy and ineffective.
Auto-regulation. A miracle of the human body is the way it regulates its own body temperature. However, that, unfortunately, means that if you fall asleep where it's too hot, your body will spend a lot of energy trying to regulate itself. When your body sweats and performs other functions to keep cool, you expend energy that should have been spent restoring muscles or fighting off illness.
Heat tricks your brain. Your brain associates heat with daytime and sunlight. When the sun is up, it is time to be awake and working. Thus, even if you are sleeping, heat makes your brain try to stay awake, causing you to sleep fitfully and wake up often. This problem compounds the next day when you go to work in an air-conditioned office. As your body enters the cold environment, your brain becomes ready to sleep, and you are hit by a wave of drowsiness.
Heat is awesome, just not when you want to sleep. Consider below to see how the TEMPUR-LUXEbreeze® mattress might help:
How Does the TEMPUR-LUXEbreeze® Help?
You fall asleep in several phases. First, there is an initial relaxation phase. Second, there is a falling asleep phase. Third, you officially enter the sleep cycle with the 8-hour sleeping phase (or at least it should be 8 hours if you like your sleep). If any of these three phases are disturbed, your rest can be inhibited for the rest of the night, which is why the Tempur-ProBreeze mattress has been designed to address your needs in all three of these phases, ensuring a restful night and a happy tomorrow.
Our newest technology in temperature regulation is designed to beat the heat with these 3 techniques:
As you lie down, you will feel like instantly cooler as your sheets press against the SmartClimate™ Dual cover system. This system is hypothermal, meaning it generates less thermal energy than other materials. This makes it comfortable and cool to the touch, instantly causing you to cool down.
Normally, even if a mattress feels cool at first, it quickly begins heating up due to your body heat. However, the TEMPUR-LUXEbreeze® is equipped with PureCool+™ Phase Change Material. With thermal gradient technology, this material traps heat away from your body to protect you from hot temperatures while you fall asleep.
Finally, as you sleep overnight, traditional mattresses trap both heat and humidity close to your body. When you wake up, you'll be hot, sweaty, and poorly rested. On the other hand, our TEMPUR-CM+™ technology is designed to cycle heat and humidity out of the mattress and into the air, keeping it away from you while you sleep.
How Can I Know the TEMPUR-LUXEbreeze® is Right for Me?
If you feel like you need better sleep, but you're not sure if you should invest in the TEMPUR-LUXEbreeze®, ask yourself the following questions:
Do I ever find myself tossing and turning at night? If this is you, it is likely due to heat. As your mattress heats up under you, your body wants to escape it, so your brain prompts you to toss yourself away from the hotspot. So, you roll to your side to discover a fresh patch of the mattress, or to free your back from the heat. However, as your side heats up, you must roll to the other side or to your back again. The heat is impossible to escape!
Do I ever wake up in the middle of the night or early in the morning feeling dehydrated? This is the classic symptom of dehydration, and it is not fun. It is also a telltale sign that your body was trying to cool itself down all night, which means your mattress is too hot.
Do I ever wake up and find that my feet, lower legs, back, hands or forehead are sweaty? Simple, you've been sweating all night. Your mattress is too hot, and it's time to consider an alternative.
Our 120-Day Sleep Guarantee
If you have owned your mattress for longer than 30 days and you aren't happy with your set, Best Mattress is glad to exchange your mattress for 120 days from the date of purchase. Please see our full terms & conditions here.
Product Video