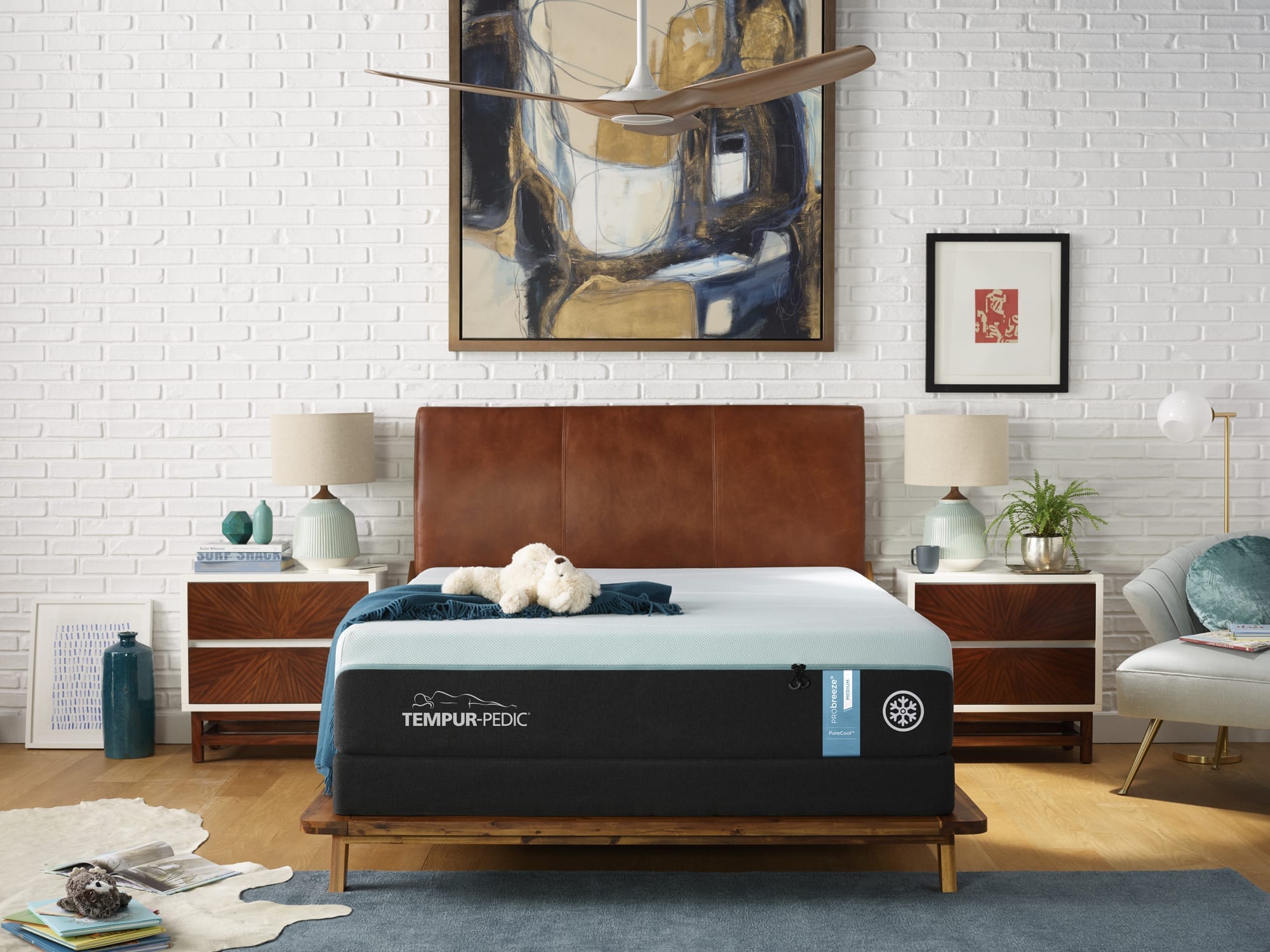 Getting the right amount of sleep is vital if you want to maintain your overall health, but it's something that many people struggle with. It's important that you get around 7 or 8 hours of sleep every night, but it isn't as simple as that. You also need to ensure that you get enough uninterrupted deep sleep, and your sleeping environment has a big impact on that.
Factors that Affect Sleep
There are a lot of different factors that can impact your ability to sleep properly, like noise, temperature, or diet. If you live right next to a busy road, the traffic can keep you awake. If you eat a lot of sugar or drink caffeine before bed, that causes problems as well. But the thing that people struggle with the most is temperature, especially in hot areas like Las Vegas, for example. Research shows that when you have a cool sleeping environment, you fall asleep a lot faster and the quality of sleep that you get is improved. This means that you will be comfortable during the night and wake up well-rested, instead of being tired all of the time.
The Temperature of the Room
When it comes to managing the temperature, there are a few different factors to consider. Firstly, you need to think about the temperature of the room itself and if it is hot. Try opening a window or putting a fan in the room. Just make sure that this doesn't cause noise that will affect your sleep as well. If you are hot and sweaty during the night, you are more likely to suffer dehydration when you sleep. That means that you will wake up feeling lethargic every morning. But if you can regulate your sleeping temperature, you will not have this problem.
Your body also expends energy when trying to regulate its heat. If you are in a cool environment and your body is at the ideal temperature, you will not use that much energy during the night. However, if you are too hot, your body will be working hard to keep you cool. This means you are more likely to lack energy in the morning when you wake up.
Bedding Layers and Thickness
The bedding that you choose also has a big impact, so make sure that you don't use anything too thick and go with breathable material. It is also a good idea to have layers of blankets that you can put on or take off as needed.
Quality of Mattress
Finally, you need to consider your mattress. This is the thing that a lot of people overlook. Most mattresses are not well suited to hot climates and they will not keep you cool during the night, which is why you need to use a mattress like the Tempur-Breeze in Las Vegas and other hot areas. The Tempur-Pedic mattress range is designed to deal with a whole host of different sleep issues and ensure that you get the best possible night's sleep. For those that struggle with the temperature, the Tempur Breeze is the best option.
Tempur-Breeze Cooling Capabilities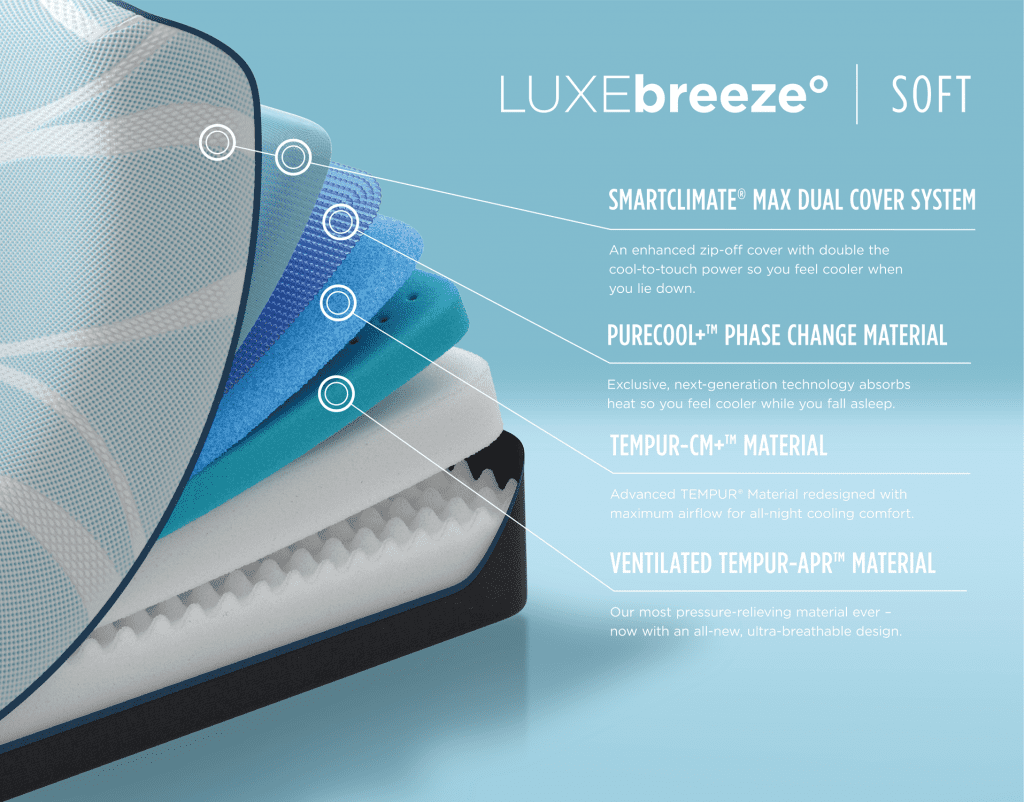 The Tempur Breeze mattress is designed to keep you cool while you sleep. It can reduce the temperature by up to 8 degrees in some cases. This is a big reduction in heat, which is why so many people choose for a Tempur-Breeze in Las Vegas where the weather is so warm.
SmartClimate Dual Cover System
As soon as you lie down in bed, you will feel the benefit of the Tempur Breeze mattress and its SmartClimate Dual Cover system. This removable top layer is cool to the touch and will immediately lower your body temperature so you can drift off to sleep in comfort without worrying about the heat. If the weather is slightly colder, you can easily take this layer off to help you find the ideal temperature. The removable layer is also washable, so it's quick and easy to keep your mattress clean.
Cool+ Phase Change
Underneath the SmartClimate Dual Cover layer, there is a layer of Cool+ Phase Change Material. This revolutionary material will absorb the heat from your body as you sleep. As soon as you get into bed, your body temperature will begin to drop and the Cool+ layer will maintain your body temperature for around 20 minutes while you fall asleep.
CM Comfort Layer
During the night, it is important that the temperature is consistent so you sleep soundly and you wake up feeling well-rested. That's where the CM comfort layer comes in. This layer is made from an ultra-breathable material that increases airflow through the mattress. This helps to keep you cool all night long so you get good quality sleep every single night.
Tempur Memory Foam
The main mattress is made from original Tempur memory foam, which is designed to maximize comfort while you sleep. The combination of this memory foam mattress and the cooling technology in the top layers means that you get a great night's sleep every single night, regardless of how hot it is outside.
Tempur-Pro and LUXEBreeze Versions
There are two different versions of the Tempur-Breeze mattress; the Pro and the Luxe. The ProBreeze mattress is available in medium and medium hybrid. The medium is a standard memory foam mattress underneath with the 3 layers of cooling technology on top.
Memory foam mattresses have a lot of benefits over traditional mattresses and lead to improved sleep for all customers.
Pressure point relief: On traditional mattresses the downward force of gravity and the upward force of the springs will affect circulation and can damage tissue, leading to aches and pains. A memory foam mattress on the other hand does not have this issue. You will be more comfortable during the night and when you wake up in the morning.
Back pain relief: Memory foam mattresses are ideal for people that have back problems because memory foam contours to your body giving support where it is needed. However, on a spring mattress, the areas of the body that are in contact with the mattress like the back, shoulders, and hips, bear the brunt of the force and this leads to pain.
The only potential issue with memory foam is that a lot of people prefer the feel of a spring mattress over a foam one, but there is a solution to that problem.
Tempur-ProBreeze Hybrid Mattress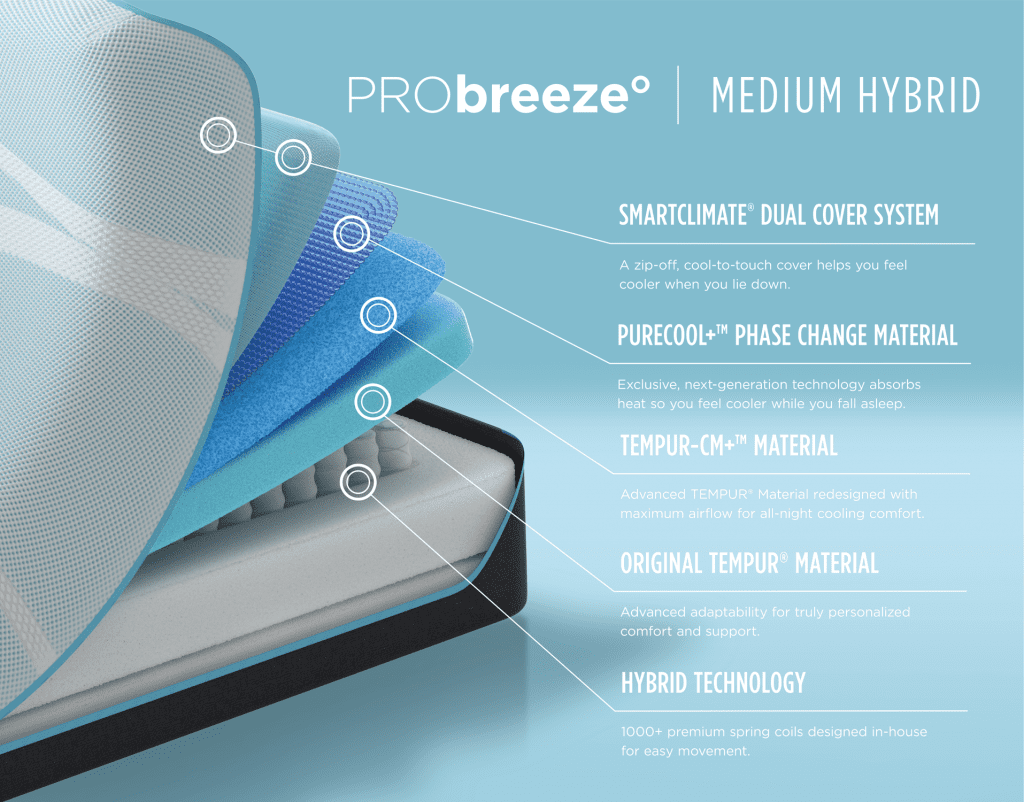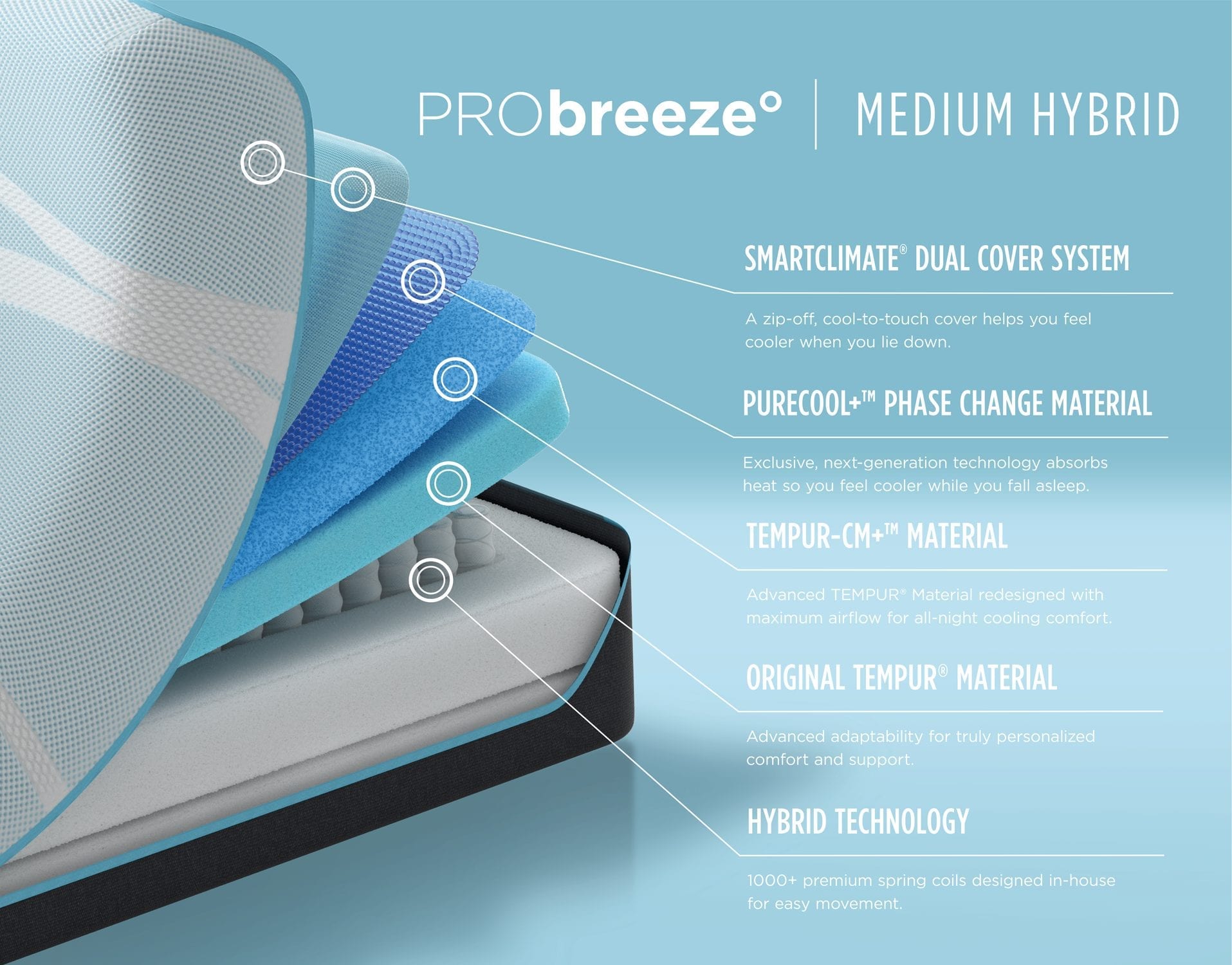 The medium hybrid version of the Tempur-ProBreeze has a combination of memory foam and springs. If you prefer a more traditional bed with a bit more bounce, the hybrid is the ideal middle ground. The hybrid gives you the firmness and bounce of springs with all of the benefits of memory foam. Both of the ProBreeze mattresses can offer cooling up to 3 degrees during the night.
Tempur-LUXEBreeze Mattress
The other mattress type is the Tempur-LUXEBreeze. The LUXEBreeze model has more advanced cooling features and can offer up to 8 degrees of cooling. It is available in soft and firm memory foam, so there are options for all types of sleepers.
Why Tempur-Pedic?
There are a lot of different memory foam mattresses on the market. You may be wondering why the Tempur-Breeze is better than any others on the market. Firstly, Tempur-pedic has developed a revolutionary layered system for cooling mattresses which you will not find anywhere else. While other mattresses do have cooling capabilities, none are as advanced as the Tempur-Breeze.
Tempur-Pedic also has a reputation for quality that you will not find elsewhere else. The majority of mattress companies buy components for their memory foam mattresses and assemble them. Tempur-pedic manufactures all of its own materials based on specific designs that they have created. They have more in-depth knowledge of memory foam mattress design than any of their competitors and that reflects in the quality of their products.
Tempur-pedic has a reputation for creating premium products. Where your sleep is concerned, you cannot afford to cut corners. There are plenty of cheaper memory foam mattresses on the market and a lot of them will claim to keep you cool at night. However, you will not get the same level of comfort or cooling ability that you will with a Tempur-Breeze mattress. If you find that you cannot sleep due to the heat, you should look for a Tempur-Breeze in Las Vegas today.
Where Can You Get A Tempur-Breeze Mattress?
If you are looking for a Tempur-Breeze in Las Vegas, look no further than Best Mattress. It can be difficult to know which mattress is best if you have never used a memory foam mattress before. If you want to optimize your sleep, we can help you find the perfect mattress. Trying out some different mattresses in-store based on your sleep style. We are a leading provider of Tempur-Breeze in Las Vegas. Our team is well-positioned to help you find what you are looking for.
If you get one of our Tempur-Breeze mattresses, we offer delivery 7 days a week. Same-day delivery is optional if you are in a rush to get your new mattress. We will even take away your old mattress free of charge so you don't need to worry about it. We can even install the mattress and make sure everything is set so you get the most out of your new Tempur-Breeze mattress.
Our 120 Day Sleep Guarantee
If you have owned your mattress for longer than 30 days and you aren't happy with your set, Best Mattress is glad to exchange your mattress for 120 days from the date of purchase. Please see our full terms & conditions here.
During the trial period, we will do whatever we can to make sure that you experience the best sleep possible.  If you are not happy, return it and we will help you find a mattress better suited to you. In this case, you will only need to pay a small delivery fee. If you are unable to find any mattresses that work for you (which is very unlikely), return your mattress. A 20% restocking fee and a small delivery fee will apply. This guarantee gives you peace of mind and it's one of the many reasons that our customers are so satisfied with our service.
Helping the Local Community
If you buy a Tempur-Breeze in Las Vegas, you're not just getting a mattress, you're giving back to the local community. Best Mattress is dedicated to helping the local community and improving the lives of people in the area. Making sure that people get a good night's sleep by helping them find the perfect mattress is only one of the ways that we do that. We also support local charities like Olive Crest, Opportunity Village, Toys for Tots, Veterans Village, and the Shade Tree Shelter. When you buy from us, you get the added bonus of helping a charitable cause as well as getting a great new mattress.
If you find that you are too hot during the night and you are constantly tossing and turning, you should get a Tempur-Breeze mattress in Las Vegas. Head down to Best Mattress and we will help you find the perfect mattress for you.