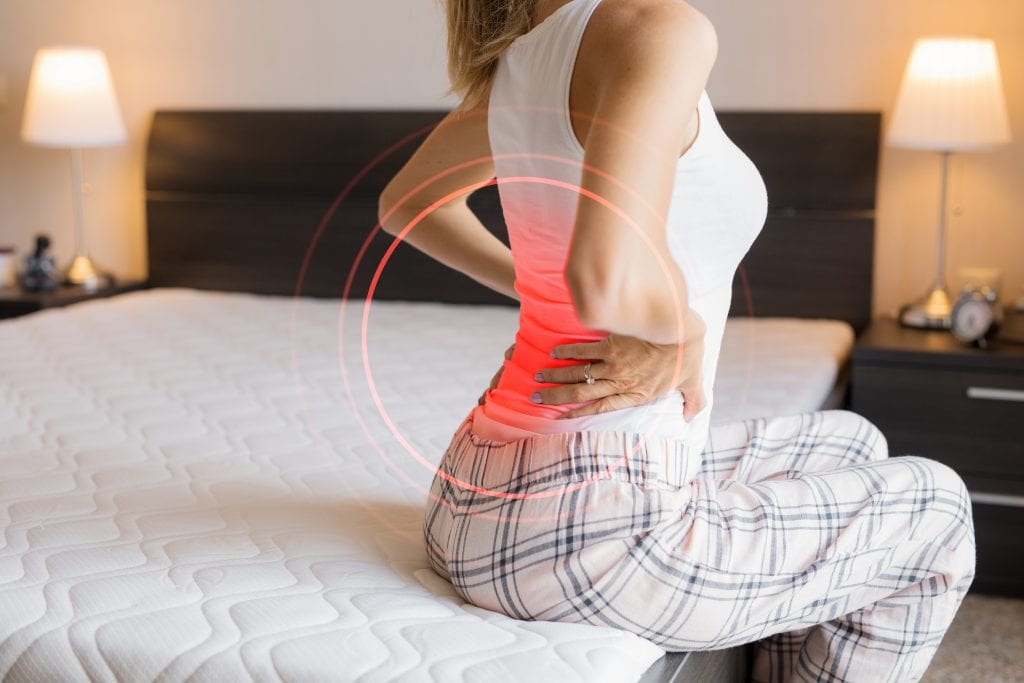 Did you know that 80% of people will experience back pain at some point in their lives? When you're in pain, it can be difficult to sleep, especially if you haven't got a mattress that provides support. Your mattress can play an integral role in enhancing sleep quality. If you're on the hunt for the best mattress for back pain, this post is for you.
Which Mattress Type is Best for Back Pain?
If you have ever researched mattresses you have realized that there is a wide range of mattress types. While it's always beneficial for consumers to have a choice, it can be challenging to narrow down the options. How do you decide which type of mattress is best? To help you make the right choice, we'll explore each option in more detail:
Hybrid Mattress
Hybrid mattresses comprise an innerspring core, surrounded by comfort layers that can be made of foam, latex, or cotton. People often select Hybrid mattresses because they offer a wide range of benefits. The core provides a strong foundation for support and pressure relief and the supplementary layer promotes comfort. Hybrid mattresses also tend to offer ventilation, which is ideal for people who get hot during the night.
Memory Foam
Memory foam is the best-selling mattress type, primarily due to its reputation for providing unbeatable comfort. It adjusts to the contours of the body, providing targeted cushioning for key areas of the body.
Gel Foam
Gel foam mattresses are often considered an alternative to memory foam. They boast a soothing gel foam layer, which provides additional support and offers cooling capabilities.
Innerspring
Innerspring mattresses are made up of networks of coiled springs and were once the most popular type of mattress.  Hybrids are bringing the innerspring back because of the support they offer and cooling ability. Innerspring mattresses are usually a less expensive option, and buyers can customize their mattress and improve comfort with a foam topper.
Air Beds
Air mattresses are among the most flexible, versatile, and adjustable products on the market. The mattress is made of a series of air chambers, which the user can inflate or deflate according to their preferences. The fact that the mattress can be customized is a significant benefit for those who are prone to back pain.
Adjustable Bed Frames and Back Pain
Adjustable bed frames and bases are often recommended for people who experience chronic back pain and those recovering from surgery. They enable you to adjust different parts of the mattress to enhance comfort and facilitate healing by relieving tension and pressure. Often, people who have back or neck pain find it difficult to get comfortable when lying flat. By investing in an adjustable base, you can move the mattress to cater to your requirements and help you find a position that enables you to sleep comfortably and soundly.
Sleeping Positions and Back Pain
Many of us are familiar with the scenario of staring at the clock in the early hours, tossing and turning desperately trying to get comfortable and drift off to sleep. Your sleeping position can have an impact on back pain. Depending on where you experience pain, you may find that modifying your sleeping position can either intensify or alleviate discomfort.
For lower back pain, it's usually beneficial to sleep on your side with a slight bend in the knee. If you prefer to sleep on your back or stomach, you may benefit by placing a thin pillow beneath the knees and the lower back. For front sleepers, it's helpful to place a single pillow beneath the head and add a pillow for extra support under the hips. You can also modify your sleeping position without the need for extra pillows using an adjustable bed frame.
The Best Mattresses for Back Pain
Back pain can be debilitating, and it can contribute to poor sleep quality, tiredness and lethargy, and changes in your mood. If you struggle with back pain, choosing the right mattress is key. At Best Mattress, we have a vast range of mattresses from leading brands, which are designed to provide pressure relief, enable you to get comfortable quickly, and offer targeted support for the spine. Our leading contenders for the best mattress for back pain include:
Tempur-Pedic
Tempur-Pedic mattresses are renowned for their innovative design, which facilitates comfort, coolness, and unrivaled support. Both the Adapt and Breeze series are suitable for those with back pain, offering comfort layers that mold to the body and ease pressure point discomfort. There is a range of options available, including soft, medium, medium hybrid, and firm. Firm and medium mattresses are usually best for back pain.
Instant Comfort
The original, number one air bed, the Instant Comfort is customizable to cater to the needs of each sleeper, and it boasts comfort layers, including a memory foam layer, which adapts to the body to target pressure points.
Serta iComfort
The Serta iComfort boasts a carbon fiber memory foam layer and a gel foam layer for maximum support and cushion. An additional air support foam layer molds to the body, adjusting as you move to increase comfort. The Serta iComfort has a range of layered firmness to choose from because not every body is the same.
Beautyrest Black
The Beautyrest Black engineers designed the Black series to provide robust support at the same time as cradling the body for that blissful night's sleep. With gel foam, memory foam, and RightTemp foam layers, you can enjoy incredible comfort and support while staying cool. This mattress is available with a pillow top.
Stearns & Foster Hurston Pillow Top Mattress
This innovative mattress from leading manufacturer, Stearns & Foster offers the best of both worlds. The mattress feels soft and indulgent, but it has a robust air pocket innerspring system to deliver support and breathability. This mattress is particularly beneficial for individuals who prefer to sleep on their back or their side.
King Koil Lily Smart Life
The King Koil Lily Smart Life mattress is an adjustable mattress and a stunning example of modern technology. It adapts to the movement of the body to provide support where needed most. The patented SmartLife technology, characterized by over 80 Smart Cells, responds perfectly to motion. You can modify the position of the bed via remote control, even enjoying a relaxing, gentle massage thanks to the pioneering wave motion feature.
Helping You Find the Best Mattress
At Best Mattress, we know the difference a high-quality mattress can make, especially for customers with back pain. Our experienced and knowledgeable team is here to help if you have any questions about the products featured in this guide, or if you would like advice about which mattress to buy. We can provide tailored recommendations based on your budget, your preferences, and your individual needs. Don't hesitate to get in touch today.