With so many different types of mattresses on the market today, it can be a bit overwhelming trying to find the one that best fits your needs. Mattresses are a big commitment because they last for many years and some can be quite expensive. You don't want to be stuck with a mattress that doesn't get you the sleep you need AND costs you a fortune.
Sleep is incredibly important and far too many people don't get enough of it. Most adults need anywhere from 7-9 hours of sleep per night. So, having a mattress that is comfortable and supportive can make a big difference in your overall sleep quality.
Tempurpedic mattresses have been popular for years in the mattress market. But what is it that makes them so great? If you are thinking about getting a Tempurpedic mattress but still have some questions of whether it is worth the investment, this article aims to answer that question. Let's get into it.
The Beginnings of the Tempurpedic Mattress
When Tempurpedic mattresses first came to the United State in 1992, they were so unique because they were made of two layers of a new technology called memory foam. The first layer was 3 inches of 5.3-lb. visco-elastic foam. The second layer was 5 inches of 3.5-lb., non-visco-elastic, high-density polyurethane foam. What this means is that the first layer took 5.3 lbs. of pressure to push 50 square inches of the mattress 4 inches down and the bottom layer took 3.5 lbs. of pressure to push 50 inches of mattress 4 inches down. What all this meant for the mattress world was that people loved that they felt cradled while they slept no matter their sleeping position.
Tempurpedic has made some modifications to their memory foam mattresses over the years but the idea is the same — comfort no matter how you sleep. We will get into this a little later.
Other Memory Foam Mattresses
So many other mattresses today also use this layering technique and memory foam. However, thanks to advancements in technology, additional layers and features are often added. Unfortunately, one of the potential drawbacks of traditional memory foam mattresses is that they don't offer the same cooling features that many Tempurpedic mattresses now advertise. If you tend to get overheated at night or wake up sweaty, a mattress with cooling technology built into the layers may be a better option. Let's talk about those layers.
Tempurpedic Mattress Layers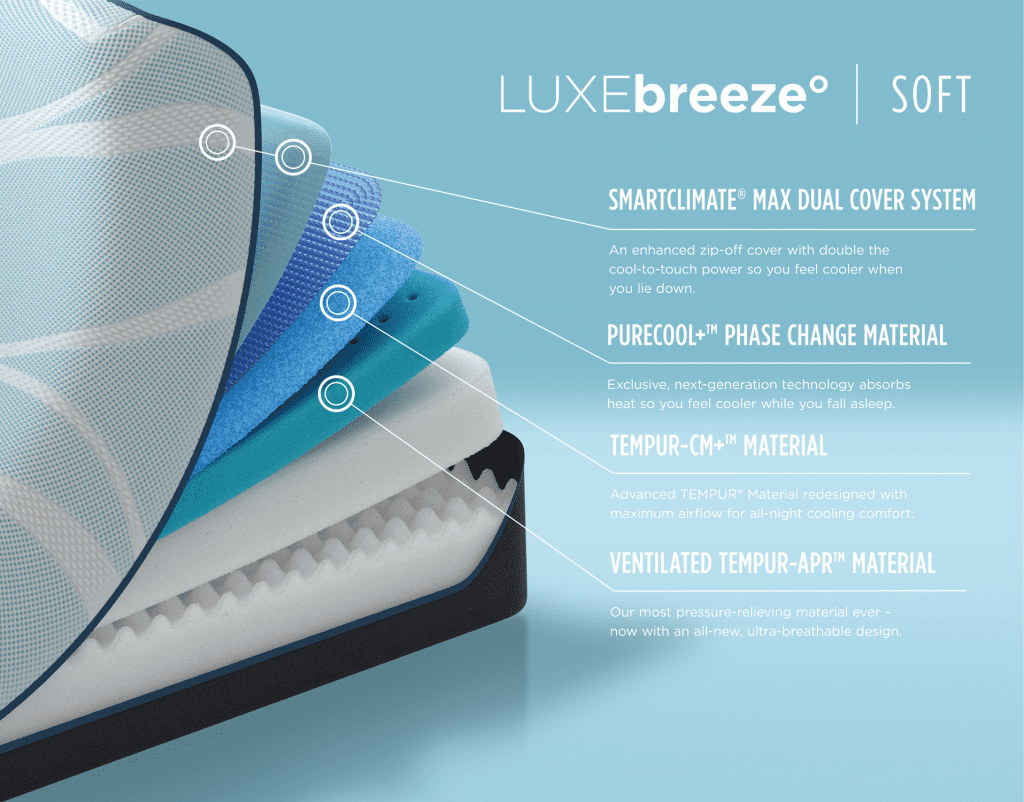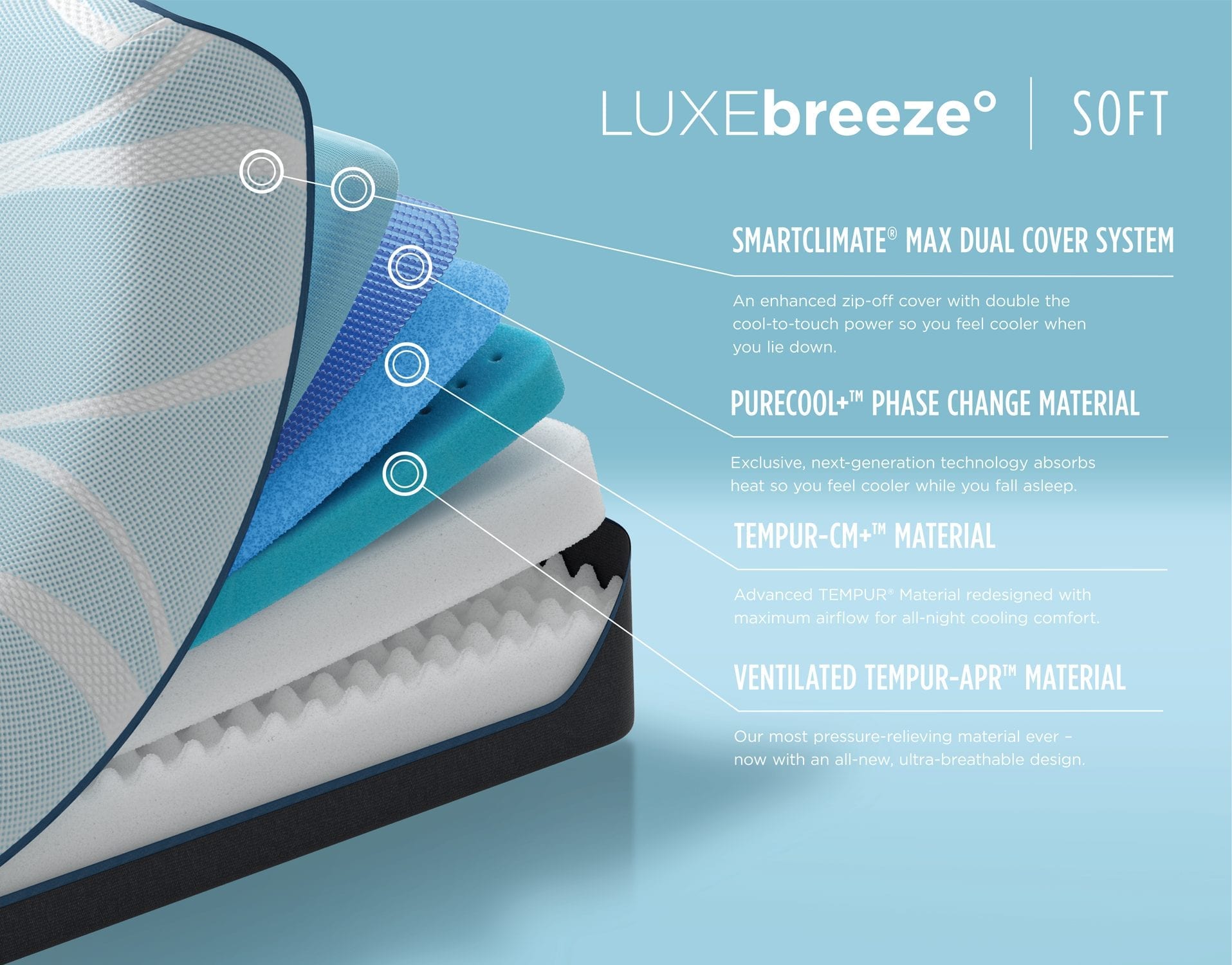 Not all Tempurpedic mattresses are built the same. Some come with layers of cooling technology and some do not. Memory foam tends to trap heat. Heat is what activates the foam mattress to cradle your body in a way that makes it so popular in the first place. The solution is to introduce layers of technology that cool you while still allowing the foam to perform as it was intended.
There are a lot of hot sleepers out there so technology was created to keep them cool such as SmartClimate™ Dual cover system, PureCool+™ Phase Change Material, and TEMPUR-CM+™ material. With this much technology into keeping you cool in addition to the memory foam, it's no wonder Tempurpedic mattresses are so popular and some of the best mattresses on the market today.
Every layer of the Tempurpedic mattress is designed to give you the best night's sleep you've ever had for years to come. This is also why it is a higher-priced mattress, and well worth it. Can you put a price on the best sleep you've ever had? There are significant health benefits that come from getting regular and consistent good night's sleep.
Tempurpedic Health Benefits
Tempurpedic mattresses are about more than just comfort. They also have different health benefits that you should consider when you're looking for the perfect mattress. Some of the most notable benefits that can help you to feel better include:
Pain relief: If you suffer from back or neck pain, stiff joints, or illnesses such as arthritis, a Tempurpedic mattress is a great option. The foam used in these mattresses was actually developed by NASA, and it is designed to conform to your body no matter what type of position you sleep in. This eases up the pressure on your body and won't cause your joints to feel stiff and sore when you wake up. Because the mattress cradles your body so well, it also helps to align your neck and spine while you sleep. Tempurpedic mattresses have been in hospitals since 1996 as a solution to combat bed soars for many hospital patients.
Allergens: Tempurpedic mattresses feature material that deters the buildup of dust mites and other allergens, so you can breathe easily throughout the night.
Better sleep with a partner: Tempurpedic solves the problem of waking up when your partner moves. The Tempurpedic mattress absorbs the movement of your partner so you don't feel it and are able to stay asleep.
Which Type of Mattress is Right for You?
There are many different Tempurpedic mattress brands to choose from. It all depends on what you are looking for. There are mattresses of different sizes, firmness, and prices ranges. There are Tempur mattresses with more and less cooling technology as well. You can learn more about the top Tempurpedic mattresses by clicking on the links below.
If you're looking for one of the most comfortable mattresses on the market, whether it is to ease muscle and joint pain or just to get a better night's sleep, a Tempurpedic mattress is worth the investment. If you have questions about any Tempurpedic mattress or just need help finding the right mattress for you and your budget, please contact us with your questions. We have sleep experts that can answer your questions and help you find what you are looking for.