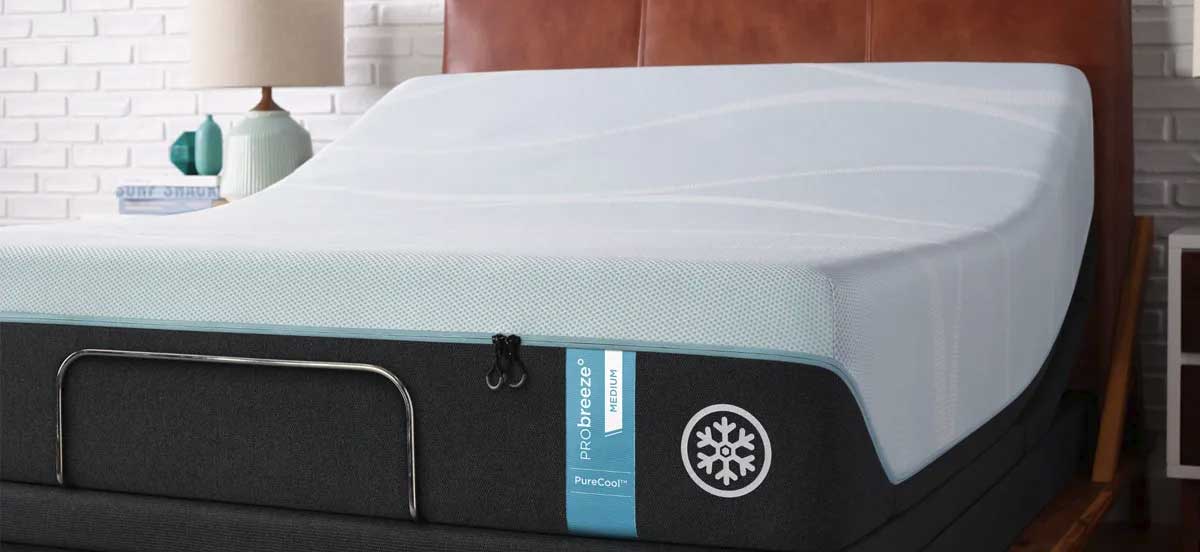 You're really tired but just can't get settled for sleep. You're not just losing sleep, you're losing productivity in your waking hours.
Find yourself tossing and turning, flipping the covers off, and feeling frustrated?
A report from Sleep Foundation describes the stages in which our bodies prepare for sleep. We should naturally experience a drop in body temperature that triggers the onset of sleep.
If you're a sleeper that often can't get to sleep or wakes up feeling too hot, it's time to consider replacing your mattress with new technology that offers cooler sleeping.
When buying a new TEMPUR-breeze® mattress, you want to make the right investment for the next few years. Read our mattress guide for some key factors to consider.
Why Choose a TEMPUR-breeze® mattress?
With over 20+ years of experience bringing award-winning technology to the mattress industry, Tempur-Pedic® is a brand you can trust.
Always researching and developing products for your best sleep, Tempur-Pedic® introduces its TEMPUR-breeze® collection. It is their most awarded collection.
Health Magazine – 2020 Sleep Award
Popular Mechanics – 2020 Best Overall Sleep Award
Good Housekeeping – Best Overall Cooling Mattress Award
The Space Foundation – Inducted to Space Technology Hall of Fame
There's a good reason why this collection receives outstanding reviews. They are designed for support, contouring, and cooling. Also, a TEMPUR-breeze® mattress offers a model for every type of sleeper.
It's All in the Layers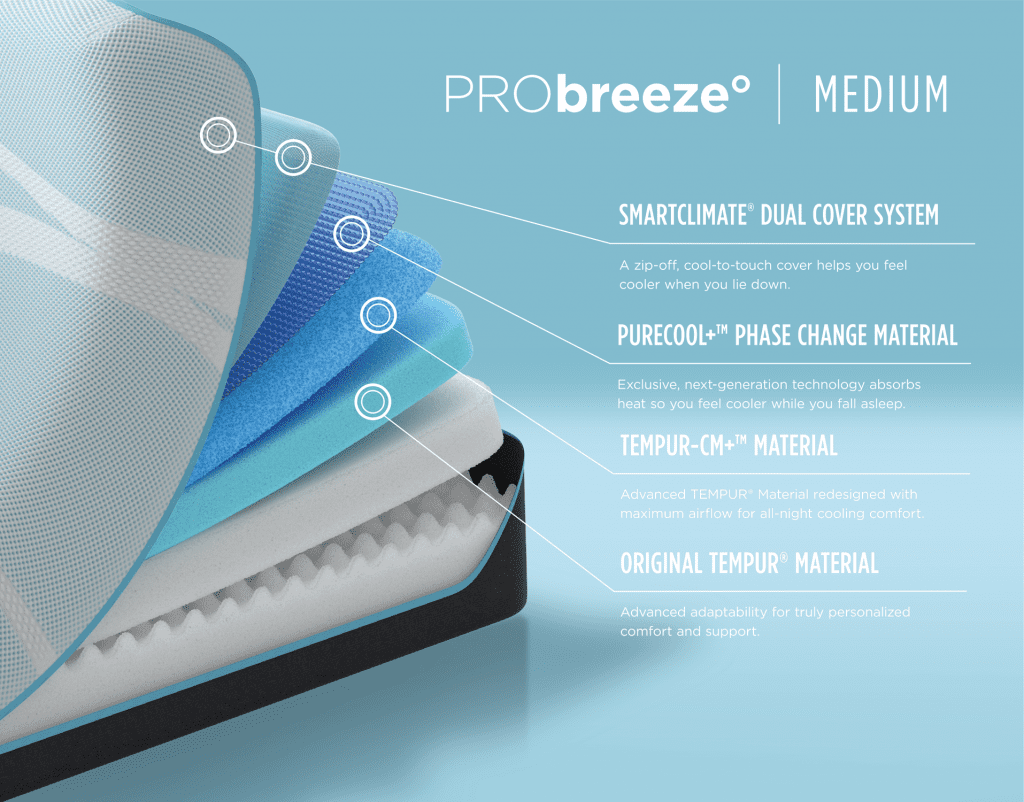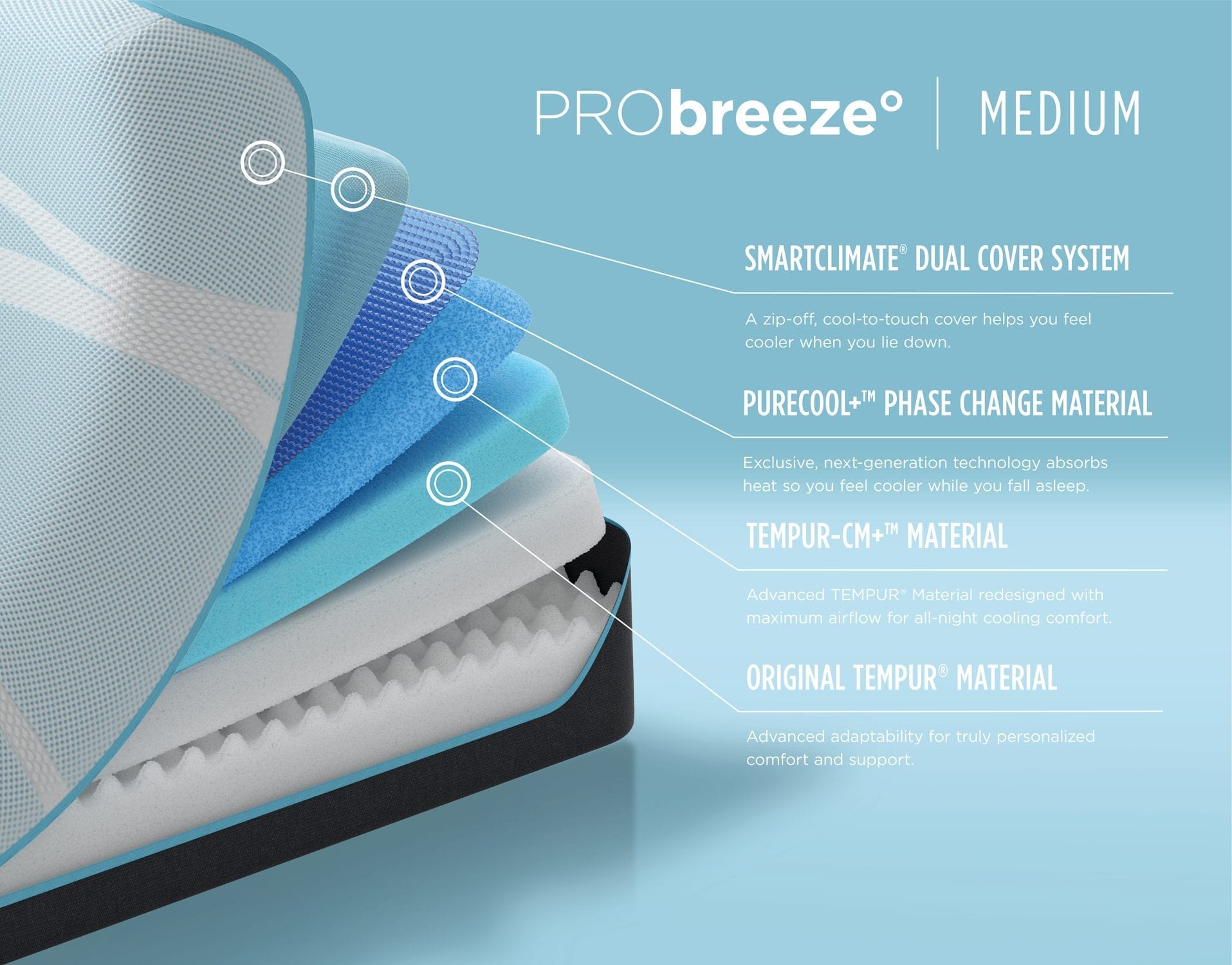 A TEMPUR-breeze® mattress offers cooling that performs in 3 phases to help you get to sleep and continue to stay cool and comfortable all night.
Phase 1 – SmartClimate® Dual Cover System
As soon as you lie down, this top layer offers cooling to help your body begin to settle in its natural rhythm of lowering body temperature.
Microbeads change form when absorbing your body's heat and transfer this heat to lower layers.
It has an easy to remove zip-off cover made of high-density yarn that can be washed.
Phase 2 – PureCool+™ Technology
Within minutes of settling in for rest, you will feel a deeper cooling as the PureCool+™ Phase Change Material begins to absorb your body heat and distributes it for better airflow. The improved open cell construction allows for both contouring and heat removal.
Phase 3 – TEMPUR-CM+ Material
This layer of material works to provide airflow throughout the mattress. TEMPUR-CM+ Material has an open-cell design that reduces the humidity and heat normally trapped in your covers and cycles it out of the mattress.
Which TEMPUR-breeze® Mattress Is Best For You?
In addition to superior cooling performance, the TEMPUR-breeze® collection offers great support and contouring for all types of sleepers.
Here we will compare the TEMPUR-PRObreeze° and TEMPUR-LUXEbreeze° mattresses and explain the benefits of each and how they can be the Best Mattress for your sleep style.
Back Sleeper
Sleeping on your back offers the best alignment for your spine. A medium to firm mattress will provide the best support for your neck and spine. Keep in mind that you will also want contouring that offers pain relief from pressure points.
The TEMPUR-PRObreeze° MEDIUM and HYBRID models offer outstanding sleeping comfort with all 3 cooling phase layers and excellent contouring to cradle your hips. These models can achieve up to 3 degrees cooler temperatures as you sleep.
TEMPUR-PRObreeze° MEDIUM
TEMPUR-PRObreeze° HYBRID
The TEMPUR-LUXEbreeze° FIRM is an ideal model for heavier-weighted sleepers who require more support. The LUXEbreeze° FIRM offers comfortable contouring to relieve pressure points with a more supportive layer to keep you from sinking into the bed and causing low back pain.
TEMPUR-LUXEbreeze° FIRM
TEMPUR-LUXEbreeze° also has an added layer of cooling (Ventilated TEMPUR-APR® Material) to help distribute more heat out of the mattress. This model can reduce the thermal temperature of your bed up to 8 degrees all night.
Stomach Sleeper
Stomach sleeping requires contouring that takes the pressure off of your neck and lower back while not sinking into the mattress so deeply that your spine has an unnatural curve.
With excellent contouring to relieve pressure points, the TEMPUR-LUXEbreeze° FIRM is an outstanding choice for average-weight stomach sleepers. Your neck, shoulders, and hips will be comfortably cradled while your spine is still supported. You can feel the cradling effect even on the tops of your feet.
TEMPUR-LUXEbreeze° FIRM
Side Sleeper
If you're a side sleeper, you know that finding the right combination of support and contouring is super important. A mattress that is too firm will leave you with aching joints.
The best mattress investment for a side sleeper is one that offers superior contouring without being so soft that your body develops an unnatural curve. The TEMPUR-LUXEbreeze° SOFT is great for side sleepers. The extra supportive layer offers great support for both heavy and lightweight side sleepers. The softness of the top layer offers additional sleeping comfort that reduces the painful joints often associated with sleeping on your side.
TEMPUR-LUXEbreeze° SOFT
Get Professional Assistance and Superior Service
Buying a mattress is an expensive investment and one that requires careful thought about your preferred sleep position, body temperature, and spinal support.
Best Mattress has been in business for 25 years and offers assistance from trained professionals that explain how cooling technology works and answer customer questions in a low-pressure environment. We also offer full customer support and a guarantee: If you are not 100% satisfied with the comfort of your mattress within 120 days of your purchase we will do whatever we can to make sure you are sleeping well. Best Mattress is committed to helping you find the right mattress to give you a healthy night's sleep.
Find your best sleep now at one of our Best Mattress locations. Make an informed choice in your mattress investment with Best Mattress and keep your cool with a TEMPUR-breeze® mattress.