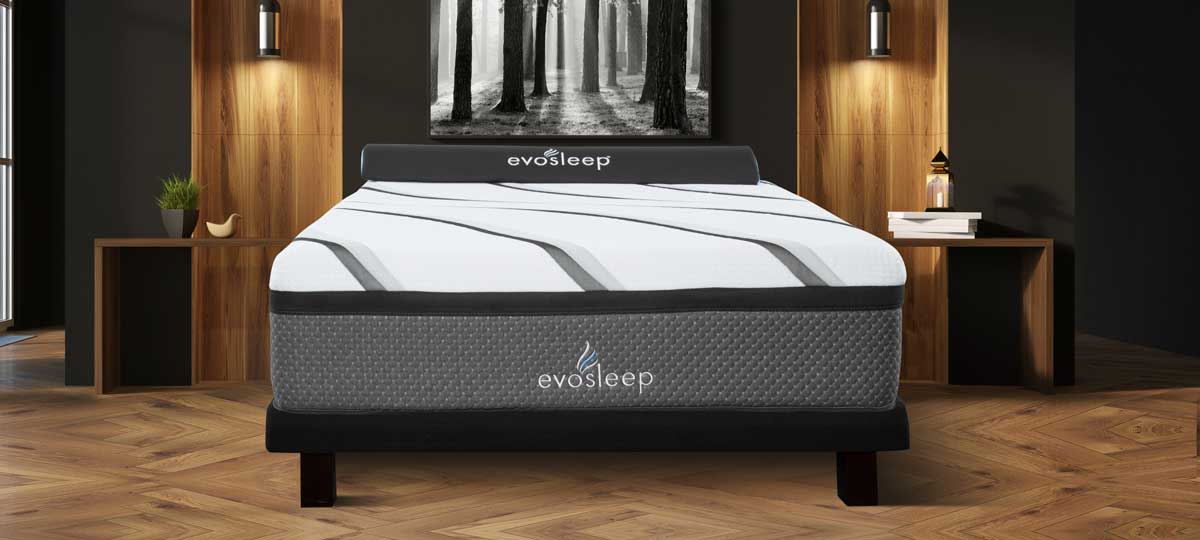 Are you tired of your mattress? Have you been waking up feeling like you didn't sleep or with weird pain on your shoulder, back, and hips? Does everywhere else apart from your bed feel more comfortable to take a nap?
Well, a quality mattress for your bed may be what you need to get a full night's rest with rapid-eye-movement bliss. A good night's sleep is imperative for the following reasons:
Sleep plays a significant role in maintaining both our general health and immune system. Our immune system is our body's first line of defense against illnesses and germs
It boosts our immunity
It improves brain function, enabling peak performance at work or school
It reduces stress
It improves weight regulation
It lowers chances of inflammation
But with the numerous mattress options available on the market today, choosing one is no easy task. Luckily, the Sherwood Evosleep mattress can save you the hassle of searching for a new mattress. Here is why you should consider this incredible invention.
Mattress Lifespan
A quality mattress can last up to seven or eight years. However, that largely depends on the quality of materials used. It would be best if you always went for a well-known brand with a long-standing reputation and a proven performance track record.
At Best Mattress, we've been in the business of mattresses for years. The Sherwood bedding mattress is an excellent investment because it's durable and more than comfortable. It's a mattress you're going to have for many years, so its cost is a small price to pay for lots of comfort and rest.
Some models of the Sherwood mattress also have pillows that have nano coil, which adds to the durability. Nano coils don't wear out, soften, or lose support over time. Generally, the more foam you can take out of the bedding, the longer it can last because that's what breaks down with age.
Nano coils offer support and conform to your body's contours, providing an additional layer of comfort, unlike normal mattresses.
Affordability
Although a higher price does not always mean better quality, it's not advisable to always go for the cheaper brands. As mentioned earlier, sleep is essential, and so a quality mattress is a worthwhile investment.
At Best Mattress, we offer financing for the Sherwood EvoSleep mattress. Our plan allows you to spread out the payment over 24 months with no down payment and no interest, making it very affordable. Also, these prices are inclusive of an adjustable base.
Materials
There are several types of mattresses, all dependent on the type of materials used to make them. They are made to suit varying sleeping positions, aesthetic preferences, and functionality. Here are a few of the common ones:
Spring: Ideal for people who prefer strong support, durability, and bounce. The spaces between the springs allow more air circulation, which helps keep temperatures down. The Sherwood mattress has a tempered pocketed spring support system to support your shoulder and lumbar region, providing pressure relief and ensuring your spine is correctly aligned.
Latex: Ideal for people who prefer responsiveness and bounce.
Memory foam: Ideal for people who prefer superior comfort, contour, pressure relief and support. Just pressing your hand into this material makes this fact evident. When you lie on a memory foam mattress such as the Sherwood mattress, it's amazing how it conforms to every part of the body. And when you get up, it slowly recovers its form, making it perfect for all body types. Mattresses made with memory foam are also great for couples because they have motion isolation capabilities, guaranteeing no amount of tossing and turning by one partner will bother the other.
Adjustable: Ideal for people who snore or people who suffer from lower back pain. The Sherwood mattress has an adjustable base to easily elevate or lower your sleeping position to suit your preference.
Sleeping Position
We all have favorite sleeping positions, whether on the back, side, or stomach, which determines how firm our mattress should be. This means different types of mattresses will suit different people, depending on how they sleep.
Back sleepers: A memory foam mattress is ideal because it will provide sufficient contouring to the spine. The Sherwood mattress is built with around 2,000 coils, which provide superior support that can be felt evenly along the body's length when sleeping, particularly the waist and lower back.
Side sleepers: Sleeping on your side means you're likely to experience pain in the hip and shoulders if your mattress is not right. A medium soft mattress offers firmness ideal for someone who sleeps on their side. The Sherwood mattress has cushioning that will conform to your curves, offering pressure relief to your hips and shoulders.
Stomach sleepers: Sleeping on your stomach means your torso applies the most pressure on the mattress. For stomach sleepers, the most critical factor is that weight is distributed evenly across the whole body. A mattress that's too soft will cause your spine to curve, leading to back pain. A mattress that's within the medium to firm range is ideal for a stomach sleeper.
Weight
Support, sinkage, and cooling of your mattress are governed by weight and body type.
Light (below 150 pounds): A medium-firm bed of 5-6 firmness is ideal. If you prefer a softer feel, you can opt for 3-4 firmness.
Average (150-200 pounds): A firmness of 5-7 is best. If you prefer softer, opt for 3-5 firmness.
Heavier (above 200 pounds): A firm mattress that will adjust for sinkage is best. A coil mattress is recommended in this case because it allows for cooling.
Technology
Support, comfort, and coils are the three fundamental factors that make people want to buy a new mattress.
A quality mattress will encompass technology to provide different benefits to fulfill these needs.
The Sherwood EvoSleep mattress comes in five different models; all built with the latest technology to meet our customers' needs. Some of its properties include:
Knit fabric W/" CHILL" technology
Air cushion memory foam
Gel-infused memory foam
Transitional memory foam
Soft and firm support foam
High profile orthopedic foundation
The Sherwood mattress has multiple layers of gel memory foam and cooling layers of memory foam to provide maximum comfort.
It also has multiple layers of gel memory foam and cooling memory foam. Besides that, it also has cold covers to help regulate the temperature throughout the night. If you often throw layers of bedding away because it's too hot, the Sherwood mattress can be a perfect choice for you.
Contact the Mattress Experts!
At BestMattress, we have got you covered no matter what your mattress preference or budget dictates. The Sherwood EcoSleep mattress is available in all our nationwide locations. Go ahead and place your order now for same-day delivery, or visit any of our locations to inspect the mattress physically before purchase.