At Best Mattress, we provide a variety of mattresses and other sleep-related products to our customers. We carry some of the leading mattress brands and can offer mattresses for all kinds of sleeping styles. Whether you are looking for a soft mattress, a firm mattress, or one in between, we have you covered. With over 20 locations, we are also conveniently located for our customers. We have locations in St. George, Utah as well as Las Vegas, Nevada and Mesquite, Nevada. We also carry many different kinds of mattresses including traditional ones as well as more high-tech options.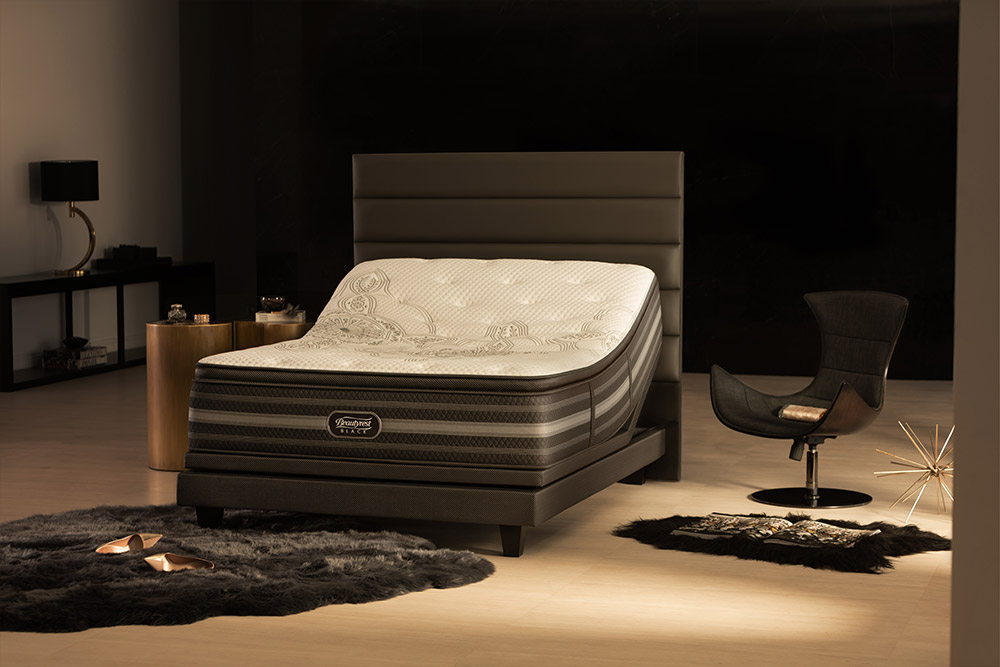 Some of the more advanced mattress options we carry include adjustable bases. If you have ever wanted to upgrade to one of these amazing mattress accessories, now is a great time to do so! If your old mattress just isn't cutting it anymore, we likely have a better option for you. An adjustable base with a new mattress allows you to adjust the angle of your bed for a better night's sleep. We carry three different brands of adjustable bed frames in stock at all of our stores. The three brands are the Tempur-up, Smartmotion, and Serta Adjustable Foundations. Within these three brands, there a variety of specific choices to choose from, so you will be able to find the perfect fit for you.
Below we will detail the differences between each of these adjustable bed frames and what features and perks they come with. If you are ready to upgrade to a great night's sleep with an adjustable base and mattress, this guide will help you get started!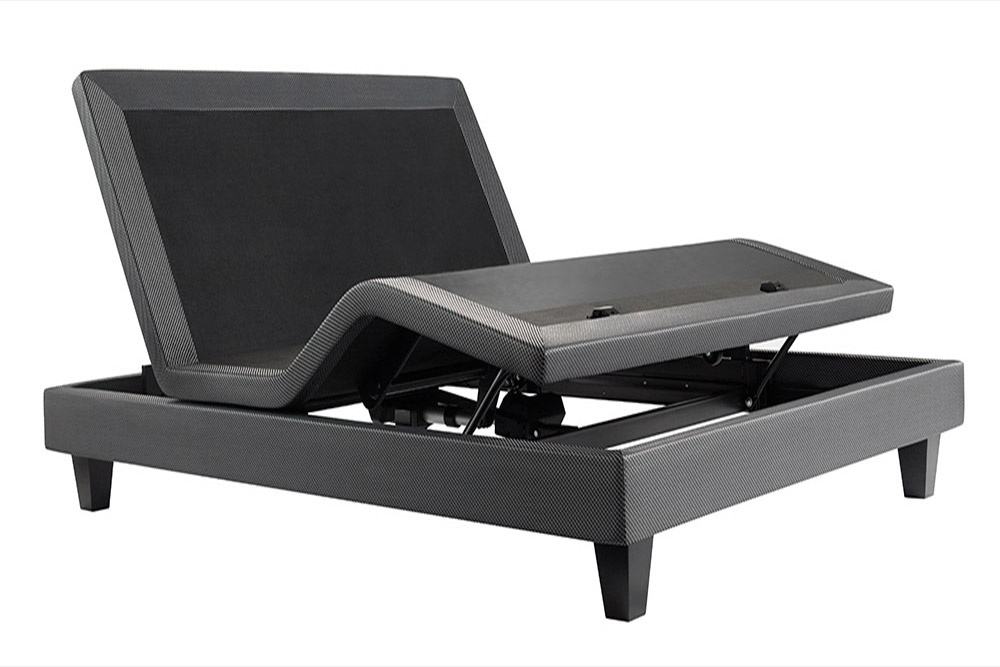 The first option to consider is the Smart Motion brand. These adjustable bases come with many exciting features. Also, there are a few different options within this brand, so you can find the perfect choice for you. At Best Mattress, we carry:
The first Smart Motion mattress is the Smart Motion 1.0.
This mattress has many features including:
–SleepTracker™ Technology that comes with two years essentials at no cost
-Raising and lowering technology at your head and foot
-A cordless remote
-Platform bed capability
-Zero G™ Preset Position that raises feet above your heart
-Battery backup with a lowering function
-SmartSync™ pairing system that operates two bases simultaneously
-Smooth Power lifting system
-A Next Generation Silent Driver motor™
-Zero Standby Power™ system
-A pocket to hold the remote
-A 650 pound weight limit
The Smart Motion 2.0 Mattress comes with all of the features of the 1.0 model, but it also comes with:
-Telescoping legs
-An 850 pound weight limit
-SnoreRelief™
-A six-eleven massage system
-A one button stop safety feature
-A radio frequency pairing technology
-Two additional preset positions
We also carry the Smart Motion 3.0 model. This model comes with everything that the 2.0 model has as well as:
-3-in-1 Legs
-Three additional preset positions
-Four USB charging outlets
The Smart Motion line also comes with many other features including an app that helps you with sleep tracking and getting customized sleep tips. This mattress also allows tracks analysis of your sleep patterns and sends you that info. The SmartMotion beds will track each side of the bed separately.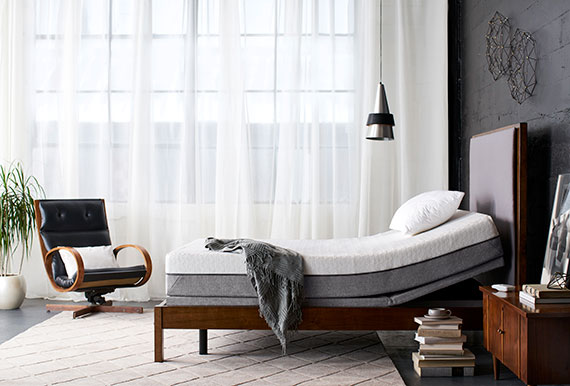 At Best Mattress, we also carry the Tempur-up Adjustable Foundation line of adjustable bases we have available in Las Vegas & St. George, Utah.
If you are tired of using tons of pillows to prop yourself up, this line from Tempur-Pedic could be the perfect fit for you. If you like to watch TV in bed, work on your laptop, or whatever else, these adjustable base mattresses are perfect for you.  They come in Twin, Twin long, Double, Split Queen, Queen, King, and Split King sizes and have a 600 pound weight limit.
Here are some of the features of the Tempur-up Foundation adjustable bases.
Adjustable Head Portion: These Mattresses are designed to allow users to raise the head portion of their mattress up to 55 degrees for support. The mattress does not have set positions which means that each person can raise the head part of the bed by each degree enabling them to get the perfect level of incline for them.

A wire remote that is easy to use: These mattresses come with a wired remote that is simple to use. The remote has one button that returns the mattress to flat and the motor is powerful enough to maintain a full-lift in less than thirty seconds. The remote is wired to keep from losing it.

Multiple height options: Since each person was different, you can adjust the height to what works best for you. The height options on the legs include 4.5 inch, 6.5 inch, or 9 inch height.

Easy-Access Retainer Bar: These mattresses come with a strong retainer bar feature that keeps mattresses from sliding off. This is a safety feature that also is designed to make changing sheets easier.

Wall Hugger design: These mattresses come with a wall hugger design that lets them be pushed right to the base of the wall. This innovative foundation is different than many other adjustable foundations that require large amounts of space in order to function correctly.

Some other features: These mattresses also come with quiet operation features so they are not too loud when being used. They also include a manufacturer's warranty.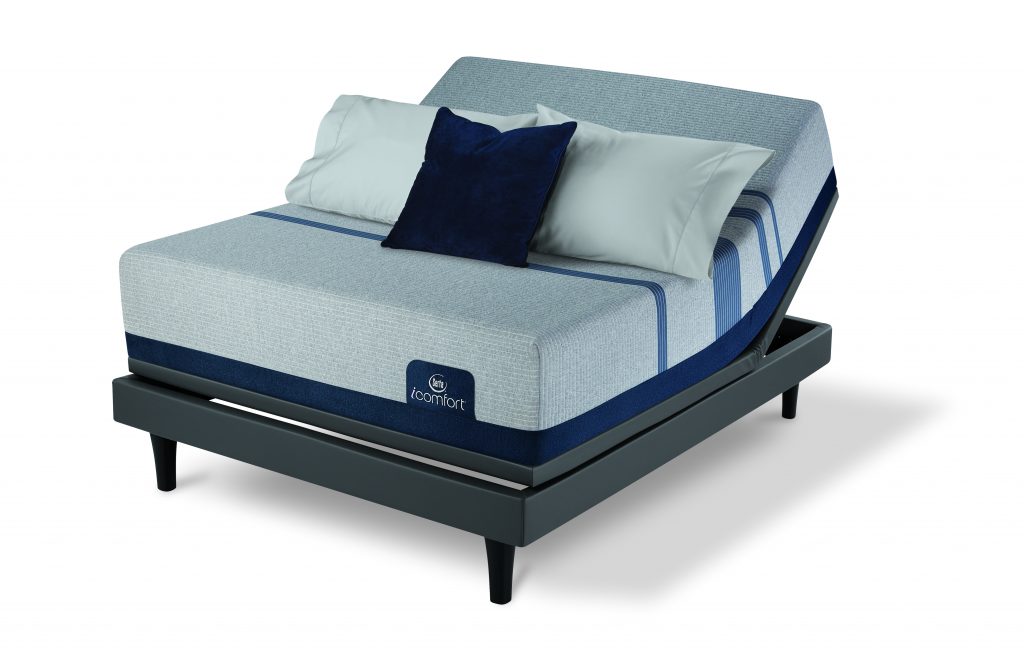 At Best Mattress, we also offer Serta Adjustable Foundations. These adjustable frames are designed to provide you with a range of adjustable options and to be able to customize your comfort. With these mattresses and frames, you can control the angle of the bed's head, foot, and lumbar support. These come with many different options including:
Preset and customizable positions: You can adjust the bed how you like it or pick one of the recommended settings for quick solutions

Acid Reflux Relief: Sleeping on a raised mattress can reduce the chances of acid reflux which can lead to a deeper sleep.

Snoring prevention: These mattresses can lead to less snoring and make it easier for your partner or you to sleep.

Buildin-massage: These mattress also come with an exciting, quiet massage motor built-in. Keep in mind some do not come with massage features so talk with our sleep experts for which do if you want this feature.

Sleep tracking technology: Some of the mattresses such as The Motion Custom II feature Serta's Sleep GPS with Sleeptracker Technology that can help you get a better night's sleep. This system monitors your sleep patterns while you sleep on the mattress and can help you understand your sleep patterns.

We carry a variety of Serta Motion adjustable bases.
Here are a few more specific features that these have. Keep in mind, some of the models are different and have slightly varying features. To find out more, feel free to come see us or to call us with your questions.
-Wireless, backlit, magnetic remote.
-An app that has integrated, Bluetooth technology
-A six-level massage system
-Silent transition technology
-Two pre-set positions that can be re-programmed
-Two USB ports
-Adjustable head and neck positions
-A maximum weight support of 850 pounds
-Zero G preset position that lets you raise the leg part of the bed with just one click
-Under-mounted LED lights
Visit One of Our Stores to Learn More
Best Mattress is your source for adjustable bases. We always strive to bring you the latest in mattresses including adjustable bases in St. George, Las Vegas, and Mesquite. If you have any questions about the mattresses we offer, please feel free to stop in to your nearest showroom or give us a call. We are happy to help you and look forward to you visiting one of our stores today!