Today's foam mattresses are high-tech, using specially-engineered materials and smart designs to provide the ultimate comfort. They are designed to provide excellent temperature control, minimize movement, relieve pressure, and allow for good airflow and breathability. Of course, there is a choice of high-tech memory foam mattresses, and you need the information that will help you to pick the right one. A good mattress is an investment, so you need to know that it's going to work for you. Even before ordering a mattress to try out for a few nights, it's useful to know what your choices are and the benefits that they offer.
Best Mattress has a range of the latest memory foam mattresses that can offer you a better night's sleep. Some of the top brands for high-tech memory foam mattresses include Tempur-Pedic, King Koil, and Serta. Here are our top mattresses and information all about the technology that they use to provide a comfortable experience.
Tempur-LUXEBreeze Soft Mattress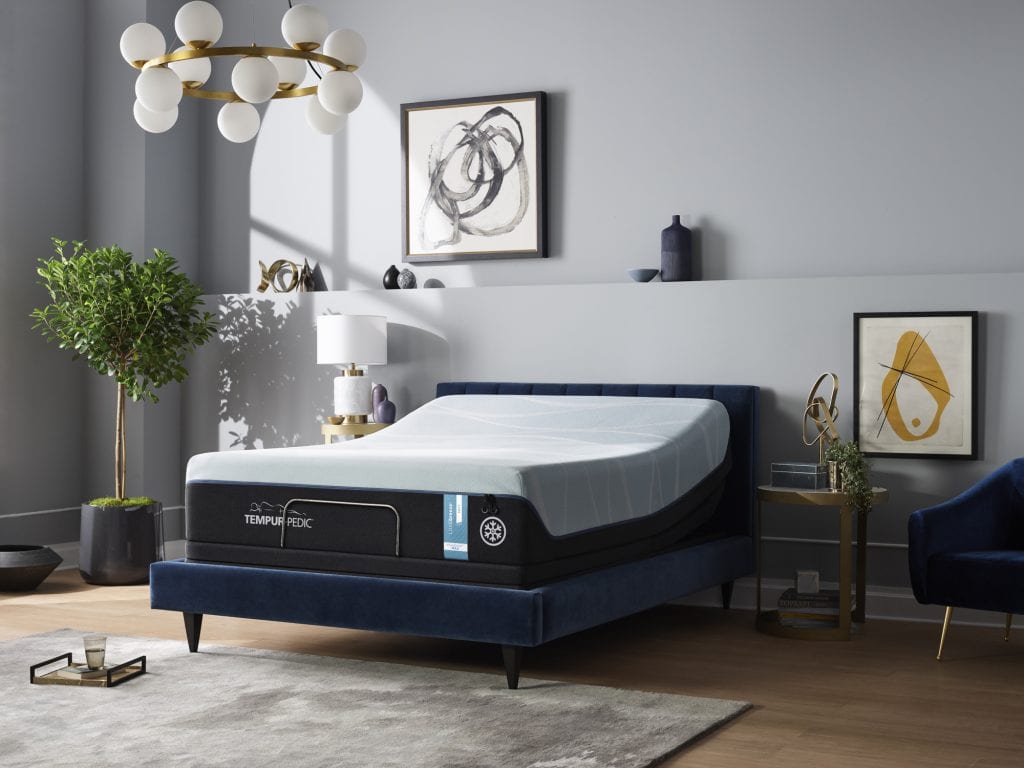 The Tempur-LUXEBreeze Soft Mattress focuses on regulating your body temperature while you sleep. Body temperature is an important part of getting a good night's sleep, and being too warm or too cold can really affect the quality of your sleep. The best bedroom temperature for adults is around 65 degrees Fahrenheit.
The Tempur-LUXEBreeze Soft Mattress is designed to help keep you cool at night. It features four different layers that help you stay cool.
SmartClimate Max Dual Cover System: this zip-off cover has "double the cool-to-touch power" so you feel cool when you lie down
PureCool+ Phase Change Material: uses a heat-absorbing technology for another layer designed to make you feel cooler
Tempur-CM+ Material: advanced Temper material that provides maximum airflow
Ventilated Tempur-APR Material: super pressure-relieving material that's designed to be ultra-breathable
The zip-off cover ensures you feel cool as soon as you lie down, using a hypothermal system that generates less thermal energy than other materials. The next layer, the PureCool+ Phase Change Material, keeps that cool feeling going, using thermal gradient technology, which traps heat away from your body. Heat and humidity are also tackled with this Tempur mattress thanks to the Tempur-CM+ technology.
Tempur-ProBreeze Medium Hybrid Mattress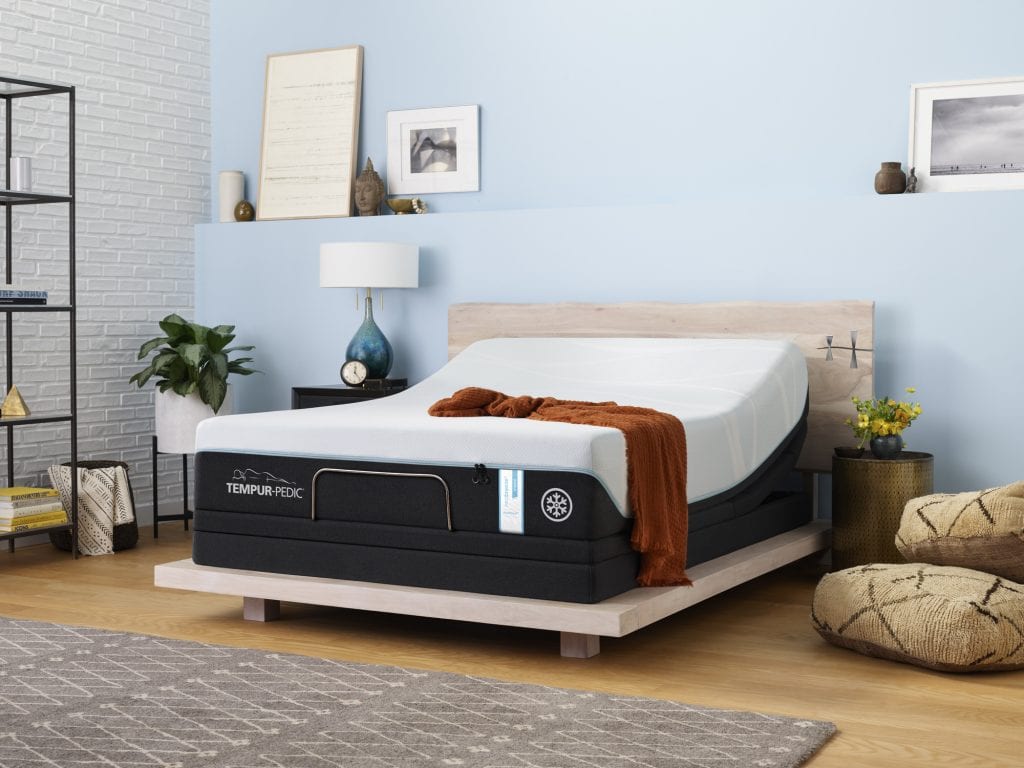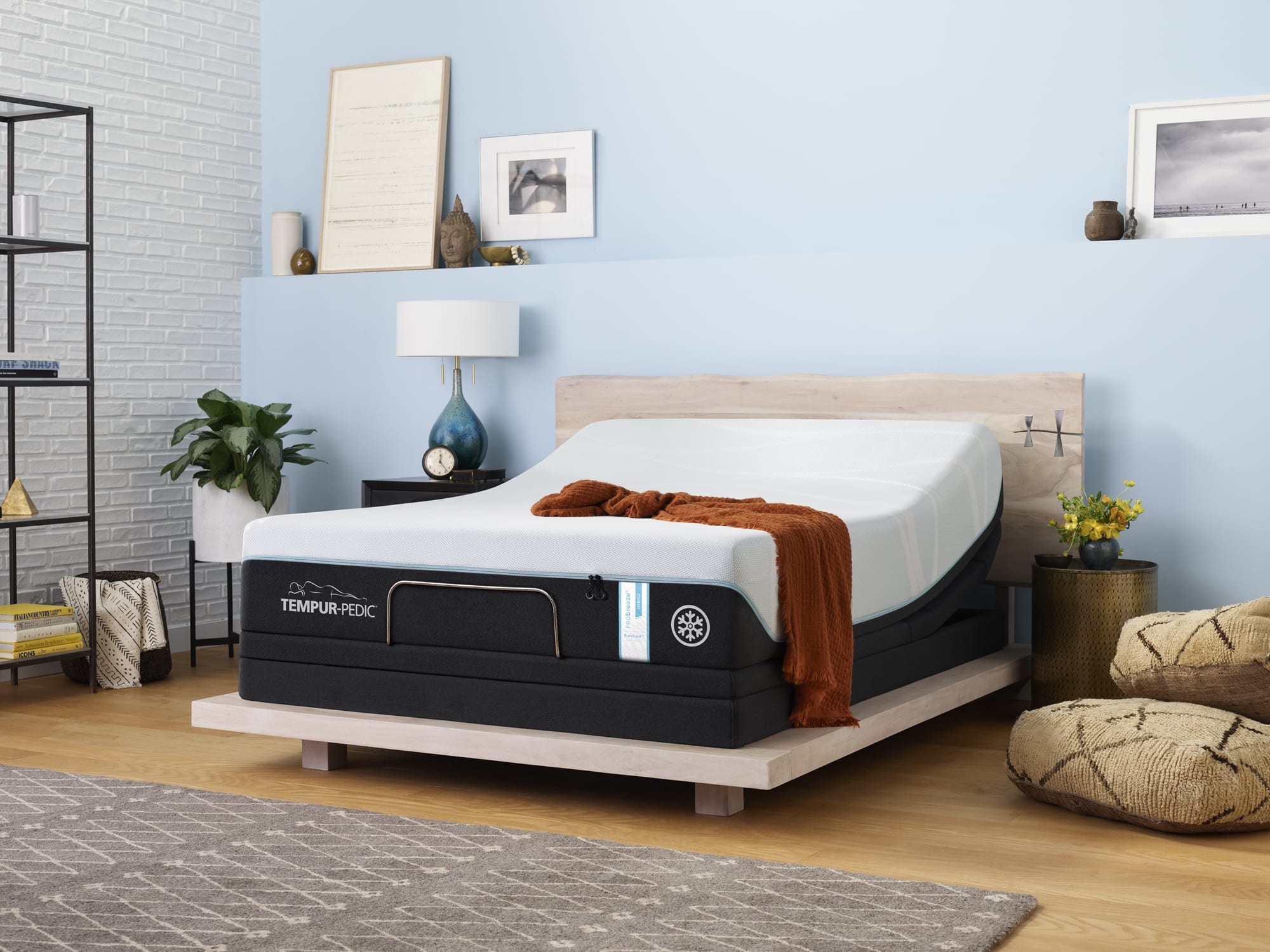 A hybrid mattress mixes traditional coils and memory foam to give you the ultimate experience and comfort. The Tempur-ProBreeze includes some of the same features that the Tempur-LUXEBreeze has, but it's a hybrid mattress with medium firmness. It starts with hybrid technology, built with over 1,000 premium spring coils. The original Tempur material provides comfort and support, with Tempur-CM+ on top to increase airflow. PureCool+ Phase Change material and SmartClimate Dual Cover System then help to keep you cool while you sleep.
The layers of the mattress (from the top) are:
SmartClimate Dual Cover System
PureCool+ Phase Change Material
Tempur-CM+ Material
Original Tempur Material
Hybrid Technology
The technology built in to ensure coolness can improve your sleep by ensuring you don't get too warm. This can help you to avoid tossing and turning too much during the night. As well as keeping you cool, this hybrid mattress is designed for comfort too. The original Tempur material combined with the premium spring coils gives you the best of both worlds. If a full memory foam mattress is a little soft for you, this hybrid mattress adds a little extra firmness for a medium mattress with cooling technology.
King Koil Lily SmartLife Medium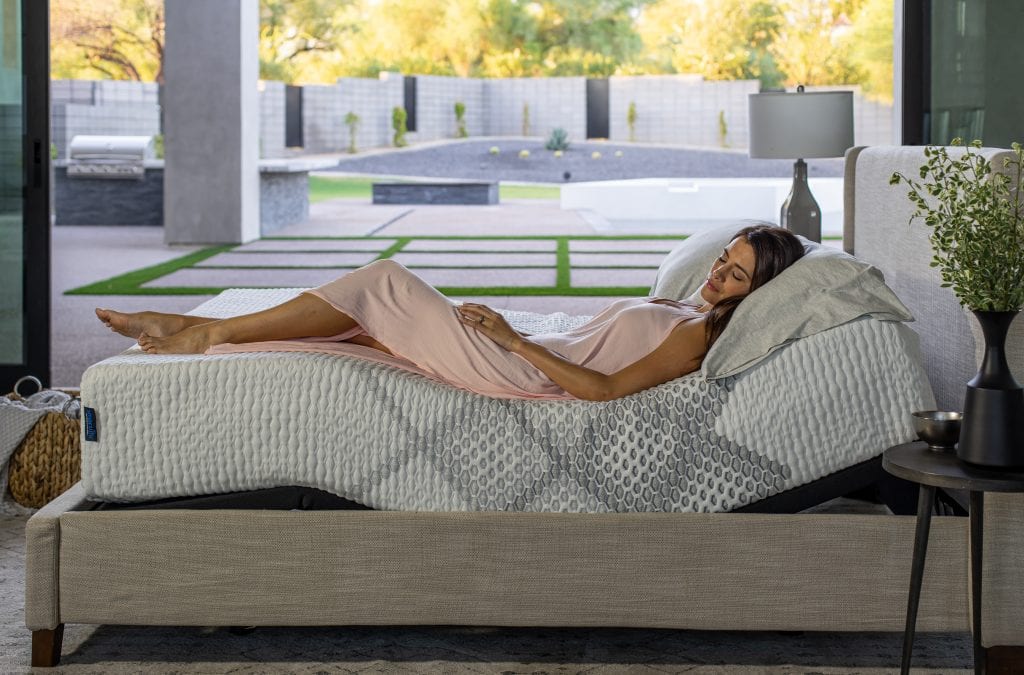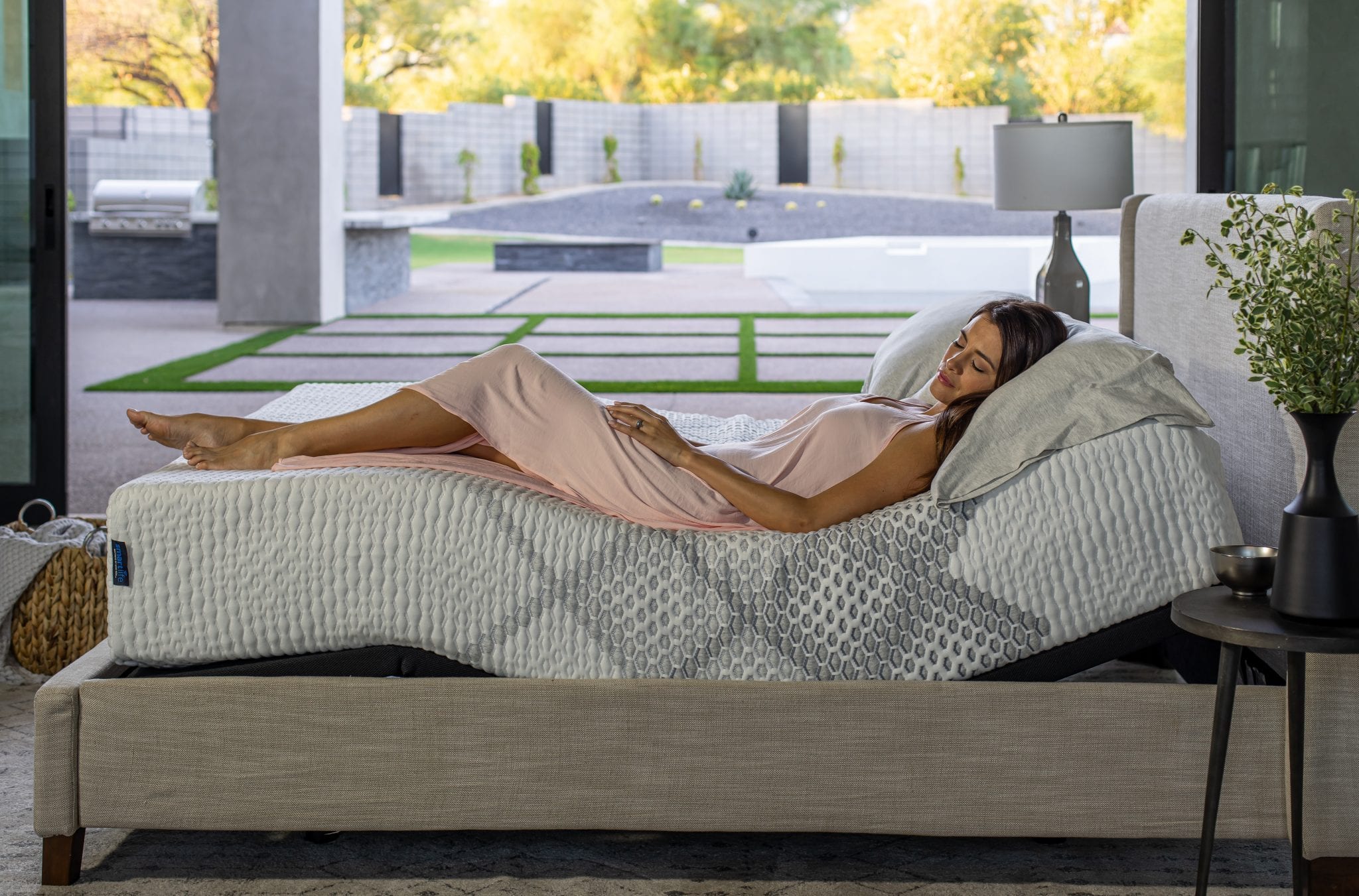 The Lily SmartLife Medium mattress from King Koil uses SmartLife Smart Cell Technology to deliver ultimate comfort. The technology uses over 80 individual Smart Cells and features eight independently controlled zones to create comfort and support.
Using the remote control attached to the mattress or the SmartLife app, you can adjust the mattress into a position that works for you. You can get the support and pressure relief that you need from your mattress by adjusting it to your liking. When it's time to get up, you can use the SmartLife Relaxation Mode to slowly and gently help you out of bed in one smooth motion. You also benefit from independent firmness controls, sleep tracking, a smart alarm that wakes you with gentle motion, and a massaging relaxation option.
This mattress also features 4#RMF responsive memory foam, which is high-density and conforms to the shape of your body. It will distribute your weight evenly to prevent pressure points and tossing and turning. HypurAir gel is infused into the memory foam for temperature control, while ioBED Core Technology with Body Sensing Technology adjusts to your shape, weight, and height.
Serta® iComfort CF3000-Medium Mattress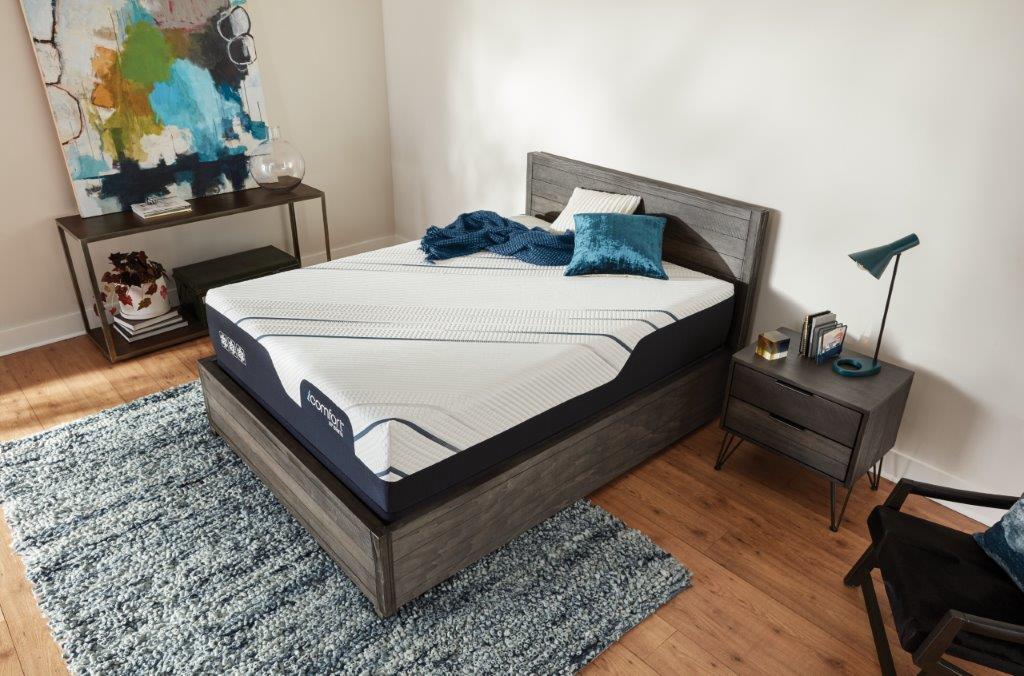 The iComfort mattress 3000 from Serta offers both comfort and cooling. Its layers of foam technology are each designed to make the mattress even more comfortable. Gel Active Max Foam is a unique open-cell memory foam that encourages airflow to keep you cool. Carbon Fiber memory foam also helps to reduce your body temperature during the night, while also providing support as you sleep. Air support foam molds to the shape of your body and reshapes as you move to relieve tension and prevent aches and pains. Finally, the Max Cold Cover has cooling fibers that further regulate your temperature and ensure you don't overheat.
This is a medium-firm mattress, ideal for anyone who needs a little bit more support. Its combined layers will support you as you sleep and make sure you don't get too hot at the same time. Every layer plays a role to create a comfortable experience that's just right. By helping to regulate your body temperature, it will make it easier to have a peaceful night's sleep. The memory foam helps with a number of problems too, including tossing and turning in your sleep, mattress sagging, and having your sleep disrupted by your partner.
Memory Foam Mattresses Are Worth the Investment
High-tech mattresses can beat out traditional mattress design in a number of ways. You can stay cool and get the support that you need with memory foam, cooling technology, and more. Take a closer look at these top mattresses to find the right one for you.