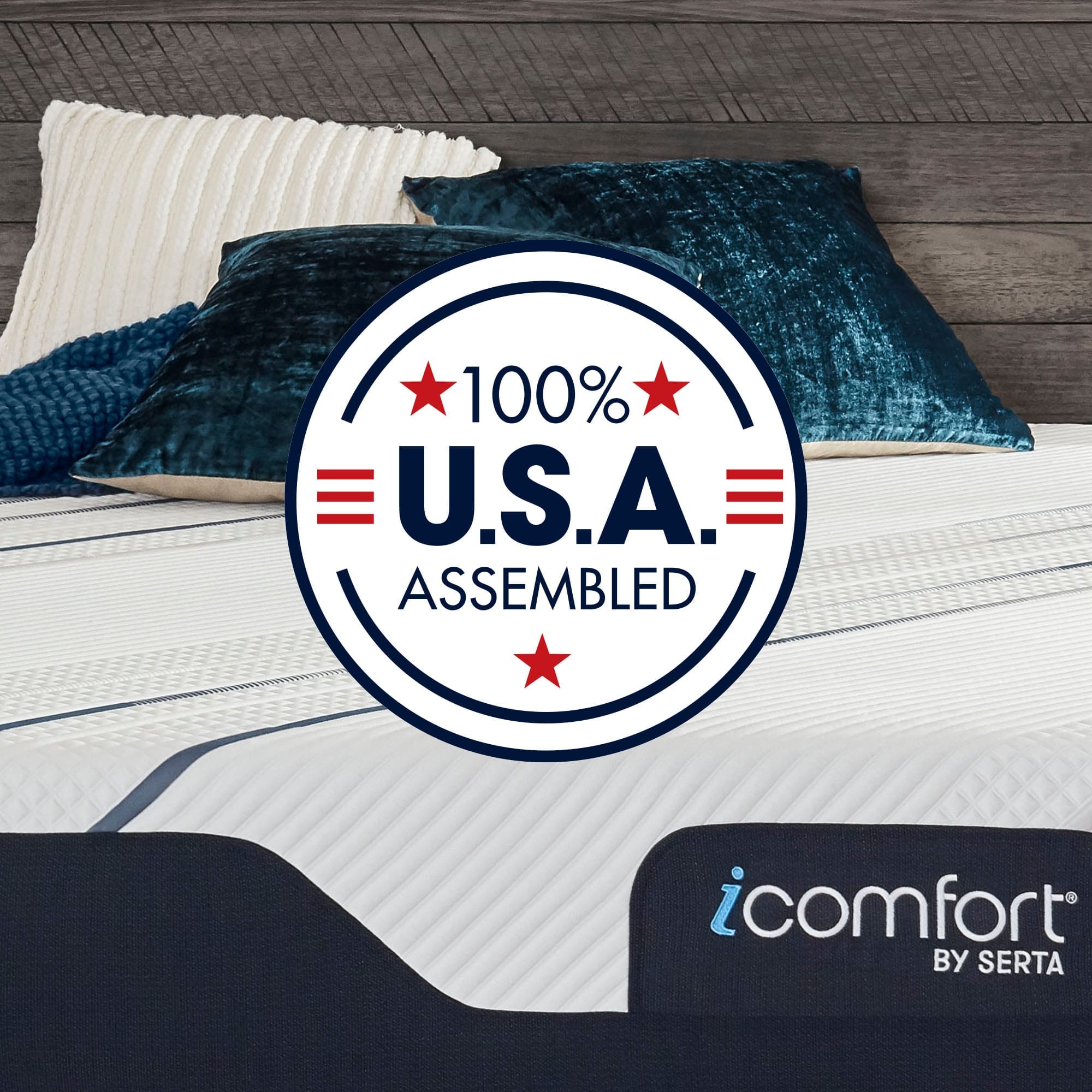 If you're looking to treat yourself to a new mattress, the bed of your dreams is only a trip to one of our Best Mattress stores away. A high-quality mattress that will improve your sleep quality is the least you deserve given that it could impact your daily life for years to come. Come discover the benefits by visiting one of our showrooms in Las Vegas or St. George today.
The Serta® iComfort mattress 3000 features layered cooling foam technology offering you maximum support and temperature regulation for a highly relaxing sleep. Whether you're a hot-sleeper or not, the Serta® iComfort mattress provides a perfectly comfortable and supportive sleep experience. Combining the luxurious plushness of Carbon Memory Foam, and the heat reduction of Gel Foam, the iComfort mattress delivers that Goldilocks 'just right' sleep every single night!
Gel Active Max Foam
This unique open- cell memory foam encourages airflow, so you won't get that frustrating sweaty and hot feeling as you drift off.
Carbon Fiber Memory Foam
iComfort mattresses are designed with Serta® exclusive Carbon Fiber Memory Foam. The tech offers heat reduction and incredible strength to support your body.
Air Support Foam
This specially designed foam molds to the shape of your body, reshaping as you move, and easing muscle aches and tension.
Max Cold Cover
The cool fibers of the max cold cover help to regulate your temperature and prevent you from overheating.
Delivery and Service
Deliver 7 Days a week. Same Day Delivery is available.*
Free in-Home Set-up.
Free Removal of your old Mattress set.
Professionally trained Delivery Experts.
No Contracted delivery service. All of our Delivery Experts are employees of Best Mattress.

(*Not available in St. George and Mesquite Locations. Same Day Delivery is available on a $499 minimum purchase if purchased by 1 pm in the Las Vegas Metro area.)
Our 120 Day Sleep Guarantee
If you have owned your mattress for longer than 30 days and you aren't happy with your set, Best Mattress is glad to exchange your mattress for 120 days from the date of purchase. Please see our full terms & conditions here
Serta® iComfort Mattress Care
Using a mattress protector will help to keep your Serta® iComfort mattress stain free. If you do acquire a stain, it's advisable to apply baking soda and leave this solution to rest for approximately 20 minutes. It is not advisable to apply liquid cleaners; these may lead to a breakdown of the foam or worsen the stain.
Why Choose The Serta® iComfort 3000?
Choosing the right mattress brand is one of the key steps on the journey to the perfect bed! Serta® is certainly one of the top options currently on the market. Serta® is one of the most reputable and well established on the market today. A purchase with Serta® is a choice for excellence and high-quality.
For 80+ years Serta® has been helping millions of people to get a better night's sleep with luxurious products that represent the latest in mattress technology. Serta® has worked hard to focus on solving five fundamental sleep problems. These sleep issues include lack of support, tossing and turning, partner disruption, temperature issues, or mattress sagging. With the Serta® iComfort mattress, you'll get yourself a high-end product that delivers the ultimate peaceful and soothing sleep.
Why Buy From Best Mattress?
Best Mattress stands for much more than merely selling mattresses. We are on a mission to help our community to sleep better and improve their well being in the process. Selecting the right mattress can turn your lifestyle around.
We have trained sleep consultants on hand to answer all your mattress-related questions. In-store, you'll be taken through our comfort test procedure. Our test is specifically designed to help you find the mattress of your dreams! We find you the perfect mattress every time, leaving you happy and satisfied.
We offer you 25+ years of experience, the latest mattresses, top advice from our sleep experts, and same-day delivery. We'll even set up your mattress and remove your old one for free!
Our dedication to our community doesn't start and end with mattresses. We also work with several local charities, including Shade Tree Shelter, Olive Crest, and Toys for Tots. At Best Mattress, we are proud to improve the well being of both our customers and the wider community.