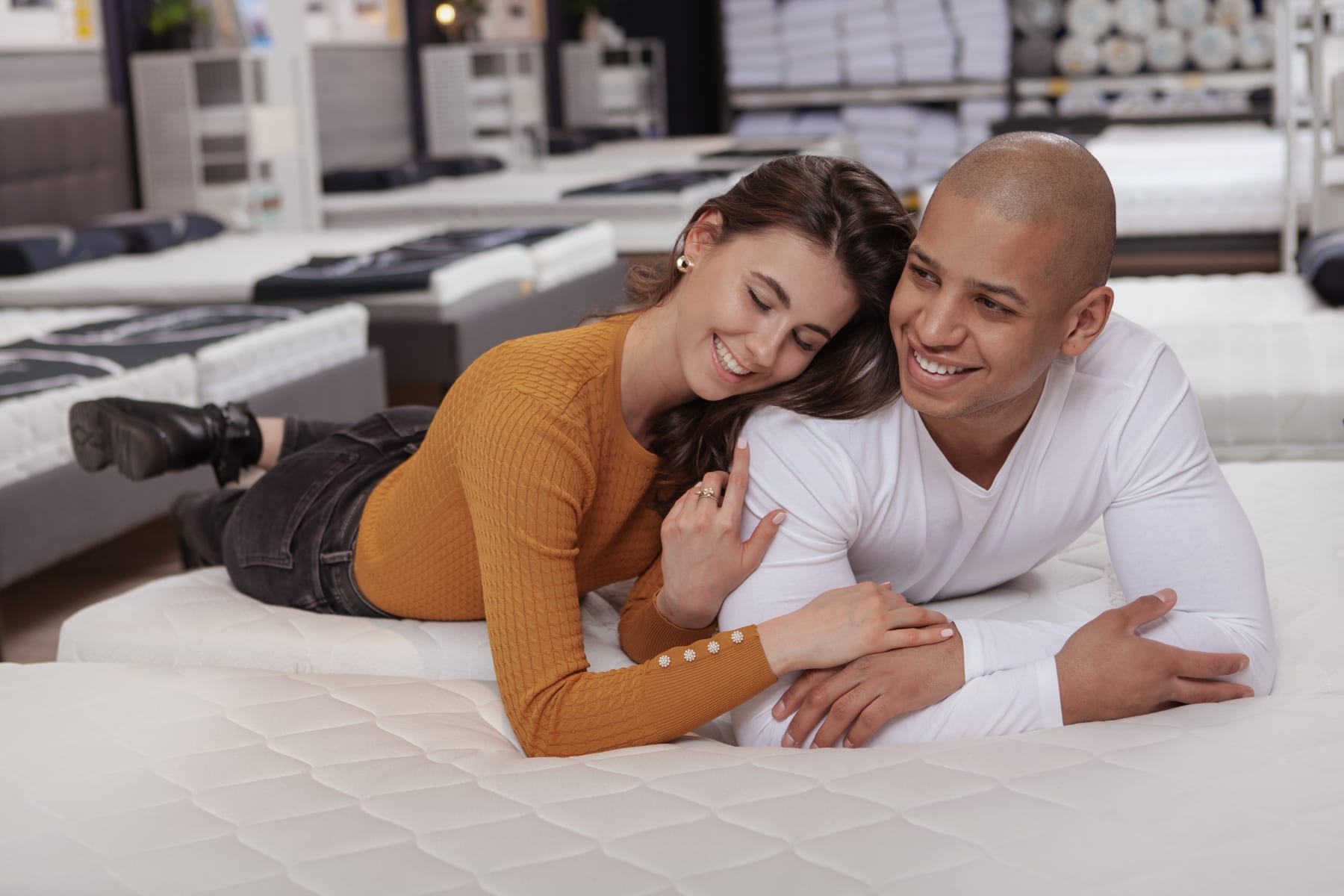 Everyday life is quite hectic for most people. Much of your time during the day and evening will undoubtedly get taken up by work, family, and other commitments. By the time you slow down in the evening, you're ready for bed.
The trouble is, you can't get comfortable, and you often have poor-quality sleep. Aside from any medical reasons why you aren't sleeping, your mattress may be to blame.
Why You Might Need a New Mattress
If you're unsure whether you need a new mattress, it's important to note that mattresses don't last forever. You should typically purchase a new mattress every 7 or 8 years.
According to The Better Sleep Council, seven years is the average time to replace a mattress. This is because the typical mattress's internal components, like springs and foam, wear down. A worn mattress has less support and comfort and sleep quality tends to suffer. Tempur-Pedic mattresses, on the other hand, have a 25-year guarantee.
The inside of a typical mattress comprises dozens of intricately-placed coil springs sandwiched between many layers of foam and other materials. As time goes on, the effectiveness of those springs becomes diminished and the other materials break down.
When you look for a new mattress, you should consider a few factors before making a decision:
Sleep Type – the mattress you choose should support the type of sleeper you are such as a side sleeper, stomach sleeper, or back sleeper
Mattress Type – mattresses are available in various constructions from innerspring to memory foam, and hybrid variations
Pressure Relief – you need a mattress that provides the right pressure relief for your regular sleeping position
Firmness Level – some mattresses are firmer than others and the firmness should coincide with your sleep type
Warranty – aside from manufacturing defects, some brands offer comprehensive warranties
The 5 Top Mattress Brands of 2023
You can use the above information to your advantage when making your mattress purchasing decision. Here to help you narrow down your choices for the best options is this list of the top eight brands for 2023:
1. Tempur-Pedic
Tempur-Pedic is a familiar brand that is now part of the Tempur Sealy International family of mattress brands. Established in 1992 and based in Lexington, KY, the brand's flagship "Adapt" range of mattresses caters to a wide range of users.
The Adapt range of mattresses features three comfort and support layers that help sleepers feel cool on summer nights and are well-supported thanks to Tempur-Pedic's innovative pressure-relieving support material.
And for sleepers that struggle to keep cool at night, the "Breeze" range can help reduce temperatures by up to eight degrees. It does so thanks to its SmartClimate cover, infused with cooling fibers and the PureCool+ Phase Change Material.
| | |
| --- | --- |
| Features | Benefits |
| 3 Comfort and Support Layers | Sleep 8 degrees cooler |
| SmartClimate® Cover | This cool-to-touch cover helps you settle in |
| Phase Change Material | Helps you stay cool and comfortable all night |
2. Beautyrest
Beautyrest is part of the Simmons Bedding Company and is the firm's flagship brand. The name is synonymous with quality and innovation, and it's also an industry leader. For example, they invented the T3 Pocketed Coil system in 1925.
The "Black" range is a popular choice for many sleepers. It features the brand's "BlackICE 4.0" system that ensures sleepers get a rested night's sleep on a hot summer evening. Plus, it features pocketed coils and "BeautyEdge" technology for edge-to-edge stability.

| | |
| --- | --- |
| Features | Benefits |
| T3 Pocketed Coil® Technology | Adaptable support, durability, and reduced motion for undisturbed sleep |
| BlackICE™ 4.0 Technology | Temperature control all night for a cooler more comfortable sleep |
| BeautyEdge® Technology | For edge-to-edge stability and support |
3. Serta
Serta is an Illinois-based mattress brand. They aren't just industry leaders, they're also pioneers. Founded in 1931, Serta is known for its industry firsts. Serta invented the world's first plusher mattress in the 1970s and continuous coil innerspring mattresses a decade later.
Today, Serta is known for some of America's most comfortable and supportive mattress ranges. For instance, the "iComfort" is a breathable mattress designed for keeping the warmest sleepers cool at night.
There are several layers dedicated to keeping you cool and comfortable. Not all models have the same cooling technology, but each model has some cooling features to keep you cool while you sleep. The cooling layers include the Max Cold™ Cover, Gel Active® Max Foam, Cold Touch™ Cover, Max Cold™ Cover, Air Support™ Foam, EverCool™ Fuze Gel Memory Foam, and EverCool® Fuze Gel Foam.
As you can see there is a lot of cooling technology dedicated to the series of Serta iComfort mattresses. The iComfort is most definitely dedicated to sleepers who tend to overheat at night.

| | |
| --- | --- |
| Features | Benefits |
| Max Cold™ Cover | Provides an instant cold-to-touch feel to help you relax |
| Carbon Fiber Memory Foam | Directs heat away from the body and provides support for the back and neck |
| Air Support™ Foam | Conforms to and supports your body to relieve pressure points. |
4. Sealy
Sealy is perhaps the best-known mattress brand both nationally and globally. Established in 1881, Sealy takes its name from the city in Texas where it was founded. Today, the brand is still designing and manufacturing its mattresses in the United States.
The Sealy hybrid line of mattresses is among the best-selling range to date. It offers a good blend of comfort, support, cooling, and allergy protection. Plus, all Sealy hybrids come with the DuraFlex™ Coil Edge System allowing you to experience more of the mattress. New to the Hybrid Premium Collection is the Sealy Immersion™ Advanced Memory Foam with Chill™ and the Response Pro Zoned HD™ Encased Coil System. Both of these features provide more responsive and adaptive support and comfort.
| | |
| --- | --- |
| Features | Benefits |
| Posturepedic Technology™ | 20% more coils for advanced support |
| ChillTech™ UltraStretch Cover w/ DuoChill™ Tech & Allergen Protect™ | Cool-to-touch cover that protects you from allergens |
| Sealy Immersion™ Advanced Memory Foam with Chill™ | More adaptive support and comfort |
5. Personal Comfort
Imagine having a bed where you can control its position and comfort levels using the convenience of a smartphone app? That thought is now a reality thanks to the Personal Comfort Bed manufactured by the producers of the Original Number Bed®.
Personal Comfort is the next level number bed. Their mattresses range from firm to ultra-plush comfort. Best Mattress currently sells the R11 (4-inches of comfort layers), R13 (6-inches of comfort layers), and the R15 (8-inches of comfort layers) models. All models have an antimicrobial surface to help keep the mattress protected from bacteria, viruses, and dust mites. Each Personal Comfort mattress is easier to set up than the Original Number Bed®, has more supportive foam, more flexibility, steel-reinforced coils on air hose to prevent kinks, true dual-chamber technology, and a stronger more flexible polyurethane air chamber. Not to mention, a longer warranty. Each layer is removable and replaceable should any part of the mattress fail.
The remote control or app allows you to easily control the feel of the mattress. The Personal Comfort mattress is truly an inspired upgrade from the Original Number Bed®.
| | |
| --- | --- |
| Features | Benefits |
| Easier to Set Up | Allowing you to enjoy your bed much sooner |
| More Flexibility | Making it more compatible with an adjustable base |
| True Dual-Chamber Technology | Allows each side of the bed to move independently |
| Stronger more Flexible Polyurethane Air Chamber | More flexible than vulcanized rubber, making it even easier to use |
Learn More About the Best Mattress Brands of 2023
So there you have it. These are 8 of the truly exceptional top mattress brands for 2023 that are worth the investment. We only lightly touched on each of these mattress brands, a couple of models, and a few focus features from each. If you have any questions about any of these mattress brands, models, or features, please give us a call or come to one of our stores. We would love to help you find the perfect mattress for your needs. We can even help you find a mattress for your body type and the type of sleeper you are.
Your sleep is important for your health and overall well-being. Why look at anything less than the best mattresses of 2023? All these mattress brands are found at Best Mattress where we only sell the best because we know how important your sleep is.