Did you know that 81% of people prefer to sleep on memory foam? Well, it's true! All foam bedding is amazing, but pillow top mattresses are definitely something to consider if you're a memory foam enthusiast.
A pillow top mattress has an additional layer of foam padding on the top for support and comfort. Most pillow top mattresses have a coil system for support, but you don't feel this at all. The pillow top cover is usually around two inches thick (or more) so that you are perfectly comfortable and able to get the rest that you deserve.
Let's take a look at some of the best pillow top options that you can invest in today!
Stearns and Foster Cassatt Plush Pillow Top
If you're looking for a luxurious yet affordable pillow top mattress, you may want to check out the Stearns and Foster Cassatt mattress. This option is topped in memory foam that cradles your entire body, responds to your weight, and provides support where it's most needed.
In addition to being plush and cozy, this mattress also has an Intellicoil comfort system to offer lumbar support and keep your spine healthy. In conjunction with edge support and pocketed sleeves t heighten airflow, this makes the mattress a perfect choice for sustainable comfort.
On top of the memory foam pillow top lies a Tencel cover, which is a stretchable material made from a eucalyptus plant. Its purpose it so stop moisture caused by sweat or humidity to ensure that you get the perfect night's sleep.
Like all of the mattresses on this list, the Cassatt plush pillow top fits seamlessly into adjustable bedframes. This means that you can sit up in bed and lie down at the perfect angle when it's time for sleep.
Stearns and Foster Hurston Pillow Top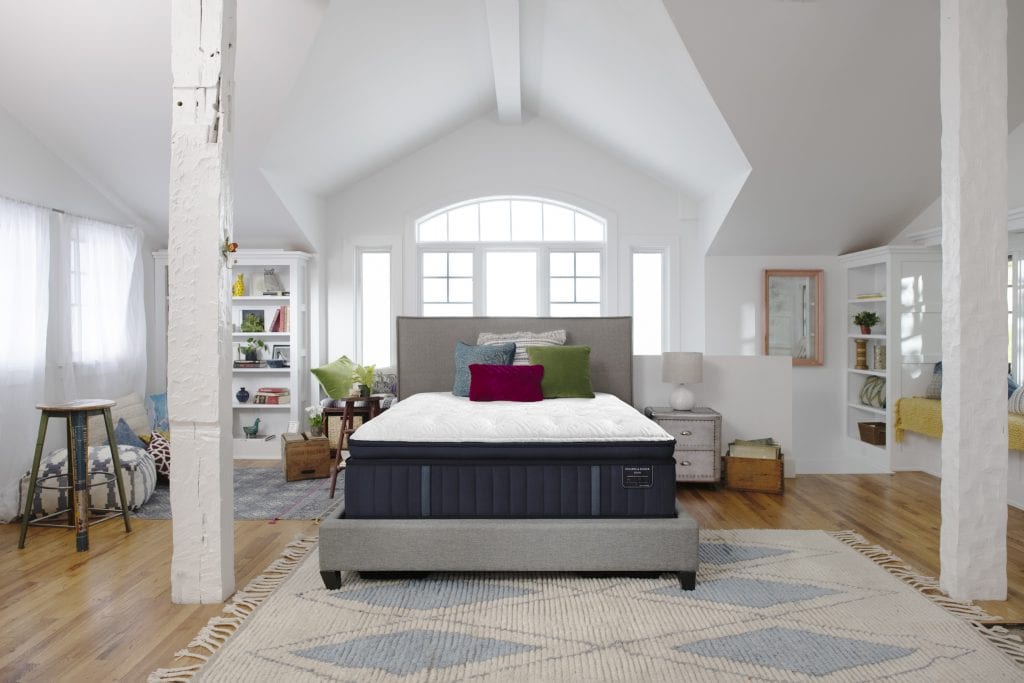 Hurston is yet another great pillow top mattress offered by Stearns and Foster. However, rather than using memory foam for its top layer, it uses a special premium gel foam that supports you and keeps you cool as you sleep.
No matter what position you prefer to sleep in, this is a surefire way to ensure that your entire body remains comfortable all night.
Besides the material used to create this pillow top, the features of Hurston models are almost identical to Cassatt plush mattresses. However, for side and back sleepers, this material can make all the difference. The gel will adjust to your body's position each night rather than memorizing a single position.
Both Stearns and Foster pillow top mattresses come with a 10-year warranty and are fully assembled in the USA. You don't need to worry about defective products or import fees with these models!
Beautyrest Black Pillow Top Mattresses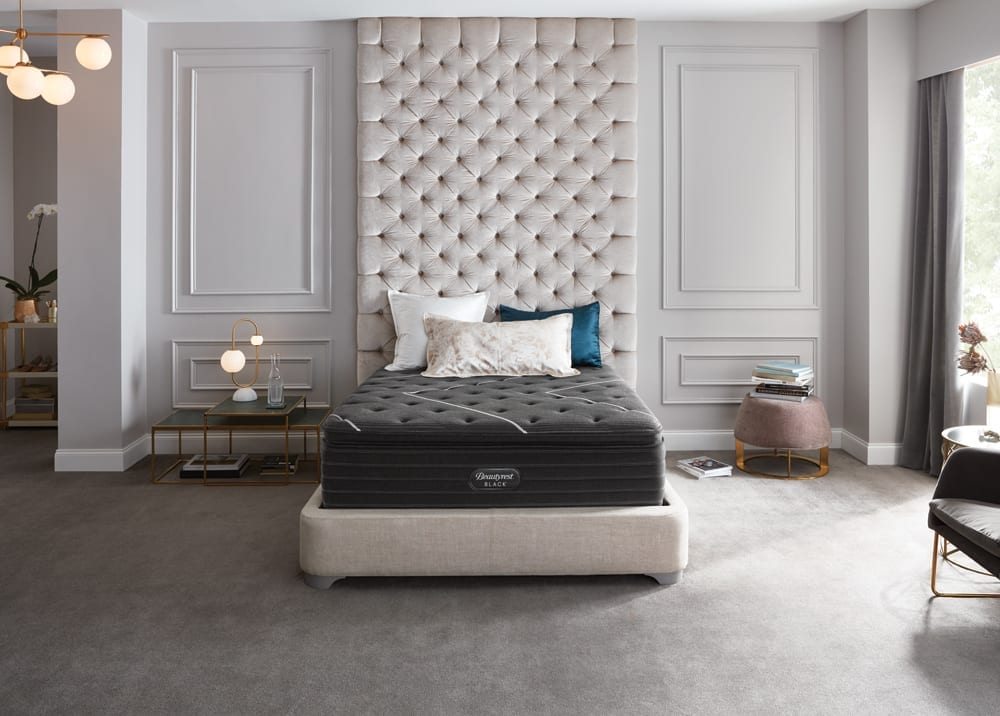 Beautyrest is one of the richest mattress brands in the US. They've been around since 1925 and are best known for inventing pocket-coil mattresses that hold up better than the previously-used hourglass springs.
Today, the Beautyrest still uses this technology beneath its plush pillow layers. This provides both support and comfort throughout every stage of the sleep cycle. However, to reap the benefits that Beautyrest offers, it's important to choose the right pillow tip mattress from their repertoire.
Beautyrest K-Class
The Beautyrest Black K-Class is the latest in a long line of pillow top mattresses. It's by far the softest offering that the company has when it comes to this type of mattress because of the ultra-plush padding over the entire top part of the mattress.
Beautyrest uses curated Technoluxe foams for pressure relief as you catch your z's. This material is perfect for those who have back or hip issues because it ensures that no pressure is put on sensitive body parts during sleep. They also are resilient because of pocketed coils within the bulk of the mattress beneath the plush top.
Because this mattress is so comfortable and durable, it's earned an across-the-board comfort rating of 10. You know you're getting a cozy, long-lasting mattress when you choose this option- it's a proven fact!
Beautyrest C-Class
If you're looking for something similar to the K-Class pillow top mattress but a bit more affordable, a Beautyrest Black C-Class pillow top mattress might be right for you.
This mattress uses the same pocket coil technology as K-Class mattresses do and come with BlackIce technology to boot. The BlackIce cooling system makes sure that even the hottest sleepers can be comfortable and cool as they get a good night's rest. This ensures that you'll wake up refreshed!
Whether you prefer to sleep on a plush surface or a firm one, this supportive bed has you covered with 5" of Plush Comfort Foam, 1" of Medium Comfort Foam, 1" RightTemp Memory Foam, and 1 inch Beautyrest Gel Memory Foam. It truly is the best of all worlds!
Beautyrest L-Class
If you're a more budget-oriented shopper but still want to be a comfortable sleeper, the Beautyrest Black L-Class pillow top mattress is a great choice.
This mattress is cool to the touch, supportive of your entire frame, and has a limited layer of motion so that the mattress doesn't move around even if you toss and turn often.
Our 120 Day Sleep Guarantee
If you have owned your mattress for longer than 30 days and you aren't happy with your set, Best Mattress is glad to exchange your mattress for 120 days from the date of purchase. Please see our full terms & conditions here.
Sleep Better Starting Tonight
While there are many mattress varieties that you can choose from, these pillow top mattresses have it all. From comfort to support to health benefits, you can't go wrong when selecting from these many options.
Now that you know the best mattress options on the market today, it's time to browse and order one today! Contact us with any remaining questions that you may have about these pillow top mattresses and more. Our team is happy to help you find the perfect bed so that you can get the perfect night's sleep.