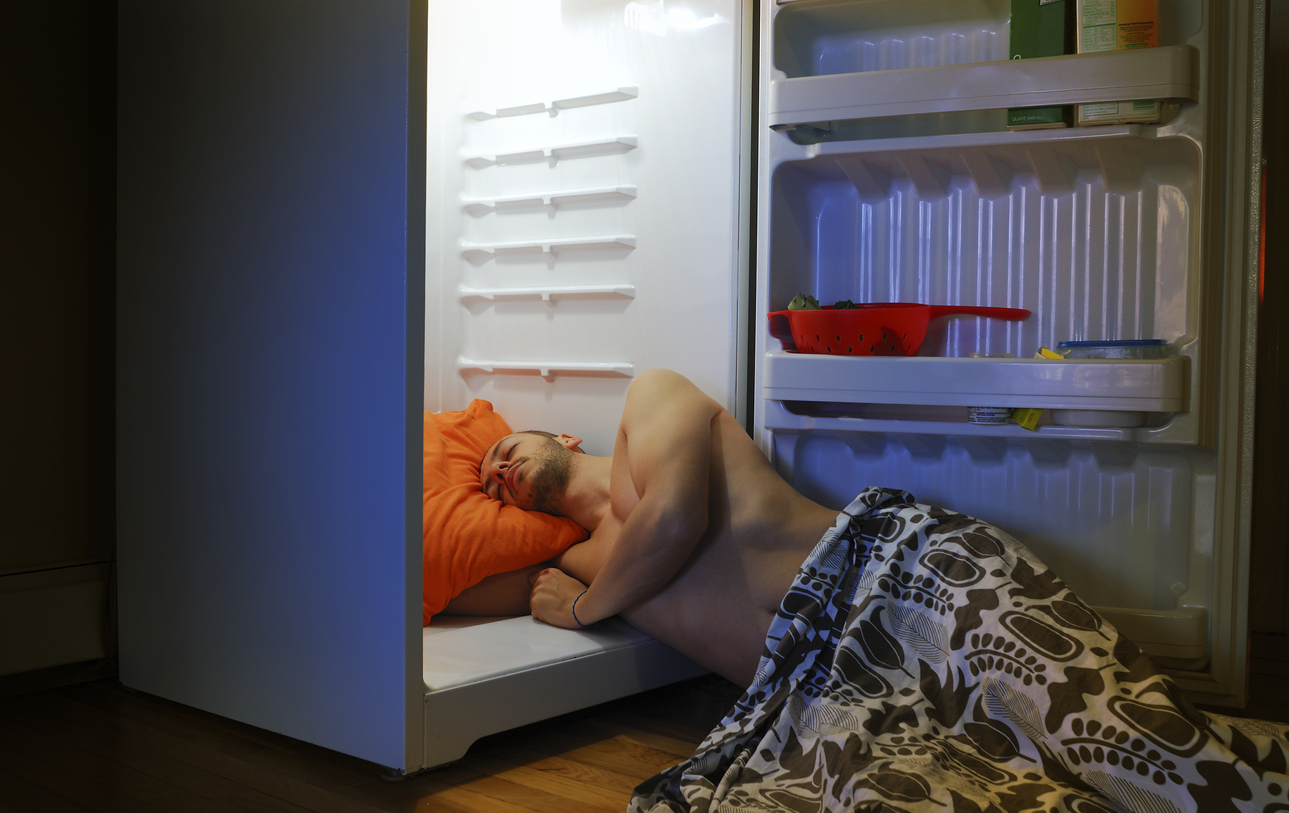 When was the last time you got a full night's sleep and felt rested and energized when you woke up in the morning?
You're reading this and wracking your brain for an answer. You haven't had a good night's sleep for as long as you can remember. You always roll into bed tired as can be, but can't seem to sleep well because you're uncomfortably hot.
Luckily, there's a solution out there called the TEMPUR-breeze° mattress. It's designed to keep you cool from the moment you lie down at night until you get up in the morning to start your day.
You've tried already everything you can think of to get that much-needed rest. You bought cooling blankets and keep a fan directed straight towards your bed. No matter what you try, you're still unbearably hot all night long.
It's time to try something new. Here's why the TEMPUR-breeze° mattress line is the ultimate mattress for hot sleepers who can't catch a break!
Three Stages of Cooling
Tempur-Pedic mattresses are already designed for advanced comfort. Sleep Experts crafted the memory foam material from fibers used by NASA. This material is so comfortable because its purpose is to absorb the huge G forces of spaceships lifting off into outer space.
The TEMPUR-breeze° mattress line provides for the same levels of comfort, but also to help you stay cool the whole night long. It helps you stay cool for so long by providing three stages of cooling.
When you lie down on the surface of your TEMPUR-breeze° mattress for hot sleepers, the mattress already feels cool to the touch. It helps your body temperature stay lower from the start.
As you drift off into peaceful slumber, the cooling mattress absorbs your body heat. This helps you maintain a low body temperature as your sleep begins.
Once you're fast asleep, you can stay that way. You won't wake up in the middle of the night feeling overheated and sweaty. That's because heat doesn't stay trapped under your blankets. It's able to flow through the cooling materials of your TEMPUR-breeze°.
The TEMPUR-breeze° cooling mattress keeps hot sleepers happy all night long. This customer satisfaction is due to the ingenious complete three-stage cooling design.
Expertly Designed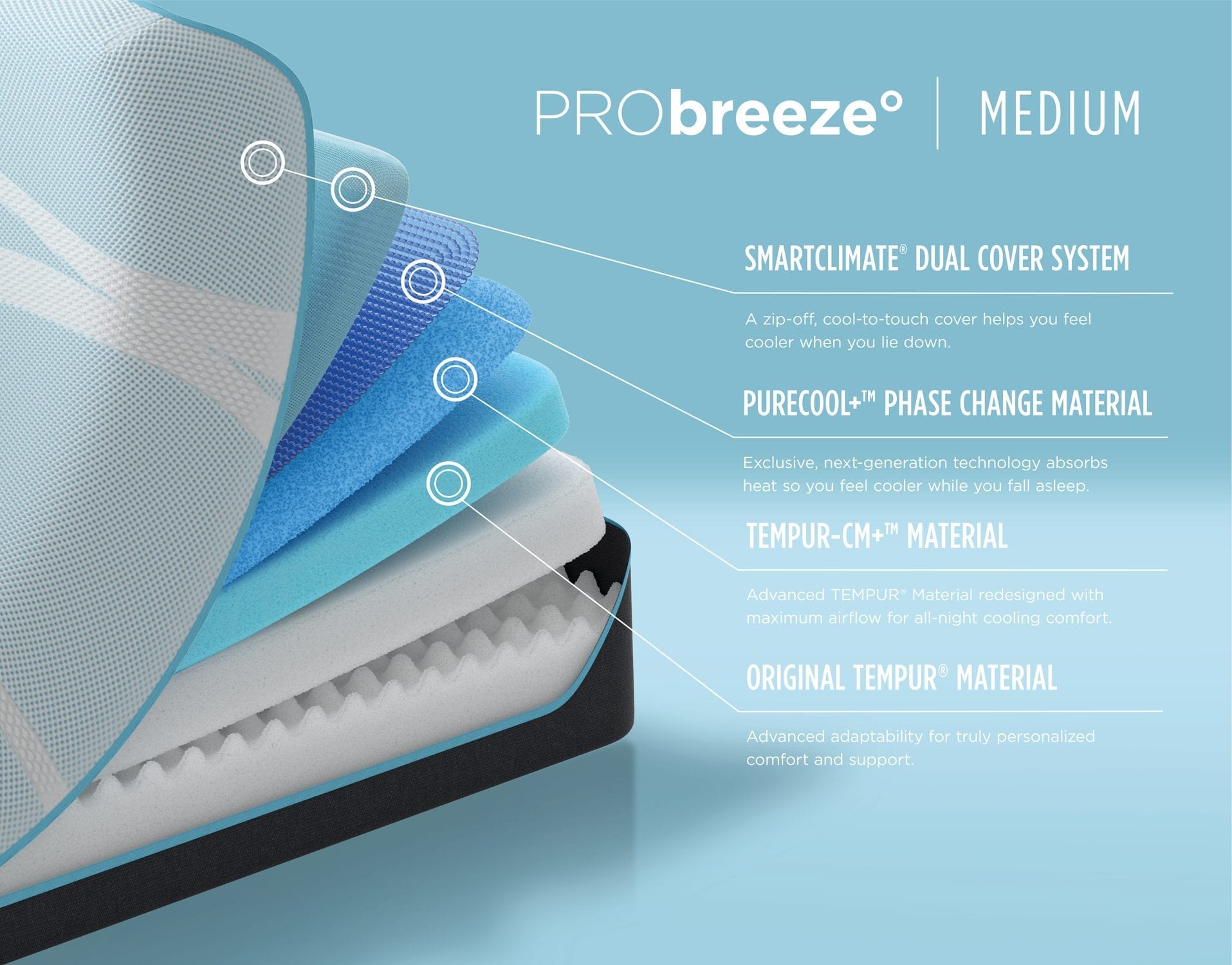 The expert team of designers at Tempur-Pedic created the TEMPUR-breeze° mattresses with materials that enhance cooling and breathability.
If you were to cut your mattress open and examine its interior, you'd notice that there are many different materials layered on top of one another. Each of these materials has a specific cooling function that helps prevent you from overheating at any point during the night.
The exterior of the mattress comes with a SmartClimate Dual Cover System. This machine-washable, zip-off exterior mattress cover doesn't just protect your bed from wear and stains. It also comes with an interior cover that's fantastic at keeping the mattress cool to the touch so when you flop into bed, you instantly feel refreshed.
Below the Dual Cover System is a thin layer of Phase-Change Material. Experts created it with PureCool+ Technology to absorb extra body heat and add more airflow to its design.
To avoid too much trapped heat from gathering under your blankets, the TEMPUR-breeze° mattresses' third interior layer encourages increased breathability. It's called the TEMPUR-CM+ Material, and it's great at removing the heat and humidity that stifles you through the night when you're trying to sleep.
If you opt for the LUXEbreeze° TEMPUR-breeze° mattress, you'll get a fourth cooling layer.
It's the Ventilated TEMPUR-APR Material. This is the support layer or the base of your mattress. Not only does it relieve additional pressure and improve back support, but it also provides the ultimate breathability.
Two Breathable Mattress Choices
When you order your TEMPUR-breeze° mattress, there are two different options to consider.
The PRObreeze° is a high-quality cooling mattress designed by the sleep engineers at Tempur-Pedic. It features 3 of the 4 breathable materials available in the TEMPUR-breeze° mattress line. The PRObreeze° will help you feel up to 3° cooler than other Tempur-Pedic mattresses.
It's a perfect choice for you if find it hard to fall asleep on hot summer nights, or prefer a Medium or Medium Hybrid feel to your mattress. However, if you face constant overheating struggles on a nightly basis, you may want to go for the LUXEbreeze° model.
The LUXEbreeze° is Tempur-Pedic's premium cooling mattress. You get every cooling layer included in the PRObreeze°'s design. Plus, the ventilated support layer is TEMPUR-APR Material. On the other hand, the PRObreeze° has a support layer made from original TEMPUR mattress material.
The LUXEbreeze° brings your temperature down about 8° more than your typical mattress does. That makes it the perfect fit for those of you who feel stifled by heat each night. It comes in either a Soft or a Firm feel so you can choose what's most comfortable for you.
Incredible Reviews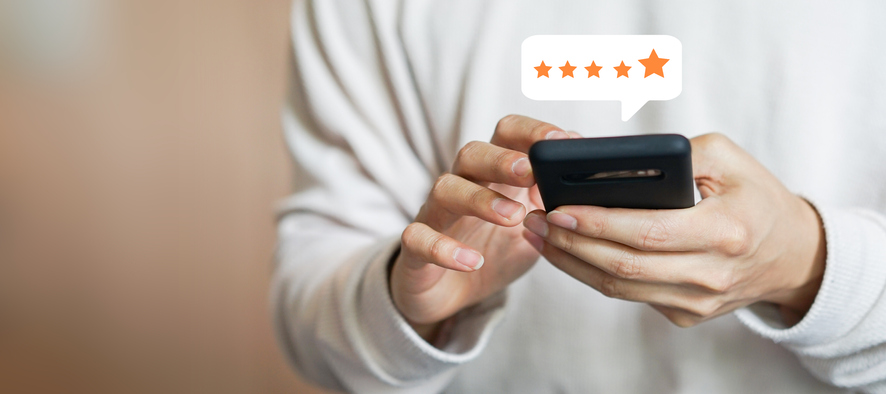 You can rarely find a negative TEMPUR-breeze° review online. That's because these mattresses work as promised and save people from years of poor sleep.
If you look at a review of the TEMPUR-breeze° mattress line, it will tell you why. One woman lives in Miami and couldn't stop sweating every night until she discovered TEMPUR-breeze°. Now, she's able to wake up feeling fresh.
Others kept waking up dehydrated throughout the night. They didn't realize they were overheating until they invested in a brand new TEMPUR-breeze°. Once they set up their new mattress and gave it a try, it didn't take long for them to notice a huge improvement.
Customers can't get enough of TEMPUR-breeze° mattresses!
Awards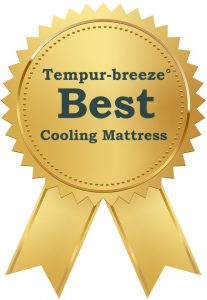 TEMPUR-breeze° mattresses won numerous awards for their cooling powers and incredible comfort. In fact, the TEMPUR-breeze° line achieved more awards than any other line of Tempur-Pedic mattresses.
Health Magazine awarded TEMPUR-breeze° mattresses with the 2020 Sleep Award, where they beat out many other competitors. They won the award because the excellent, innovative cooling technology is a game-changer in mattress design.
Good Housekeeping dubbed the TEMPUR-breeze° as the Best Overall Cooling Mattress. They recognized that out of every cooling mattress on the market, the TEMPUR-breeze° line offers the most benefits. Not only is the cooling technology the best in the business. These mattresses are also incredibly comfortable and supportive.
Out of all the awards TEMPUR-breeze° mattresses received, this last one is the most impressive.
The Space Foundation indicted them into their Space Technology Hall of Fame. That's because these mattresses for hot sleepers are so effective and life-changing. All that innovation comes from technology designed for astronauts to use in space.
Warranty and Return Policies
It can be daunting to bring home a new mattress. It's a big investment to buy a high-quality mattress, and there's always a chance you won't like it.
Maybe the mattress is firmer than you expected, and you like a softer sleeping experience. Perhaps you invest in the PRObreeze° and realize you want to upgrade to the LUXEbreeze° because you're still feeling a little sweaty.
In the case that you're not satisfied with your initial TEMPUR-breeze°, you don't have to worry. At Best Mattress, we offer a 120 Day Sleep Guarantee. That means that after 30 days with your mattress, you can replace it with a new one. Make sure you act within 120 days to take advantage of this deal.
If your mattress faces unexpected wear and tear, the warranty may take care of it. Tempur-Pedic offers a 10-year warranty program on all of their mattresses. If you discover a defect or problem that falls under their warranty, a trained mattress repair expert will get to work to make it perfect.
If your TEMPUR-breeze° is irreparable, don't worry! You can replace it for free within 10 years of your purchase. That is if it fits within the terms of the warranty.
You Deserve a TEMPUR-breeze° Mattress!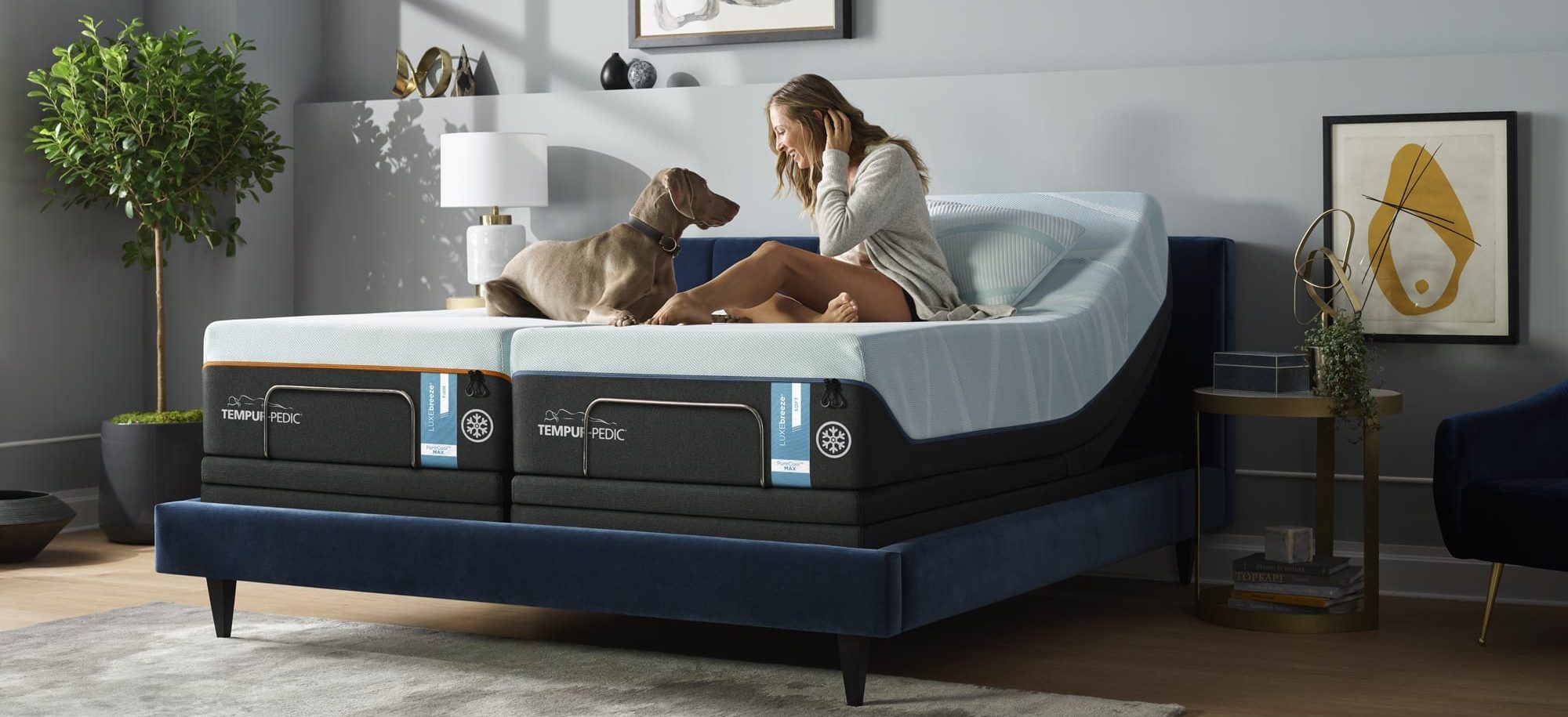 It's time for your first fabulous night of sleep in ten years. You're ready to ditch your heat-absorbing mattress for one specifically designed to keep you cool and comfortable.
You don't have to hold yourself back any longer. Getting the right amount of sleep is key to living a healthy life. Why wait another day to experience rejuvenation, increased energy levels, and less stress in your daily life?
Invest in a cooling TEMPUR-breeze° mattress. It's designed to keep you cool all night long and give you the night's sleep you deserve.
You can find all of the mattresses in the TEMPUR-breeze° line if you visit Best Mattress in-store or online today!