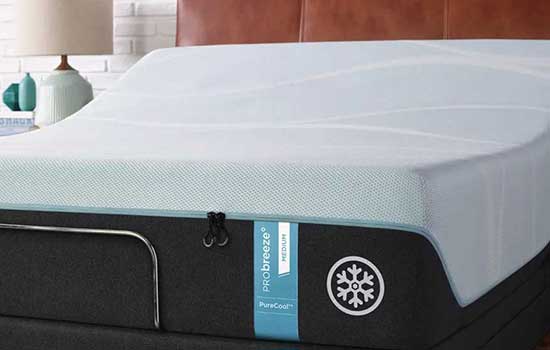 Do you ever find yourself tossing and turning because you're too hot, and you can't get comfortable? Research suggests that lowering the temperature of your sleeping environment can improve sleep quality and duration, but you don't have to invest in AC or sleep with the windows wide open to achieve this goal. With Tempur-Pedic's amazing Tempur-Breeze mattress, you can enjoy a better night's sleep simply by swapping your mattress.
Introducing The Tempur-Breeze Mattress From Best Mattress
Many of us struggle to get to sleep because we are too hot. This is because of our mattresses that traps in heat. If it's hot and sticky outside, it can be difficult to stay cool. Tempur-Pedic's new Tempur-Breeze mattresses provide a solution that doesn't involve adjusting the external environment. Developed in thermal laboratories, these mattresses regulate the microclimate, ensuring you stay cool and comfortable throughout the night, no matter how hot it is outside. The breeze system controls the temperature from the moment you climb to your alarm going off in the morning. This involves:
SmartClimate Dual system: Provides instant coolness when you lie down on your bed.
PureCool+ Phase Change material:  The Breeze mattress features PureCool+ Phase Change material, which causes a drop in temperature during the first 20 minutes.
Tempur CM+ Layer: The distinctive layers of the Tempur-Pedic Breeze mattress are designed to ensure you snooze soundly all night long. The breathable Tempur CM+ layer releases the humidity and heat that is often trapped by other mattresses.
Tempur-Breeze Mattress Options
Tempur-Pedic has come up with two Tempur-Breeze mattress options, ProBreeze and LUXEbreeze. The Tempur-ProBreeze mattress features the original Tempur material. The Tempur-LUXEBreeze mattress has a ventilated Tempur layer. With the ProBreeze, you can expect 3° cooler temperatures, and with the LUXEbreeze you can enjoy up to 8° cooler temperatures. There's also a range of options in terms of firmness. The ProBreeze mattress is available in medium and medium-hybrid, and the LUXEBreeze comes in soft and firm.
Choosing The Right Tempur-Breeze Mattress For You
If you're looking for advice about buying a Tempur-Pedic mattress in Las Vegas, we can help. At Best Sleep, your experience at a mattress store is different than what you'll find at other mattress stores. We have a team of trained sleep experts with no pressure to buy and can recommend mattresses based on your individual sleep preferences, needs, and budget. In Las Vegas, where high temperatures are quite prevalent, a Tempur-Breeze mattress is a fabulous choice, and we can discuss the different options with you in detail. Find your nearest store and start getting the best sleep of your life!
If you get hot and bothered, and you crave a restful night's sleep, consider a Tempur-Breeze mattress today?