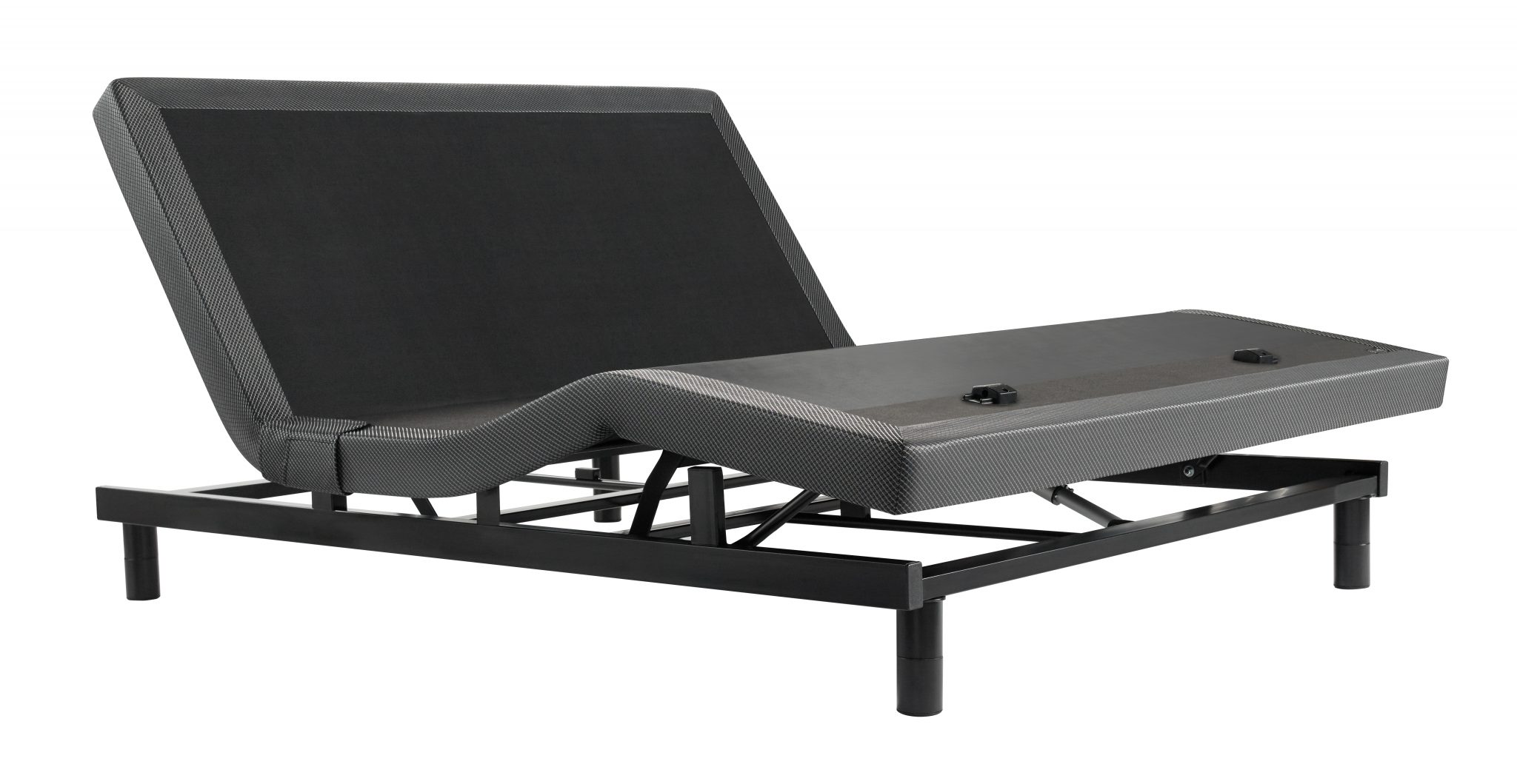 We don't all have the same body or the same schedule. So why settle for the same bed? The SmartMotion adjustable base allows you to lay down each night in a bed as unique as you are. SmartMotion offers three different models, which let you set specifications to give you your best sleep ever.
SmartMotion 1.0
SmartMotion's most basic bedframe features basic adjustability for head and feet, which allows you to position yourself at the most comfortable angles from head to toe. SmartMotion 1.0 also syncs with the Sleeptracker® app, which uses data collected by sensors in your bed itself to give you feedback about the quality of your sleep, including how much time you spend awake, in light sleep, in REM sleep, or anything else you want to know about your sleep patterns. It also comes with the Zero G® preset position for raising the legs above the heart, which can help with conditions like edema. This model includes a wireless remote, too, and has a weight limit of 650 pounds.
SmartMotion 2.0
SmartMotion 2.0 comes with all the features of the 1.0, including the Sleeptracker app, but it offers one salient feature for those who might live with chronic pain (and the rest of us, too): the six-level massage system. Just set your preferred level and set the timer for 10, 20, or 30 minutes and let your bed work its magic. This model also features a SnoreRelief setting, which repositions you (or your log-sawing partner) to minimize snoring. SmartMotion 2.0 has a weight limit of 850 pounds.
SmartMotion 3.0
For the ultimate in adjustable bed technology, check out the SmartMotion 3.0. On top of all the features included in the 1.0 and 2.0, SmartMotion 3.0 also includes four handy USB ports on the base of the bed, which allows you to conveniently charge phones or tablets and to reach them without leaving the bed. This model includes four total preset memory positions, including the Zero G and SnoreRelief settings, and has a weight limit of 850 pounds.
Each of these models comes in multiple sizes: twin XL, queen, and king. SmartMotion beds are designed so that by connecting two twin XL bases, you can create a king-size bed with halves that can be adjusted individually or together. Now you and your partner can each set up your bed the way you like it.  
Whether you suffer from swollen legs, acid reflux, or snoring, or you just want to be able to comfortably sit and watch TV in bed, there's a SmartMotion bedframe for you. For the best options in adjustable beds in Las Vegas, visit Best Mattress today.