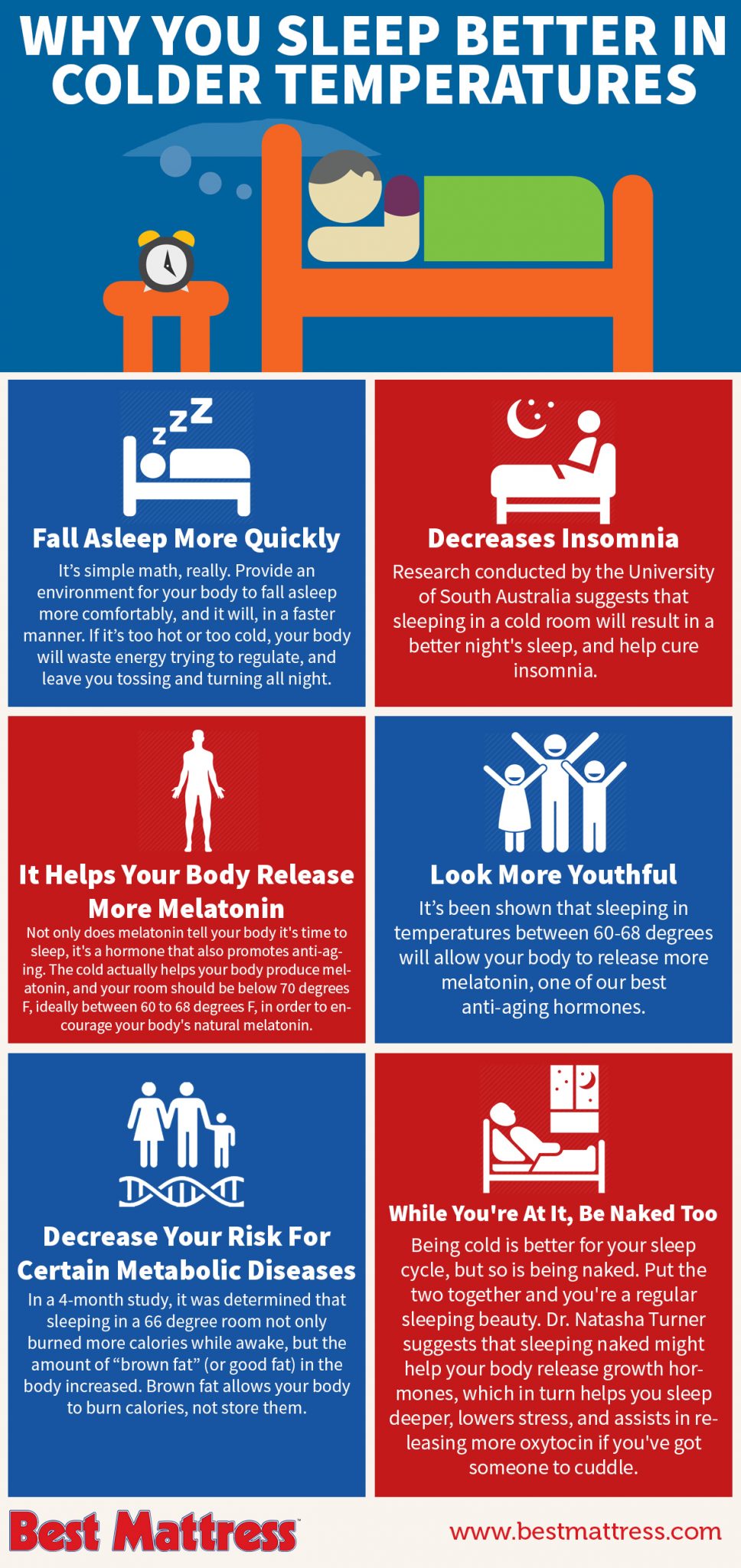 Do you struggle to sleep through the night? If you have dealt with restless nights, it may be time to consider sleeping in colder temperatures. How can colder temperatures improve your ability to sleep? Recent research studies show how sleep and temperature correlate with each other, and why you sleep better when you are cooler. The study has concluded that you should keep room temperatures between 60 to 67 degrees Fahrenheit for ideal sleep. If the temperature fluctuates too high or low from this point can leave you overheated or too cold.
Being too hot or too cold will cause your sleep to be disrupted. Fortunately new technology has been introduced with the new iComfort Hybrid. The new mattress has a cooling layer of foam, designed to help you sleep well by regulating body heat. Here are some other benefits you can expect from the iComfort Hybrid in Las Vegas:
Fall asleep faster

Healthier, happier mood thanks to anti-aging hormones released during proper rest

Decrease in risk of metabolic diseases

Reduce insomnia risk
The body temperatures fluctuate throughout the day and when we are going to sleep, the body will begin cooling off as it starts to fall to sleep. Some people can find the new bed to assist in helping them fall asleep faster and easier. Staying in a cooler state during rest will provide a deeper, longer rest that rejuvenates the body.
Our bodies need time to rejuvenate themselves. When you are in deep sleep, your body will regulate itself. The self-regulation can go into improving your mood and even your looks thanks to an increase of melatonin released by the body. If you want to finally have rest that you know will have a direct impact on your health, come try out the iComfort Hybrid Mattress in our St. George stores.
Not only can the iComfort give you a proper night's rest, it can help to improve the health of your entire body. Some people find that the risk for metabolic diseases can lower when they received proper rest each night. Many people dealing with insomnia see a decrease in their symptoms by sleeping on a mattress that helps to cool the body throughout sleeping.
If you are ready to fall asleep faster, stay asleep longer, and wake up rejuvenated, feeling youthful, and well rested, it's time to come to Best Mattress and try the mattresses we have in stock at all of our locations