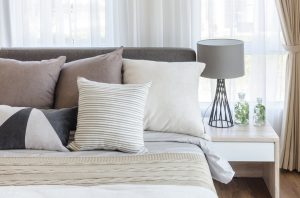 After investing in an adjustable bed in Las Vegas, you're probably excited to start enjoying a mattress that moves as much as you do. However, before you can start relaxing in your new bed, you need to think about how to arrange your bedroom to accommodate your new adjustable frame. Here are just a few things to think about, so that you can enjoy your sleep and your relaxation time.
Space Requirements
Every adjustable mattress frame has different space requirements, with some models being bigger and bulkier than others. Although some older adjustable mattress frames tended to look bulky and institutional, newer models are designed to be sleek and discreet. For example, some adjustable mattress bedframes are designed with zero-clearance hardware, making it easy to maximize your square footage.
Before you invest in an adjustable mattress frame, measure your bedroom and think about how much space that bedframe might take. If you are short on space, talk with your mattress salesperson about models that offer zero-clearance designs that are made to be pushed against a wall.
Controls Accessibility
While shopping for an adjustable mattress bedframe, think about things like control accessibility and remote storage containers. Some versions have remote and controls storage on both sides of the bed, while others only have it on a single side. Make sure that you would be able to access controls easily.
Furniture Arrangement
When you arrange your room with your new adjustable bedframe, think about other activities that you might enjoy during your free time. For example, if you like to read in bed or watch television, consider putting your bed in close proximity to your TV or your bookshelf.
Adjustment Period
After your new mattress is installed in the perfect place, you'll be able to start using your adjustable bed. Keep in mind that every new mattress comes along with an adjustment period, and that it may take some time to get used to the way that your bed looks and feels. If your mattress frame allows you to create presets based on your preferences, try to monitor how those positions feel and tweak them accordingly. By making subtle adjustments along the way, you can improve your comfort and enjoy your investment.
For more information about adjustable bases in Las Vegas, find a Best Mattress location near you!