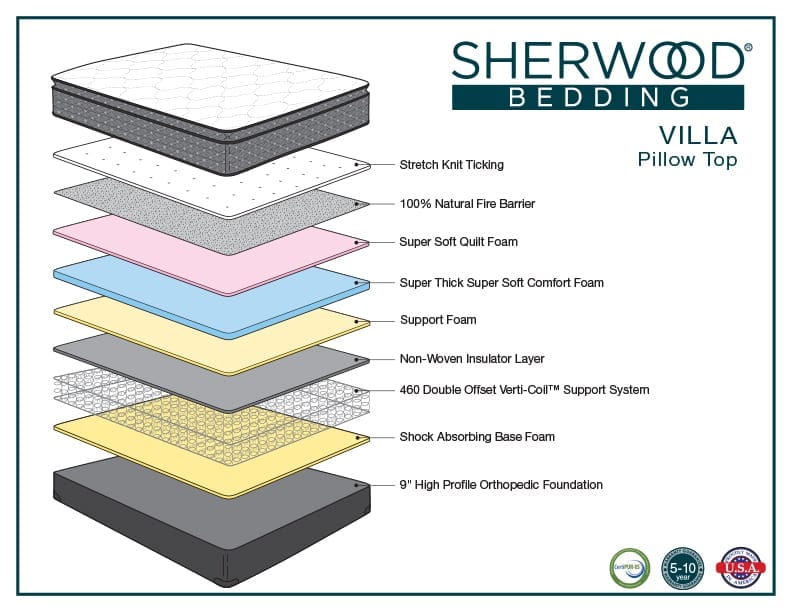 Give yourself the gift of a perfect night's sleep with the Sherwood Bedding Villa Pillow Top mattress. Featuring 460 double offset Verti-Coil support system that provides full-surface support, premium materials that are both enticingly comfortable and remarkably durable, and a range of foundation options that let you pick your ideal elevation, the Villa Pillow Top mattress is your ticket to more restful nights and more energetic days.
Plush Gel Memory Foam Pillow Top
The Sherwood Bedding Villa Pillow Top mattress features an invitingly plush top layer of high-density, gel-infused memory foam that regulates the bedding's surface temperature for more comfortable sleep. It also provides exceptional pressure point relief, conforming to your body to hit the perfect balance between firmness and give.
Gel memory foam is particularly good for people who suffer from allergies, as the material is hypoallergenic and resists dust mites that can aggravate sensitive sinuses. It resists motion transfer as well, which is excellent for couples with different sleeping patterns. You can get out of or into bed without disturbing your partner, and sleep peacefully through the night without being roused by their tossing and turning.
Multi-Layer Support System
Right below the gel memory foam on the top, you get seven layers of carefully engineered material between the sleeping surface and your foundation. Support foam, shock-absorbing base foam, an insulator layer, and more all work together for exceptional comfort. A durable double-offset coil system provides even more body-contouring support.
In addition to their multiple layers of comfort, Sherwood mattresses incorporate all-natural flame-retardant materials. This environmentally friendly construction keeps toxic chemicals out of your sleeping area while providing extra protection and peace of mind.
Foundation and Size Options
Sherwood's Villa Pillow Top mattress is available in all standard sizes, including twin, twin XL, full, queen, standard king, and California king.
You can also choose from three foundation options, all of which come in sizes that match the above mattress options. Pick a 9-inch foundation if you like to be elevated while sleeping, or go for the 5-inch high foundation if you prefer to sleep a little closer to the floor.
Adjustable Base Compatible
If you want a particularly high-end experience, you can opt for the BT3000 adjustable foundation. This high-tech foundation comes with a remote control that lets you choose one of three preset positions or two programmable positions to elevate your head or your legs, then return the mattress to its regular flat state at the press of a button. The BT3000 also includes a massage mode with three levels of intensity to pamper your head or your feet and features two built-in USB ports for charging your electronics overnight.
Height Adjustable
The mattress base adjustable legs let you pick an elevation of 8 inches to 12 inches and its under-bed LED lighting is perfect for giving you just the right amount of illumination for using the area as shoe storage or helping you find your way back from a late-night snack run. A built-in emergency power supply ensures the BT3000 can still function in the event of a power outage. Treat yourself to extreme comfort with the Sherwood Bedding Villa Pillow Top mattress and the BT3000 foundation.