Tempur-Pedic is one of the most well-known mattress brands in the world. Their TEMPUR® foam was originally developed by NASA to support astronauts as they shot up into space. The cellular structure of TEMPUR® material adapts immediately to your body shape, pressure, and heat to conform perfectly for ultimate comfort and support.
Mattress Information
Mattress feel: Soft
Height: 12 inches
Adjustable Base Compatible: Yes
Assembled in the USA
Mattress Sizes
Twin XL – 38″ x 80″
Full – 53″ x 74″
Queen – 60″ x 80″
King (Eastern King) – 76″ x 80″
Split King – 38″ x 80″ (each piece)
CA King – 72″ x 84″
Split CA King – 36″ x 84″ (each piece)
SmartClimate® Dual Cover System
Next-generation technology cover with antimicrobial treatment, enhanced zip-off, cool-to-touch outer layer, and machine washable.
TEMPUR-ES® Comfort Layer
Softer feel that works in combination that works in combination with other materials to support and relax.
TEMPUR-APR™ Support Layer
Our most pressure-relieving material ever — made for deeper, more rejuvenating sleep.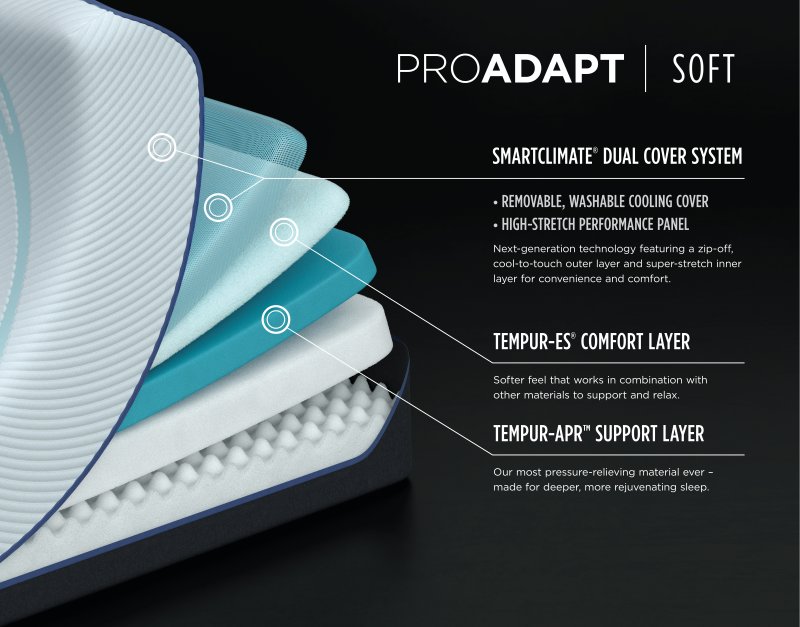 Pick the Most Comfortable Mattress
Pick the mattress that is most comfortable for your sleep style and body type. This mattress is best suited for:
Back sleepers
Side sleepers
People with aches and pains
Need help finding the right mattress? Take our Mattress Quiz to see what mattress is right for you.
START QUIZ
SAME DAY DELIVERY
In-stock merchandise purchased by 1 pm will be delivered the same day upon request, excluding holidays and limited to a geographic area with a minimum purchase of a $599 mattress set. Excludes floor models. See store for details.
DELIVERY
The room must be ready for delivery when the drivers arrive.
As a service, we will remove your old mattress and box spring before delivering the new set (subject to inspection, unsanitary bedding will not be removed, limited to equal amount delivered).
As a service, we will remove your old mattress and box spring before delivering the new set (subject to inspection, unsanitary bedding will not be removed, limited to an equal amount delivered).
Delivery cannot be made to a minor and finance orders will require a signature from someone with a valid state-issued ID.
The driver will call the phone number provided on your order on the morning of delivery to give you a three-hour time frame. If you are not home for a delivery, there will be a $69.99 re-delivery fee.
If the driver determines that the delivery attempt could cause damage to your home, you will be required to sign a release of liability to complete the delivery.
Our C.O.D. Policy:
All orders must be paid in full before the delivery date. We do not accept payment at the time of delivery.
10-Year Limited Warranty
Beautyrest stands by its products and materials with limited warranties so you rest easy.
Our-120 Day Sleep Guarantee
If you have owned your mattress for longer than 30 days and you aren't happy with your set, Best Mattress is glad to exchange your mattress for 120 days from the date of purchase. Please see our full terms & conditions here.
Best Mattress also offers FREE REMOVAL* of your old mattress. Our delivery driver will pick up your old mattress and seal it in plastic before loading it onto our truck.
Need financing? We have you covered! Best Mattress offers a variety of options available, including No Credit Check Financing! Please contact us for additional details on all offers.
We appreciate your patience, understanding, and support at this time. Thank you for continuing to be a loyal Best Mattress customer. Sleep Easy, Friends!
Available Bed Sizes
See our mattress sizes and dimensions page.
Twin XL
38″ X 80″
Full
54″ X 75″
Queen
60″ X 80″
King
76″ X 80″
Split Cal King
72″ X 84″
Cal King
72″ X 84″
One mattress brand that continues to stand out year after year is the Tempur-Pedic mattress line. Tempur-Pedic prides itself on creating mattresses designed to improve your sleep, reduce body aches, and provide you with plenty of comfort and support. Tempur-Pedic mattresses are designed with modern technology to increase durability while continuing to deliver some of the best mattresses. If you are in the market for Tempurpedic in St. George, Best Mattress is here to help! Come to our location to test out the new TEMPUR-ProAdapt® Soft and see for yourself why it is one of the top mattresses currently on the market.
TEMPUR-ProAdapt® Soft
The TEMPUR-ProAdapt® Soft mattress is designed with several layers, meaning there are multiple materials stacked on top of each other to provide a mattress that will offer the ultimate comfort and support. Some of the layers in the TEMPUR-ProAdapt® Soft include:
East Refresh Top Cover – The top layer of Tempur-Pedic mattresses includes a soft and durable covering layer that can be removed and cleaned in a washing machine. The top cover is designed to transfer heat so you are cooler while sleeping, which prevents you from tossing and turning frequently.
Smart Climate System – The smart climate system of Tempur-Pedic mattresses is built to allow sleepers to rest without the worry of overheating. The climate system is located beneath the top layer and it will draw moisture away from your body and distributes it evenly so you are not overheating. The Adapt materials used to transfer heat are one of the elements that set Tempur-Pedic mattresses apart from the competition.
Comfort Layer – Do you like to have a mattress conform around your body? Tempur-Pedic is known for its comfort layer that is designed to conform to the sleeper. Using Adapt memory foam, the comfort layer will respond to pressure and will match your body's shape. The adaptability of the comfort layer is what sets this mattress apart from others on the market. Tempur focuses on focusing on the pressure points by distributing the weight of your body evenly. For co-sleepers, the comfort layer is a beneficial element as it does allow both partners to rest well thanks to the memory foam's adaptability.
Dynamic Support and Response Layer
If you want to test Tempurpedic in Las Vegas, stop by Best Mattress and ask about the TEMPUR-ProAdapt® Soft. The dynamic support and response layer help to make Tempur-Pedic mattresses stand out by ensuring the technology used to create the layers will not cause overheating and comfort problems. The dynamic support that comes with the TEMPUR-ProAdapt® Soft is built to avoid the spring poking issues you often find with other brands. Tempur-Pedic uses individually wrapped coils to allow plenty of support while also reducing noise concerns and movement transfer.
The coils are designed to only compress when pressure is placed on them. The coils are not connected to each other and they work with the responsive layer to ensure sleepers both have adequate support. Following a second support layer, there is a base layer. The Baselayer is standard with all Tempur-Pedic mattresses as the core of the stability for the mattress.
Coils are a new addition to many of the Tempur-Pedic lines as the original models were mostly focused on memory foam. Fortunately, Tempur-Pedic found out how quickly mattresses needed different support and better heat distribution. Motion isolation has always been one of the best things about the Tempur-Pedic line and the TEMPUR-ProAdapt® Soft continues to uphold this standard. The TEMPUR-ProAdapt® Soft offers plenty of support without all the frustration and hassle of having your partner wake you up when they come to bed after you.
Soft or Firm Mattress?
The largest debate for sleepers is trying to decide if a mattress should be soft or firm. The TEMPUR-ProAdapt® Soft is built for sleepers that seek a softer mattress. The layers will decide how comfortable the mattress is for sleepers. Due to the nature of softness, we recommend visiting our mattress showroom in Las Vegas or St. George to gauge the softness. Quite often people decide what is best after spending a few minutes in bed. We have found the softness of the TEMPUR-ProAdapt® soft works perfectly for side and stomach sleepers. Tempur-Pedic is designed for optimal support and spinal alignment, which allows sleepers the ability to have a better night's rest as they won't toss and turn as frequently.
Individuals with joint pain issues are also those that enjoy the luxury of the Tempur-Pedic TEMPUR-ProAdapt® Soft. The support level evenly distributes the weight on the joints, helping to reduce pain and inflammation. The new mattresses include ergonomic sleeping capabilities, making this mattress ideal for co-sleepers with different sleeping and comfort preferences. The wireless remote control will allow you to alter the support level, making it easy to set the mattress to your preferred settings.
What is Included?
TEMPUR-ProAdapt® Soft includes a 10-year warranty. The warranty will provide repair and replacement services for manufacturing defects. Shipping is included for most customers based on the repair needed. Tempur-Pedic mattresses are designed to last upwards of 15-25 years based on use.
Customer Reviews
After releasing the TEMPUR-ProAdapt® Soft, consumers quickly took to this new mattress with positive reviews. While the gassing process and odor are normal, most people were not bothered by this timeframe as the mattress is ready to use quite quickly.
A mattress is a long-term investment for your body. If you are someone that struggles to have a full night's rest or you find yourself constantly tossing and turning, we recommend you invest in the TEMPUR-ProAdapt® Soft. Most people find they can easily sleep for 8 hours a night without waking up or having bouts of tossing and turning. Your mattress is the item in the home you will use more than anything else, so it makes sense to invest in a mattress that will last and give you a proper night's rest. Come to Best Mattress today and find out why the TEMPUR-ProAdapt® Soft is the perfect mattress for you!
Product Videos
SmartClimate® Dual Cover System