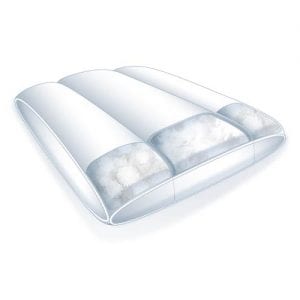 Sub-0 Down Combo Hybrid Pillow
After choosing the perfect mattress set, your current pillow might fall flat. To make your sleeping experience as luxurious as possible, consider upgrading to the Sub-0 Down Combo Hybrid Pillow available at all Best Mattress stores. Created by PureCare, this pillow is a hybrid model that couples the reliable support of down with the plush feel of TENCEL fibers. Here are just a few reasons you will love the Sub-0 Down Combo Hybrid Pillow.
Multiple Layers of Cushioning Support
To give your pillow the support it needs, the Sub-0 Down Combo Hybrid Pillow has a special triple chamber construction. The innermost chamber is filled with clean, specially treated white down and feathers, enclosed in a down-proof liner. The outer two chambers contain a proprietary mix of designer down alternative fibers designed by PureCare, designed to offer a plush, soft feel. The end result is a pillow that has enough support to keep your neck and shoulders aligned, but enough loft to keep you comfortable.
Cooling FRÍO Fibers
Do you ever feel uncomfortably warm when you go to sleep? The surface of the Sub-0 Down Combo Hybrid Pillow is woven with FRíO® rapid chill cooling fibers that help to move heat away from your body. To make this soft-to-the-touch fabric, a special blend of minerals is added to liquid polyester to create tunnels in the fabric. These tunnels wick heat away from the body five times faster than polyester, helping your head, neck, and shoulders to feel cool and comfortable. Since the tunnels are built into the fabric, the effect lasts for the lifetime of the pillow, providing you with a cool, comfortable place to rest your head every evening.
Durable Construction
PureCare products are made to last, and the Sub-0 Down Combo Hybrid Pillow is no exception. Designed with MiteTight™ Sealed seams and incredibly durable fabrics, this pillow is completely machine washable. Also, with the down-proof inner lining that surrounds the innermost pillow chamber, you won't have to worry about the pillow becoming lumpy or uneven.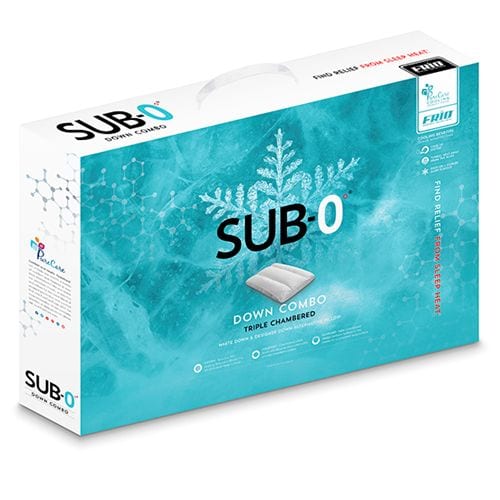 Antimocrobial Silver Keeps Your Pillow Fresh
The cover of the Sub-0 Down Combo Hybrid Pillow is infused with antimicrobial silver, which destroys allergens like mold, bacteria, and mildew on contact. The entire pillow is designed to prevent common allergens such as dust mites and bed bugs, alleviating allergies and helping owners to sleep soundly.
Discover the PureCare Difference
Best Mattress believes in carrying all of the best bedding accessories in Las Vegas, which is why they are proud to offer PureCare products. PureCare products are designed with the customer in mind to improve health and comfort each and every night. In fact, many of their products are developed and tested with the help of Dr. Philip M. Tierno Jr., Director of Clinical Microbiology & Immunology at New York University Langone Medical Center. Because of their commitment to quality and health, many PureCare products have won prestigious awards, such as the Women's Choice Award and recommendations from the National Sleep Foundation. Visit your nearest Best Mattress today to explore a large variety of PureCare products.