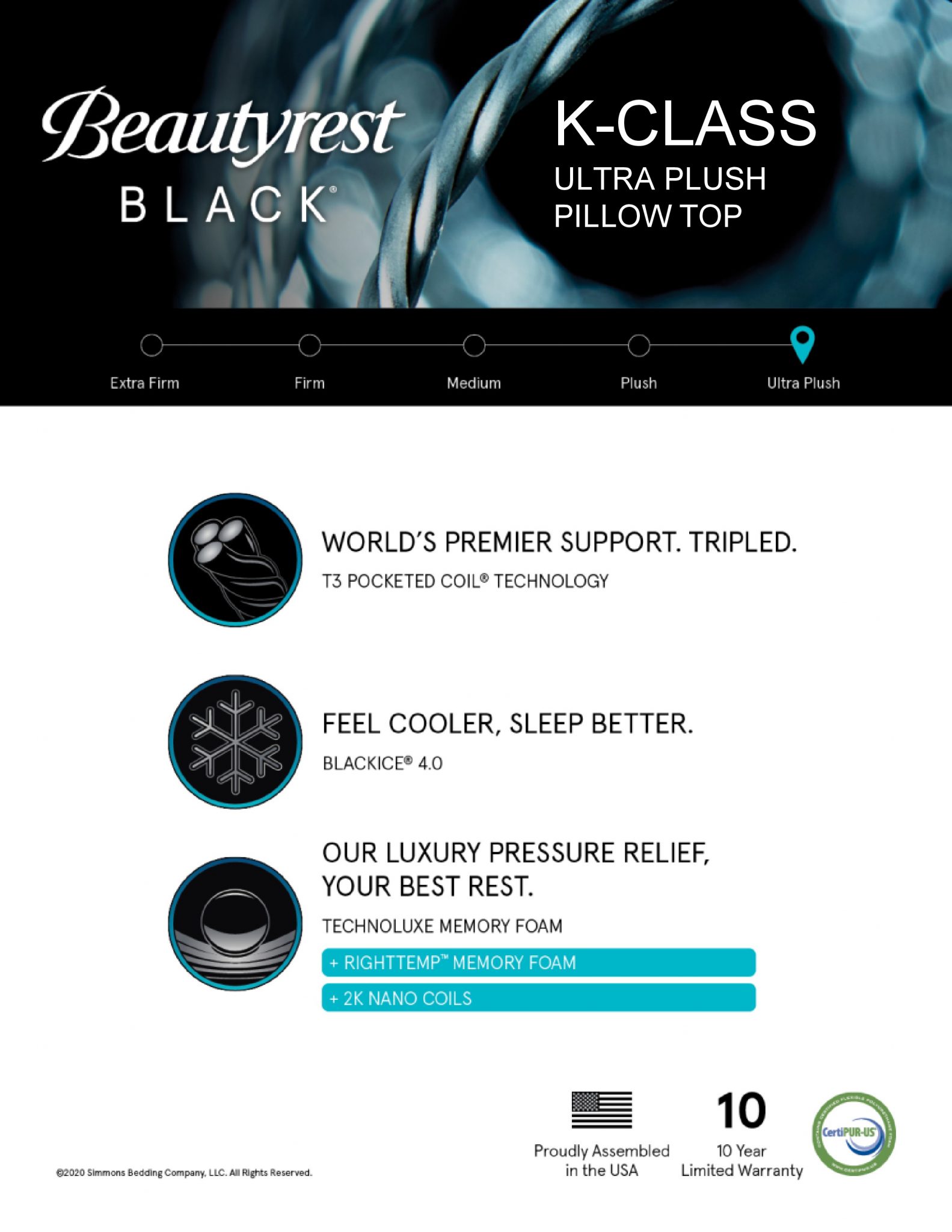 When it comes to your quality of sleep, you can't take any chances. Not getting the rest you need can wreak havoc for your wellbeing, not to mention your bodily health. And, cutting corners with your mattress is a sure way to do yourself out of the sleep you seek. That's why you might want to consider arguably the softest new mattress on the market – the Beautyrest Black K-Class Ultra Plush Pillow Top, available at Best Mattress now. This prime Beautyrest offering comes complete with cooling systems and pressure relief to meet all your needs. And, that isn't all this option has to offer.
Beautyrest Black K-Class Ultra Plush Pillow Top: An Overview
The new Beautyrest Black K-Class Ultra Plush Pillow Top is the latest offering from one of the best mattress suppliers. And, as you can guess from the 'Pillow Top' part of the name, this is also the softest offering they have. In general terms, a pillow top mattress is a mattress with additional padding over the top. With padded tops which are typically around two-inches thick, these are the ideal solution for those looking for comfort which provides the support of, say, a memory foam mattress. One thing is sure; you'll sleep like a baby with one of these beneath you. But, why should you buy the Beautyrest Black K-Class Ultra Plush Pillow Top over any of the other pillow top options out there?
As this is their latest offering, Beautyrest has gone all out with using the best materials and mattress design functions available to them. That makes this, by far, one of the best pickings on the market at the moment. When you invest in a Beautyrest Black K-Class Ultra Plush Pillow Top, you also invest in the following undeniable bed benefits –
Pressure relief. Thanks to Beautyrest's curated technoluxe foams, their pillow top offering is a fantastic choice for those who want both comfort and pressure relief. Materials like these could even make this the ideal solution for those with back or hip problems. These foams ensure that there's no pressure on those points, making for an altogether more comfortable sleep experience.
Added resilience. Speaking of support, it's also worth mentioning that the Ultra Plush Pillow Top comes complete with Beautyrest's iconic and exclusive T3 Pocketed Coil® Technology. This provides support which is sure to rival any memory foam mattress, all with the added comfort that a pillow top can bring. Here, three steel strands wind into one coil which absorbs energy, while also reducing motion and providing extra support. All the better for making sure you sleep undisturbed every single night.
Cooler nights. Overheating at night is never pleasant. That's why Beautyrest has implemented their BlackICE™4.0 Technology in this latest mattress. Available only in the Beautyrest Black range, this technology uses 4 different cooling actions to ensure that you never overheat. It's the best cooling technology on the market today, and it's a must from anyone who suffers from night sweats. As if that weren't enough, Beautyrest has also implemented their RightTemp Memory Foam pulls into this offering. This distributes heat throughout the night and takes those cooling capabilities even further.
The Beautyrest Black K-Class Ultra Plush Pillow Top can suit any need
As you can expect from a company like Beautyrest, this latest offering is also fully adaptable to any need you might have. For one, this mattress is available in Twin XL/Full/Queen/California King. It's also fully adjustable to the majority of bed frames, including –
Adjustable frames
Traditional
Box Spring
Platform
That makes this the ideal option for fitting with the bedroom furniture you already have, all without needing to worry.
Comfort levels you've been dreaming of
The focus on both pressure relief and resilience in this mattress ensures that it gets a solid 10* comfort rating across the board. This is the ideal option for a soft and comfortable night, and that applies whether you sleep on your side or your back. Beautyrest's technology implementation means that this mattress is guaranteed to keep you comfortable and pain-free, no matter what your sleeping needs. If you always wake up with aches and pains at the moment, then, you can bet that your sleep would improve no end with this mattress in your life.
Quality guaranteed
When you buy a mattress, you're investing in something which you want to last you for at least 7-10 years. And, that's something you can be sure of when you buy the Beautyrest Black K-Class Ultra Plush Pillow Top from Best Mattress today. For one, the CertiPUR-US certified comfort materials used in this model have been quality tested to the highest degree, ensuring that they perform better than even the best in the industry.
Try your Beautyrest Black K-Class Ultra Plush Pillow Top at Best Mattress today
We understand that it's vital to try a mattress before you buy. We can tell you about the benefits all we like, after all, but sleep is a personal thing. That's why we invite you to come and try the Beautyrest Black K-Class Ultra Plush Pillow Top at one of our 21 locations in the Las Vegas, Mesquite and St. George, areas today. If you're impressed with what you feel, we promise to –
Offer home delivery in a three-hour slot of your choice
Remove your old mattress for free
Get you set up for free with help from our in-house, trained mattress experts
Our 120 Day Sleep Guarantee
If you have owned your mattress for longer than 30 days and you aren't happy with your set, Best Mattress is glad to exchange your mattress for 120 days from the date of purchase. Please see our full terms & conditions here.
As if that weren't enough, we also offer flexible financing, complete with one-year interest-free. No matter your sleep or financial needs, then, you could walk out of one of our locations as the proud owner of a Beautyrest Black K-Class Ultra Plush Pillow Top today.