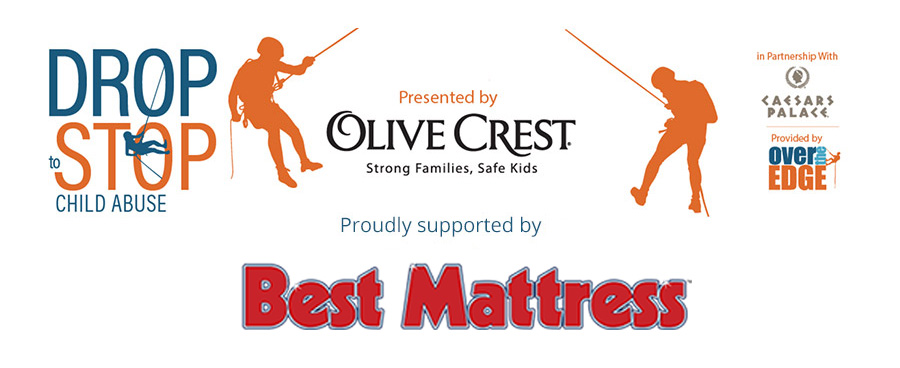 President of Best Mattress, Dave Mizrahi, Thanking His Donors & All Involved for A Successful Event!
We love to help our customers get better sleep by providing great mattresses and sleep products to our community, but we also like to go beyond that!
Best Mattress gives back to our community!
Along with being committed to helping our customers gain better sleep, we are also engaged in our community. We love Las Vegas, we love the people, and we want to show our appreciation! Everyone on our team is continually looking for ways to participate in various charitable events throughout Las Vegas. 
Dave Mizrahi, owner of Best Mattress, went rappelling for the "Drop to Stop Child Abuse."
Recently, Dave Mizrahi, the owner of Best Mattress, participated in an exciting event held earlier this month. He participated in the "Drop to Stop Child Abuse" event that was hosted by Olive Crest. This event was held on November 3 and 4 of 2017. It was a fundraising event that allowed participants to raise money for at-risk children and families in our community on behalf of Olive Crest.
Dave Mizrahi raised over $3,000 for the event himself!  He then got the chance to rappel from the top of Caesar's Palace. He went "over the edge" to help stop child abuse! Participants, including our brave leader Dave, got to scale down the Augustus tower at Caesars Palace. This is an iconic tower in Las Vegas, and this is not something people get to do everyday. The actual rappelling adventure dropped participants down 350 feet! The whole experience was quite the adrenaline rush and is something Dave will never forget!
Olive Crest makes it their mission to stop child abuse.
The Olive Crest organization has been in the area for over twenty years. Their mission is to stop child abuse. Their "Drop to Stop Child Abuse" event is just one of many events and fundraisers they have done to help raise awareness of how to stop child abuse and also to raise money to help at-risk children and families within Las Vegas. The team at Best Mattress is proud to support such a positive and impactful organization.
Dave Mizrahi and the team at Best Mattress were so happy to be able to participate in this important fundraiser. We are grateful to Olive Crest for putting on this event that will help so many people in our community. We plan to participate in many more community and charity events in the future because these organizations are so important to Las Vegas
The event raised over $60,000 to help at-risk children!
 Being able to enjoy such a daring, exciting event like rappelling off the tower was just the icing on the cake. The event was a success that brought so many people together to raise awareness of child abuse and the need to end it. Over $60,000 were raised for this event! Along with the rappelling, it also included family-friendly activities, entertainment, and food at the Dare to Care Drop Zone Party. The entire fundraiser brought people from all over our community together and created great memories from the fun activities and great food!

Contact Us to Learn More
If you're interested in learning more about Olive Crest and their mission don't hesitate to visit their website and see how you too can become involved. We are proud we were able to participate! As members of the Las Vegas community we're thankful we got to give back to help at-risk children.
At Best Mattress, we offer a wide selection of mattresses and other products related to sleep. We have over 20 locations located in St. George, Mesquite, and Las Vegas. At Best Mattress in Las Vegas, we are committed to giving each one of out clients the care and attention they deserve. We will work with you to help you find the perfect product for you. Our staff is friendly and helpful, and we want to you to get a better night's sleep. With so many locations to choose from, there is likely a store close to you!
From firm mattresses to soft mattresses to those in between, we have the mattress you are looking for that will be comfortable and let you fall into a restful night of sleep. Also, we carry many different brands and models including Tempur-Pedic, Beautyrest, Serta & Five Star