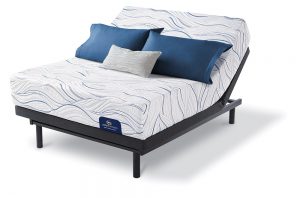 Are you in the market for an adjustable bed frame? Before you head to your favorite mattress store and start trying out different models, it is important to understand the features that are available and how they could help you. Here are just a few of the different features you should look for in an adjustable bed frame in Las Vegas.
Silent Operation Adjustable bedframes help sleepers by allowing them to adjust the head, knee, and foot portions of the bed up or down. Unfortunately, some adjustable bedframes are noisy as they transition from position to position, which is why you should look for a bed that offers silent operation. Some systems have motors that work seamlessly and silently, protecting you and your partner's ability to sleep soundly.
Position Presets To make transitioning from position to position easier than ever before, many Las Vegas adjustable bases have remote controls with position presets. Instead of having to configure a new position each time, you can simply hit a button to return to your favorite incline position.
Massage Some adjustable bedframes even have built-in massage controls, giving people the opportunity to enjoy a nice back, neck, or foot massage before they drift off to sleep. Some systems even allow the user to control the pattern and power of the massage, giving you the option to customize your experience.
Emergency Stop Button To prevent people from becoming stuck in a position during a power outage or sudden medical emergency, most adjustable bases in Las Vegas have an emergency stop button. When this button is pushed, the bed will gently return to the standard flat position.
Bluetooth Controls Are you the kind of person who likes to control everything from your phone or tablet? If so, consider looking for an adjustable bed frame with Bluetooth controls that integrate with your smartphone. In addition to controlling your mattress position from the bedframe remote, these controls also allow you to move your mattress using a tablet, computer, or smartphone.
How Best Mattress Will Help You Find a Great Base
When it comes to finding the mattress of your dreams, it is crucial to try out a variety of makes and models. Fortunately, when you step into a Best Mattress store, you will have the chance to try out all of the best mattresses on the market, including a variety of adjustable bed frames. Kind, caring professionals will talk with you about what you are looking for, and help you to find a bed frame with the qualities you need. Visit a Best Mattress near you today to start getting the rest you deserve.