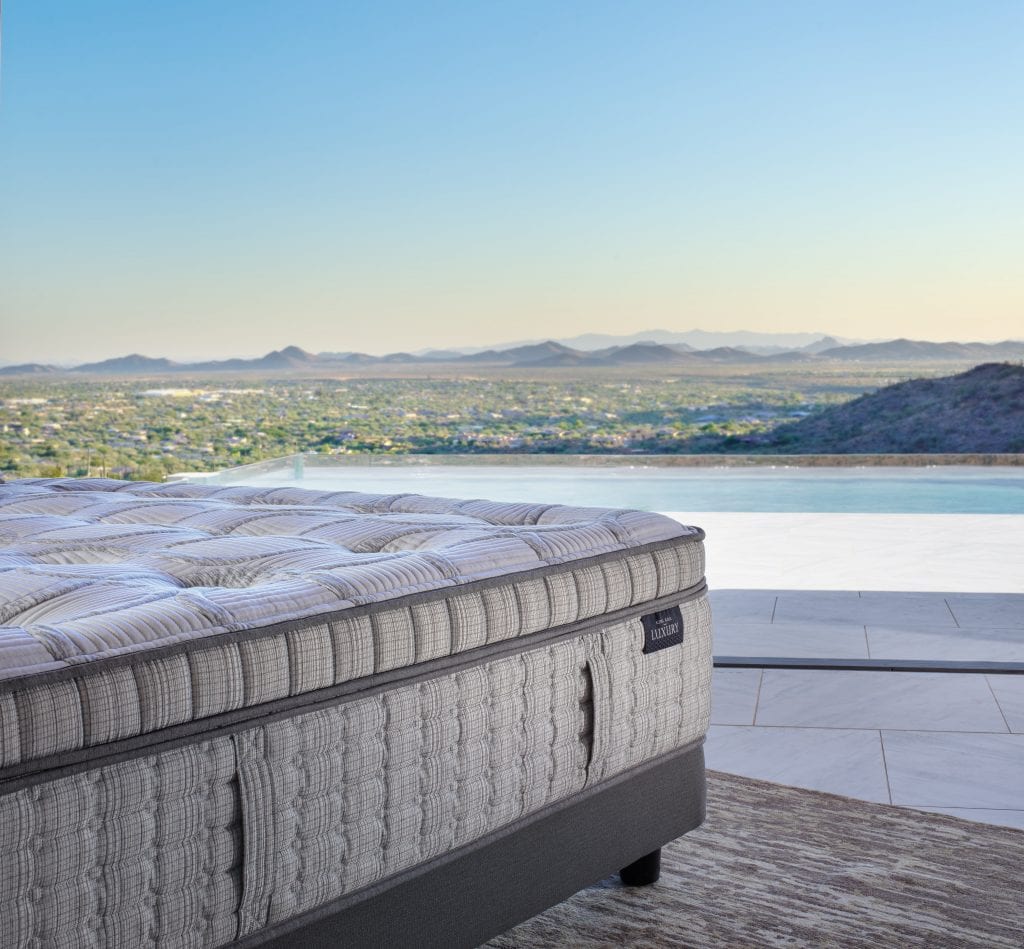 When a brand has been around since 1898, it's hard to ignore the quality and continued ingenuity that goes into their products. That's exactly what you can expect from King Koil and their mattresses across the globe.
One of the biggest reasons for King Koil's success is that they have changed, grown, and adapted over the years to use the latest and greatest mattress technology and research. This is a company that originated selling innerspring mattresses. But, now they have a variety of options to fit everyone's needs.
King Koil even has a partnership with the International Chiropractors Association. This is because their mattresses provide comfort, increase alignment, and encourage a good night's sleep. This partnership has built a lot of trust with consumers over the years, especially those who struggle with back pain.
But, in order to know why King Koil is really the "king" of mattress, you have to take a look at what they actually have to offer. With that in mind, let's look at a few of their mattress varieties and what makes them unique, so you can decide if King Koil will really help you sleep like royalty.
SmartLife Lily Medium
"Smart" mattresses have taken the world by storm in recent years, and King Koil certainly hasn't fallen behind on that trend. Take the SmartLife mattresses they offer, including the Lily.
This mattress uses SmartLife technology to adapt and contour to your body and the way you sleep. It even adapts to your typical movements throughout the night. So, no matter where you move or how you might turn in the night, you will never be without full support and comfort, cradling your body where it needs it most.
SmartLife technology features an app you can use to track your sleep and get a better idea of where you might be struggling. You can then use that information to make adjustments and take better control of your comfort in the bed.
This is truly a mattress that puts you in the driver's seat when it comes to getting exactly what you want. Some of the additional features of the SmartLife technology include:
Independent firmness controls
Relaxation mode with massaging waves/vibrations
A smart alarm
If you haven't yet jumped on board with the "smart" mattress trend, this is a great option that will blow your old mattress out of the water.
Tribute Plush Box Pillow Top
The Tribute Plus Box Pillow Top is a great mattress for anyone who wants superior comfort throughout the night. It combines modern sleep technology with high-quality materials to check off all of the boxes of a pillow top mattress. Some of its most notable features include:
Tailormade tufting
Breathable, stretchy tencel fabric
Graphite-infused memory foam for coolness
HypurGel to mold to the body for comfort
8K micro coils that reduce stress on pressure points
1075 lumbar zoned encased coil system
Handcrafted details
Each of the Tribute Plush Box Pillow Top mattresses is made with care, and you can see that in the attention to detail. It's an innovative mattress that uses some of the best techniques available to give you a comfortable night's sleep with the support your body needs to feel great in the morning.
Westlake Luxury Firm Euro Top
With multiple layers and a pocketed coil system, the Westlake Luxury Firm Euro Top mattress is meant to give you a great night's sleep and withstand the test of time, so you can enjoy it for years.
The bottom two layers consist of, respectively, an 825 ContourFlex encased coil system to lower motion disturbance, and 2000 Perimeter Zoned micro coils. These coils provide relief to the pressure points of your body. No area goes unsupported while you're trying to sleep.
Above the coils is a layer of responsive memory foam that conforms to every contour of your body. The mattress supports every part of your body so you don't wake up with aches and pains.
The tailormade tufting at the top of the mattress is what will help it to last for years. It supports the layers and the sturdy foundation and adds to the mattress' durability and comfort all at once.
Bayview Firm
Some people prefer a firm mattress for a better night's sleep, and there is nothing that can offer that sort of support quite like the King Koil Bayview Firm. If you're looking for a supportive bed that is meant to hold its shape and last for over 10 years, the Bayview Firm is an excellent choice.
It features extra-stretchy Tencel fabric that allows the material to breathe, as well as graphite-infused memory foam. This will keep you from overheating at night so you can sleep more comfortably.
The 825 ContourFlex Pro Encased coil system within the mattress also helps to support your pressure points as you sleep, while reducing motion. The result is a more comfortable night from the moment you lay down to the moment you wake up.
The Bayview Firm is perfect for anyone who likes a firmer mattress, or if you sleep with a partner and you're tired of their movements waking you up.
Lineage Special Box Pillow Top
The Lineage Special Box Pillow Top mattress is designed for comfort thanks to multiple layers of sleep technology going to work for you. This mattress features iFusion Technology (Gel-Visco) that combines open-cell memory foam as well as pressure-relieving gel, so your body will be cradled no matter how you sleep.
It also features AdvantaGel to keep you cool while you sleep. If you tend to overheat while in bed, you don't have to worry about tossing and turning or kicking off the covers thanks to this cooling technology.
This mattress is meant to offer greater support, reduce your pain, and cradle your pressure points while you sleep, so you can wake up refreshed.
Is a King Koil Mattress Right for You?
We're really just scratching the surface of King Koil mattresses to show you why the brand has earned such a "royal" title. If any of these mattresses interest you, feel free to do your research on the details of each individual model. King Koil specializes in sleep, and you'll feel like a King or Queen when you're able to spend every night on one.