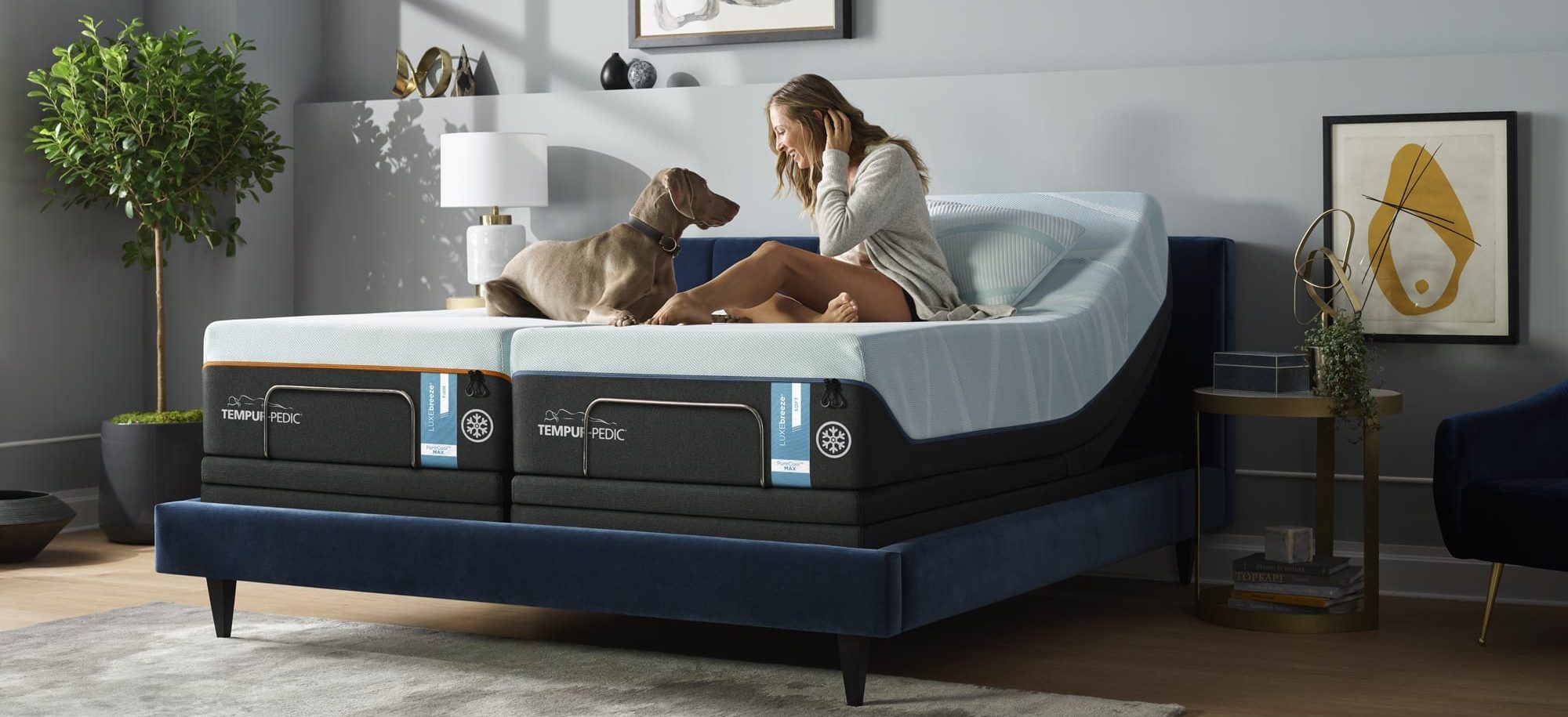 How long does it take you to fall asleep? Are you off to dreamland in a matter of minutes, or do you need to count a few dozen sheep first?
The amount of time it takes to fall asleep is a strong indicator of whether or not you're getting enough rest. If you're dozing off in mere minutes, you're probably sleep-deprived. On the contrary, if you're tossing and turning for an hour, there may be an underlining issue.
So, what's causing your lack of sleep?
The culprit might be simple — the size of your mattress. Upgrading to a king or queen-sized bed may be the solution to your sleepless nights, but how do you know which one is best?
If you're torn between a king bed and a queen bed, here is a guide to help you decide:
The Size of a King Bed vs. Queen Bed
The king-sized and queen-sized beds may seem similar; however, specific measurements set them apart. Here are the average measurements:
Queen Bed
The standard size of a queen bed is 60 inches by 80 inches. In other words, it's 5 ft by 6 ft, 8-inches. When you add the typical bed frame, it's between 5 and 7 feet total. It's double the size of a full-size bed but one size smaller than a king-sized bed.
King Bed
A king bed's average size is 76 inches by 80 inches, or 6.5-feet 4-inches by 6-feet, 8-inches. While both the queen and king beds are the same in length, the width is what distinguishes the two. The king bed is over a foot wider than the queen-sized option.
Things to Consider When Choosing a Mattress Size
When choosing the size of your new mattress, what should you keep in mind?
The most important factor to consider is the size of the room in which your new bed will go. How much total space do you have? Will you need to rearrange some furniture?
The best plan of action is to take accurate measurements of the room and determine how much space around the bed you need. For a visual, you can use painter's tape to outline the new bed's size on the floor. Take the bed frame and headboard (if applicable) into consideration as well.
Besides space, think about your living situation. Who will be sleeping in your new bed? Will you be snoozing solo or with a partner? Do you have any kids or pets to snuggle up with? The number of people (and animals) taking up space on the mattress should be a key factor in determining the size you need.
King Bed vs. Queen Bed: Which One Is Right for You?
Choosing the right size mattress makes all difference in terms of comfort. So, how do you determine which one is best?
Here's a breakdown to help you decide:
King Bed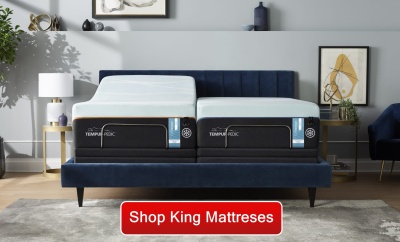 Let's start with the bigger option: What are the benefits of a king bed?
If you're more of the toss-and-turn type of sleeper, a king bed is a great fit, especially if you're part of a couple. The king-sized sleeping arrangement provides enough space to sleep comfortably with your partner, along with any kids or pets.
The spacious size is also ideal for larger or taller people. Additionally, if you have a massive bedroom, a king bed helps take up space while providing optimal comfort. (Not to mention it looks great in larger spaces.)
The downside of a bigger mattress is the bigger price tag that comes along with it. The sheets, accessories, and frames also come at a cost. A king bed is a great option as long as it's in the budget.
Another drawback is its size makes it difficult to move. (You'll definitely need help!) You should make doubly sure you'll be able to fit it through doorways and hallways.
Queen Bed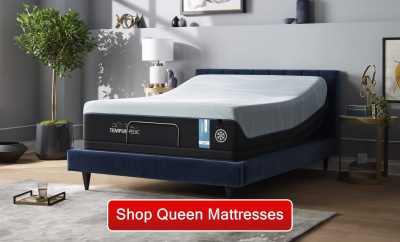 The queen bed is by far the most popular size. It's spacious enough without taking up a ton of room. If you're upgrading from a full-size bed, the comforter and sheets you already own may actually fit. If not, the queen-sized bedding is more affordable than a king. Because of the queen's popularity, there are a ton of accessory options as well.
A queen bed size provides enough space for a couple or a single person who likes to stretch out. It's easier to move and doesn't take up as much space as the king bed, so it's a good option for smaller rooms. It's also better for those who would prefer more living space around the bed.
Of course, the smaller size isn't a good fit for everyone. While its size suits a couple, it doesn't offer much extra space for pets or children. It might also be too small for the couple that prefers more personal space while sleeping.
What Are Some of the Best Mattress Brands?
You've chosen a size, but what about a brand? There are so many options to choose from — where do you even start?
Here's a quick guide to some of the most popular brands and styles:
Tempur-Pedic

Tempur-Pedic memory foam mattresses are among the most popular options in the U.S. (and for a good reason). They offer comfort, durability, and a variety of options.
One of the most popular designs is the Tempur-Breeze, which provides relief to those who get hot during the night. If you're struggling to stay cool, the Tempur-Breeze's advanced cooling system can help reduce the temperature by up to eight degrees!
Beautyrest

Beautyrest is one of the leading mattress manufacturers on the market today. They rely on the latest and best technologies to produce high-quality products. From pillowtop to firm, they have options to fit your sleep needs.
Take the Beautyrest Black K-Class Ultra Plush Pillowtop, for example. If you're one of many suffering from back pain, the pressure relief it provides is top-of-the-line. Its advanced coil technology offers added comfort, and its cooling capabilities will prevent uncomfortable hot nights.
Stearns and Foster

If you're searching for ultimate comfort at a more affordable price, look no further — the Stearns and Foster Estate Collection is the perfect fit.
Stearns and Foster uses cutting-edge technology, including their Indulge HD memory foam made by the scientists at Tempur-Pedic. Its cooling technology and improved airflow provide a functional yet comfortable night of sleep.
Serta

Who hasn't heard of the manufacturing giant Serta? They offer a variety of models, from plush and pillowtop to memory foam and firm options.
By far, the Serta iComfort is one of the most popular options, known for turning a good night's sleep into a great one. It has multiple layers and temperature-regulating technology to support every inch of your body. If the mattress has "comfort" in the name, you can guarantee it will provide it.
Sealy

Sealy is one of the most well-respected brands on the market and has provided high-quality products for over 130 years.
The Sealy Hybrid is proof of the genius behind the company. If you can't decide between a spring or a foam mattress, why not choose both? The hybrid's mix of springiness and softness combines the best of both worlds. It's designed to improve posture and target pressure points, and their Posturepedic technology helps relieves tension, aches, and pains.
Find the Best Mattress Size for Your Needs
Have questions about a king bed vs. a queen bed? Talking to a mattress expert can give you the confidence you need to decide on one.
Best Mattress has been serving Nevada and Utah for over 25 years. Our goal is to help you sleep better, and we have a variety of high-quality mattresses to ensure you do.
If you're in the Las Vegas, Mesquite, or St. George area, you can find a Best Mattress location to start your search for the perfect sleep solution. Whether it's a king bed or queen bed you're looking for, we have top-of-the-line options for each.
Contact us today to see how we can get you on track to a better night's sleep.